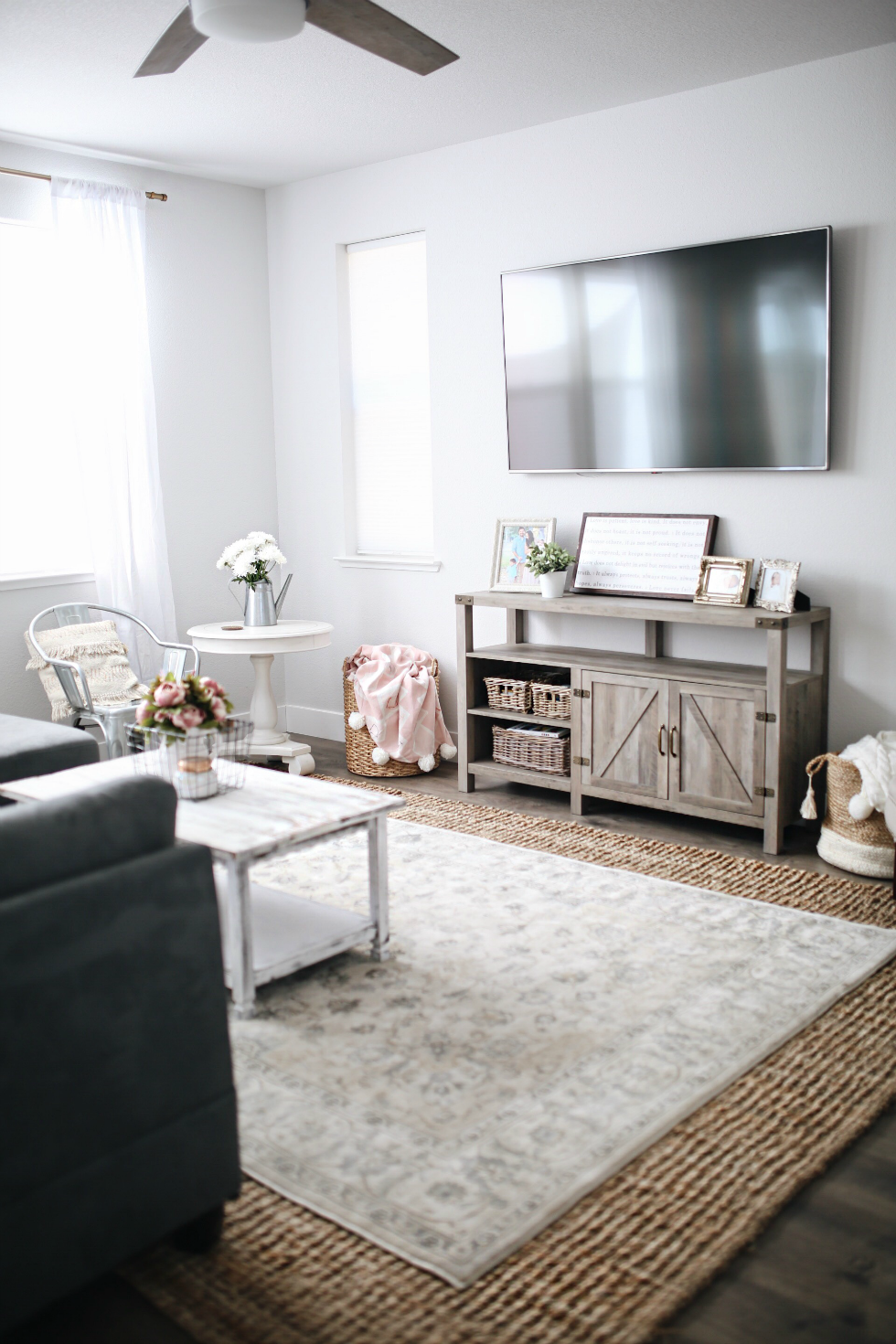 CURTAIN ROD | CURTAINS | TV STAND (in grey wash) | ACCENT TABLE | JUTE RUG | SIMILAR LAYERED RUG | COUCH | COFFEE TABLE
If you're nosey like me (dear God, I hope you are… And I'm not alone in this… haha), then you LOVE seeing what other people buy on Amazon. It's like Costco or Trader Joe's- it's just something that unites us all. Only better, because it's Amazon, and Prime is LIFE. I can order basically anything I could ever dream of, from home, on my computer, and have it delivered to my house in 2 days or less? SIGN ME UP.
But seriously, if you haven't signed up yet, you can do that here. :) #worthit


AS I WAS SAYING. If you're nosey like me and love seeing what others buy, this post is for you! I've put together some of the top products we've bought from Amazon for our home!


ON TO THE BEST PRODUCTS FOR NEW HOME OWNERS…

CURTAIN RODS– We loooove these curtain rods, so much so that we bought one for our living room and for our dining room slider too. The perfect gold color that goes with everything and adds a bit of a pop without being TOO in your face. And the price is right. They also come in all widths, for whatever size you need for your room! (and our curtains are HERE) and I absolutely love it! Super affordable and so gorgeous. We recently purchased THIS MIRROR and they go together beautifully! I'm so excited to share more of our home- soon!
RING SECURITY CAMERA– It's a motion-sensing video camera that allows us to see activity outside, and also shines a spotlight when it detects motion and has an audible alarm that we can manually turn on if we want! So, yeah. Pretty damn awesome. AND it connects to our phones, so we can watch from anywhere. We added this solar power panel to eliminate the need for any wiring!
VELVET HANGERS– So exciting, I know. But these are a game-changer! Hold clothes really well, and I love that all of our hangers are uniform now. Looks much more organized.
DESK– Guys. This desk is GORGEOUS!!! I'll share our office soon here on the blog, but I'm just obsessed with my new desk! It's seriously pretty, and sooo sturdy and well-made! Holds a ton too. Those organizers are a dream!
THIS BUMPER– I ordered one for both Sam and Sophie's beds. We had those metal prison-style rails that fit awkwardly under their mattreses, but I just HATED them. You can't really make the bed easily with that dang rail on. It's cozy and keeps them nice and snug in their beds, no worries about rolling out, but also it's soft and plush and not, you know, metal. ;) Their fitted sheets just fit right over too, so it's not super noticeable or an eye sore. AND! It's under $25. One of the best kids purchases!
ECHO– We loooove Alexa around here! We're always asking her to play music (Sophie has quite the repertoire, and sometimes Alexa even understands her when she says, "Lessa, play Thunder"), for a weather update, to set a timer for cooking, she's just basically another member of our family. She da best.
DIMMER SWITCHES– If your house is like ours with recessed lighting on only one setting (bright!), this is the perfect solution! I seriously want to put one of these in every single room. Life changing.
NIGHT LIGHTS– These are very low-profile flat lights that are extremely helpful, especially in a new home where you don't know where everything is yet! Also great for kids! We put one of these in each hallway, bathroom and any room we need some extra light at night.
WIFI RANGE EXTENDER– This solved an issue that we hand't through of coming from a 900 square-foot house. Our router didn't reach to our bedroom which is upstairs on the other side of the house. This little guy sits about halfway in between and boosts our signal perfectly! We now get the same speed anywhere!
CORDLESS CELLULAR SHADE– We had some trouble finding the right size shades for a few smaller windows in our new house. These are perfect! We got one to try it out and wound up getting more for our other windows! I like these because they are not blackout, but they are light filtering. There are literally like 100 size options too!
WINDOW LOCKS, DOOR LOCKS AND SLIDER LOCK– Here's the thing about brand new windows- they slide open really easily. We're not taking chances with our two sets of toddler fingers and these easy-open windows. We put locks on their bedroom windows. We also put the door locks on the front door and back garage door. With elopement being a common thing in kids with Autism, we're not taking any chances with our doors. The extra locks are about 6-feet high, so no kid can reach them. It's the same way with the slider lock– which we love because it's so low-profile. We feel 100% safe in the area we live in, but these locks can all be used to ramp up your security from outside threats as well.
100% NATURAL BAMBOO CHARCOAL AIR PURIFIERS– We have been trying things to make our house smell better since before we moved. With 2 toddlers (one of the potty training) and an old cat who forgets where to poop, keeping our home smelling pleasant is difficult. With free returns being an option, we figured these were worth a shot. Let me tell you- they're not going anywhere! We have one by the litter box, one in the kids bathroom and one in the car. They work SO well. The stinky car was odor free after one night with this baby inside. The other two have minimized the smells as well! We also got this one for the refrigerator and it works amazingly well. I had no idea these existed until recently, and I'm a big fan.
MAGNETIC DETACHABLE SHOWER HEAD– If you're in a situation like us, you have a downstairs shower that you often use to rinse dirty feet, or shoes, or for a quick shower after say, a toddler's potty accident. Being able to just yank the shower head down and have it where we need it is so great. This one is also smaller than some, so it's easy to use and maneuver.
MOTION SENSING CEILING LIGHT– We got one of these for our garage. Our light switch is a bit far from the door, so this instantly gives us some light when we walk into the garage.
AIR PURIFIER– When you move, you never know what kind of air you're moving into. This has a true Hepa filter that removes smoke, dust, pet dander, mold and more from the air. It has 3 speeds. low is whisper quiet, 2 is quiet and 3 sounds like a light fan. We have two and love them!
ABOVE GROUND POOL– If you bought a home with a pool- you win! If you didn't, but still want one- this is a great low-cost option! We are SO HAPPY with out decision to buy this. New homes typically come with a bare, dirt backyard (as did ours) and this is an affordable way to take care of a big chunk of yard.
MASTER LOCKS– We didn't anticipate a need for 4 of these, but low and behold, we have one on our gate, one on our power box, one on our gas meter and on on the random electric outlet cover outside of our front door. At just $3.75 per lock and a nice low-profile look, these are an amazing value!
There you have it! Our favorite Amazon new home finds thus far!
Any that you love that we have to have??
|| RELATED POSTS ||
FAMILY ROOM DECOR IDEAS
DINING ROOM TOUR
xo