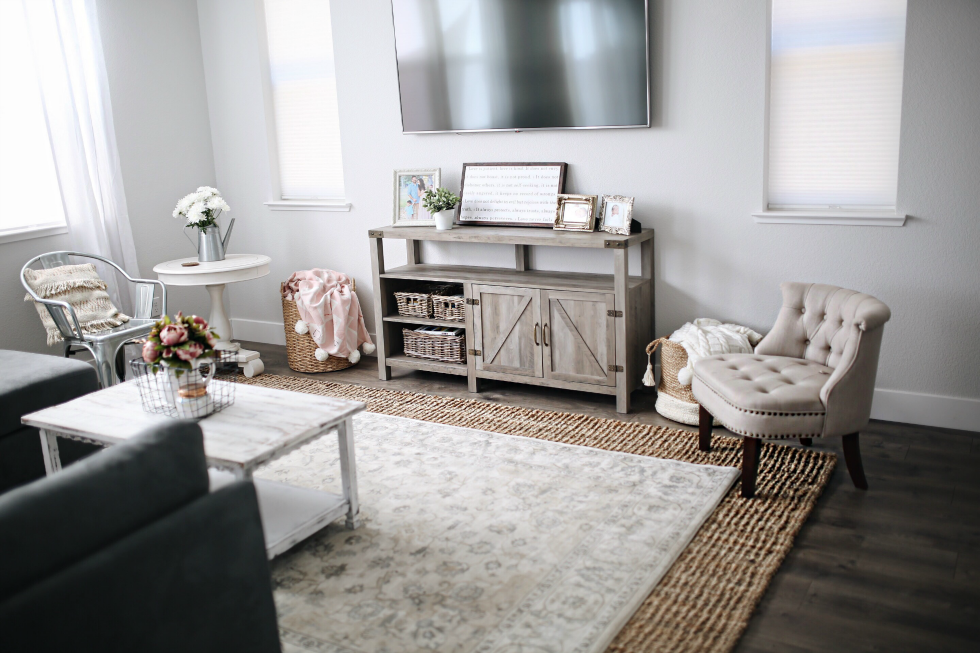 If you're looking for family room or great room decor ideas, this post might help you out! We recently partnered with Overstock to furnish and decorate the family room/great room in our new home. As you see with the pictures, we were really going for a light, airy look with neutral colors and a clean look.
Take a look at this post for more on the look we created!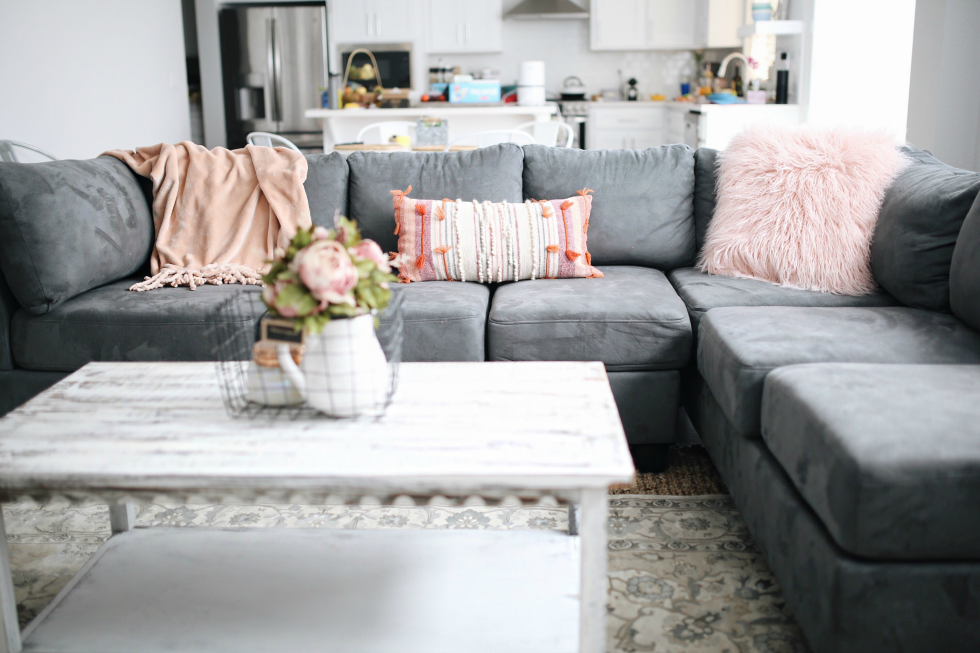 THROW | RECTANGLE PILLOW | SQUARE PILLOW
Family Room Couch Ideas


The couch was one of the toughest decisions for us- but we decided on this one and absolutely love it.

The sectional style and the dark grey color are both exactly what we had in mind- great for cozying up with the family and the color is perfect for kids! ;) It's also durable and easy to clean- two musts! I went with lots of light colors (like this throw in pink and light blue) to brighten up the dark couch, and couldn't be happier with how it turned out!
Family Room Rugs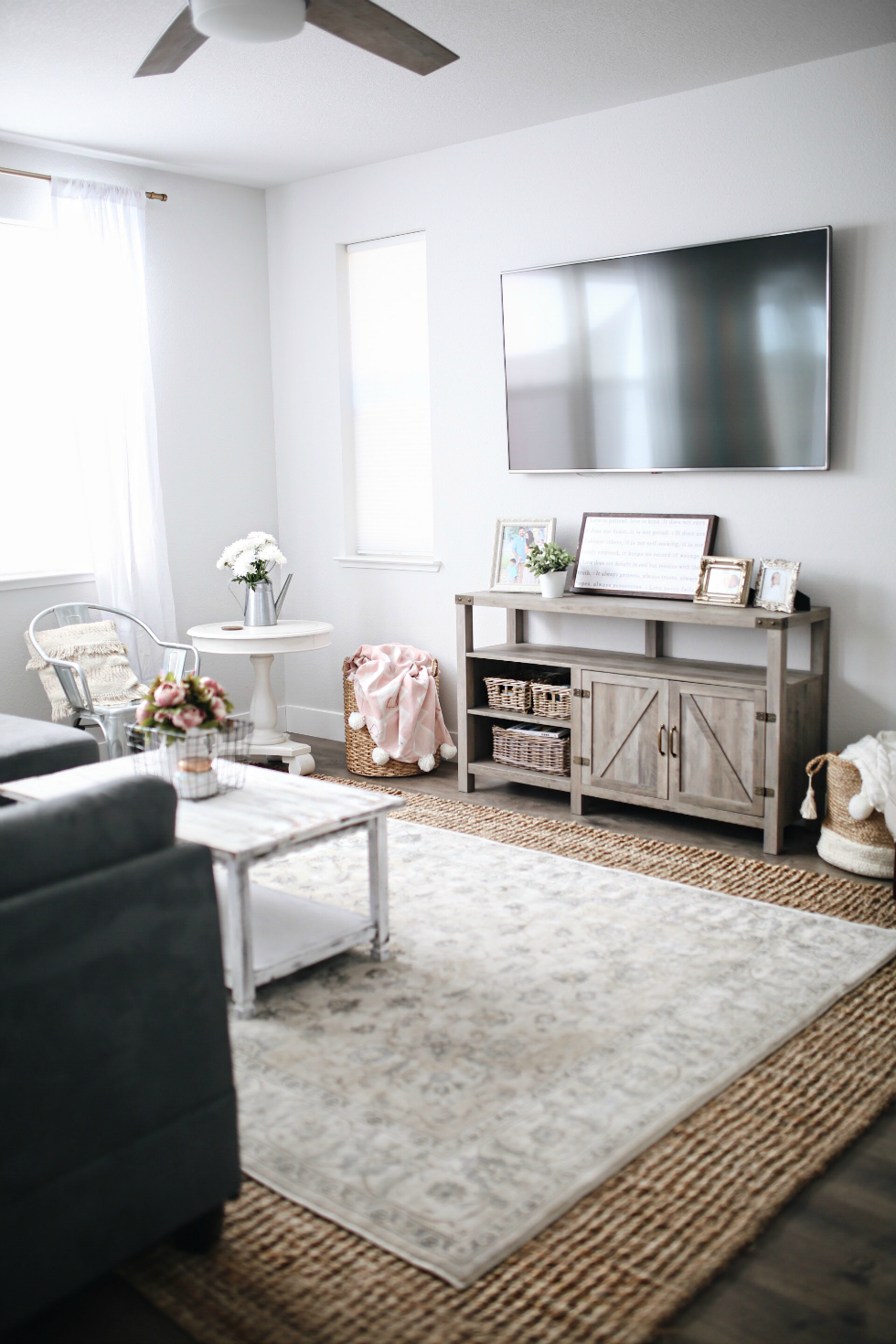 I love the idea of layered rugs, to add some dimension and cozy up the jute rug, which I love the look of, but 9×12 of just that would be a lot.

Layering provides the look of it, but you get some relief from that look by putting a pretty, softer rug on top.

We got the other rug (an 8×10 layered on top) at Costco, but you can get a very similar look with this one or this one.
Family Room Furniture Ideas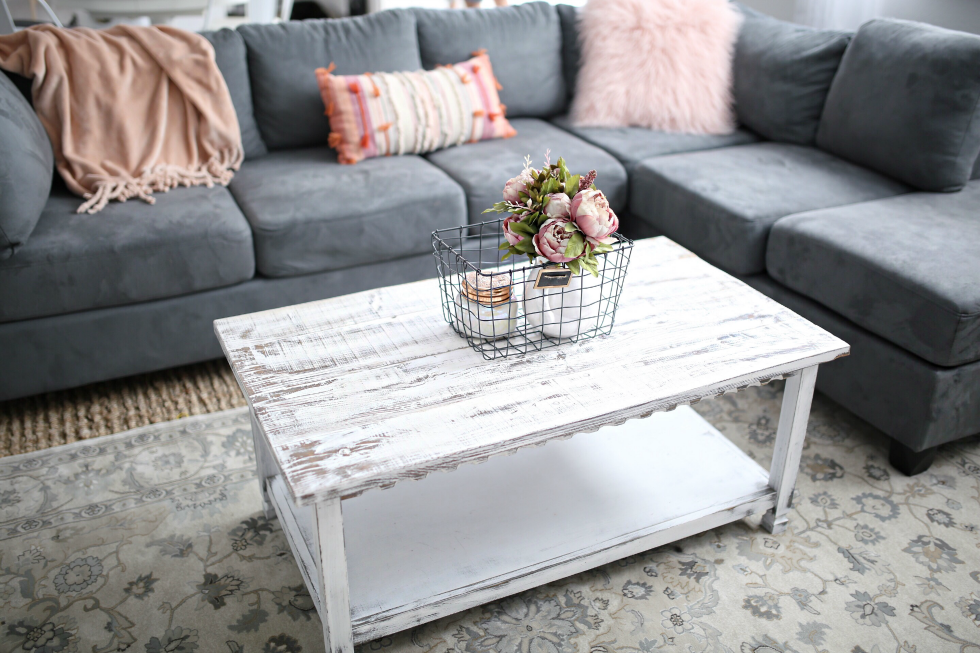 I love the vintage shabby chic feel of our coffee table– tres francais, and exactly my style. This look goes so well with everything else in the room, but if you have kids and want a softer piece, a padded light ottoman like this or this would look great too!

Throw a tray like this or this on top and you're good to go!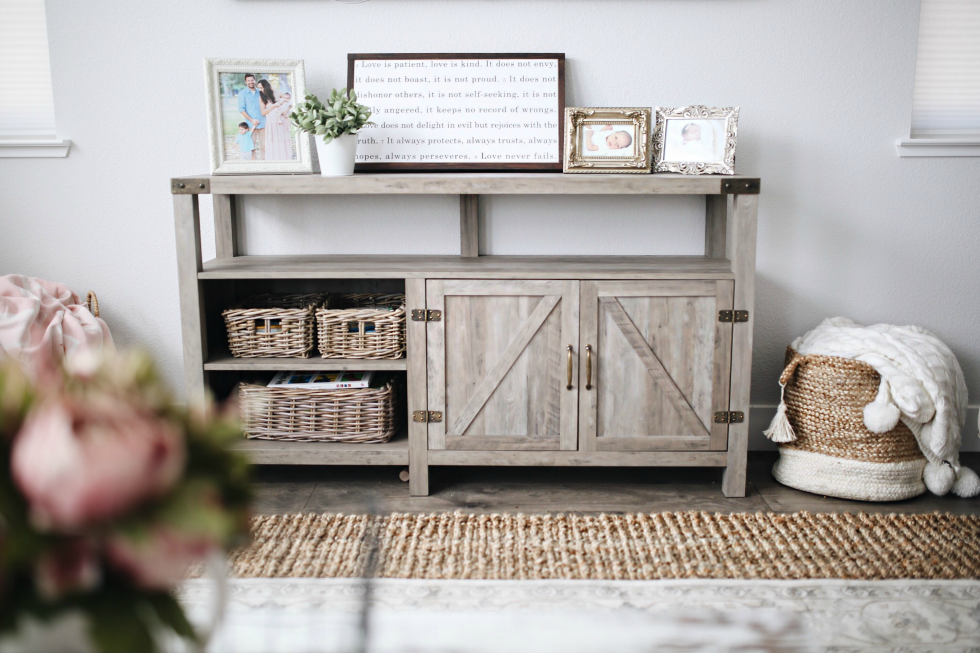 The tv stand (in "grey wash") caught my eye right away. It's such a beautiful color. It's actually almost an identical grey to our floors, but mixing in the rug to break up the colors made it go perfectly.

I love this piece because it not only looks great, it provides extra storage and allows me to put some smaller decor pieces like vases and frames on top.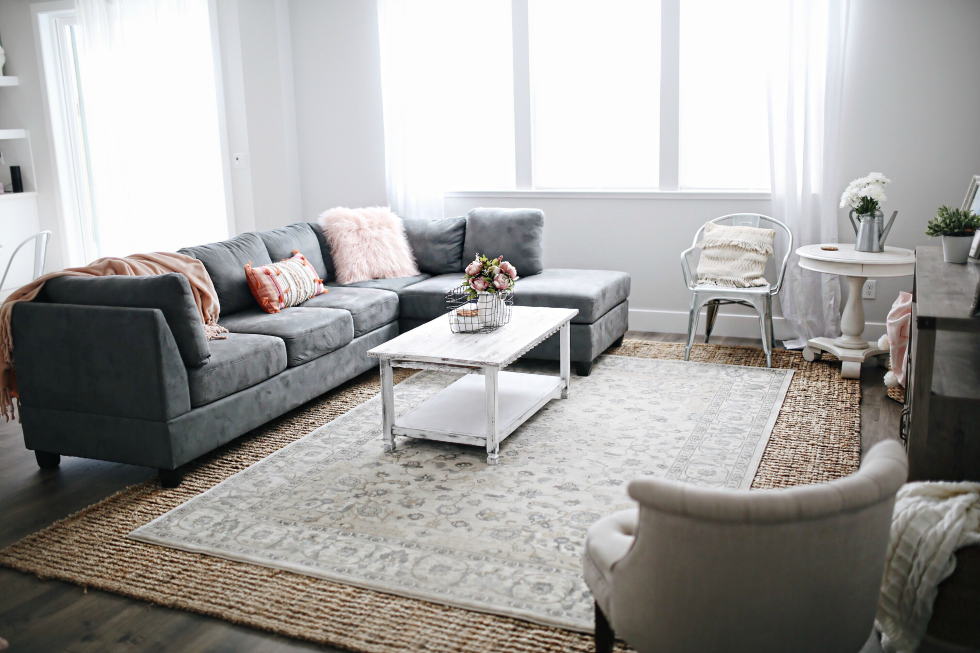 Add in the finishing accent touches of this tufted accent chair, gorgeous pedestal side table and cute little boho basket to hold all of my throws (and some toys too, of course) and the room is complete! Again, I'm just so so happy with the end results! I hope you love it too!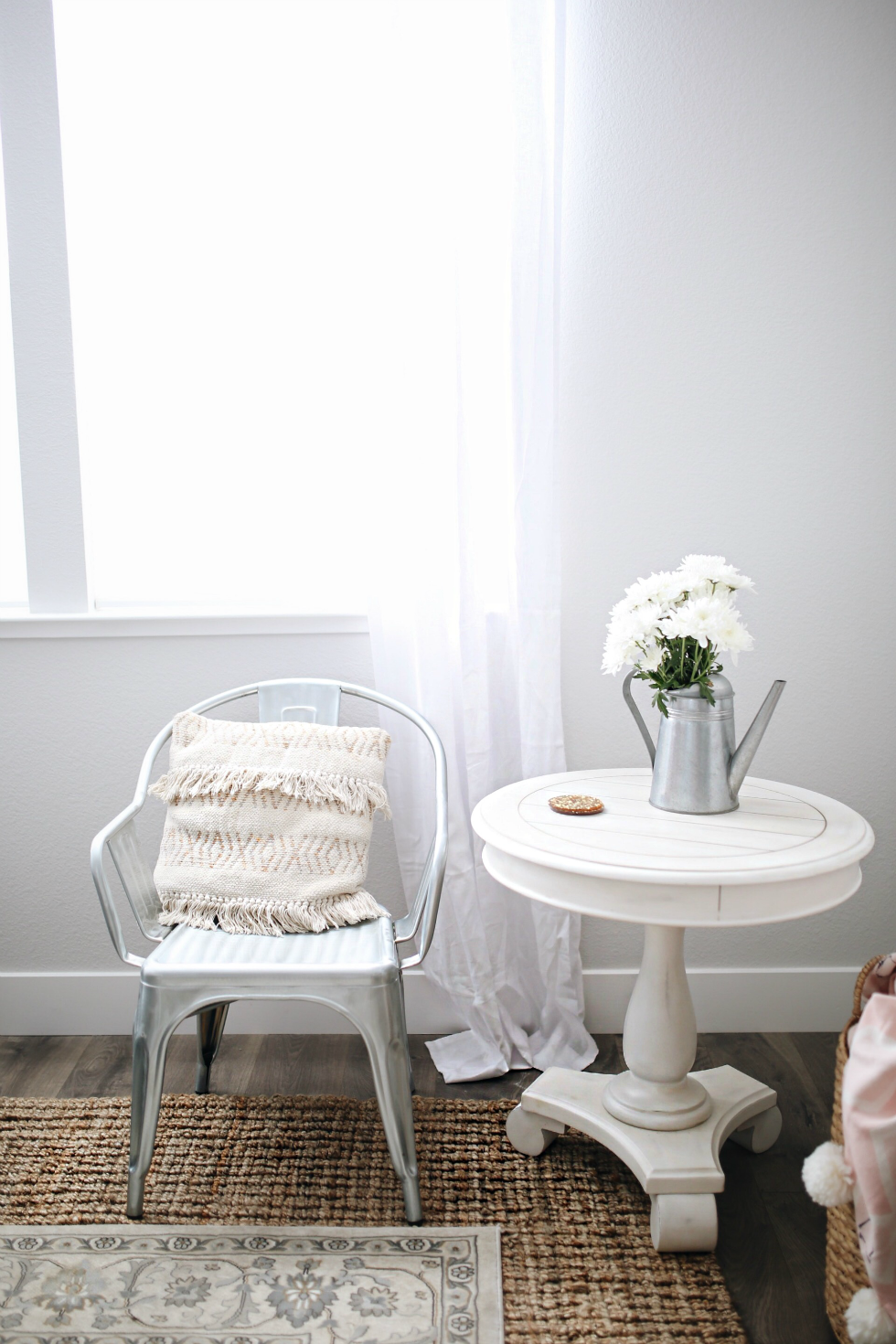 Family Room Window Coverings
The curtains were easy for me- I wanted white linen, and I loved how they went with our gold curtain rod.
In keeping with the clean, white look for window coverings, we went with these white honeycomb shades, for ease of use and also so that the rest of our decor could pop against them.
I love the white simplicity of them, and LOVE that they allow some light through (not blackout) while still being total privacy shades (you can't see through them!). It's exactly what we were looking for in window covers!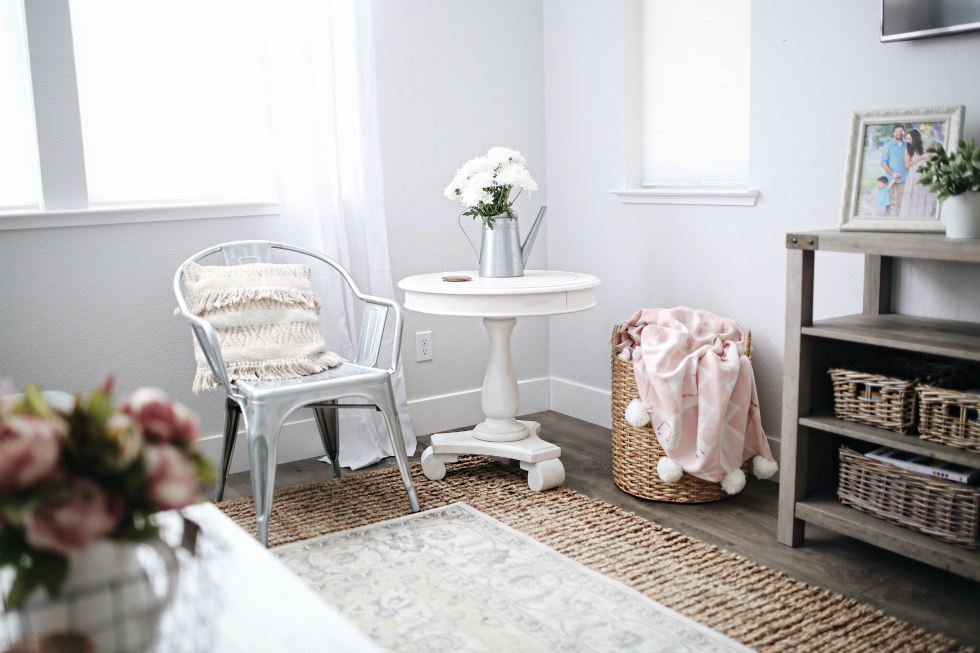 See our Dining Room tour here!
xo