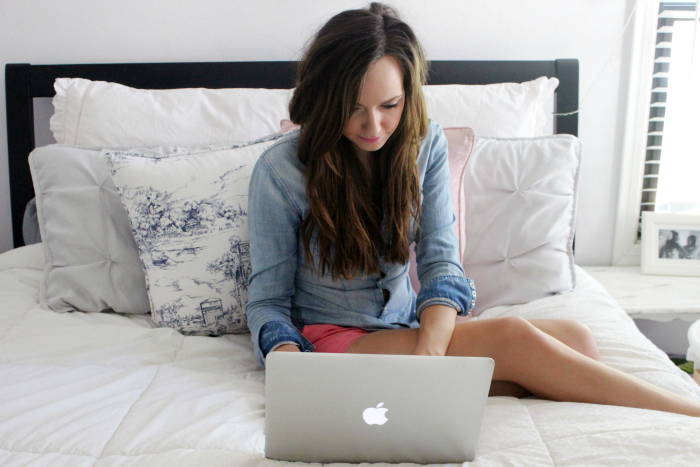 You guys, I am so excited to finally share this! Zack and I have been working on it for quite some time, and we are now officially launching! And the best part? It is all 100% FREE, with absolutely no strings attached! Can I get a high five?!
What is it, you ask?
A free email series containing literally everything that I know about how to earn a full-time income from your blog! I have been able to make blogging my main source of income, and it is one of my biggest passions. So with the help of my husband (who also works with me on Katie Did What and has done blog consulting for the past three years), we have come up with this email series chock full of invaluable tips and advice that we have learned over the years. And we couldn't think of anything better than to share it with all of you!
Who is this for?
If you've thought about blogging, or have just started (maybe thanks to our How to Start a Blog page), or have been blogging for a while but could use some more helpful tips, this is for you! You won't find any of these tips on my blog, but rather they will be exclusive to whoever signs up for the series. So be sure to sign up below to have access to all of the information! I promise, it is going to be well worth your time.
No strings attached
I truly believe there is no "secret" to being successful. There's nothing that we are going to charge you to find out. I don't have a problem with people charging money selling blogging advice, but it isn't something you'll see here. We won't hold back the "premium content." We just truly want to watch you grow and succeed in your own blogging journey! Because when the work of bloggers in general improves, it helps all of us.
Sign up and please share with any and all of your blogger friends! The more the merrier! :) Share on Twitter, Facebook, Instagram- wherever! I am SO excited for this and I hope you all love it.
Free social media course
We have also created a 32-page social media course, all about using social media to build your blog, which is yours free when you sign up! You'll get access to the course immediately upon confirming your email address. Then, every few days, you'll get an email from me with advice and information on a specific blogging topic.
Sign up below!
Thanks so much for following along! As I mentioned above, you won't see much more about this on the blog (which is why you should sign up!). This blog will 100% continue as it was in regards to content.
Since so many of you awesome readers are bloggers yourselves, I hope this helps you grow your own blog! I'm really excited to hear your feedback and get this started!
Happy blogging!
xo