There's a lot that goes into deciding that to pack in a hospital bag for baby. Lucky for you, I have experience with this- and I'm going to share what I packed the second time around.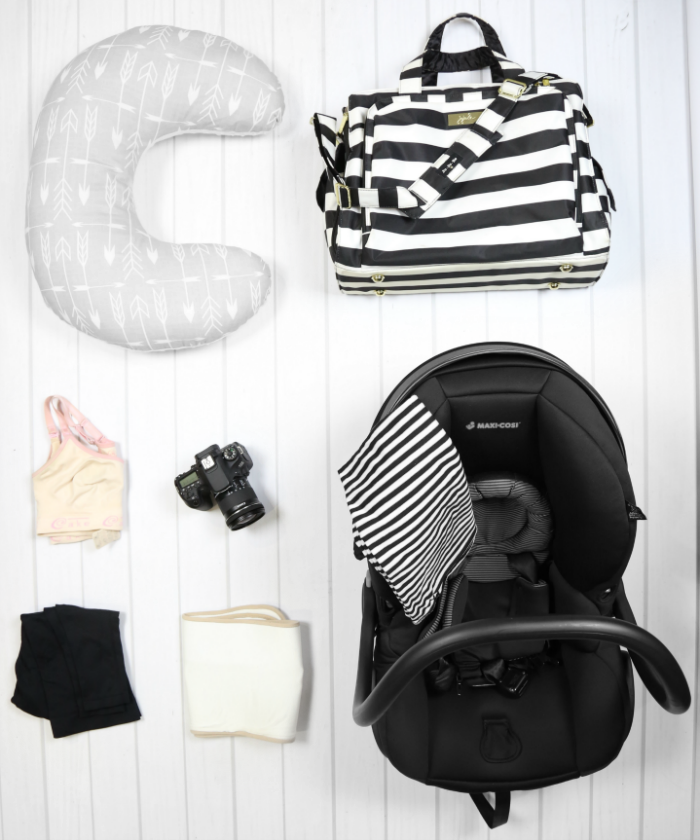 diaper bag | boppy | boppy cover | car seat | car seat cover (doubles as a nursing cover!) | nursing bra | Belly Bandit wrap | camera | maternity leggings (great for post-partum!)
Before you read this post, I have something to share. If you've not created a baby registry on Amazon, it's something I recommend anyone having a baby. They have just about every product, handle returns perfectly and best of all, you get up to 15% off items that you purchase from your own registry! Click here to get started creating your own registry!

What to pack in hospital bag for baby
So I did this post when I was pregnant with Sam, sharing what I packed in my hospital bag for labor and delivery, but I wanted to do it again now that I'm a "seasoned pro" at this whole labor thing. I kid, I kid, but really, this time I know what I need/want to have with me, and what is completely unnecessary and I won't be bringing with me this time. And so obviously I want to share this with you, in hopes that maybe some of you who are packing your bag will find it helpful! :) Without further ado, let's get into what's in my hospital bag… the second time around!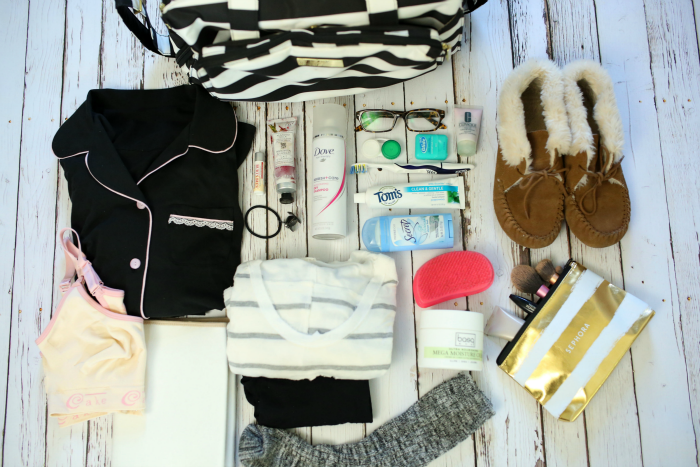 FOR MOM:
First things first, don't forget the car seat! We have and love this Maxi Cosi seat.
Toiletries (hair ties and clips, brush, dry shampoo, deodorant, toothbrush, toothpaste, floss, face wash, moisturizer, travel-size body wash)
Glasses + contacts case + contact solution
Chapstick
Makeup bag
Makeup removing wipes (easy!)
Hand cream
Lotion
My own pillow
Nursing bra (love this brand!)
Socks
Slippers (These are mine, which also double as regular shoes!)
Flip flops (for the shower! Or if you're laboring in the warmer months)
Pajamas (LOVE these belabumbum pj's! The buttons make them perfect for nursing!)
Going Home outfit (I'm packing some maternity leggings, a comfy top and a loose sweater, since comfort is KEY!)
Belly Bandit (I was also sent this and am looking forward to seeing the results from it post-baby. I didn't end up wearing it in the hospital- and I wouldn't recommend it! It's all about comfort and skin-to-skin time with your baby!! Save the belly bandit for once you get home, when you aren't cuddling your sweet newborn :))
Related: 45 Baby Registry Must Haves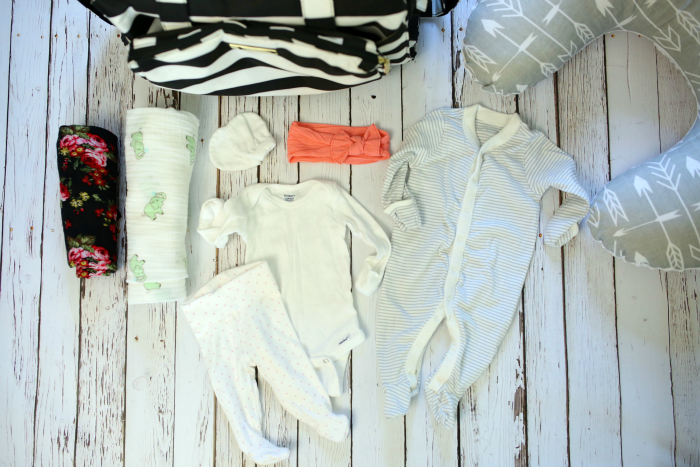 FOR BABY:
Boppy nursing pillow
Nursing cover (have and love this one!)
Cute swaddle blanket
Headband or beanie
Going Home Outfit (comfortable, soft and warm- bring both size newborn and 0-3 months, depending on how big Baby is! Pictured is a white onesie, little footed leggings, and a footed one-piece)
Mittens (Sam scratched his face so much when he was just born, and they didn't have mittens at the hospital, so I'm making sure to bring these!)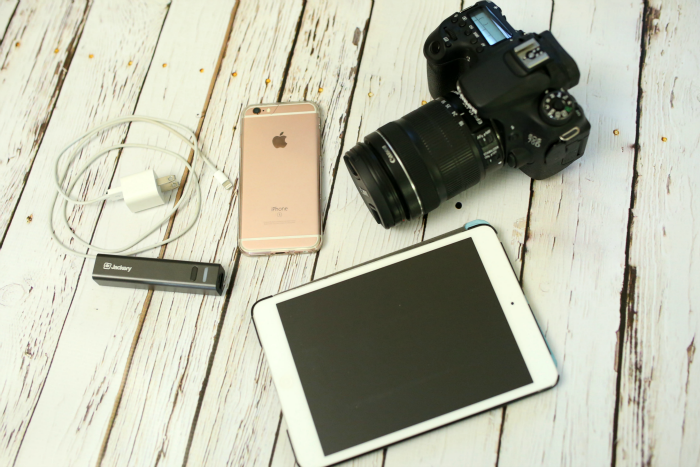 ELECTRONICS:
Phone + portable charger
Camera + charger + extra memory card
iPad (for the waiting time)
And don't forget the hubby! He's good with some comfy clothes, a pillow, toothbrush and snacks. Men. So easy. ;)
As far as the necessities- diapers, wipes, pads, mesh undies (aka the best things everrrr haha) and things for post-birth, our hospital supplies it all, so we won't worry about bringing that stuff.
And as for things I brought last time and won't be including this time? A razor, tweezers, manicure scissors, loofah, shampoo and conditioner (that's what dry shampoo is for!) and a nail file. Honestly not sure what I was thinking with a few of those things, but hey! Live and learn. ;)
I cannot believe that we are SO close to meeting our little princess! At 38 weeks, it could literally be any day now! And oh, I cannot wait!
So, fellow mamas, what did you pack in your hospital bag for baby?
xo
Read More on Katie Did What