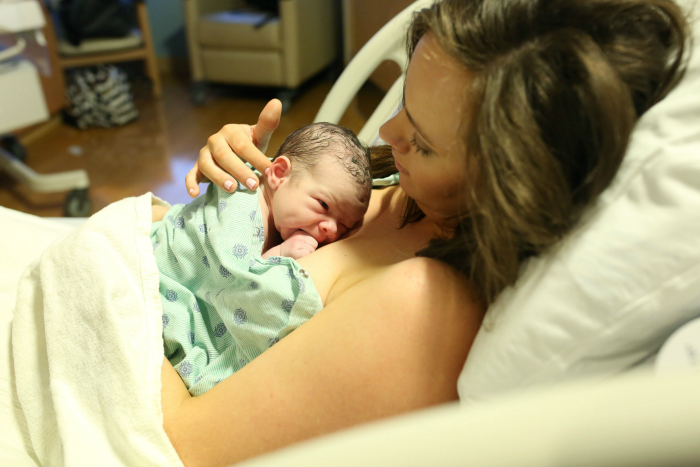 Sophie Michelle was born at 6:55 am on Thursday January 14th, 2016, weighing 8 lb 1 oz and measuring 20.5 inches long. This is her birth story.
We had a few things we really wanted to get done before Baby came: my root canal and crown (I know, so fun) and a last shopping trip to Costco to stock up. On Wednesday January 13th, I had a doctor appointment, where she told me I was 2 cm dilated, and she stripped my membranes, to possibly aid in getting things moving. At this point I was 39 weeks, 4 days. I was ready. After the appointment, I got my crown and we went to Costco. We did it- we got everything done, and joked that NOW, Baby can come! Whenever she's ready!
That night, I kissed Sam goodnight as always and we went to bed ourselves at around midnight- not knowing it would be our last night just us three. At 12:45 am, I felt some contractions, and downloaded an app to time them. They lasted for an hour, then went away, so I went to sleep. An hour later, I woke up from more contractions, this time stronger and 3-5 minutes apart- exactly what my doctor said to look for. I lay there timing them and woke Zack up around 2:00 to let him know, and when they'd lasted longer than an hour with no reprieve in sight, I knew it was time to head to the hospital. This was all new to me, since my water broke with Sam, so I wasn't sure if the contractions were even contractions at first (they were!) or when I should take them seriously. But when I was really hurting and had to sit down through them, I figured that was probably a sign. Intuition wins in these situations, most definitely.
So at 3:00 am we called Zack's parents to come stay with Sam and we were off to the hospital. Nervous, excited and so ready to meet our baby girl!
I was checked into triage and monitored right away. Sure enough, those contractions kept coming and I was dilated to 5cm! A half hour later I was admitted to labor and delivery and was up to 7cm. The one thing I kept telling people was that I wanted an epidural! That was really my only "birth plan." ;) I got the epidural and felt relief from the awful contractions, which was a total godsend. At 6:30 am my doctor came in and I was dilated to 9.5 and things really got rolling. I pushed for 15 minutes and the most perfect little being was born into this world at 6:55 am.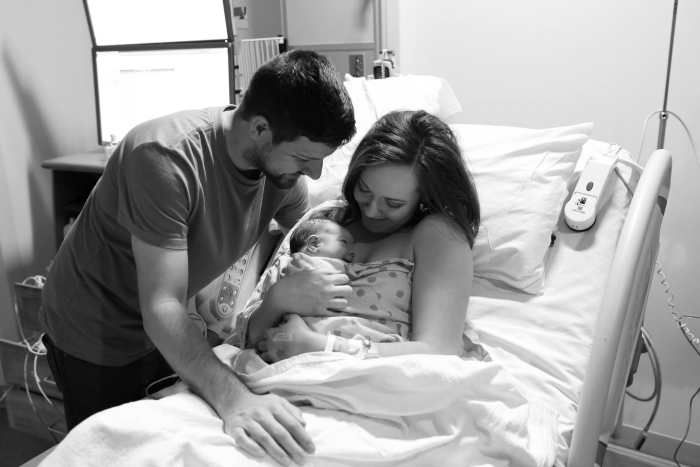 There is no easy way to describe childbirth. Yes, with the second, it tends to go quicker, but it in no way was easier or less painful. I remember distinctly the point in Sam's labor when I looked at Zack and said, "I can't do this any more." And this time, I remember it being quite the opposite. I wanted her OUT, I needed her out, NOW. It was more urgency, more longing to get the labor over so I could hold that baby girl. I think it helped knowing that I was capable of doing this enormously challenging, excruciatingly painful task of bringing a baby into the world- I had done it once before. I knew I could do it again, no matter how difficult it was. And I did. And it was perfect.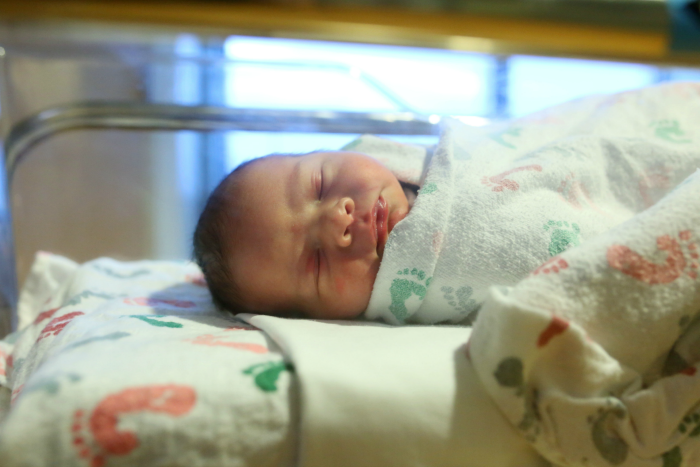 There's something about that moment. The moment the relief is finally felt, after you think it will never end, and you see that precious being for the first time earth side. It's spiritual. It's incredible. It's moving and emotional and the most beautiful thing I've ever experienced. And I can say without a shadow of a doubt that bringing my two babies into this world is the most important thing I have ever done.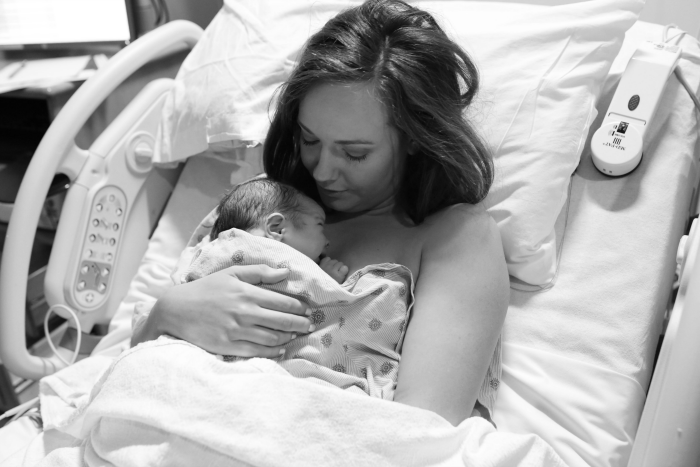 It was 6:55 am when our world was changed forever. With my husband holding onto me and encouraging me and telling me how amazing I am. With every fiber of my being longing to hold my baby girl. With everything aligning just so, little miss Sophie Michelle came to us. And she was perfect. My doctor gave her to me right away, I held her right on my chest, I kissed her head a million times and everything was right with the world.
I was very adamant that I wanted that skin on skin time with her, as long as she was not in distress or anything, I felt no urgency in them whisking her away asap. And thankfully, that is just what happened. I got to hold her. We bonded for almost an hour.
And then they took her to NICU with Zack and I stayed in the recovery room for what seemed like hours, but it was just one. It was one of the worst hours of my life, sitting there, completely alone, in the recovery room. My baby had been taken away, my husband following after, and there I was, having endured childbirth the second time, and experiencing the most beautiful moment of my life for the second time, and holding my sweet baby girl, fresh from heaven, with her big beautiful eyes and her tiny fragile but strong- so strong, I could just sense it even then- body.
Holding her for the first time was like God whispering to me that everything would be okay. I knew it then and we know it now. And I think I knew it all along. It was that reassurance I kept feeling. It was that calm that came over me. And so having them take her away from me was one of the hardest things I've had to endure. Because when you birth a soul, you want to hold onto that soul forever. I sat in the recovery bed, eating the mediocre hospital breakfast that the nurse brought me- watery eggs and some bacon- and feeling utterly helpless. I couldn't move from the bed. I was alone in that room. I had just had an encounter with heaven and now I was stuck here, waiting, alone.
And I finally got to go down to see her and she was hooked up to an IV and had tubes all over and that was hard. But I still always felt a calm. I knew that this was all routine, that they were checking to make sure and confirm what we already knew- that she is 100% healthy. And so in the NICU she stayed, for 24 hours. And we went back and forth from our room to hers, and very soon after she was born I was given the okay to breastfeed her! For a baby with a stomach abnormality (her stomach is closer to the right side than the left) this was HUGE news! And just the beginning of a series of good reports that came our way! She passed every single test with flying colors, and one by one everything was proven to be working 100%.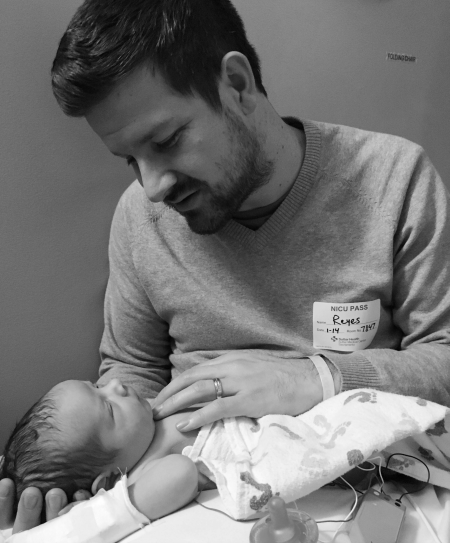 And after all of these months of pregnancy, agonizing, worrying, standing in the hot shower crying until my whole body shook, not knowing what would happen. All of these months of hearing that she could be so not healthy, that things could be very wrong- it was the biggest feeling of relief to keep hearing, after each test and from every doctor and nurse we met, that she was perfect.
Oh, it was the most beautiful sound in the world.
And at the same time, each one made me angry. For they still had her, MY baby, and all I wanted, so strongly and ferociously, was to hold her in my arms and never let her go.
Baby girl, you are perfect. And I'm never letting you go.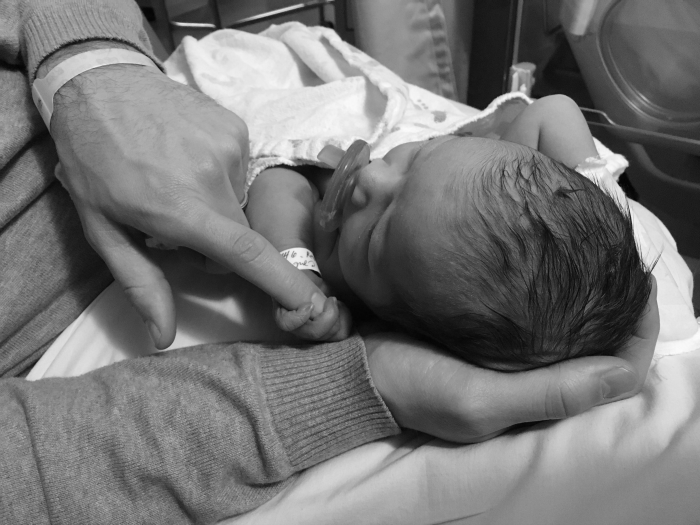 So many had prayed for her life. So many already loved her before she was even born. It's overwhelming to think, and we praise God for her precious, perfect life!
Our sweet baby girl is perfect. And finally, the day after she was born, she was released from the NICU and brought to our room! It was heaven on earth.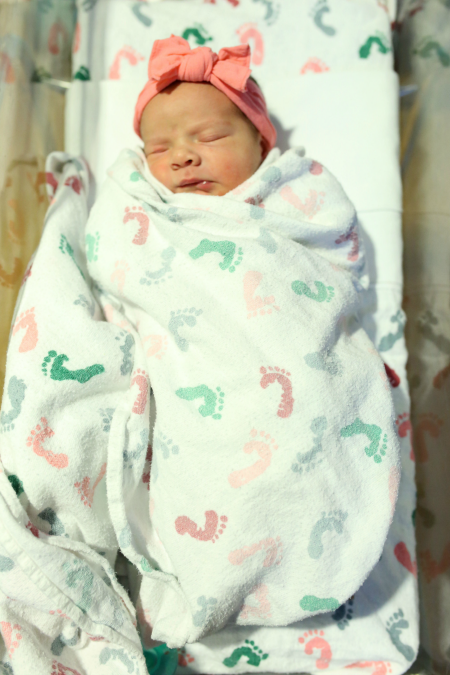 I never stopped praying through my pregnancy, and through labor and after. And our prayers were answered! She is perfect and healthy and strong. And she is our little miracle baby. I just kept looking at Zack and telling him, "I'm so happy!" I must have said that a million times.
She has such a calm and mellow demeanor about her. She has been through so much already in her short little time here on earth, and yet here she is, content and happy and our little love bug. And I can't get enough of her.
Her kissable cheeks and her soft skin. Her big blue eyes that look straight into my soul and just melt me. Her dark brown hair and perfect little nose. Her profile that is identical to her brother's.
Every little thing about her is perfect. And she is all ours!
At 6:55 AM on January 14th, our family grew by one heartbeat. And we couldn't be more in love with everything about her.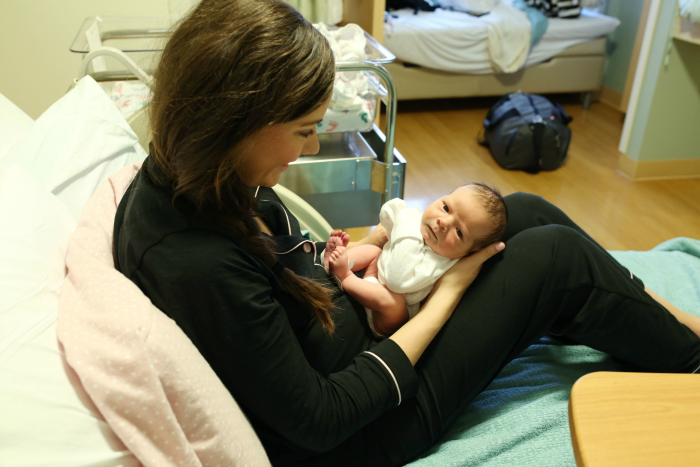 After all of the pain and worry and prayers, she was here, finally, in my arms. And right when I held her- so tight- I knew she was what I had waited my whole life for.
My girl.
My miracle.
xo
RELATED: The Story of Samuel: A Birth Story