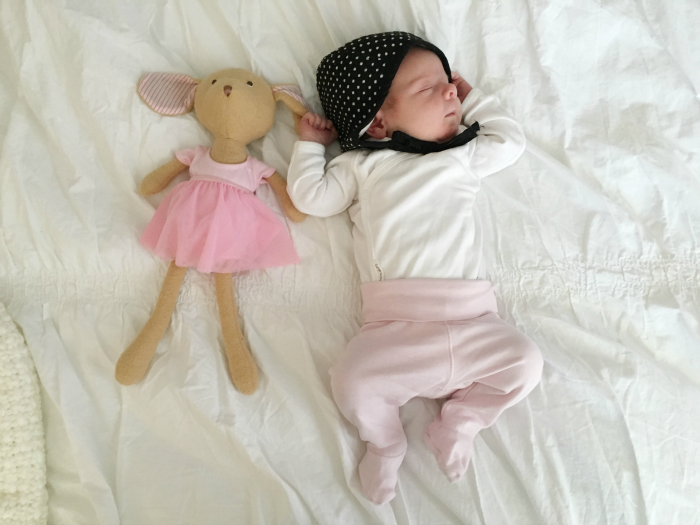 And now, for an updated post on baby sleep (see my other post here!) Sophie is an amazing sleeper. I feel like I'm allowed to say that after having dealt with a not so amazing sleeper in Sam. I've earned it dammit. I'll be the first to admit that sleep has a LOT to do with temperament, and some babies are just innately great sleepers and others… Not so much. Just know that if you have a more difficult one, to remember the saying that should be a motto of motherhood: this too shall pass.
Amen and amen.
With that being said, I have gotten a lot of questions and requests for my sleep tips! So ohh boy, here we go. My tips. Take them for what they are.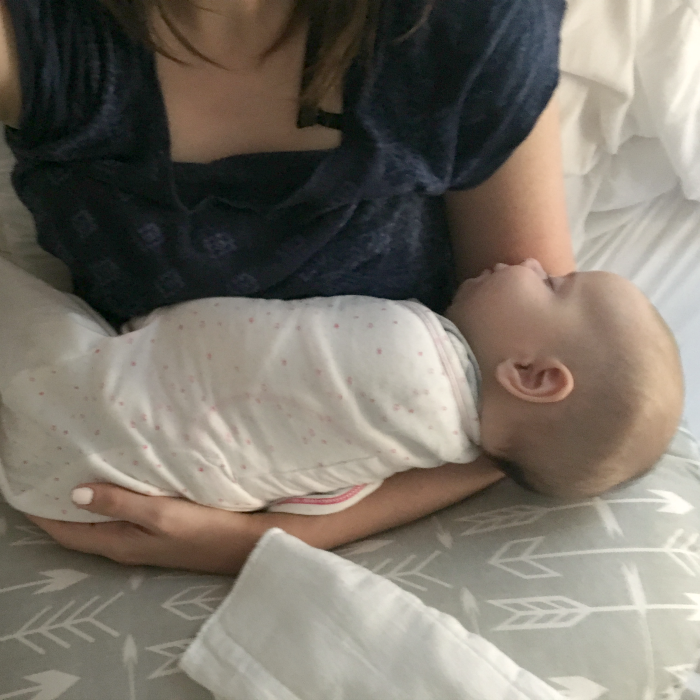 First off let's discuss the 4th trimester for a sec. There are 3 trimesters of pregnant and then Baby is born, but the 4th trimester is those first 3 months of baby's life where they are just adjusting to life outside of the womb. It's the 4th trimester for baby and for mama, with everyone adjusting and settling in to the new norm. This is when the all night cuddles happen. The extreme sleep deprivation. The zombie mode. The pains of beginning breastfeeding. It's all part of it. Figuring things out. Adjusting. And because of this, I firmly believe there should be no schedule. No rules. Do what's best for you and your baby (while being safe of course). Furthermore, it is just crazy to think that there can be structure for the first month or so. You'll drive yourself mad if you try.
Okay now that I've said that, lets move on to my tips…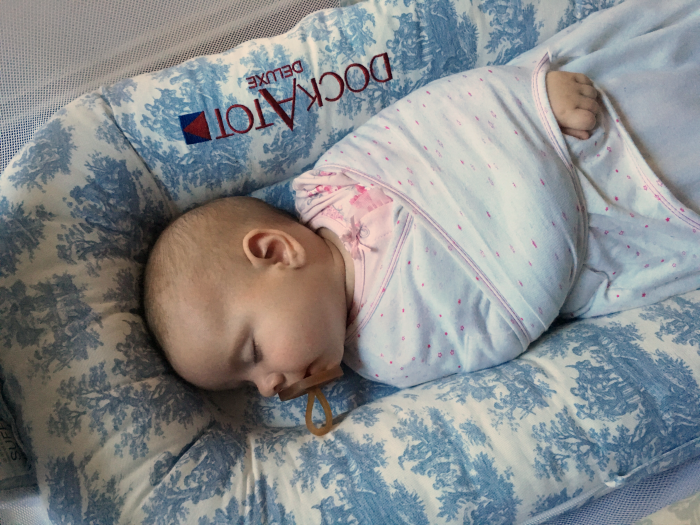 Swaddle! This is HUGE! We swaddled our babies from day one, and I feel like it is such an amazing tool that if you aren't using, you should!!! There are so many swaddle options available, try different ones and see what you and your babe prefer. We start off with the Muslin one's (we love aden and anais, little unicorn, this one was Sophie's first swaddle and the stretch is amazing!) and then moved on to Velcro ones after the first couple months or so, once baby gets strong enough to break out of the other ones (currently we are using the nested bean and she loves it!!! Best sleep ever with this thing! Read why I love it in this post).
RELATED: Must Have Baby Items
White noise! Another thing we started the first night home. We are already used to sleeping with it (and can't sleep without it now!) since having Sam, so this was a no brainier for us. It imitates life in the womb, where it was anything but quiet! Don't tip toe around. Don't whisper when baby is sleeping. Go about your day. Make noise. Baby will adjust and come out a better sleeper because of it. Plus, the womb was totally noisy. Baby is used to it already. There are machines you can buy, but we just use an app on our phones. :) You could even just turn the radio to white noise and voila!
Pacifier. So with Sam, they tried to scare us away from this in the hospital, talking about "nipple confusion." I'm calling BS on that. We used a paci with Sophie from day one (since she was in the NICU we didn't have a choice!) and she latched on great from the beginning and has been the best eater! Plus, when baby is fussy and just wants to suck for relief or for comfort, why deny her that?! We love Natursutten and Soothies that are the ones the hospital supplies. We also love these little paci clips– lifesavers when out and about! And even around the house. Because I swear, there is a black hole where socks and pacifiers go to die. We are always losing them.
Schedule. Okay, go back and read my paragraph above on the 4th trimester of you didn't already. Now know that I'm not talking about that. We started a very loose schedule around week 6 or so, and have fallen into a very predictable schedule that Sophie literally follows to the "T." We're always saying she's like clockwork, and it's true! We know how long she can stay awake before getting cranky and overtired, and if we didn't, she would let us know. It's pretty much the only time she cries. ;) Figure out your baby's wake time (right now, at 4 months, that's about 1-1.25 hours) and put baby down, swaddled and with a paci and white noise going.
We also follow the Eat/Awake/Sleep schedule (feed baby right when he wakes, then put him down after he's been up for his time, then he sleeps and that's your time! Then start all over again.) This has been huge for us! Also, we've noticed that stretching her wake time right before bed is huge too. If she's used to being awake for one hour at a time, keep her up 2-2.5 hours right before your designated bedtime. Also! We try to keep bedtime and wake time in the morning about the same- which right now is roughly waking at 8:30am and bedtime at 10:30-11pm. To keep track of when she woke/ how long she napped, etc I record it all in the nifty app called "Baby Tracker." It's awesome.
RELATED: And Now For a Post on Baby Sleep
Bedtime routine. Pick something quick and calming that is possible to do each night before bed. With Sam (our toddler), we do a bath , jammies, bottle, brush teeth, bedtime diaper, books, sing, bed. And he knows the order now and so he knows it's time for bed when we start doing these. With Sophie, it's much simpler. Bath (only on some nights, definitely not every night!), jammies, diaper, I nurse her (sometimes to sleep, but lately we've been putting her down awake but drowsy- although I am absolutely not against nursing to sleep! Talk about the sweetest moments!!), read a book, sing a song and put her down. Swaddled, white noise on, paci in. Give her little gentle rock and she's out in a few minutes.
Sneaking back in to take photos or just to stare at your baby is totally encouraged, and highly recommended. :)
DockATot– We love this thing so much I'm devoting an entire section just to it. It makes it safe to co-sleep if you put it in the bed with you (which we have done), but we actually place it in our bassinet and that's what works best for us! That way she is right next to me and I can easily take her out for any night time feelings, and place her back in without any fuss. But this thing, you guys. Gosh I wish we had it with Sam! It is plush and also nice and snug so that it hugs your baby, which we all know they LOVE. It's like they're sleeping in your arms, the best place they can be, clearly. And it's totally portable! We took it with us on our road trip, and bring it with us when we go to family's houses for the day, and she naps amazingly, because she gets to sleep in her bed that she's used to! I cannot recommend this enough! I'm convinced it's helped immensely in making our good little sleeper.
RELATED: Baby Registry Must Haves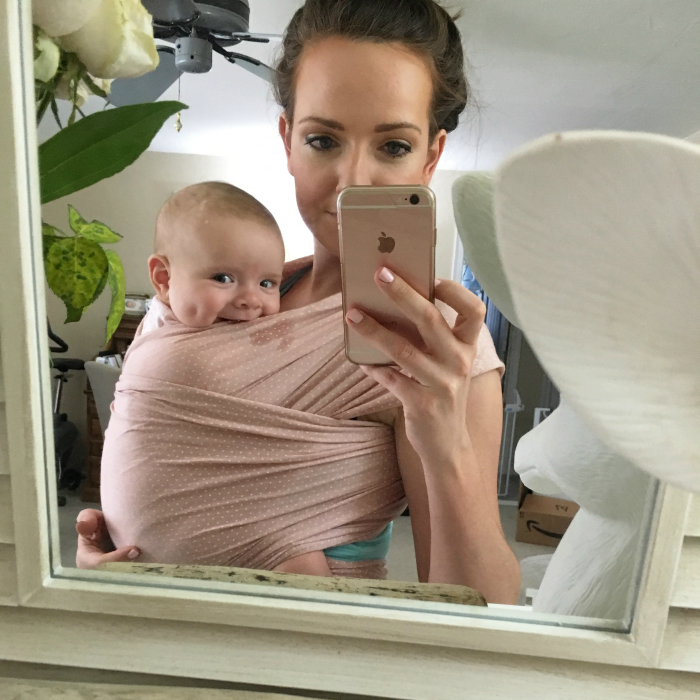 Baby wearing! When all else fails, if she is fussy or just not napping today, strap your baby on and go about your day with her in her favorite spot- close to your heart. I think it's safe to say it will be your fave spot too. ;) My favorite baby carriers are solly, happy baby and Ergobaby.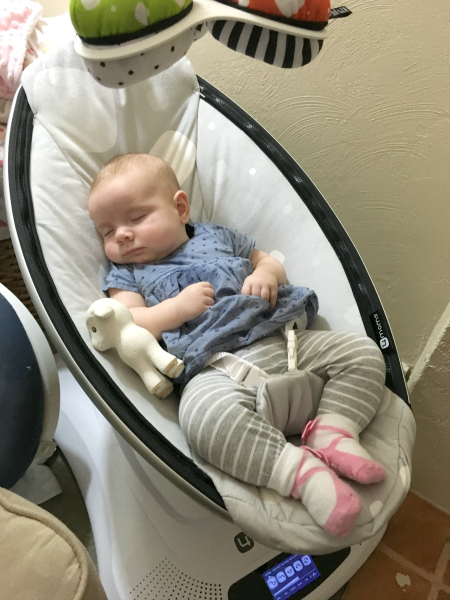 Another great tool? A swing of some sort. We love the Mamaroo for when we need to get something done and set her down in a safe spot for a bit. She loves the calming motion and the mobile up above. Everybody wins! She's even been known to fall asleep in it, which is never a bad thing. ;)
A few favorite items mentioned in this post:
DockATot (+ toile cover)
Best swaddle
Pacifiers and Soothies
Bassinet (full review here)
White noise app
Solly, Happy and Ergobaby wraps/carriers (recommend them all!)
Mamaroo
Above all, remember that you are doing incredible. And your baby is perfect and will sleep, eventually. And you will sleep, eventually, too, and how boring will that day be, right? ;) ALSO. In the meantime, whatever works is usually a great motto to have.
Okay, that was a lot. I could talk baby sleep forever, I swear! Let me know if this was helpful! And if you want me to cover any more baby topics- this was fun. :)
I hope this helped you! If it did, please share with your sleep-deprived mama friends! ;) On Facebook, Twitter, Pinterest and Instagram!
Thanks so much for reading, and happy sleeping, friends!
xo
Read More on Katie Did What