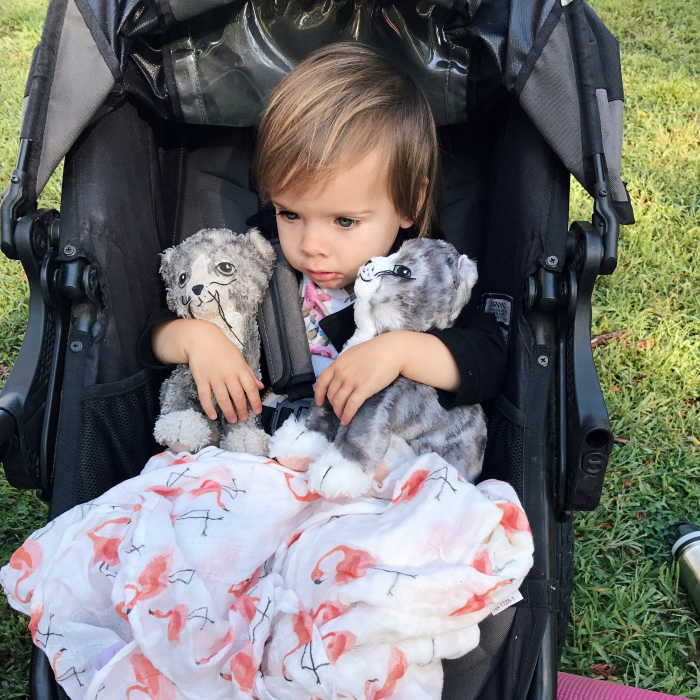 STORY TIME!
The other morning, Sophie and I got to our workout group and found a new friend of ours and parked our stroller next to her. I noticed that her little girl, Violet, has two brand new IKEA kitties with her- the same kitty that Sophie is obsessed with and carries around with her everywhere. And I just made a comment like, "Oh my gosh, Violet, look at you, you have two little kitties, and look at Sophie, she has the same little kitty!" And then Violet says, "Oh I got this one for Sophie!" I'm sorry, what? And her mama, Theresa, proceeded to tell me that they went to IKEA the other day and saw the kitties that Sophie always has with her and she wanted to buy Sophie a new one. Theresa and I had been talking last week about how I have been meaning to go to IKEA to get Sophie a new one since hers is SO dirty and she sleeps with it and needs a clean one. And Theresa told me that it was her little girl's idea! That she saw the kitty and remembered that Sophie had the same kitty, and that it was dirty and she wanted her to have another one! How sweet is that?! That is parenting done RIGHT.
Now Sophie is up a brand new kitty and we don't have to make a special trip to IKEA to get a new kitty. And this just really struck me and warmed my heart. And it reminded me that despite all of the hatred and evil in this world, there is SO MUCH good too. So much kindness. So much love.
Here's my point: It's so easy to be kind. But more than that, it's so IMPORTANT to be kind. Even the smallest of gestures can absolutely make someone's day. You just never know.
_______________________________
|| In case you missed this week's goodness: ||
– I shared the BEST FALL SWEATERS (love!)
– I talked about MY DETOX AND "RESET" (which has been going amazing! I feel so so great!)
– And be sure to enter my INSTAGRAM GIVEAWAY for a $50 Nordstrom gift card! :)
I hope you have a great weekend! Do something nice for someone. Even just a simple compliment or text. You never know who's day you will make.
xo