Hi! I want to start this post about dressing the bump by saying – if you're pregnant, you NEED to create a baby registry on Amazon. Not only do they have just about everything you could ever want, they offer free sipping on most items, free returns and the best part – up to a 15% completion discount on all items on your registry! Think about that… a discount on everything you registered for! Plus, Amazon is already the cheapest place to get most things for baby!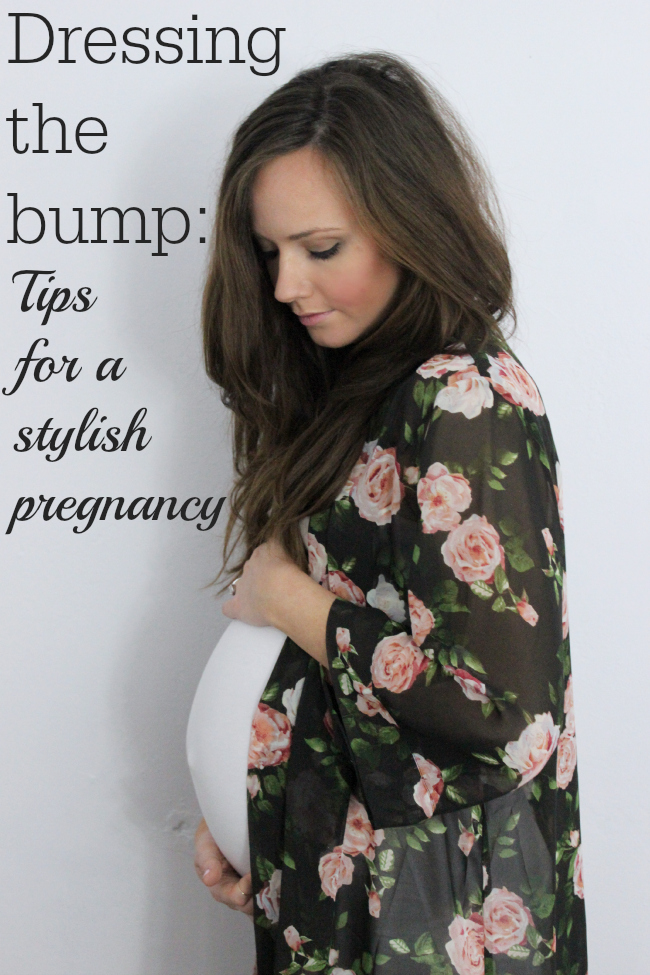 Now that I'm done being pregnant, I can honestly say that I will miss that bump of mine, if even juuuust a little bit. I mean, it was proving to be quite useful, as a table or hand rest. It's been a really fun challenge dressing that bump, and I have gotten pretty good at wearing normal person clothes and working WITH the bump instead of against it, if that makes sense. I'm not a huge fan of maternity clothes in and of themselves (except for a few super cute dresses I got and of course my beloved Gap maternity leggings and my very favorite blanqi maternity leggings– life savers!) and thus just sized up in normal clothes and worked with items that flatter and accentuate the bump just so. I also have been able to wear my non-maternity Zella leggings (my all-time faves!) throughout my pregnancies, too! And I think I got it down. Maybe that means more babies to come! ;) But hey, let's not get ahead of ourselves here.

Today I want to share a few of my tips for dressing the bump, as I have been getting a lot of questions about it, and really just want to put it all out there. First off, let's just say that I'm not a "maternity fashion" fan, really. I mean, most of the stuff if we're being honest, ain't that cute. Yes, it's better than it used to be (not so many muumuus!) but still. Feeling cute is HIGH on the list of priorities for a pregnant woman, and sometimes the maternity section just doesn't cut it. In no particular order, here are a few of my tips for dressing the bump!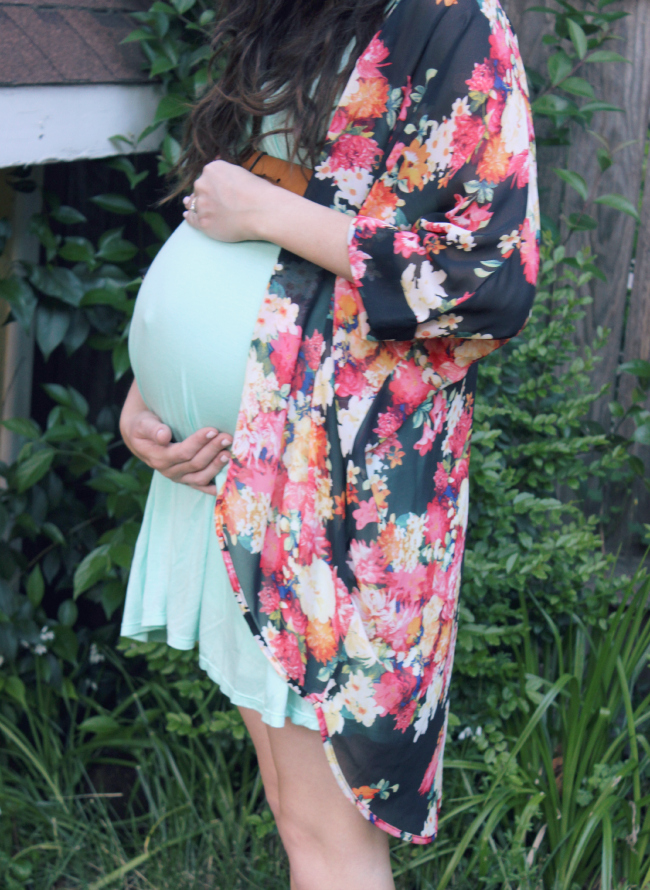 1. Open sweaters and kimonos are your friends. Anything that just lays over your shoulders, and thus cannot be stretched out! I love pairing a loose flowy open kimono with a tight and long cami and some leggings or a cute dress.
KIMONOS I'M LOVING: HERE, HERE, HERE AND HERE.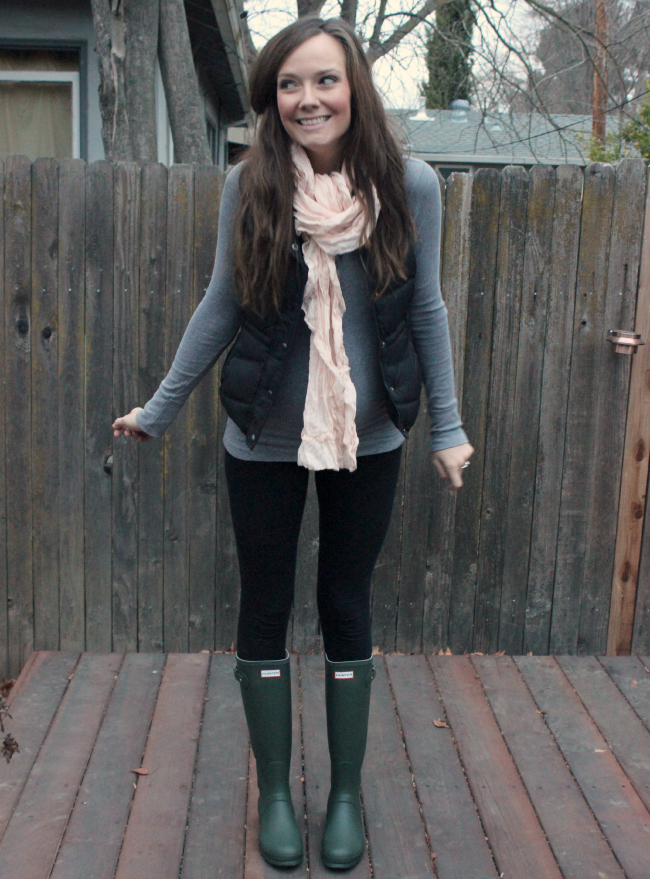 2. Maternity leggings are a must. Blanqi maternity leggings are my favorite lightweight leggings. They are opaque and super soft and comfortable and provide support for that belly. At a lower price range, but still a great option, are Gap maternity leggings. I recently found these compression leggings that I've been LOVING for workout out! So if you need a good workout pair, these are the ones! Also great for lounging around, they fit true to your pre-pregnancy size. They go perfectly with the Hunter boots found here. I am so happy I made this purchase near to the beginning of my pregnancy. It's one of the very few "maternity" items that I bought, and I am really glad I did. Especially since I was pregnant mostly during the colder months, I literally got SO much use out of these leggings. I would invest in a few pairs. I'll be re-purchasing for my next pregnancy, for sure. Also, though, you can totally get away with just wearing regular leggings as well. It's allll in that elastic waist. BIG THUMBS UP!
LEGGING LOVE: HERE, HERE, HERE AND MY FAVORITE LEGGINGS EVER HERE.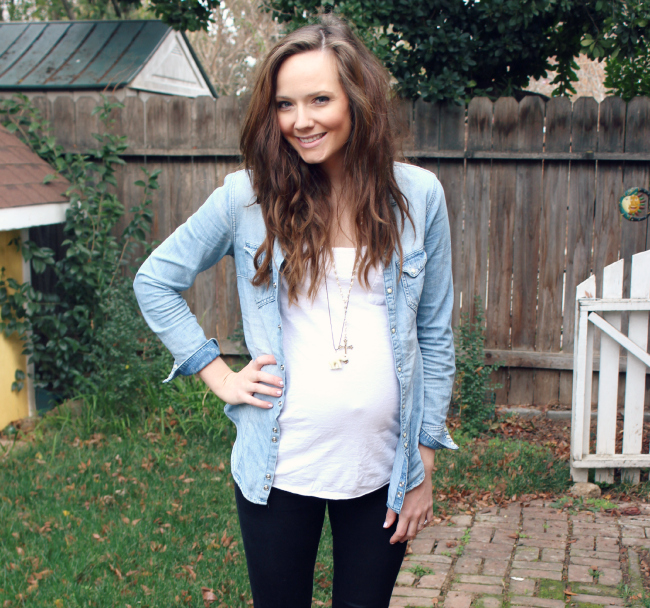 Related posts: Nursery Wish List | How to Start a Lifestyle Blog | Gift Guide for New Moms | Dressing the Postpartum Body
3. Size up! Okay, here's my biggest and most favorite "secret" of dressing the bump: Just size up! Buy regular clothes, all in one or two sizes larger than you usually wear. Boom. Done. You can still wear cute clothes that are in style, and you can still feel like a normal person this way. Also, I stocked up on these camis, in size Large, and they were perfect for layering and wearing underneath any shirts that might not have been quite long enough.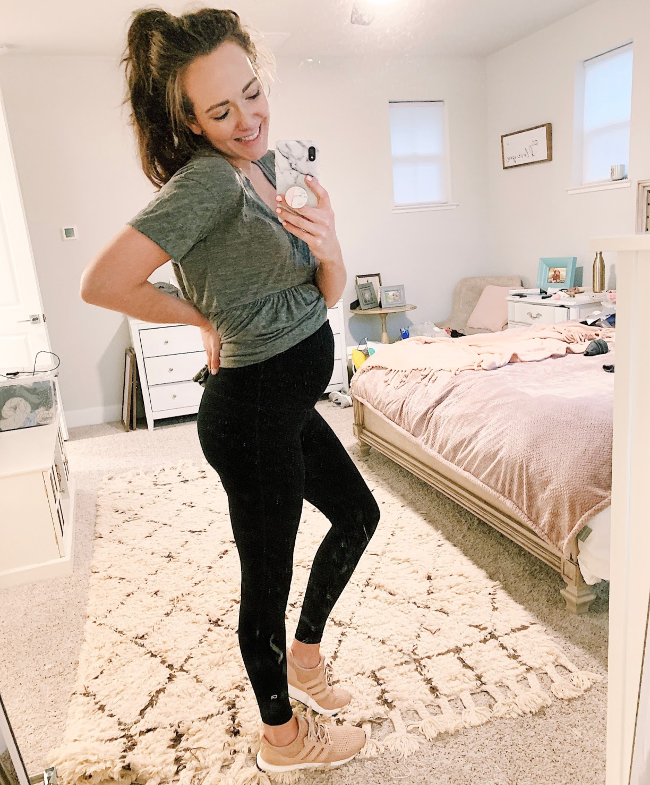 TOP | LEGGINGS | SHOES
4. Elastic waists are the bee's knees. Shorts, skirts (maxis are the besttttt!), leggings, anything with an elastic waist is your best friend during pregnancy. I actually wore my regular leggings throughout my pregnancy, as they are nice and stretchy and still fit! If you find they cut off your circulation, please, do NOT wear them- this is why those maternity leggings are so great! For variety, get a few pairs of leggings that are a size larger (or maternity leggings at your regular size- see the legging section above!) and rock those!
Also, check ThredUp for awesome discounts on brands that you love! They are one of my favorite "secrets" to getting designer clothes at a fraction of the price- plus, you get a free $20 off your first order when you sign up via THIS LINK!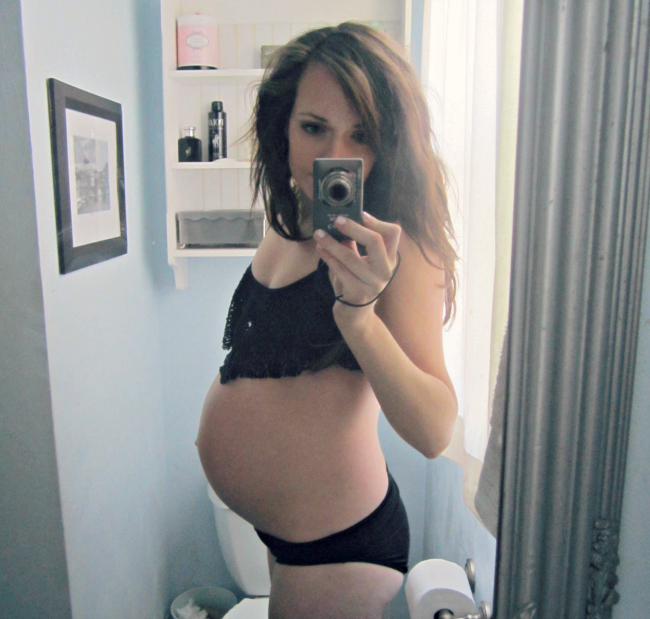 5. Don't hide it! If you're pregnant during the summer, show off that cute bump and rock a bikini! There is nothing cuter than a bump in a bikini, if you ask me. It's all about confidence, mama! This picture makes me smile, as it was just a week before little man was born. :)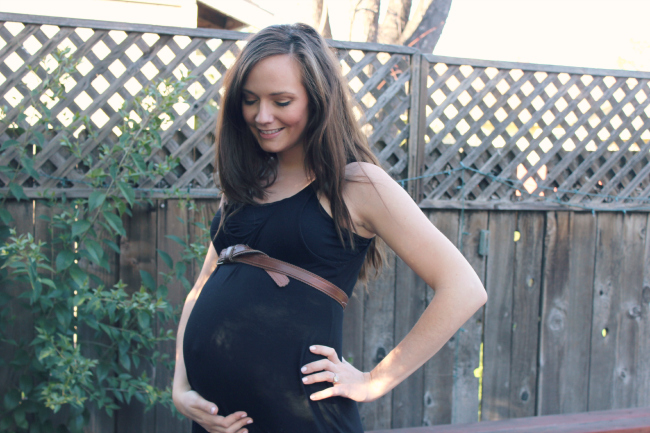 6. Accentuate it. Don't hide your beautiful growing bump! Show it off! Be proud of the amazing things your body is doing! My favorite way to accentuate my bump is to tie a belt right above it. This works great with a pretty little non form-fitting dress. I also loved wearing a form-fitting dress or top to really pop that bump!
SOME CUTE BELTS: HERE and HERE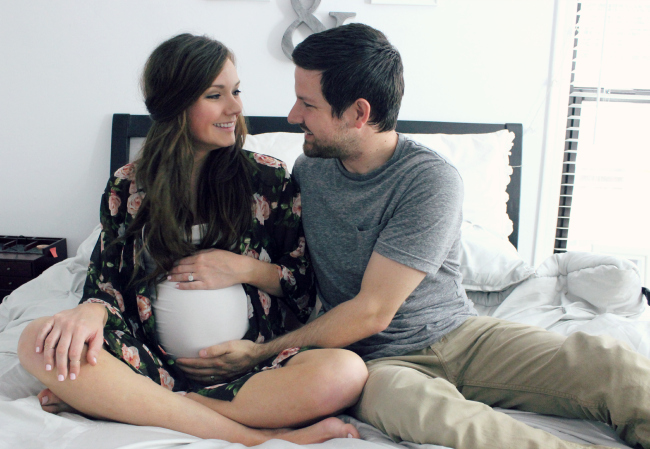 And there you have it. My top tips for dressing the bump. The best advice I can give is to have fun with it! And don't try to hide your bump with frumpy clothes. It will not only make you look frumpy, but you'll feel frumpy too, which is the LAST thing you should be feeling while pregnant! Flaunt it, little mama! ;)
Already had your baby? Check out DRESSING THE POSTPARTUM BODY!
xo