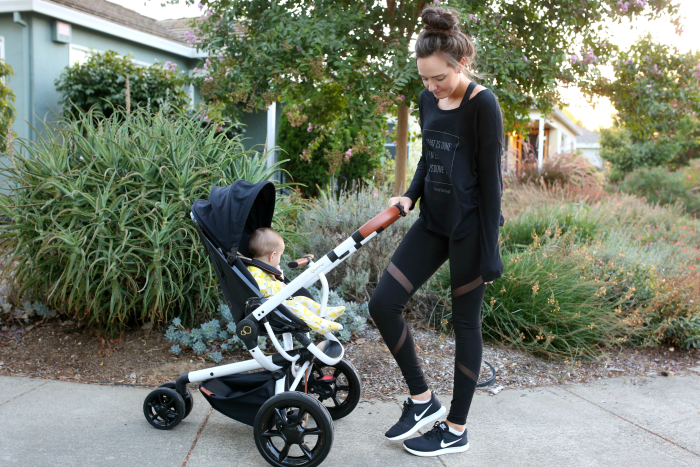 Alright, guys. I get asked a lot about motivation. And I've talked about it many times here on the blog- here, here, here and here! See? Lots of motivation. Because I GET IT. Some days I do. not. want. to. move. Sleep deprivation will do that to ya. ;) #momlife But you know what I've found? Every time that I get up and move and do some sort of workout, I feel AMAZING after and am SO glad I did. Because you will NEVER regret a workout. Promise.
With all this being said, wanna know my number one motivation for exercising? Cute workout clothes.
I KNOW, I know. This is silly. But think about it, and I think you miiiiight just agree with me? Maybe? If so, we can totally be best friends. ;) If not? Wellll… Scroll through this post and THEN tell me how you feel. I think I might just change your mind. Because new cute workout clothes make you feel confident and ready to kick some serious booty! And, I mean, just getting dressed is like 80% of the battle! Can I get an amen?!
K, time for the fun stuff. I've rounded up 30 of the cutest high-quality fitness apparel items to help you get back your motivation to work out and be fit! It's amazing what some new leggings and a pair of shoes will do for you!
I will take one of everything, thankyouverymuch! Yoga, anyone?? ;)
xo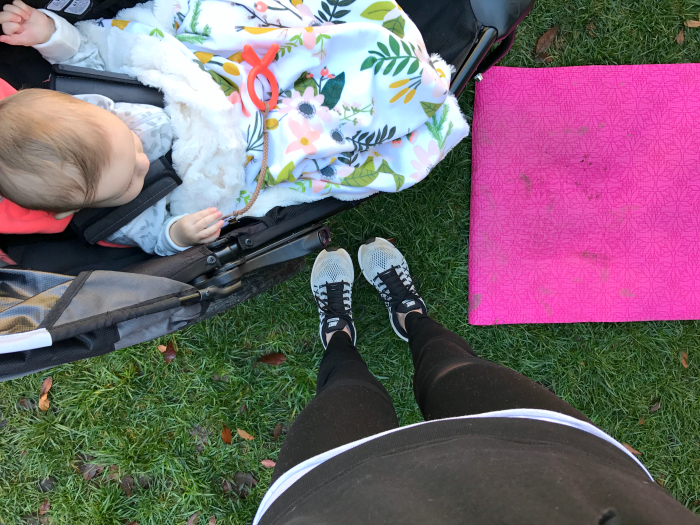 Fitness and staying healthy and active is a huge part of my life. Having babies has only made this even more important to me. I see every day that they are always watching what I'm doing, and it is so important to be a good role model for them, in my words and my actions.
So, sure, waking up to feed the baby and then working out in the early morning when she's crawling around my feet is hard, but it's worth it. Getting out the door in the morning to workout in the cold with a bunch of other moms can be difficult, but it is worth it. It's all worth it. Not only for me, but for them. Because I hope they see the example I set and follow suit.
That's my ultimate fitness goal: for my children to remember that their mama took care of herself and them, that she made health and wellness a priority and that she showed them that working out is FUN! Because it is! Really. ;)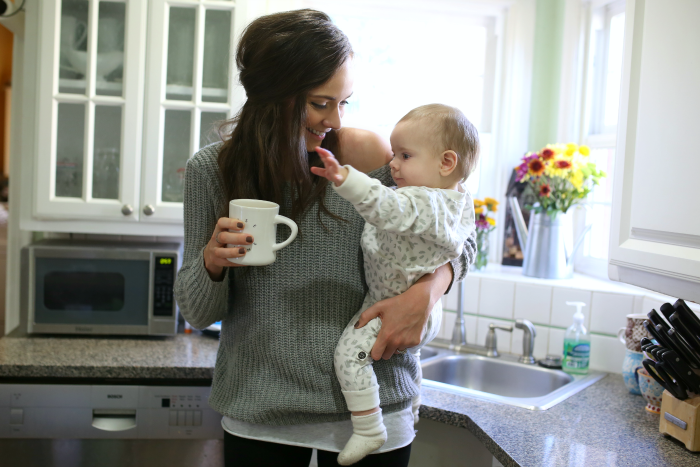 So, we all know that postpartum fitness in general can be the hardest thing ever. I mean, you just grew a human inside of you for 9 months, you're getting used to the feeling of having your body be only yours again, you feel awkward and don't fit properly in your clothing and you are SO TIRED. And feel SO FRUMPY. And you wonder if you'll ever fit in your pre-pregnancy clothes again! And kind of the last thing you want to do is drag your butt to get your sweat on.
At least, that's how I felt. And then I just decided it was time to stop thinking those things. I think the very first, most important step, besides just starting (the first step can be the hardest!), is to change your mindset. Don't poison your head with negative thoughts. It just leaves you feeling down and left with zero motivation to do anything at all. Tell yourself you're beautiful. Tell yourself you are amazing- you housed a human, after all! There is NOTHING you and your body can't do! And then get out there and do it!
One thing I've always found to be true: you will never regret a workout.
So, to help with my new postpartum fitness journey, I actually just recently joined a workout group for moms in my city, called Stroller Strides (they're national, so look them up! You may have one near you too!) and it has been SO fun! It's just a group of moms at all different parts of their motherhood journey, who all have a passion for leading healthy lifestyles. I never really thought I was the "group fitness" type of person, but I was wrong. There is something so motivating about working out with others! You have one big group of accountability partners! And it all takes place outside, in this gorgeous park, with your strollers and your babies and it's kind of the best thing ever. Anyway. That's my new addition to my postpartum workout routine that I'm loving.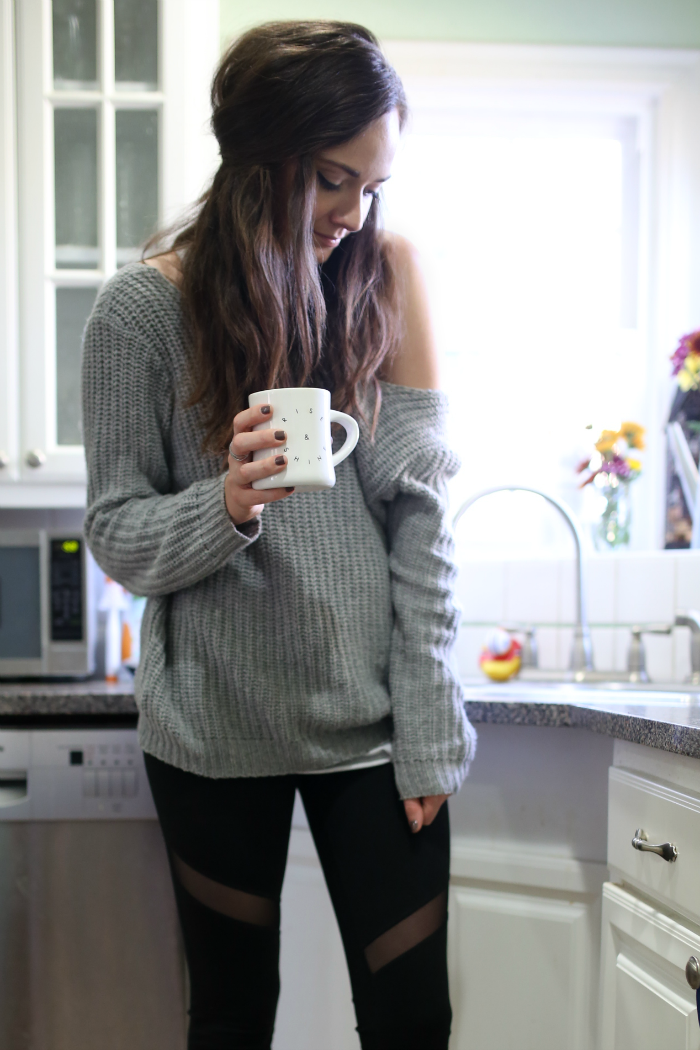 I am used to working out at home every day, in my living room. It's safe, it's comfortable and it's just something that I've grown accustomed to (and love!). But having a goal and a place to be to meet up with others and workout in the morning is kind of invigorating, in a way. But it's also early. At home, it's easy to roll out of bed and just start working out, but when you have to drive to get to your workout place, it's a bit more effort. Add bringing your baby on top of that, and it's a lot more effort. And one thing that I absolutely cannot skip to make sure that I get the energy needed to get my butt moving and out the door on time, is COFFEE.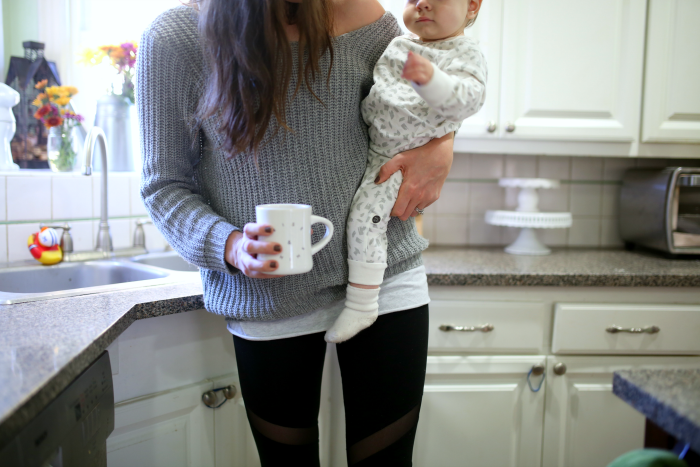 And everybody said, AMEN!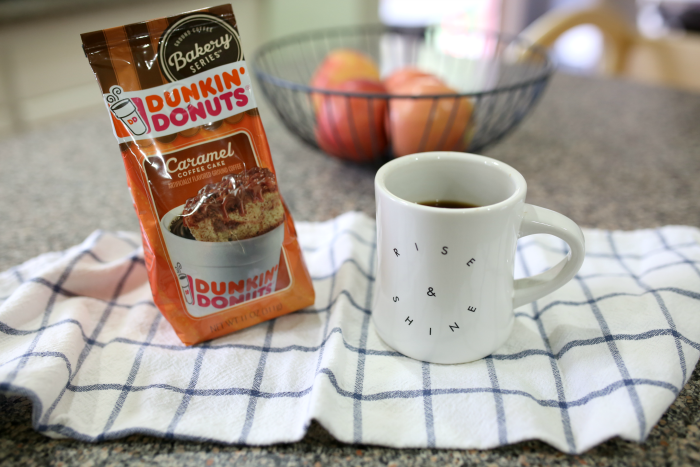 But seriously. Coffee is life. It helps get me going and energizes me in the morning so I can get out there and GO! I recently tried this new Dunkin' Donuts® at Home Bakery Series® coffee. I don't normally go for flavored coffee, but I am loving the Caramel Coffee Cake flavor. The best part is that you get the delicious flavor of a baked good without the added calories, because a pastry every morning doesn't necessarily fit into my healthy lifestyle. ;) This coffee gives me the best of both worlds: Dunkin' Donuts® coffee and rich baked goods. Mmmm hmm.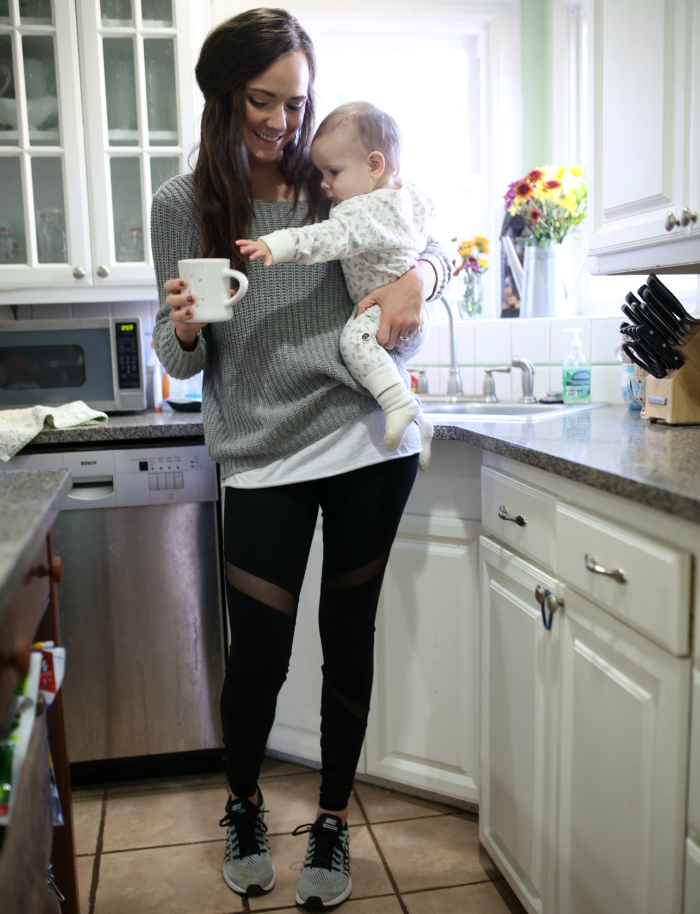 So find your motivation. Get energized. And get out and GO! I promise, you will not regret it.
xo
This post is sponsored by Doctor's Best Vitamins. All opinions are 100% my own.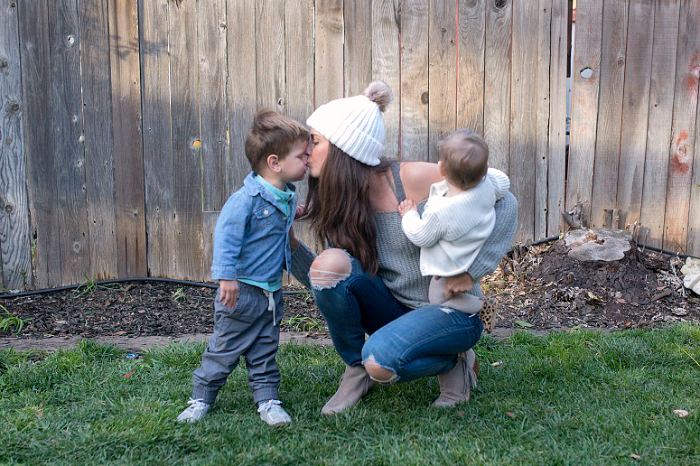 One thing that has become even more important to me after having kids, is my health. Leading a healthy life that I can be proud of, that makes it possible for me to run around with my kids and have enough energy to be a fun mom (lol- who else just thought of Mean Girls- "I'm not a regular mom, I'm a cool mom!") is way up there at the top of my priorities. I need to take care of myself so I can take care of everyone else. And I need to be a good role model for my kids, so they can see their mom eating well and taking care of her body and they can see how important it is and how much fun it can be! :)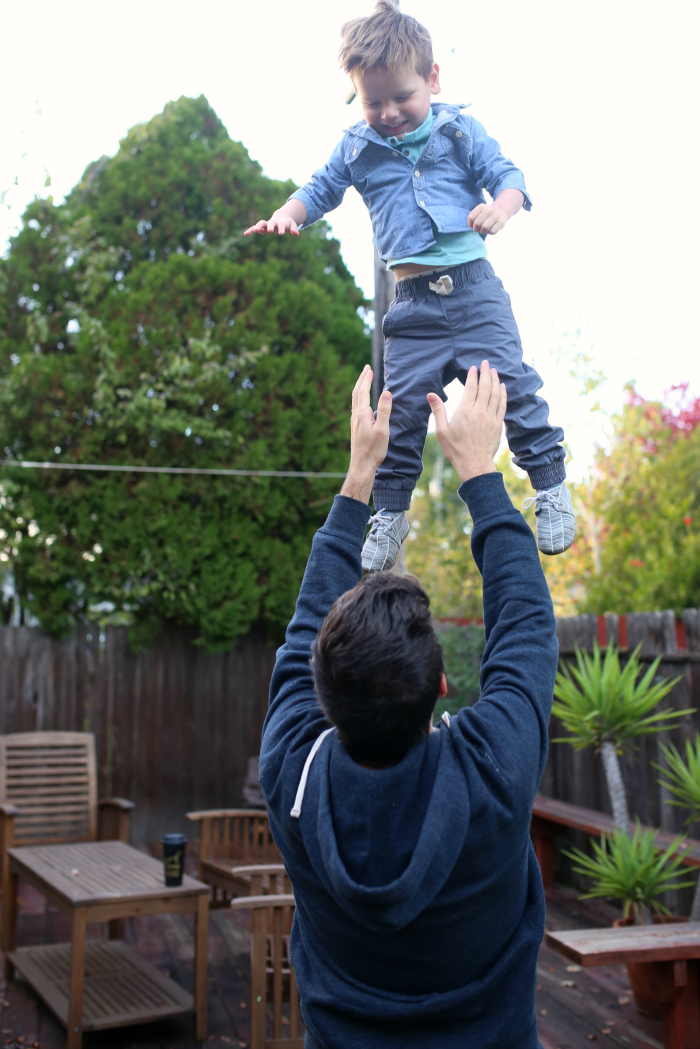 I know how precious life is, and how lucky I am to have my health. It is more important than ever, to both myself and Zack, to take care of our bodies, to nourish them and make sure that we can be our healthiest selves. To me, treating my body well through proper nutrition and working out is how I live the best life I can. And instilling these values in our kids is huge! I know that kids learn by example, and that is what we plan on doing: being the best examples we can.
So I get up and work out each morning. We go on family walks. We explore parks and run around through the grass. We play chase and have tickle fights. We jump up and down and swing our kids through the air. We make exercise and spending time together a FUN experience! And thus, it doesn't feel like exercise. It isn't work. It's a game, and it's fun!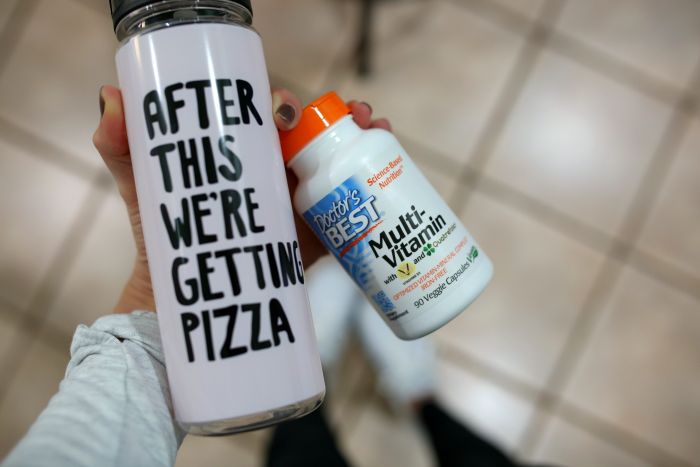 Another element of leading a healthy lifestyle is remembering to eat right and take vitamins each day. This is something I didn't start doing until I got pregnant and was taking a prenatal every day, and now I've continued as I see the importance of making sure to get all of the essential vitamins to keep as healthy as I can! Doctor's Best Multi-Vitamins make sure we get the vitamins we need each day in addition to eating well and staying active.
I have also realized that it's important to be consistent, as opposed to only taking vitamins when something is not right. I used to try and load up on Vitamin C when I felt like I was getting sick. Now, there's nothing wrong with that, but it's also important to make sure you get enough Vitamin C (and all vitamins) when you're feeling great too!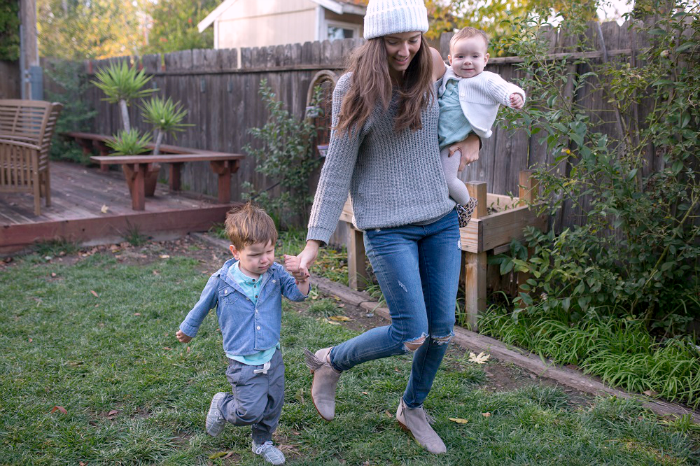 Some days, I am lucky to scrape together one decent meal with this zoo we've got here. Taking a daily vitamin helps keep me balanced for days when I am living off of toddler rejected mac & cheese, coffee and Larabars. Which, let's be honest, happens more often than I'd like to admit. ;) (Moms, raise your hands!)
How do you stay healthy and live your best life?
Post your own #MyBestLife submission on Facebook, Twitter or Instagram, using the hashtag, for a chance to win a special prize. Readers must like/follow the Doctor's Best page on the channel they are entering on to be qualified to win. Contest rules here.
xo
This is a sponsored post written by me on behalf of Tazo® Tea. All opinions are 100% mine.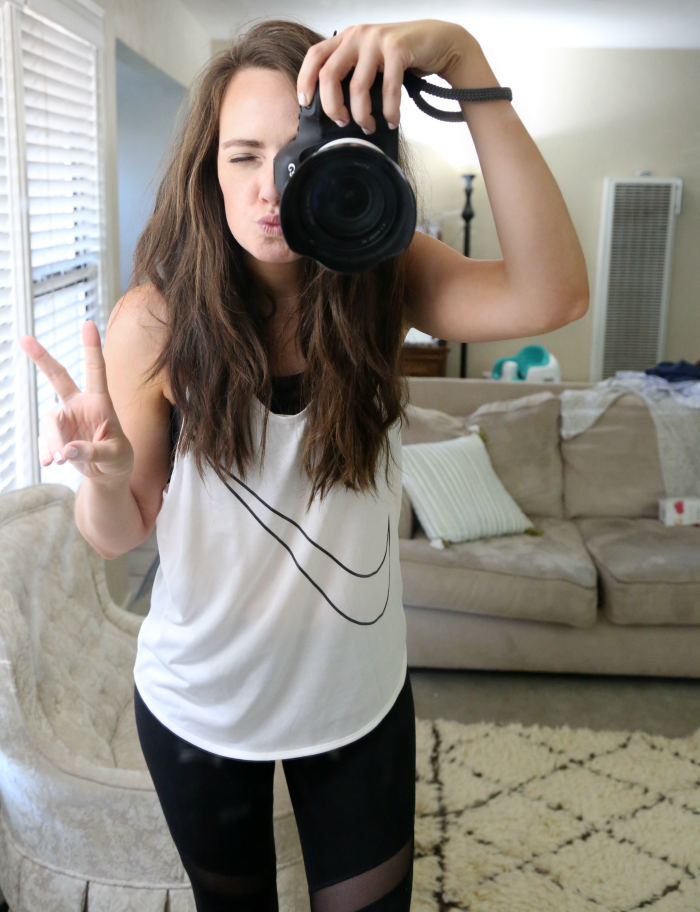 I have a confession: I've been super lazy lately. To be fair, I have a really good excuse! I was sick! Like, really sick. And being sick while also being a mama? That means feeling EXTRA sick, because you don't really get "sick days" to just relax and do nothing. You have little ones to take care of. Little ones, might I add, who were also sick. Yeah, it was a fun time that past two weeks around these parts. BUT! I have good news! We are all 100% better! And so, it's time. It's time to have no more excuses and to fall (pun intended) into a healthy routine once again.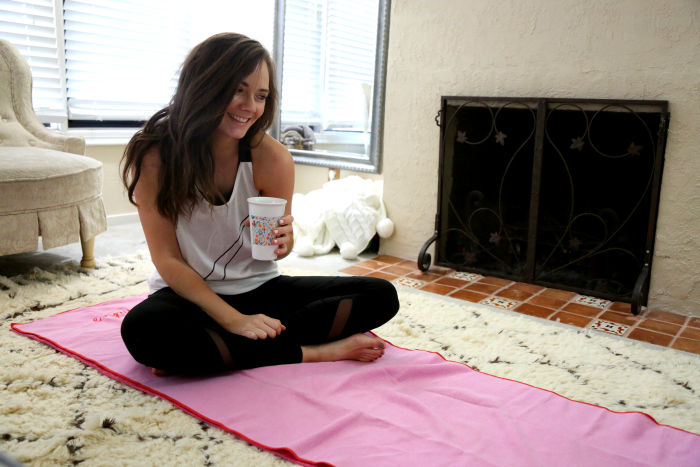 What exactly does this healthy routine look like, you ask? Well, there's a few things I'm implementing that I thought I'd share here today. In case you're looking for some healthy tips, too! :) This is what I plan on doing…
1. Wake up early! This one is SO HARD for me. I am nooooot a morning person. I tend to stay up late, because it's usually the only time to get work done. This does not equate to happy mornings. On top of that, I have a baby who is waking up a few times a night still, which also does not equate to happy early mornings. But, at the same time, I am SUCH a morning person. Bare with me here. I love waking up early, when I'm energized and ready to go. I love getting in my Jesus time and my workout before the kids get up. I love the feeling of getting a headstart on the day, and I love the smell of the morning. Do you know what I mean? It always smells new and fresh and lovely in the mornings. It's my favorite. So, what does this mean? It means no more late nights (as much as we can help it)! It means getting up whether I want to or not. Because those minutes in the morning, when the kids are still sleeping and I can just get some crucial "me time?" They are huge. They refresh me. They feed my soul. I crave them. So. Early wake ups it is!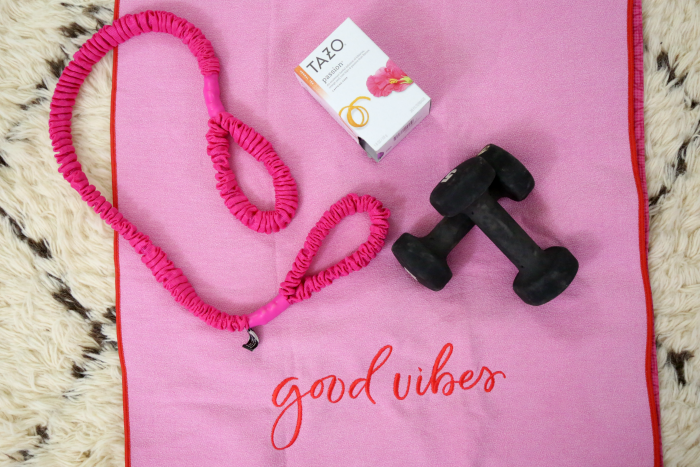 2. Work out every day. This is one of those things that is totally a personal preference, but for me breaking some sort of a sweat every single day is just something I strive for. This doesn't mean I have to do some hardcore hour long workout video every day. Heck, some days my "workout" is running around with Sam! And let me tell you, it's the best cardio you can get! ;) Working out clears my mind and makes me feel better every day, from the inside out. I notice I feel better, I look better (I'm glowing!), I am more confident, I make better eating decisions and I am a happier person in general when I'm regularly working out. :) My hubby can attest to that!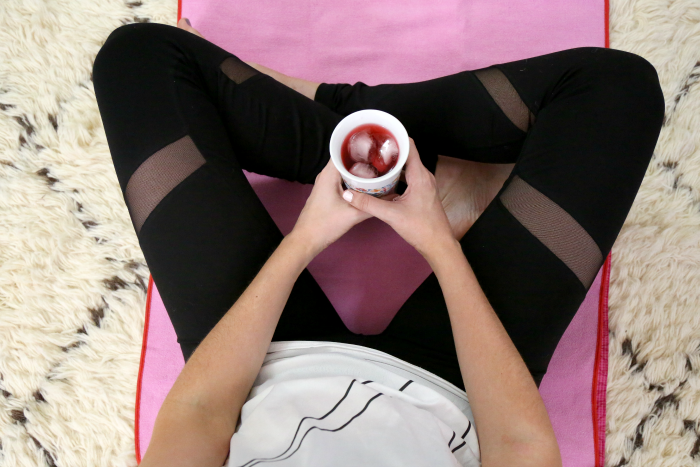 3. Stay hydrated! This. Is. HUGE. I'm currently breastfeeding, so it's even extra important, but regardless, water is always a good idea! I just fill up my big bottle and always have it with me, all day long. Now, sometimes plain water is just… um… boring? So I try to mix it up and get my water however I can. Lately, I have been drinking Passion® Tazo® Tea in the afternoons- and guys, it is SO good! (They also have Zen™ and Awake™ English Breakfast blends, which are both delicious as well). It's my favorite "pick-me-up" and it's also caffeine-free! YAY. I have to limit my caffeine intake, as I get dizzy if I have too much, so it's the perfect beverage that is delicious, refreshing and still gives me the boost I need. Plus, it's a lovely lightly sweet blend to curb any sweet tooth I may have midday. ;) I like to brew a cup and chill it, then pour over ice! Sooooo good.
4. Stay organized. I live by my planner- literally everything I have to do or have done is written in there. It's how I stay on top of all of my writing work as well as all things having to do with my blog. I also plan out my week as far as workouts go and schedule out any social activities we have for the week. Seriously, I would be a mess without planning! And it's definitely something I could get even better at. So that is a major goal of mine- to be more organized and not procrastinate on deadlines. ;) A work in progress, for sure.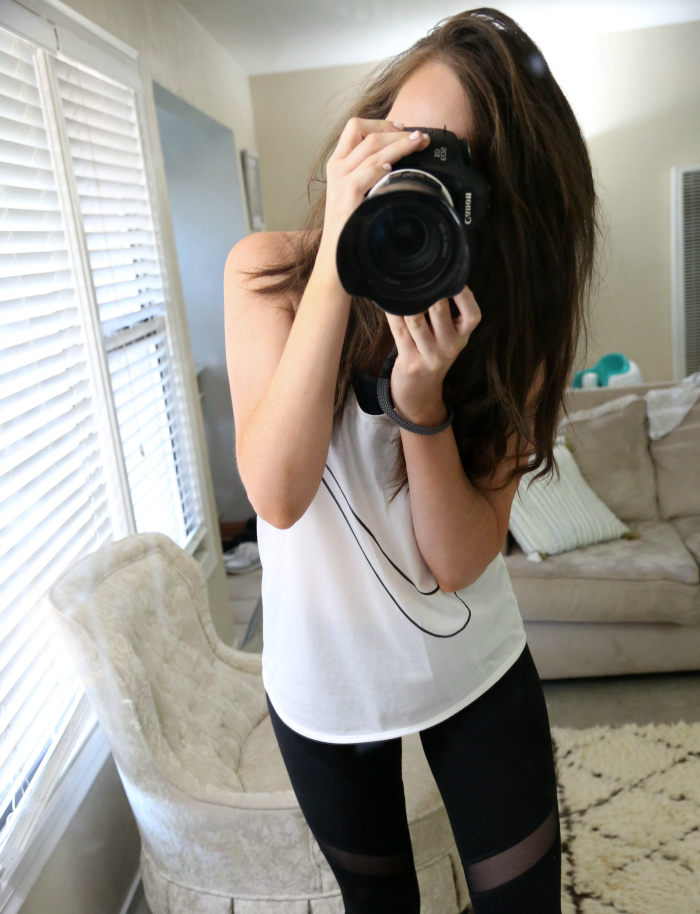 And there you have it! Some super simple ways I'm getting myself back on track! What are some healthy things you implement in your everyday? I'd love to hear!
xo
This post was sponsored by Brita but opinions are completely my own based on my experience. #FuelWithBrita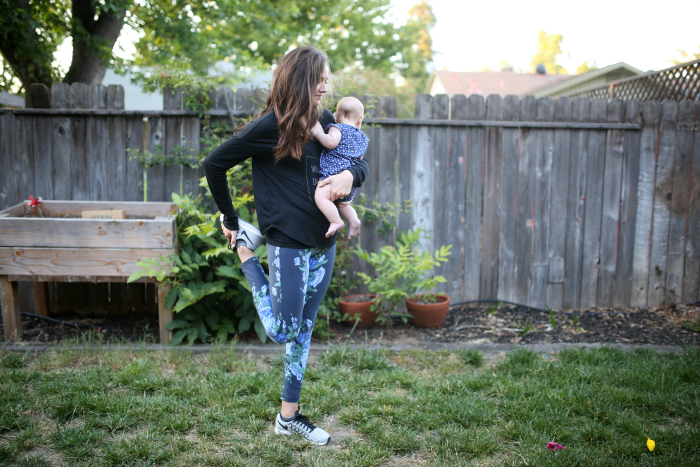 top | leggings | shoes
Living a healthy lifestyle is so important to me. I've noticed, after having Sophie 4 months ago, that it has been a biiiiit trickier this time around losing the excess baby weight. I think that definitely has to do with my gaining a bit more with her, and also it's a lot harder to find the time (err.. make the time) with two little ones. Harder, but NOT impossible! Yesterday, I literally had to do my entire workout holding my 16 pound baby (see above photo), because that is just what had to be done. And you know what? I felt incredibly strong afterward! Like, if I can do that, I can do anything, basically!
SO. I'm not allowing any excuses for taking care of myself. It's important, it is a priority, and therefore it's just not something I can let fall to the wayside. Plus, I am a MUCH happier person when I'm taking good care of myself, both physically and mentally!
I've gotten a few questions, after having my second baby, about how I've lost the baby weight and what my workout regime is. Well, first of all, I laugh at the phrase "lost all the baby weight" because, girlfriend, I haven't. Not even. Trust. BUT. I am making my health a priority, making a change for the better, and am proud of how far I've come already!
A few things I've implemented:
1. Move every day. I know I've said this before, and I'll say it over and over again. Getting up and MOVING each day makes the biggest difference! There are some days where all I want to do is just lie on the couch and be super lazy, and thus I feel sluggish and lousy all day long. But when I actually get up and move- get out of the house or simply put on some music and have a dance party in the living room- I feel energized and better all day! It's simple. But it is something I make sure to do each day. Plus, having a very active toddler definitely helps with this! I honesly am never allowed to relax on the couch all day, even if I wanted to. ;) #norestdays.
2. Eat Well. Recently, I even got my husband on this bandwagon! ;) You ever notice how much better you feel when you're fueling your body with proper nutrients and not weighing it down with junk? Your energy is up. Your body feels tighter and lighter. And you just feel better! Working out is hugely important in being healthy, but if you don't fuel your body with the proper food, there's no point.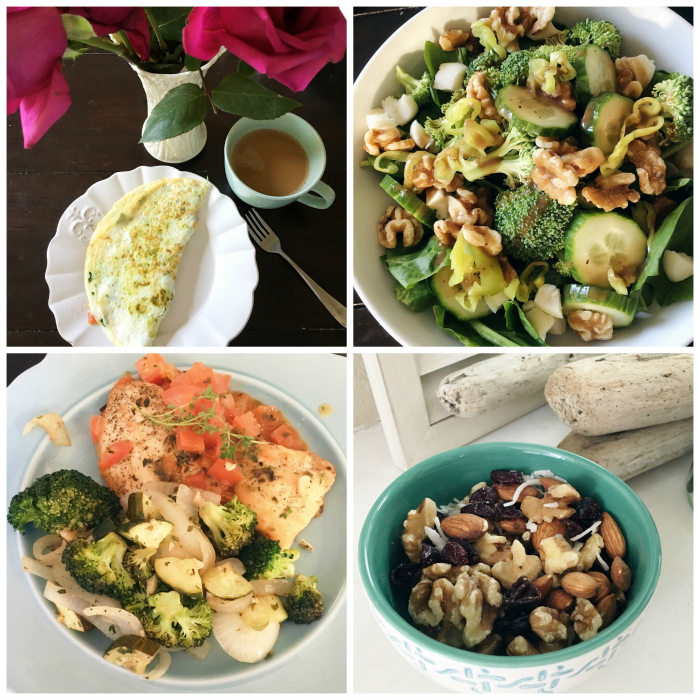 Some examples of meals: Chicken with tomatoes and veggies on the side. Egg white omelette with cheese, spinach, tomatoes and thyme. Spinach salad loaded with whatever veggies you have. My favorite salad dressing is just some olive oil mixed with balsamic vinegar and a squeeze of lemon- it's the BEST and so healthy! For a midday snack, I love almonds, walnuts, coconut flakes and dried cranberries mixed together into a homemade trail mix. I like to measure out my food so I'm not mindlessly snacking out of a bag- portion control is very important!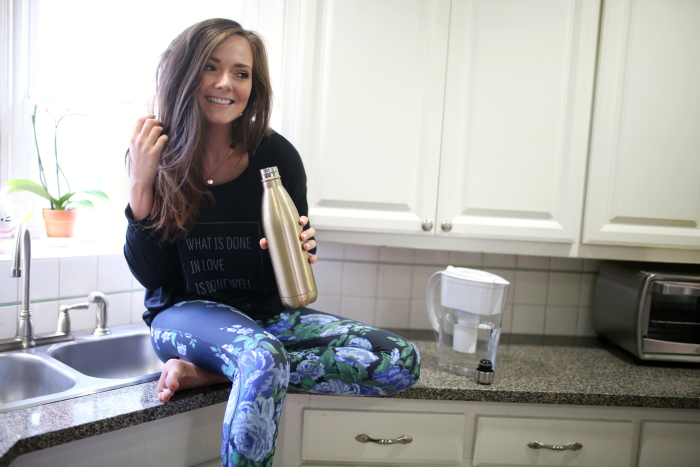 brita pitcher | water bottle
3. Drink water! Every day. All day. Water, water, water. I fill up my large water bottle with water from my Brita® filter, and refill throughout the day. I make sure it's always near me, and have even stopped drinking soda or anything else. Really, I just drink water (and the occasional glass(es) of wine some evenings). (OH, and of course coffee. Gotta have my coffee). Water is so good for your body, your energy levels and even your skin! DO IT. Chug chug chug. This is huge!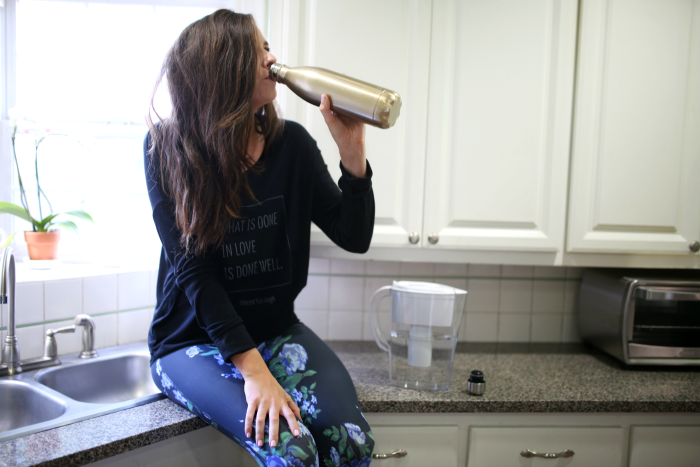 I got my Brita filter from my local Safeway, and have been using it every day! I absolutely love that I know I'm drinking cleaner, healthier water that is nourishing my body! I feel great giving it to Sam, too. And I can tell the difference in the water I'm consuming. It just tastes better. And straight out of the fridge, it is cool and refreshing. Seriously the best. We had been buying bottled water, and this is saving us so much money, too! So yay for that!
GIVEAWAY TIME!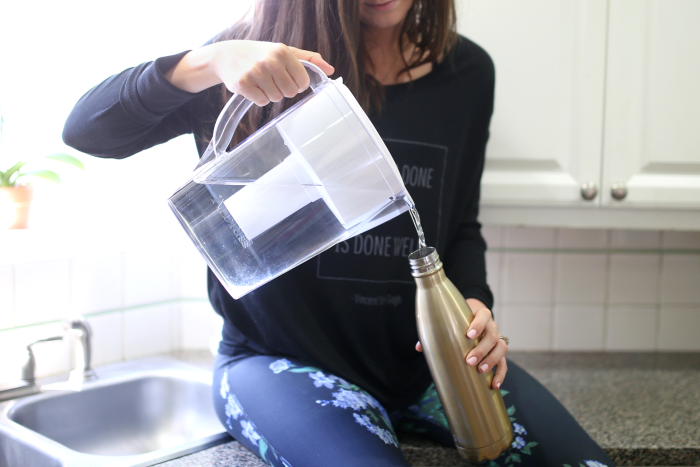 We're giving away (1) Brita Filter Pitcher!
TO ENTER: Visit my twitter and retweet the most recent tweet (about this post) and then leave a comment below with your Twitter handle!
No Purchase Necessary. Ends June 10, 2016 at 11:59 PM EST. Subject to complete Official Rules.
xo