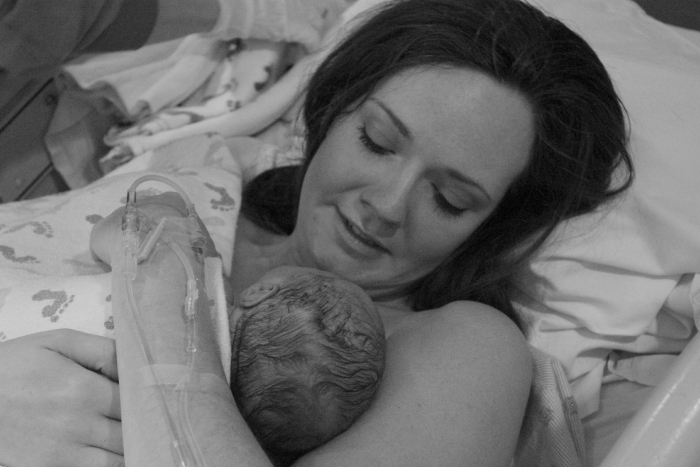 Friday, April 11th 2014. A day that changed me forever. The day I became a mother. This little guy is already our whole world. And it's scary how much love I have for this tiny helpless being. And I don't have anything earth shattering to say. I won't be stringing together words that you haven't heard before. I love him, and that is enough.
But here it is, as I remember it. The birth story. The story of Samuel. Born 4/11/14 at 6:39 pm, weighing 7 lb 2.4 oz and measuring 19.5 inches in length.
Thursday night, we were sitting on the couch, and I got this urge to paint my nails. I just knew that I needed to do it. And I asked Zack which color I should paint them, pink or blue? And of course, his answer was blue- I mean, duh. So I painted my fingers and toes baby blue the night before Sam's birthday. I guess it was mother's intuition?
I went to bed, with freshly painted nails, and awoke suddenly at 3am sensing something was happening. I went into the bathroom, and my water broke (in the bathroom, not in the bed! Which I was happy about, because I had just changed the sheets). It was a slow trickle though, not a big gush, so I wasn't sure. Zack could tell something was up by the urgent way I jumped out of bed. We went back and forth as to whether this was anything or if we should just go back to bed. I remember thinking, oh my gosh, is this really happening?? No contractions. I just felt like I was slowly peeing myself, and couldn't stop- yeah, great feeling. ;) We put our cameras and chargers into our packed bags- and I was so glad I had packed those bags already! I was 38 weeks- two days shy of 39 weeks. I even made the bed. I mean, I didn't want to come home to an unmade bed. I was potentially in labor, and here I am making the bed. Go figure. My mom would have been proud of that one. ;)
We left for the hospital around 4am. We went to triage. They checked me out. Sure enough, my water had broken, and I was admitted. Since there's risk for infection once that happens, they admit immediately, even though I wasn't in labor yet. We waited and waited. I was feeling very anxious and scared, and Zack said a prayer. It was the sweetest prayer ever. I'll never forget that moment. It definitely helped ease my mind and brought me peace. Around 7am we called our parents and texted some people. We were then moved to labor and delivery at about 10am.
I was starving and pleasantly surprised that I was allowed to eat! The breakfast was pretty bad, but the lunch was a little better although I didn't eat too much of it. I guess nerves were kicking in a bit! Labor wasn't moving along as quickly as they'd like- my nurse kept telling me she wanted to see my nose crinkle from the pain of contractions. I started feeling them, but it wasn't anything too painful- yet. My nurse by the way was awesome. My doctor later said, "don't tell anyone, but you have the best team right here" of the nurses I had. I agree.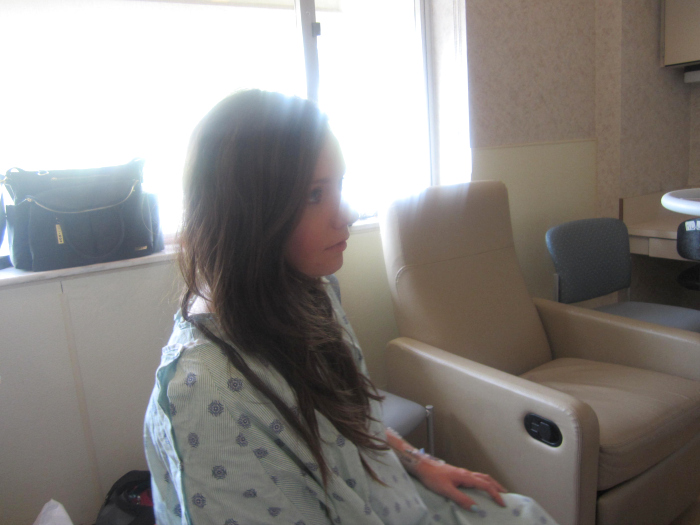 They started me on the lowest setting of Pitocin, to get contractions moving along. It worked! I sat on the yoga ball for quite some time, which felt great. I stayed as long as I could, and also walked around as per their suggestion. Trying to get labor moving! My doctor came to assess me around 1 pm and I was 3cm dilated. She gave her prediction that she said is never right, that he'd be born around 10 pm. She also said she would be the one to deliver him. Her direct quote, "We're having this baby together!" Made me glad to hear! It was important to me to have a familiar face.
While waiting in labor and delivery, we still didn't have a name for our little prince. The nurse asked our top names, and wrote them on the whiteboard and said that our homework while waiting was to pick our name. We decided upon Samuel, to honor my grandpa who's name was Selmer (it's Norwegian) but his nickname was Sam. I've always loved the name. Sam's are always genuine good guys, and that's what I want my little one to be. His middle name is Zachary, after his dad. :) Samuel Zachary. Zack and I both agreed that we loved the name and it is perfect for our boy.
Contractions were getting more painful, so I got a walking epidural around 3pm. The anesthesiologist was hilarious, and it was a strange sensation, getting that epidural. A weird warm gush down my back, and just an odd feeling. I instantly felt it working, and when the nurse said, "You just had a really strong contraction! Did you feel that?" And I said "no!" I knew it had been a good idea!
I was starving again, and since I had the epi I could only have clear liquid, but this included jello! And so, I got strawberry jello and it was literally the best thing I'd ever eaten. (I actually had Zack buy me some when we got home.) My doctor came back around 4pm and said I was 7 cm dilated! This was also when I knew I needed more med, since the epi was wearing off. I got a full one this time, which numbed my legs (I kept saying I felt like they weighed 300 lbs!) and lower body. Around 5:30 the nurse could see things were progressing a lot and we were going to have this baby soon! She asked if I wanted to have a birthday party today, and I said YES. The doctor was paged and I started pushing!
I pushed and it was so much physical effort! I was really glad I worked out through my pregnancy because it felt like a marathon. After one hour of pushing, which was the most excruciating thing I've ever done and also so empowering and terrifying and awesome and painful and difficult at the same time, Sam was born. Zack was by my side the whole time and was the most encouraging. Everyone was telling me how great I was doing and they were all my personal cheerleaders. I even looked in the mirror, which I never thought I would, and seeing his tiny head with its tufts of dark hair was so motivating!
Giving birth was hard. So hard. I felt like giving up a few times. That last push came, and I honestly thought I couldn't do it. I distinctly remember saying to myself, "I give up. No more." But she counted to 10 and I saw this beautiful little person emerge, and all of that pain and frustration of pushing, all of it faded away. They placed him on my chest and I looked into his perfect face- his face that was only ours- and I was so overcome with love for this being. And I cried tears of joy. And it was the most beautiful experience in the entire universe.
It was worth all of the pain. He was worth everything.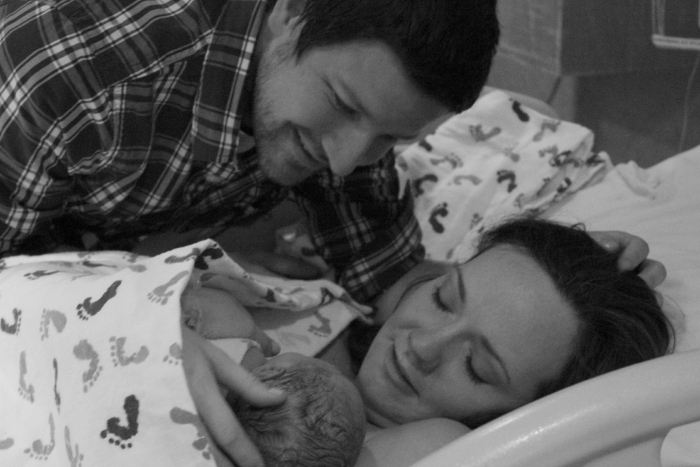 Those first moments with him were like a dream. We had a little family, just like that. We spent over an hour with him on my chest, skin to skin, and then they weighed and measured him, and I was running a fever of 101.6 and thus gave him a little fever, so Zack held him for a bit. I got a cool washcloth and put my hair up and started feeling better. Nothing else mattered- I was on cloud 9 the entire time.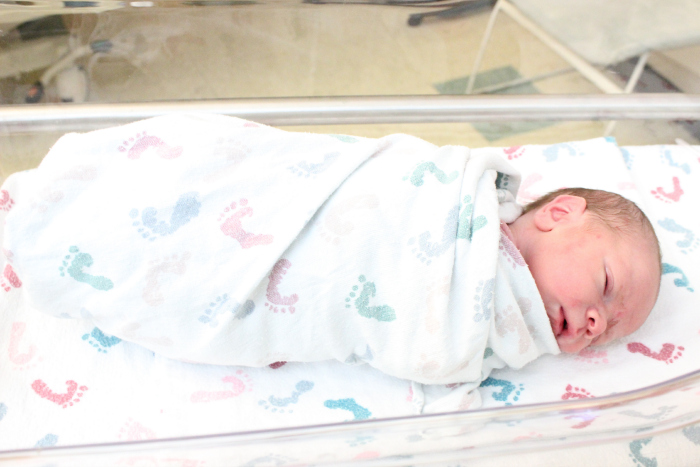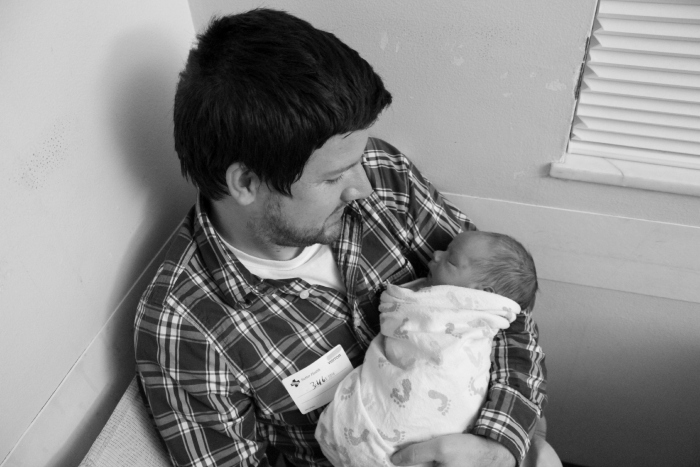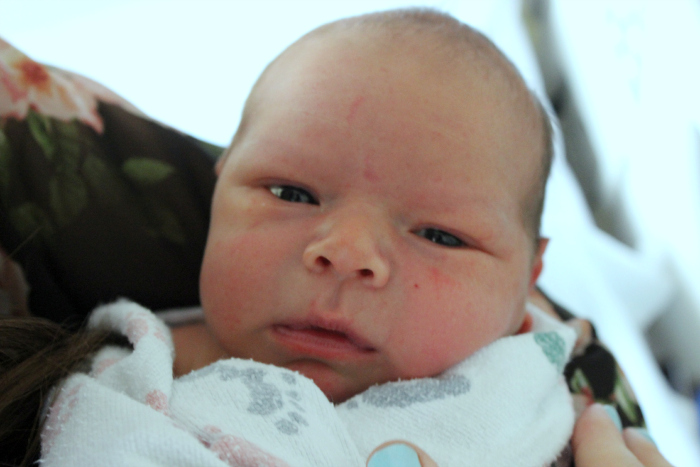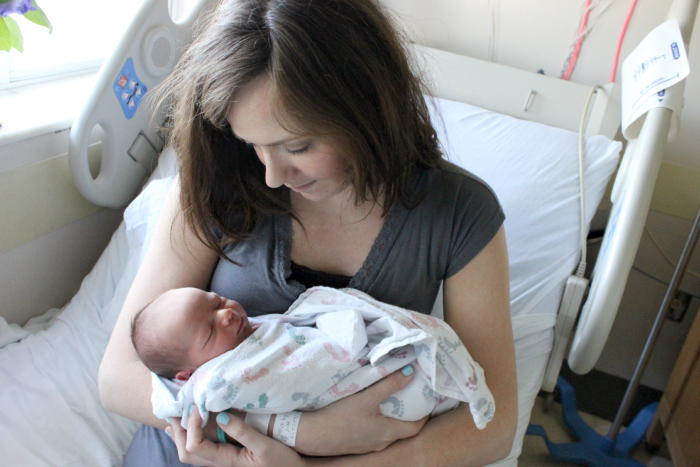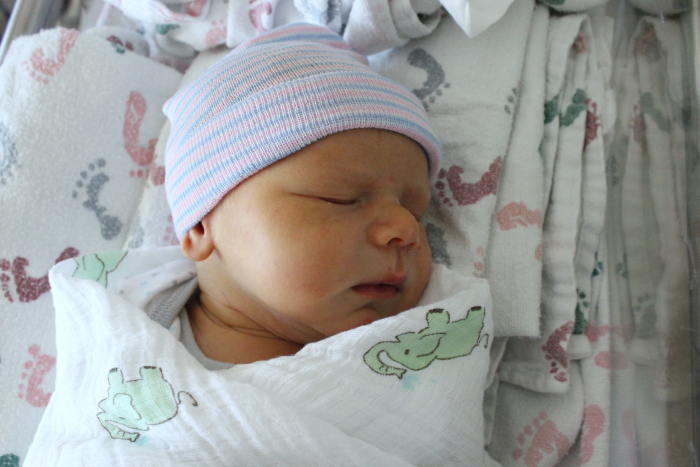 This little angel baby is our whole world now. We couldn't love him any more.
Every good and perfect gift is from above. –James 1:17
xo
Read More on Katie Did What