This is a little list I've compiled from my extensive baby registry list research. There is so much information out there, though, it can all be very overwhelming, lemmetellya.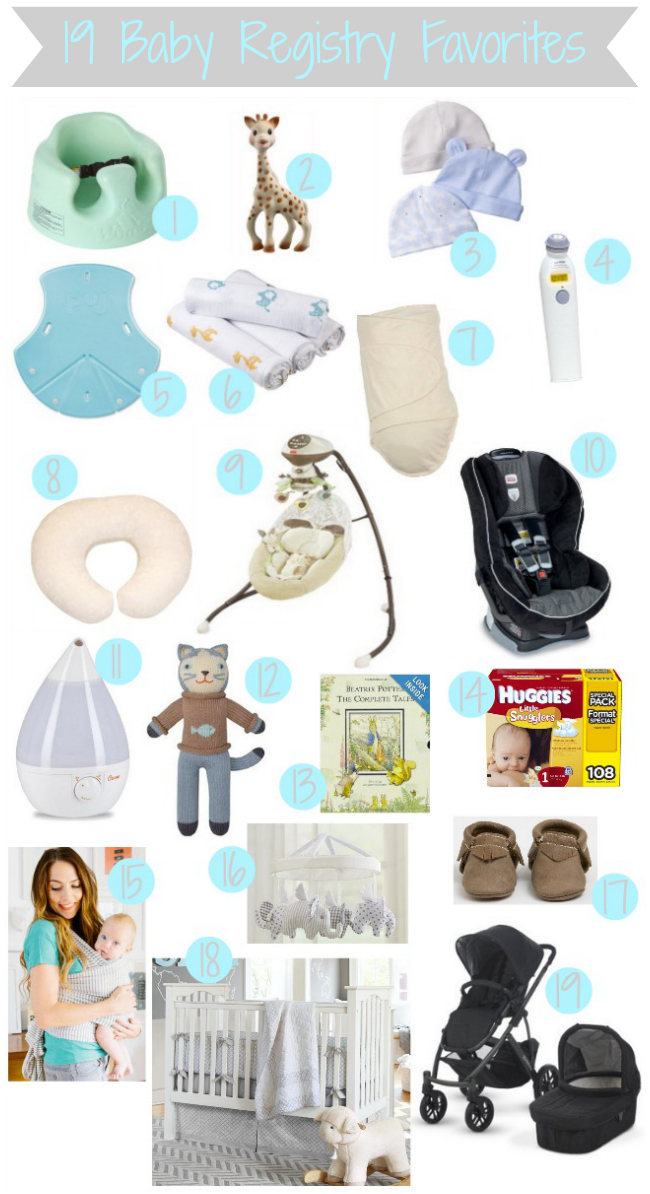 1. Bumbo Floor Seat – I mean, how cute, right?! Just imagine a little babe "sitting" up in this thing. I die.
2. Sophie the Giraffe Teether – I mean, duh. This is on everyone's list, ever. It's like a given, right?
3. Baby Caps – Because, ears.
4. Temporal Thermometer – This was actually high on Zack's list, which I thought was cute. :) But hey, it's an awesome idea and sooo much better than trying to stick a thermometer in our poor little guy's mouth, or worse yet, his… Well. You know.
5. Puj Bath Tub – Because we don't have a lot of room to store big bulky extras, and this fits perfectly into a sink! Yay!
6. Aden + Anais Swaddle Blankets – Oh. My. Gosh. Seriously every single baby list I have seen mentions these. It's always Aden + Anais this and Aden + Anais that, so apparently it's worth the moolah. And we all know I'm a sucker for fads. Ha! But really, apparently these are super soft and great for baby. Plus, they have the cutest animal prints. I'm sold.
7. Miracle Blanket – Apparently the name don't lie. Kind of like my hips, so we can relate. Ha ha. Ha. And I'm sure we'll get to the point where we'll be praying for some kind of miracle, so I guess this couldn't hurt.
8. Britax Convertible (and Infant) Car Seat – I have been instructed by multiple people that for car seats, Britax is where it's at. While he's a baby, there have been numerous reccomendations to get the B-Safe Infant Car Seat, and then graduate to this convertible car seat for his toddler years!
9. Boppy Nursing Pillow – With a cover, too, of course. I've read a lot of great reviews on this particular pillow, so hey! On to the list it goes!
10. Fisher Price Cradle 'N Swing – Apparently this thing is a lifesaver. I'm down for that.
11. Crane Humidifier – Good for breathing, allergies, dry skin, etc. Just good all the way around.
12. Blabla Cat Doll – Because, cats. But really, all of their dolls are so sweet.
13. Beatrix Potter Complete Tales – A necessity for every nursery, in my opinion. LOVE these books.
14. Diapers – Because you can never ever have enough of these! Woo!
15. Solly Baby Wrap – How sweet is this little striped baby wrap?! I plan on baby wearing often, and this one is not only cute but I have heard raves about it!
16. Elephant Mobile – I can't even handle the cuteness. Just, yes.
17. Freshly Picked Baby Moccasins – Oh gosh. Don't even get me started. I don't think I need to say how adorable these are. Plus, like mama like baby! We gotta sport our moccasins together! ;)
18. Pottery Barn Crib – There are a lot of cribs out there, and I'm not necessarily hooked on this particular one, but the look of it is just spot on with what I want. White, pretty, simple, clean. You get the idea.
19. UPPAbaby Vista Stroller – So after my debating back and forth between Bugaboo/Stokke/UPPAbaby, I thiiiiink I've decided upon this one. I looove the bassinet option. But you know. My mind could change in a second. Thoughts, anyone??
We have officially registered for Baby at two different places.
Target– for those few people who prefer to shop in store, and for the little things.
Amazon– for bigger items and stuff that isn't at Target.
Have you ever registered for anything, i.e. wedding or baby or…?
If you are a mama, what are your top must-register for items?
Taking all questions/comments/concerns/and especially suggestions in the comments below! The research is never done! ;)
xo