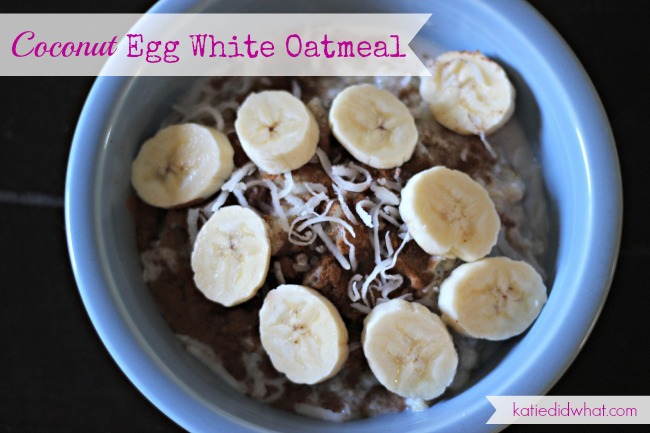 Egg white oatmeal has been a favorite healthy breakfast of mine for a while now, ever since I discovered it on one of my nightly Pinterest food raids about a year or so ago. The other day I was making it for breakfast, as usual, when I decided that I wanted to mix it up a bit and add something other than the normal cinnamon and almond milk. So I scoured my cupboards and pulled out the coconut flakes, and it hit me! Coconut! Hello! My mom would always add craisins and coconut shreds to her oatmeal, and it was just the best thing ever, and so I was inspired to do the same. And you know what. Why have I not been doing this sooner?! It's good, people. Real good. And also super simple, which is a huge bonus when you're half asleep with a rumbling tummy and haven't had your coffee yet.
What you'll need:
1/3 cup oats
2 egg whites
cinnamon
almond milk
coconut flakes
banana
What you'll do:
1. Boil 1 cup of water
2. Add 1/3 cup oats and reduce heat to medium. Cook for about 8 minutes, making sure a little water is still left
3. Fluff 2 egg whites in a bowl and pour slowly into your pan of oats, reducing the heat to low
4. Stirring constantly, cook egg whites until creamy and mixed well with oats
5. Add a lot of cinnamon, a little almond milk, some banana, and coconut flakes on top
6. Enjoy!
This breakfast is super filling and hearty. Because it's oatmeal, it will stick with you, keeping you satisfied until lunch time! :)
Have you ever tried Egg White Oatmeal?
What's your favorite topping(s) on oatmeal?
What's your favorite healthy breakfast? Share in the comments below!
xo
Read More on Katie Did What