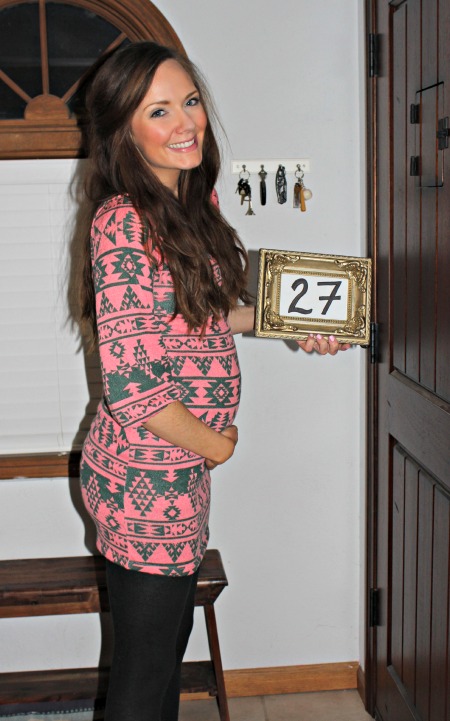 dress: c/o riffraff
Well, we've made it, folks! We are officially in the 3rd trimester! I don't even know how this is possible, because I could have sworn I just found out I was pregnant, like, last week. But anyway. Time flies, yadda yadda yadda, and so here we are. It's pretty crazy to think that we have entered the double digits in our countdown to baby! Exactly 90 days til my due date! Three months to go! THREE MONTHS. But there's still so much to do!
This weekend we went to a friend's Going Away Party, and there was a 3 month old there and we got to hold him and oh my gosh, I can't even. Zack and I both looked at each other and were like, "Okay, we're ready!!" He was all squishy and smelled amazing and just a little angel baby. I want one. Oh, wait. We're going to have one! Ahhh, it's still kind of surreal, to be honest.
I've been following the Tone It Up workout schedule and I'm so proud of myself for doing so! Seriously, you will never regret a workout- truer words have never been spoken. Gotta stay strong, since I'm training for the biggest marathon one could ever do (aka CHILDBIRTH). Yeah.
We have a tour of the hospital's maternity ward scheduled for this week, so that should be fun. I mean, if there is anywhere in a hospital you have to be, the maternity ward is the place.
My belly button still hasn't quiiiite made up it's mind. Some days it's sticking halfway out, other days it's back in. Sometimes when I'm sitting down and laugh it pushes it out, which is a fun game I like to play. Oh, this baby is already causing hours of entertainment. I can't even imagine how many things I will not get done when he's in the world!
…But seriously, hopefully Baby stays in until full term, because we aren't any closer to choosing a name yet. It is serious stuff, naming a person. I mean, what's in a name? EVERYTHING. Everything is in a name. That's how I feel about it. I'm praying Zack and I can finally agree upon the perfect name for this little guy. It's kind of the biggest rift in our marriage. Okay, that last part was a joke. But really, someone convince him to just like the names I like? Thanks.
xo
Read More on Katie Did What