You'll notice that some of these items can be found on Amazon– my favorite place to create a baby registry! It has everything you need, is so easy and fun to create your registry and you can always add or remove items and BONUS: you get up to 15% discount when you buy any of the items on your registry! Also, they offer very easy 90 day returns on registry items, which comes in very handy. :)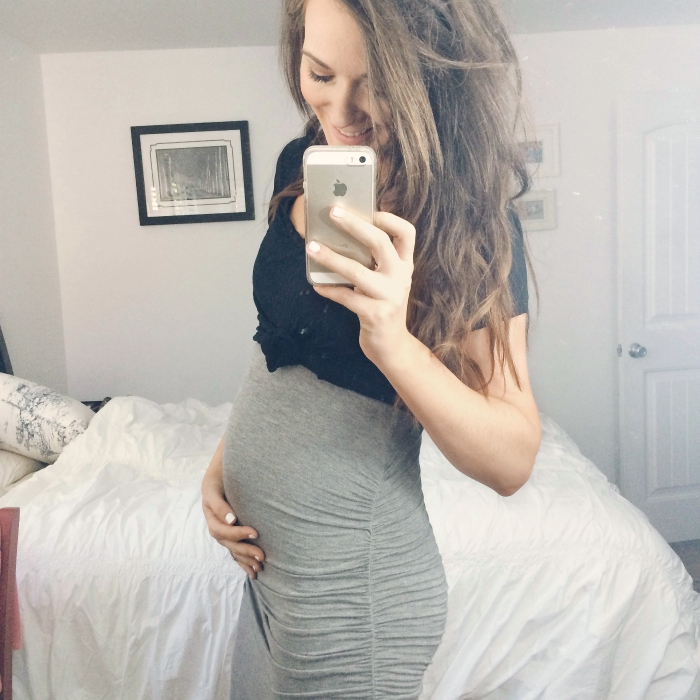 Similar dress
Okay, here we are in the thick of the second trimester (for the second time, say what!) and so I thought it would be the perfect time to share my second trimester must haves with you all, in case you're curious! :) See my first trimester must haves here! A few things from the first trimester still apply to the second, like coconut oil, a good skincare regimen and comfortable pillow. But here are my additions…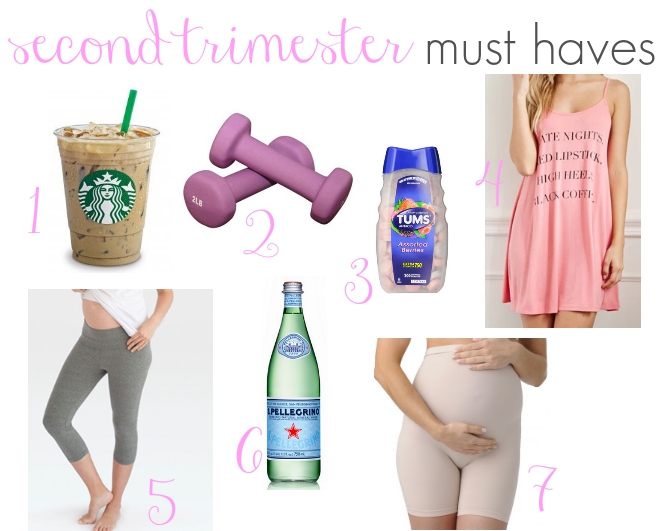 1. Coffee
Yes, I included this in the first trimester must haves, and it will be in the third trimester must haves as well. BECAUSE, COFFEE. Just be sure to follow your doctor's recommendations for caffeine intake.
2. Exercise Routine
The morning sickness has finally (hopefully!) subsided (or mostly completely went away!) and I have a bit of energy back now! So I'm finally feeling up to working out again, high five! Some of my favorite workout DVDs for exercising at home are this, this and this. It's important to keep exercising while pregnant (albeit less intensely and with more breaks and plenty of modifications of course) to keep that heart healthy and make labor go more smoothly. Plus, it improves self esteem, baby's health and your own general happiness! (Follow my fitness IG: @katiedidwhat_tiu)
3. Tums
Thankfully, I personally have not experienced heartburn (knock on wood), but I know it's a very common side effect of pregnancy, and Tums is one of the only preg-safe products you can take.
4. Comfy nightie
With my expanding waistline, I have absolutely no patience for anything with a waist that cuts off my circulation or leaves stupid lines, thankyouverymuch. I have pretty much sworn off all of my pajama shorts and instead gone for mumu-type dresses. THEY ARE THE BEST. I love this one. This one is also SO cute.
5. Maternity Workout Leggings
I have both regular maternity leggings (these are my faaaaaves) and workout ones, too! Let me tell you, they are a GAME CHANGER. No uncomfortable cutting off of circulation, no marks and no muffin top. A must have!
6. Sparkling Water
Since booze is out of the question, it's still nice to feel fancy, right? I love drinking sparkling water infused with fruit, or trying out different flavored soda and whatnot. Bonus points for pouring it into a champagne flute! I'm loving strawberry Perrier and grapefruit La Croix.
7. Belly Bandit Thighs Disguise
These shaping shorts prevent chafing, provide belly support and smooth out your curves. I always wear bike shorts underneath dresses and skirts, and these are great for maternity! Plus, they're so stretchy I've already been wearing them, they smooth everything out, and they are so comfortable. I'll be getting a lot of use out of them this pregnancy.
What are your second trimester must haves?
xo
Read More on Katie Did What