This post is sponsored by Pottery Barn Kids but all opinions are 100% my own.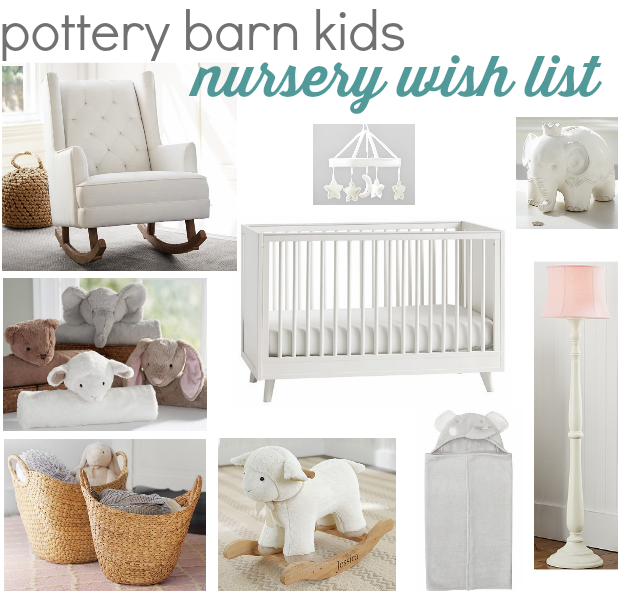 rocker // mobile // bank // security blanket (so soft and adorable!) // crib (simple and beautiful) // lamp // baskets (I LOVE baskets- I use them to hold stuffed animals, toys, blankets, you name it!) // toy rocker (we have one for Sam and he loves it! Plus, it's an adorable addition to your nursery decor!) // hooded towel (we have it and love it!)
So we've already established that I am in full-blown nesting mode. This includes spending hours online, perusing my favorite stores and creating wish lists for everything in my life. Today I'm teaming up with Pottery Barn Kids to share my nursery wish list! Because they have so many beautiful things, and a girl can dream, right? ;)
I have been in the market for a rocker or glider for the nursery since having Sam! We just used a tufted chair that was my mom's, which is absolutely beautiful and fits with my aesthetic perfectly, but it doesn't rock or move at all and isn't the most comfortable- meaning, it's not ideal for all of those late night feedings and snuggles. This time around, a rocker is at the top of my must-have list! This one is absolutely beautiful and fits my decor to a "T" but is also comfortable AND it rocks! Love. It.
A few other things I've got my eye on for the nursery is a crib (Sam isn't quite ready to move out of his crib, so we've decided to get another crib instead of upgrading him to a toddler bed), a gorgeous lamp (ours is super old and needs updating badly!), some baskets to serve as catch-alls and some sweet little touches to personalize the room a bit more. The little touches are really my favorite. Soft plush animals, big cozy blankets, a precious mobile and this adorable little bank.
What's your favorite part of your nursery, if you have one?
xo
Read More on Katie Did What