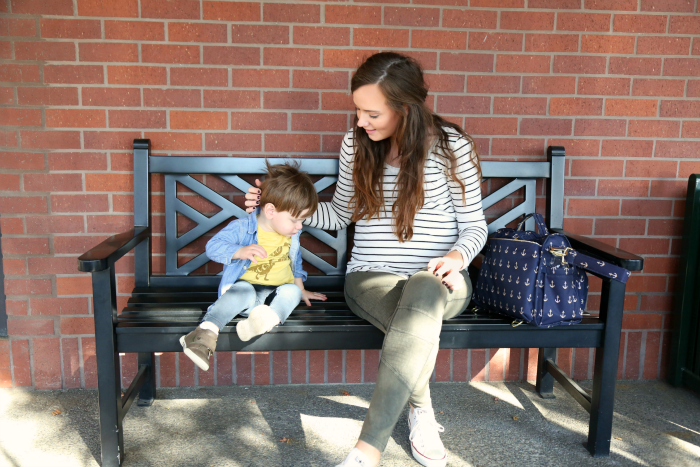 top: nordstrom (size up!) // moto leggings: nordstrom (I got the grey beluga but it's more green, and order a size up!) // shoes: converse // diaper bag: jujube
So we went out to brunch last Saturday. It was the first time ever taking Sam to brunch, and it went SO WELL! Like, better than expected! You never know how these things will go (you know, the simple act of going out in public with a toddler) but it couldn't have gone better! Sam did so well. He was happy and content and chowed down on french toast and apple chicken sausage and fruit and it was pretty great. I also chowed down on all of the food. Because, pregnant. And also, because it was delicious. If you're a local Sacramentan, I definitely recommend Cafe Bernardo! Their lunch is to. die. for. And get the Amaretto Brioche French Toast, OMGGGGG. Heavenly. Why can't I ever make French Toast this good at home?!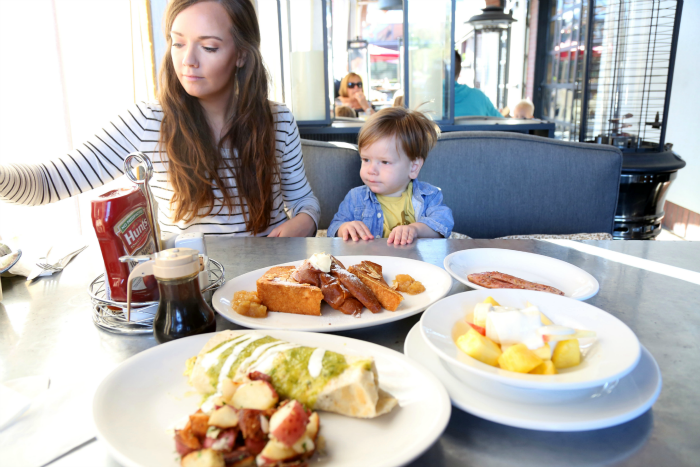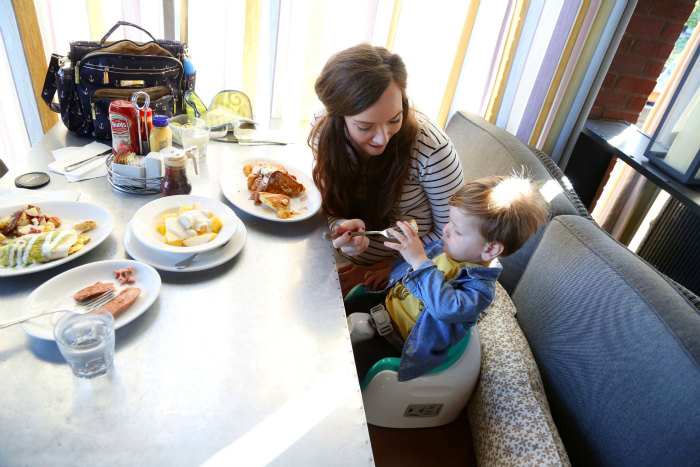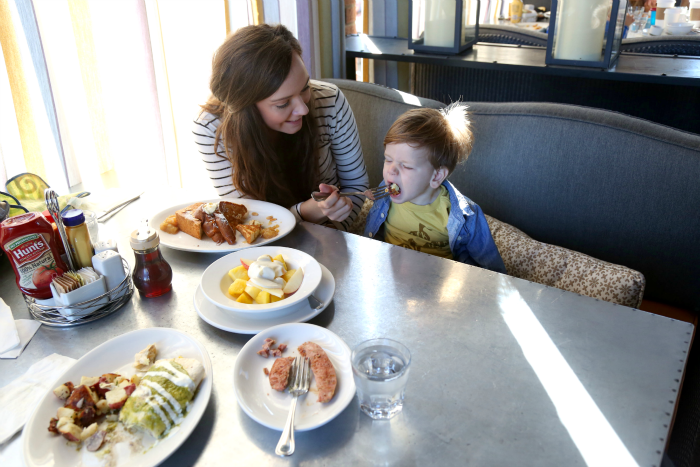 One thing that made this brunch go so well, I think, is that Sam got to sit right next to me in the booth. :) Highchairs are great and all, but Bumbo sent us their brand new 3-in-1 multi seat to try out, and so we decided to bring it with us to test out, and it made for such a fun meal! I loved how easy it was to feed him and give him kisses when he was just sitting there, right beside me, like a big boy. I think it made him happier, too, which made the entire experience happier. Because, you know, if Baby is happy, everybody's happy. Basically. So yes. This new Bumbo seat goes from baby to toddler, which is awesome, and we plan on using it with Baby Did What #2 also. I'm pretty excited about it.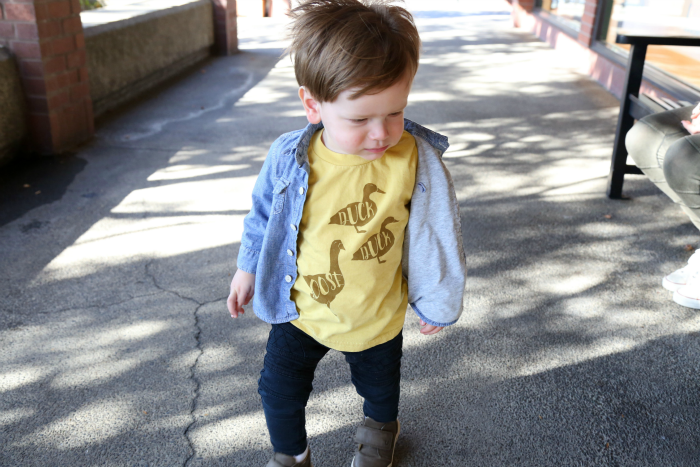 tee: c/o printed palette // chambray and pants: thredup // shoes: c/o umi shoes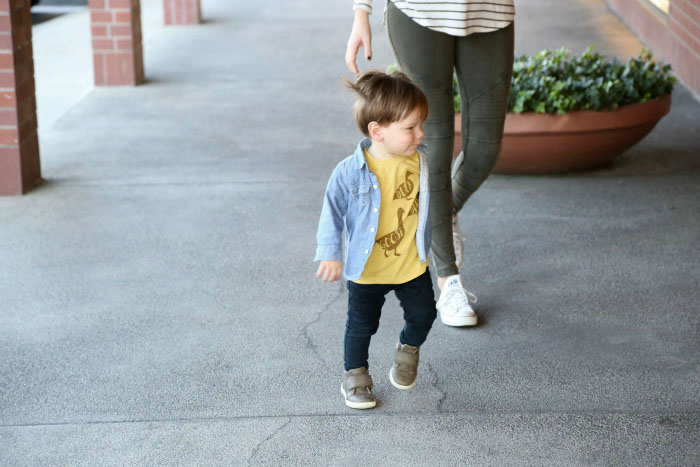 And can we talk about my little model for a sec?! I mean, look at him! After eating, we walked around (err.. ran around…) to get all our energy out before heading home. It was the most beautiful day and he was loving exploring a new place. Isn't that tee so cute?! It's from Printed Palette, and we even got a matching one for his sibling. I mean, could you just die?! Also, the chambray. All of my baby fashion dreams are coming true, you guys.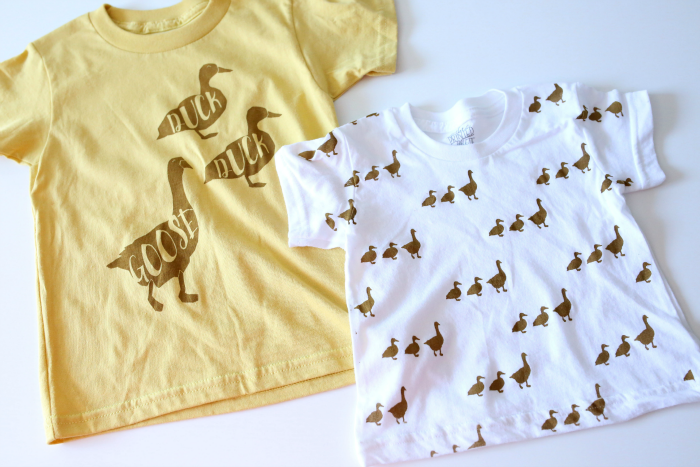 And I can't believe I'm saying this, but I'm ready to go to brunch again this weekend! Maybe we'll make it a more frequent thing. Then again, once Baby comes along, I'll probably be changing my tune… ;)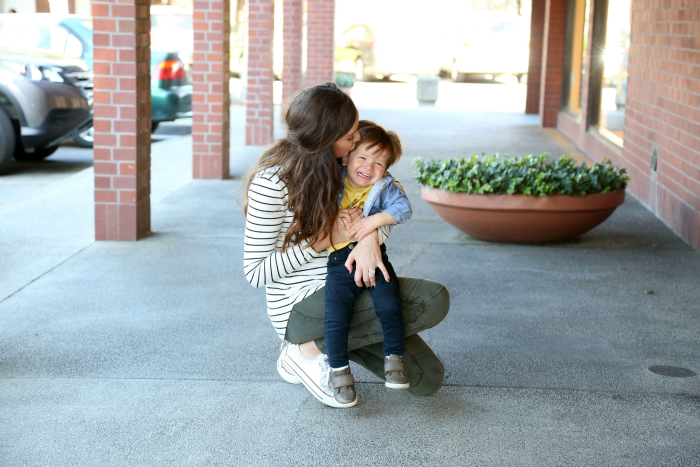 What's your favorite thing to get at brunch?
Do you have a fail-proof French Toast recipe? Please share!
xo