You'll notice that some of these items can be found on Amazon– my favorite place to create a baby registry! It has everything you need, is so easy and fun to create your registry and you can always add or remove items and BONUS: you get up to 15% discount when you buy any of the items on your registry! Also, they offer very easy 90 day returns on registry items, which comes in very handy. :)
Welcome to the third trimester. The trimester of discomfort, shortness of breath, feeling like you've run a marathon just trying to get out of bed, charlie horses and odd limb pain, braxton hicks contractions and extreme fatigue, an ever-growing mound of a belly, the kicks that get stronger and stronger (and more alienesque) and never really being comfortable. Ahh, but it's also the last trimester! The home stretch! The time when nesting really kicks into full-gear! And it's also the time when all of the "Oh, crap, this is getting REAL" thoughts and feelings kick in. Oh, it's hard and strange and beautiful, all at the same time.
Today I'm sharing my third trimester must haves today, mostly focusing on comfort, because really at this point, that's what's most on all of our minds.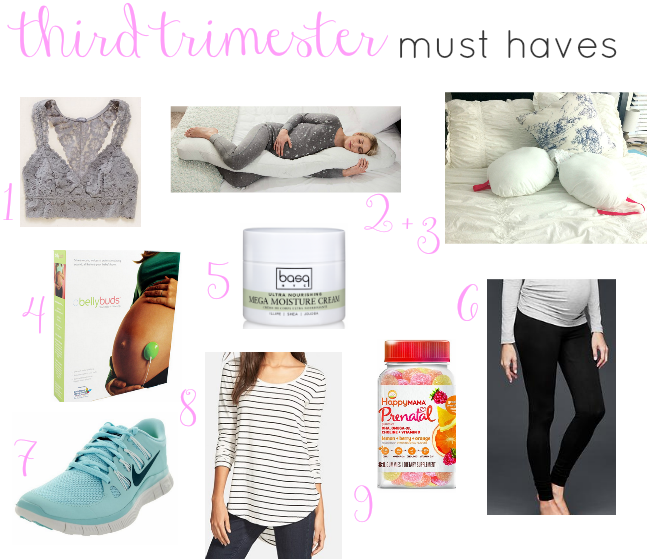 1. Lace bralette
Okay, so comfort is key, clearly, but you also want to feel cute. Enter: the lace bralette. I have this one from Riffraff and also love these from Free People and these from Aerie (on sale for $20!). They're comfortable, pretty and all I've been wearing lately. My collection is definitely growing. ;)
2. Body pillow
Okay, so I know I said that I couldn't sleep with this long pillow, but something in the third trimester suddenly changed, and now? I cannot sleep without it. Literally, it's impossible. It is so dang comfortable, and while getting into a comfortable position at all these days can be a tricky ordeal, this body pillow has been a godsend. I'm obsessed. Also, it helps that we have a larger bed now, so having something the size of a third person is actually not a big deal any more! ;)
3. Also, I am loving the Belli-fly pillow
Yes, I've been doubling up on the pillows and have found my perfect happiness of comfort. Sleep is a dream now and I love it. Word is that you can use it as a nursing pillow, too, so I'll definitely be trying that out when the time comes!
4. Bellybuds
I was sent these to try out, and I love them! The concept is just so cool. As a music lover myself, it's important to me to have my babies grow a love of music themselves, and the fact that I can play beautiful and soothing music to my baby before they are even born? It just makes me so happy.
5. basq skincare
I was sent the expecting mama kit and the Mega Moisture Cream. THIS CREAM IS EVERYTHING. It's so thick and luxurious, it has a lovely clean scent and I just lather up with it each night and still have so much left in the tub. Highly recommend!
6. Maternity leggings
These from Gap are my favorites. No restriction. No muffin top. Soooo soft and comfortable. I've also been living in these leggings from boob design while lounging around the house. Yes, there is a difference between maternity and non-maternity leggings. Try them out, you won't regret it.
7. Good walking shoes Staying as active as possible is so important while pregnant! I know, it's the last thing you want to do some days, but even getting out and walking around the block each day is huge. I've promised myself that I will get up and m-o-v-e every day. It boosts energy, happiness, gets your circulation going, keeps you healthy and strong. All important things for labor! Plus, a pair of cute and comfortable shoes like these Nikes is good motivation, too.
8. Loose tops
I started noticing the lovely tee-shirt-becoming-a-crop-top incident lately, and so I got myself some cute oversized tees to stop this problem. Plus, I don't want to stretch out my tee shirts that I love so much. I got this striped top recently, in a size larger than normal, and I LOVE it. It's long enough to cover not only the bump but also the bum- which is tres important when you live in leggings! ;)
9. Gummy supplements
I was sent these pre-natal supplements from Happy Mama, as part of their new line of prenatal things, and ohhhh goodness. They taste like candy. They don't make me nauseous, I never forget to take them because it's actually enjoyable, they have the essentials for prenatal care AND they are delicious. Highly recommend these. I also take these gummy vitamins, as they have folic acid which is super important. Plus I take an iron supplement to make sure I get enough iron each day.
What are your third trimester must haves?
xo
p.s. See the rest of my pregnancy must haves: first trimester and second trimester!

Read More on Katie Did What