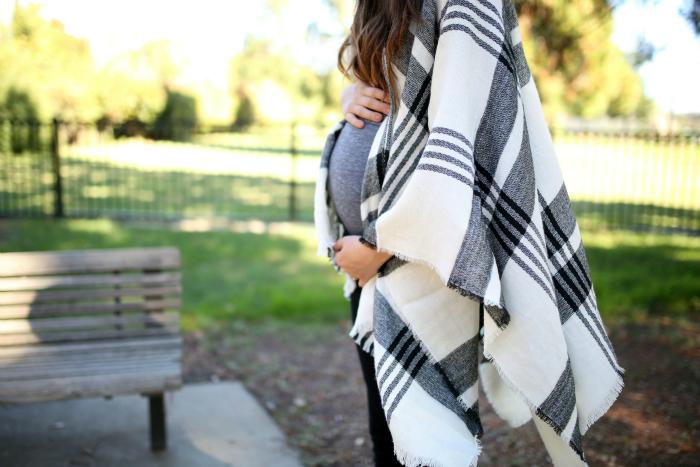 poncho: nordstrom (under $40!)
Thirty weeks! How are we already at 30 weeks?! This pregnancy is really flying by. I know they always say that the second pregnancy goes so much quicker, and I can 100% attest to that. More often than not, if they always say it, it's because it's true. I'm learning this more and more as life goes on.
So. 30 weeks pregnant with Baby #2 feels like…
Baby moves around ALL of the time. It is the best feeling ever, and I find myself stopping everything to just really soak it in. Every movement, every little kick and hiccup, they tell me that everything is going to be okay.
Most days, I feel HUGE. My clothes are fitting snugger, most of my pre-pregnancy tops have become crop tops (real cute look there) and I just feel uncomfortable a lot.
And then other days, I kill my workout and have loads of energy (relatively speaking, of course) and feel like I can conquer anything! And I take advantage of these days and do just that!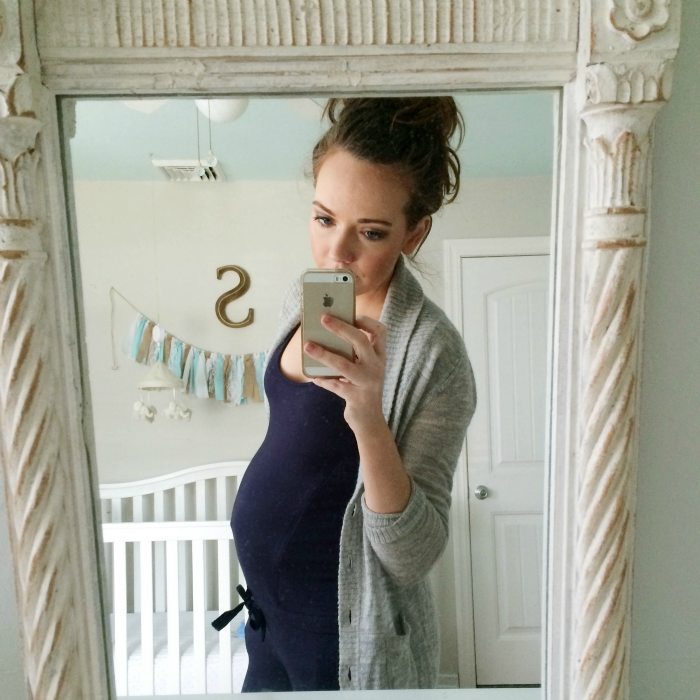 jumpsuit: c/o loyal hana
Speaking of… I have been nesting like crazy this weekend! It was pretty much all spent cleaning out our garage/ the nursery (which Sam and the baby will eventually share, whenever we move Baby out of our room)/ every room in our house. We brought some things out of the garage that Sam used, like his bouncer and little newborn lounger and things like that. Ohhh, it made me pretty sentimental, of course.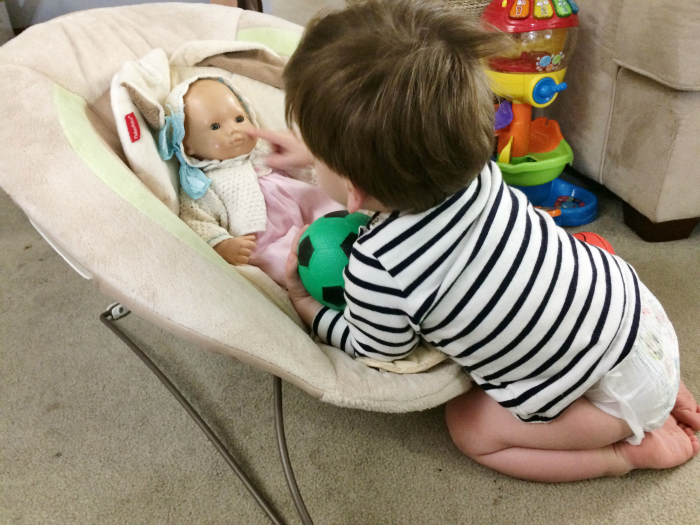 And I also brought out my Bitty Baby doll, so we could practice having a "baby" in the house. Sam was intrigued, for sure. And he kept playing with her eyes (they open and close) and it was the cutest. Also, LOOK AT THAT PICTURE. He looks like a GIANT. Ha! He is going to look HUGE once this baby comes…
I've had a cold the past few days, which is no fun. Thankfully it hasn't completely wiped me out- just a run-of-the-mill cold that makes me sound like a man and have to carry my kleenex box around the house with me. It's no fun, but I'm almost rid of it, so yay!
Things are feeling more and more real, now that we have literally 10-ish weeks until Baby makes his/her debut! EEK!! I am so so excited and also so terribly petrified- ha! Ain't that always the way it goes, though? I just keep trying to process this new life that we are about to call our own, and it's scary and exhilarating all at the same time. I know I'm ready- God doesn't bring anything into your life that you can't handle, and what a comfort that is!- but I'm also freaking out a little bit, too. I mean, some days I feel like I'm failing miserably just trying to be a mom of one, but of two?! Yikes. So, needless to say, I've been talking to God a lot lately. Praying for this sweet life inside of me, and praying that we'll all settle in to just how life is supposed to be. Because I know that this perfect little baby is just what we all need. And I cannot wait to meet them!
ALSO. We are finding out the gender of said baby in ONE WEEK!!! Ahhhhh I can't even believe it, I'm so excited I can't contain myself. I'm honestly not sure why I wanted to wait before, because ever since we decided to find out, it's all I can think about! Funny how that works.
In case you're curious, here's 30 weeks with Sam. :)
Annnnd happy new week!
xo
Read More on Katie Did What