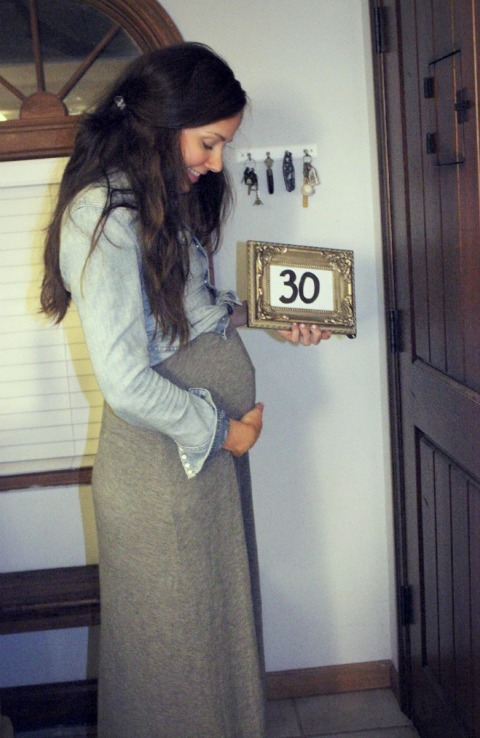 T H I R T Y  W E E K S
W. T .F.
No okay, but really. It's crazy, isn't it?! 10 weeks left. Whoa. Some things, as per the usual:
1. Still SO MUCH movement, every day. And I loooove it. A new thing is that I can really feel him sometimes. Like, he will push SO hard on one part of my belly, and it feels super hard at just that spot- if that makes sense. I like to pretend I know what part of his body it is (oh, feel his little foot! Or head! Or bum!) but really, your guess is as good as mine.
2. I get out of breath so easily. I'll, like, push myself up from the couch to stand up (which is proving to be more and more difficult in itself, ha!) and it'll sound like I just ran a marathon. Okay, slight exaggeration, but really. It's funny.
3. We finally cleaned out the entire nursery this weekend! Now we're ready to get some stuff to put in it! I'm on the hunt for a cute changing table/dresser. Suggestions welcome. I'm going for a shabby chic vibe. Or just clean and simple. That works too.
4. This week brings a doctor's appointment, and me finding out if I have gestational diabetes- fingers crossed I don't so I can keep eating my ice cream! Also, Valentine's Day is Friday, so yeah. I plan on making chocolate-covered strawberries so it'd be nice to not have any sugar restrictions. Kind of important.
5. I've still been exercising daily, and each time I just feel really really proud of myself. Let me tell you, working out with an extra 15 lbs that you aren't used to having is no easy task! But I know it's so good for me and it makes me feel great, so yay.
Happy Monday! Make this week a good one! :)
xo
Read More on Katie Did What