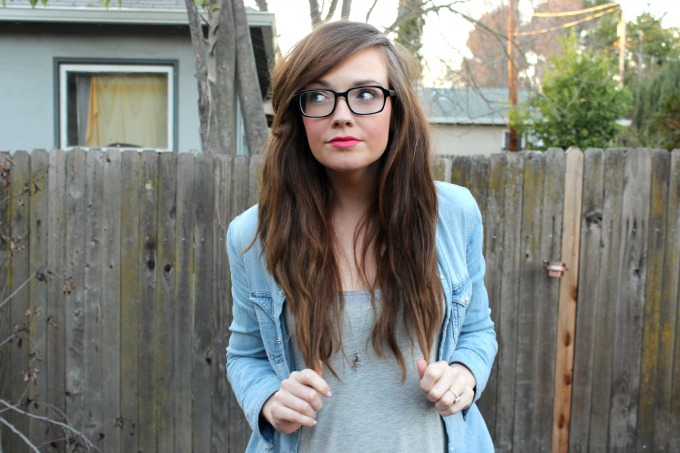 glasses: c/o firmoo (here)
I've been listening to the song "The Girl" by City and Colour on repeeeeeat for the past few weeks. This is not a new thing, this is what I do with music (just ask Zack) but what's different is usually I burn myself out of the songs pretty quickly, simply due to my obsessive and constant playing of them. Not the case with this song. Still not sick of it. This is a new record.
Nesting is in full effect. I know I keep saying that, but it just keeps getting more and more apparent to me, and I find it humorous. Me? Nesting? Pffft, okay. I'm the last person to describe myself as "domestic"- everyone in my family would attest to this- yet here I am playing Susie Homemaker, moving furniture around (okay, not me personally, Zack is doing this), making room for baby. These are big steps, people. Big steps. Also, you should see my "Home" and "Nursery" Pinterest boards. Ridiculous.
It's fiiiiinally raining here on the west coast! Oh, did you hear? We'd been in a drought. And we still are, technically, and it's really bad, so we really really really needed this water! It's kind of crazy though, because all of that sunshine and lack of rain for the past few months was getting me all sorts of excited and ready for spring/summer, and now I'm reminded that we're actually still in winter. And so. That's where I'm at right now. Trying to convince myself that cold and blustery and rainy is gooooood. Really.
And now it's the weekend, and time to clean even more, and try to sleep better, because honestly sleep has gone to the wayside lately. There's like a million billion more important things to do than sleep, you know what I mean? Like, I don't know if you know, but we're having a BABY in 10-ish weeks, give or take (hopefully right around then, because honestly I don't know if we could handle an early arriver- it stresses me out just thinking about it!) So if you need me, I'll be going through my sock drawer, because I have wayyyyy too many socks. It's true. And other things too, but mostly those dang socks. Like, we need MORE ROOM and those socks are taking up too much of it. They are the bane of my existence at the moment. See? Pregnancy really does make you kind of loopy. FYI to those of you who haven't done this thing yet. It's a wild ride.
What are your weekend plans?
What's your favorite song right now?
Would you consider yourself domestic, or not so much?
xo