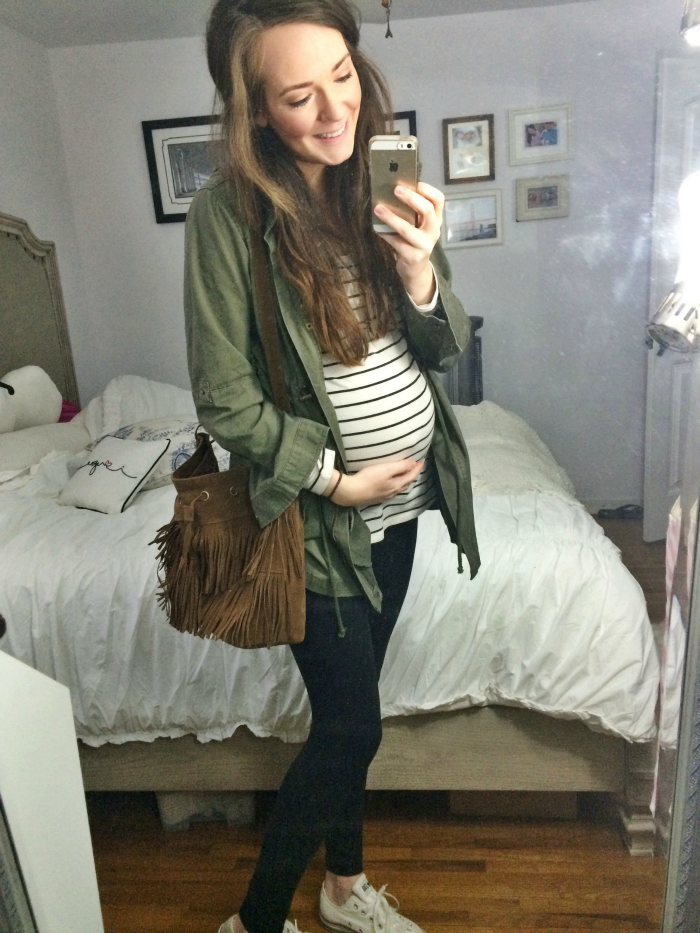 top: nordstrom // jacket: motherhood // leggings: zella // shoes: converse // bag: boohoo
Okay, so, yesterday was stressful. Actually, life in general has been pretty stressful lately. We've had our confusing complications with Baby #2 that we won't really find more about until birth- which, really, sometimes the "not knowing" is the toughest part, you know? That's when the worry sets in. That's when the stress really comes to an all-time high. And then, yesterday just sucked in general. I was supposed to have a dentist appointment, but the place I went to was TERRIBLE, and it was my first time there, and I had to wait for an hour and a half (YES, ONE HOUR AND 30 MINUTES) only to be told that they couldn't even clean my teeth (even sans x-rays) without a referral from my OBGYN, because I'm pregnant? What?? And why didn't the front staff know that so when they see a pregnant woman walk in, instead of checking her in and having her wait almost two hours, they could kindly let her know that, and save her from wasting her time? And thennnn on top of that, I've had this awful cold that just keeps getting worse (although I think I'm on the mend, thank God!) and I sound like a man and have to blow my nose every ten minutes. And it was raining, and I hate driving in the rain, because somehow everyone in California forgets how to drive when it's raining. So yeah. Yesterday was just annoying- and this all happened before 11 AM. Fun.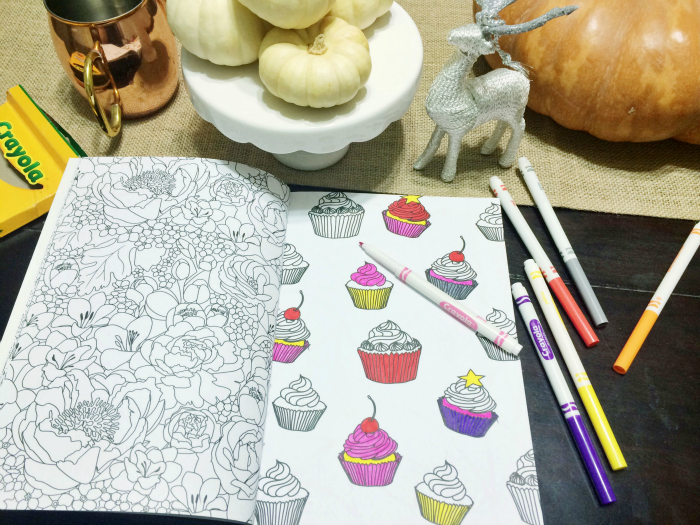 coloring book: c/o phoenix yard books
Sooooo. With all that being said, when I got home and vented all of my frustration to my dear husband (God bless him) I decided I needed to calm the eff down. So first, we headed to Target, because retail therapy, duh. I got lots of cute little things for Christmas and some DIY projects coming up that I'll be sharing soon! And that helped a lot. But I was still kind of on edge and having trouble shaking my bad mood. SO. Then I turned to something I had just received in the mail (God's timing, I swear!)- adult coloring books! Now, I had never heard of this before, but you guys. It's genius. Coloring books. For adults. And all that means is, they aren't juvenile. You know, you don't have to color Barney or whatever. Instead, it's a bunch of beautiful pages of artwork and doodles and pretty shapes- all waiting there in black and white, ready to be filled in with color. And so I opened one up, poured myself a cup of tea, played my favorite Pandora station (right now it's Andrew McMahon- give it a listen) and sat there coloring. And it. Was. Awesome. I can't even tell you what a great stress reliever it was! Instantly, I found myself smiling.
And here's the great thing about coloring: you don't have to be some great artist to do it. Everyone is good at coloring. I think that's what makes it so therapeutic and calming and, well, fun. There's no pressure in it. There's no frustrations. You just pick up your markers and go to town. It's fun. It brings you back to your childhood. And it's for everyone, of all ages. :)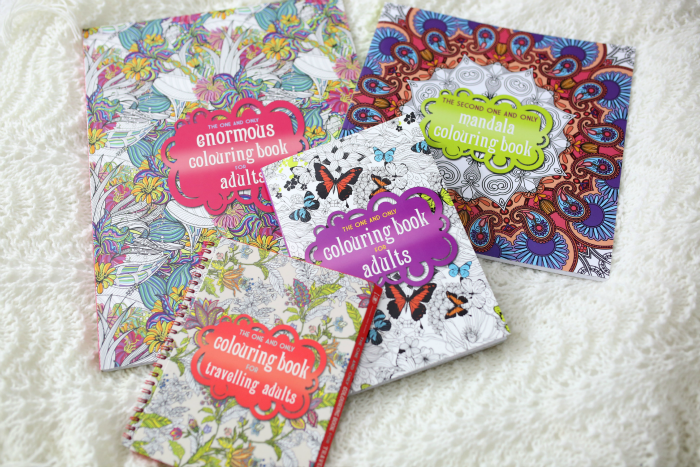 one // two // three // four
If you ever find yourself stressed out (which, the holidays are coming, so that's going to be pretty inevitable) or having a bad day and just need something to cheer you up, I recommend picking up a coloring book. It would also make for an awesome Christmas present for the young at heart on your list (or the high-strung… ha)! Coloring is just therapeutic, it's true. :)
I'm curious: How do you relieve stress?
xo