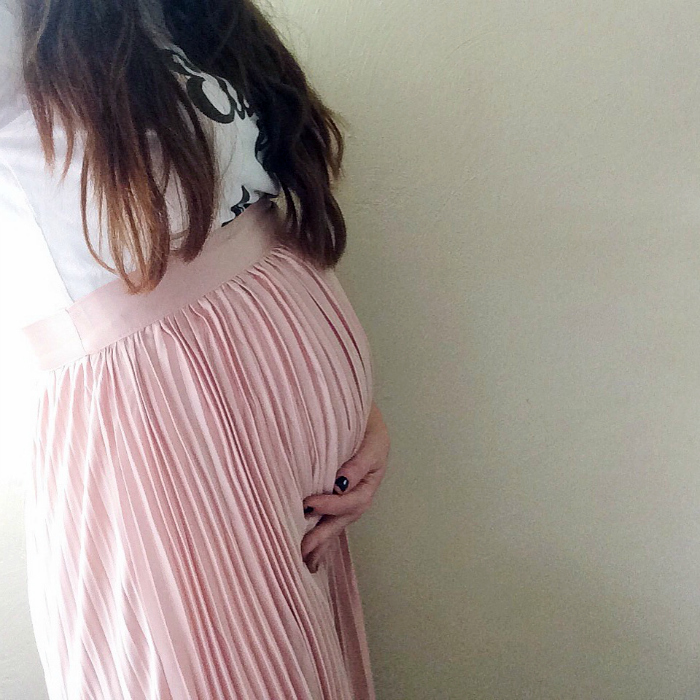 skirt: c/o shein
On Thursday, we went to San Francisco for a day full of a lot of waiting and ultrasounds and an echo (to check the heart) and more waiting. Thankfully, we didn't need the MRI, like we were initially told. And from it all, we have concluded that the final results consist of waiting until Baby is born and going from there.
Baby's stomach is fully visible and formed inside the body (praise God!) but just so happens to be on the wrong side. This could be perfectly fine and fully functional or it could lead to complications that would mean we will need to spend some time in the NICU at birth.
The doctors are encouraged by their findings and everything appears to be working just fine. For now, we wait and hold steadfast in our faith. We are staying positive and we know this baby will be healthy and perfect just the way it is- albeit unique.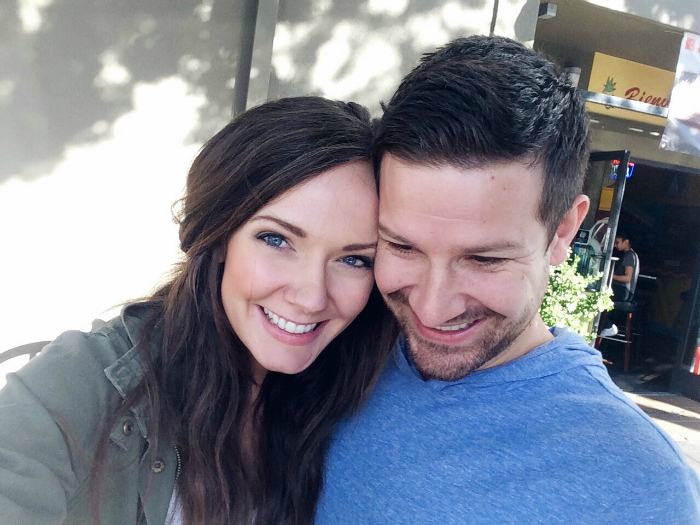 This man. He keeps me smiling. He lifts me up. He makes sure I eat a delicious burrito after a long day of waiting and ultrasounds and more waiting. Thursday was rough. Thursday was LONG. Thursday was so not fun. But it was still full of joy and smiles and hope. I read this in my devotional, and they were the exact words I needed for the day: "Awareness of My marvelous Companionship can infuse Joy into the grayest day." So what did I feel yesterday, during the doctor consults and ultrasounds and big scary medical terms? I felt hope, and more importantly, I felt joy.
The best advice I have received lately is to try not to worry and to allow myself to enjoy the remainder of this pregnancy. There is no way to not worry at all, but I'm not allowing myself to be consumed by worry. That does no good. I believe 100% in this baby's perfect health and that everything will be okay. Each kick that I feel tells me this. Each overwhelming feeling of calm and peace that comes over me reassures me of this. Each time I look at my sweet baby's face in that ultrasound photo, I know this to be true. Baby, we cannot wait to meet you and hold you and love on you. Until then, keep growing! Keep thriving! Keep being one of the very best parts of me.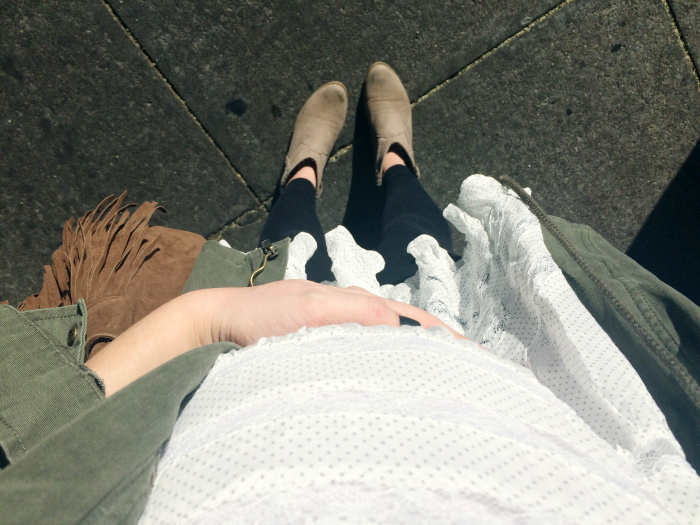 top: free people // jacket: motherhood // leggings: nordstrom // booties: target (similar)
So in lieu of all of this craziness, we have decided to find out the gender of our sweet baby! We're sick of the unknowns and the stress, we're wanting some excitement and joy and happiness, and right now that is coming in the form of having a little gender reveal and finding out if we're having a boy or girl! Now, I know I was pretty stuck in not wanting to know, but ever since we looked at each other and said "Let's do it!" I have been SO excited to find out! We're finding out on November 15th, and of course I will be sharing here. :)
Also, I just wanted to say thank you all so much for the prayers, the good thoughts, the sweet messages and love that we have received. We are overwhelmed and humbled by it all.
xo