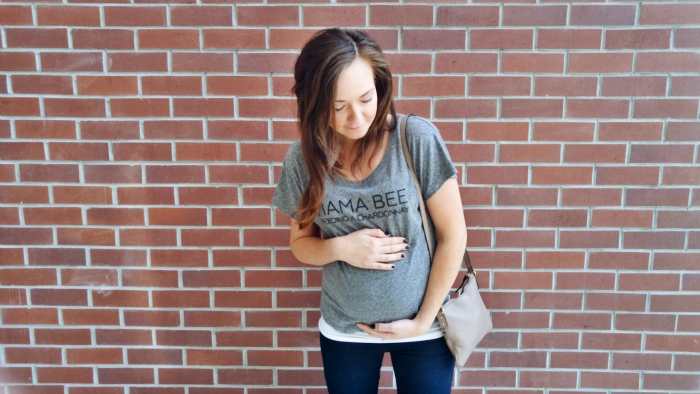 tee: c/o anna bee // jeans: motherhood maternity // purse: kate spade
So yesterday was super fun. Got up early, Zack's parents came over to watch Sam, and we were off to the doctor! Baby check up (strong heartbeat! I gained too much weight again, argh! My blood pressure was high, yay!) and then I got my flu shot (didn't feel it at all, but now it's achey, of course) and THEN I got to take my glucose test (which honestly, was super easy and not a big deal- just tastes like a sicky sweet melted orange popsicle). Fingers crossed I don't have gestational diabetes on top of everything else, because I don't think I could handle that right now. No, I know I couldn't.
And then we got home and Sam threw his very first legit straight-up TEMPER TANTRUM- there was marching involved, it was actually kind of hilarious- and even refused to read a book before his nap, which he has never done, and then finally went down, and I sat down in the living room and just lost it. Gosh, I've been feeling so much weight lately, and I thought I was better- I thought I was at peace with everything, but more things came at me today than I was ready for, and I just felt so… small. So helpless. And I felt the weight of having absolutely nothing in my control.
And that is a tough pill to swallow.
Especially whilst pregnant. These hormones are no joke, people!
And so I let it all out. I let out my pent-up frustration and sadness and overwhelming feelings of helplessness. And damn, it felt good.
If you ask me if I'm okay, I am! I really am. I'm not lying when I say that. I know that God has me in His hands, I know that this Baby is happily growing in my tummy right now- strong and sweet and all of those little kicks I'm getting so frequently now? They make my world. They are my reassurance that everything will be okay. So yes, I am okay.
But sometimes, mama just needs to let it all out.
And also, that shirt up there doesn't lie. Mama could reallyyyyy use a Chardonnay right now. ;)
How do you let out frustration/stress?
xo
Read More on Katie Did What