Well, it's time. I'm sharing my first gift guide of the season! I love gift guides, personally, as I think they're great places to get ideas that I myself maybe haven't thought of. SO. I hope you find something new on here that might even be perfect for someone on your list! Plus, since I'm a new mom myself, I'm kind of knowledgable in the area. ;) Onward!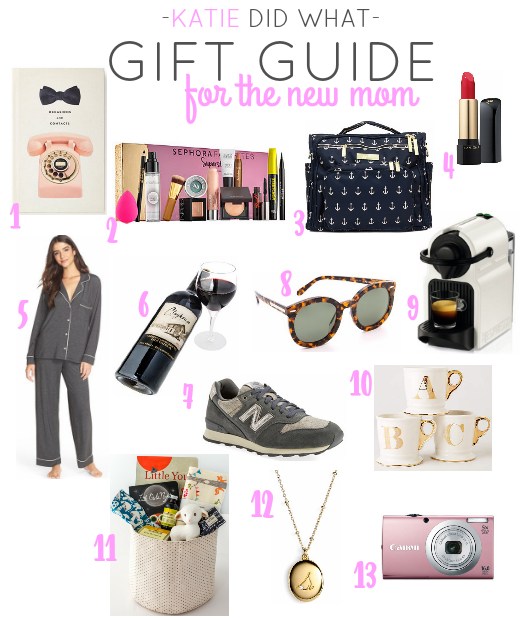 1. Planner – How cute is this Kate Spade address book/planner?! New moms need all the help they can get as far as organization goes. New Mom Brain is pretty scattered. ;)
2. Fun makeup – Because new mamas want to look and feel pretty, too. And it's not the easiest when you're running on little to no sleep and recovering from childbirth and pouring your entire self into this new little precious being. Some fun new makeup will make her feel beautiful and is something just for her.
3. Diaper bag – A cute and functional diaper bag is key. This one is my favorite that I own! Bonus: it can be a backpack or shoulder bag!
4. Lipstick – New moms don't have much time, and makeup takes time. So to have a fun and quality lipstick that she can swipe on in a pinch to feel somewhat pulled together? Priceless.
5. Pajamas – Cute and comfy pj's that are perfect for nursing, too! Because comfy is what the post-partum life is alllll about.
6. Wine – I don't think any explanation is really needed here.
7. Sneakers – Cute, comfortable, stylish and the perfect addition to her new "mom uniform."
8. Sunglasses – Because those dark circles sometimes just need a quick, cute and stylish coverup. DONE AND DONE.
9. Nespresso – Give the gift of caffeine! ;) I absolutely am obsessed with our Nespresso machine. Making Starbucks-level coffee drinks at home?! Sign. Me. Up.
10. Coffee Mug – To put the coffee in, duh.
11. Gift basket – I received this adorable gift basket from My Lil' Bean, and I loooove it! It is the perfect basket for Baby and Mama! I can attest that the chocolate is di-vine. And that little lamb! Oh, so cute. And I love that Sam has his giraffe and now this new baby will have their lamb. No fighting allowed. Ha! They have three different basket combinations to choose from, or you can create your own!
12. Personalized jewelry – I love this initial locket by Kate Spade. Perfect to get the new mom, with the initial of her baby. :) There is a lot of personalized jewelry you can get just like this. Always a good idea!
13. Camera – Because she is going to take a bajillion photos of her new baby, it's inevitable. And this way they don't all have to be phone pictures!
If you're a new mom, what's on your list?
xo