Alright, so we all know men are kiiiind of hard to shop for. It's just… the facts. SO. I asked Zack for some input in throwing together this little gift guide for him, and I think we have some really great things that any guy on your list would be happy to unwrap!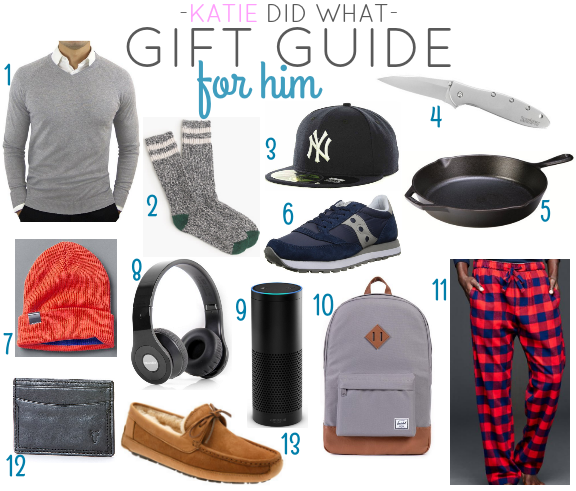 1. sweater (for all those necessary holiday parties)
2. socks (so many fun ones to choose from, and the perfect stocking stuffer!)
3. baseball hat (in his favorite team!)
4. kershaw knife (according to Zack, one can never have too many knives. I don't know- men and their knives… Also, Kershaw is the best)
5. cast iron skillet (for the chef!)
6. sneakers (always a good idea)
7. beanie (and one that he'll actually wear!)
8. headphones (for the music lover, or to drown out outside noise)
9. Amazon Echo (the must-have tech item this year)
10. Herschel backpack (the coolest backpack for the coolest guy you know)
11. pajama pants (because everyone should get new pj's for Christmas… isn't that, like, a rule?)
12. wallet (this one's nice and slim)
13. slippers (so cozy!)
Related: Gift Guide for Him and Baby | Gift Ideas for Husband | Gift Guide for Him
What are you getting your husband/boyfriend/brother/dad?
xo
p.s. Did you see my Gift Guide for New Moms?