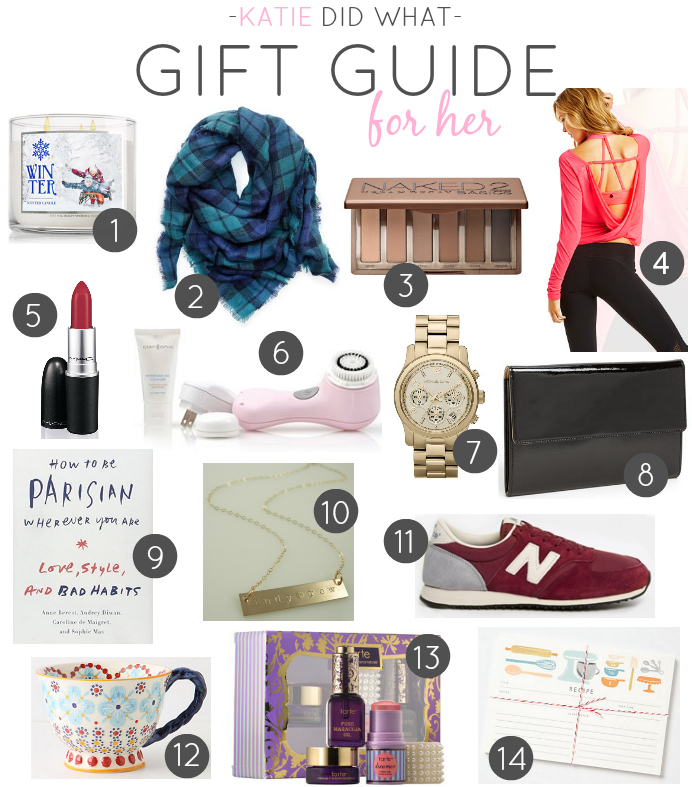 It's that time of the year! Gift guide time! Today I'm sharing my Gift Guide for Her, to give you some inspiration as to what to get for all the laaaaaadies in your life! Also known as I'd be totally happy if I found any or all of these under the tree this year. ;) Because this serves as a gift guide for her, but also my own personal wish list. It's just easier that way.
1. Bath & Body Works candle – I've gotten really into candles lately. I realized we had a BUNCH of them that we had been collecting for no apparent reason, and I started burning them daily. Now? I'm hooked. They smell so yummy and they give such a fun ambiance. Thus, a delicious smelling candle of some sort- bonus points for a festive one!- would make a great gift. Doesn't have to be BBW. Glade is much cheaper and does the trick just right. :)
2. Blanket scarf – They're cozy, they're cute, they come in lots of perfectly wintry plaid colors, and they are everywhere this season. A blanket scarf is a must! I found a great one on ebay, but I'm loving the AE ones, too! Much cheaper than the Zara ones, and identical!
3. Naked 2 Basics Palette – Or any fun makeup set. I have a major obsession with eyeshadow (Urban Decay being one of my favorite brands!), and have been wanting to try the Naked palette since it came out. This basics palette is the perfect introduction to the most perfect, basic eye shadows.
4. Lorna Jane gift card – It is no secret that I loooove me some Lorna Jane. And all workout gear, really. But who can ever know just what someone would pick out for themselves? That's why a gift card to a fun store (Anthropologie, Forever 21, Nordstrom, Victoria's Secret– all my faves) is the perfect present!
5. MAC lipstick – This is such a fun gift for the makeup lover on your list! MAC is a definite splurge for me, and what a fun treat it would be to find a cute and totally fun lipstick under the tree! ;) For Christmas, my motto is to give my loved ones things they wouldn't get themselves, so I'm definitely more in the camp of gifting splurges as opposed to necessities.
6. Mia Clarisonic – This was totally on my gift guide from last year, but that's because it's still hugely popular and I still want it. Ha! ;) This gets rave reviews, and what better gift than that of clear skin, right? It's the gift that keeps on giving!
7. Michael Kors watch – Another splurge, yes, (as my mom would say, Dream on!) but I mean. Look at that thing. It's beautiful. And a good, quality watch is definitely something worth spending money on. This is definitely a gift that will last a lifetime, and never go out of style.
8. Clutch – I am loving a basic clutch these days. Maybe it's because I'm forced to carry a big diaper bag with me everywhere now, but when I'm sans baby, I find myself reaching for the smallest bag possible now, and leaving my hobo Olsen twin bag on the shelf! A simple black clutch like this one (I'm also loving this one!) is classic.
9. How to be Parisian – I am a huge francophile, and love everything about France, and Paris in particular- so much so that I spent a semester there in college! Thus, this book is right up my alley. But any fun quirky book like this would be perfect.
10. Personalized gold bar necklace – I absolutely love the look of this necklace, and the fact that you can personalize it is so special. Add your wedding date, your kid's name(s), the birth of your baby, your own name, whatever you like.
11. New Balance shoes – I love the look of these old school New Balances. I personally love shoes, and any pair of shoes makes for a great gift, in my eyes! Last year, my hubby got me my beloved Hunter boots, so those are also a fantastic gift for her! :)
12. Anthropologie tea cup – A fun, dainty cup like this would be perfect to drink my daily coffee and/or tea out of.
13. Makeup gift set – A gift set is the best way to try new makeup without committing to full sized products. Not to mention, it's totally fun and makes for a great gift!
14. Recipe cards – I love this idea for a gift for the hostess in your life or someone who loves to cook/bake! They're so whimsical and pretty and kind of a throwback, too.
You can also see the rest of my wish list on my Pinterest, HERE! What's on your wish list this year?
xo