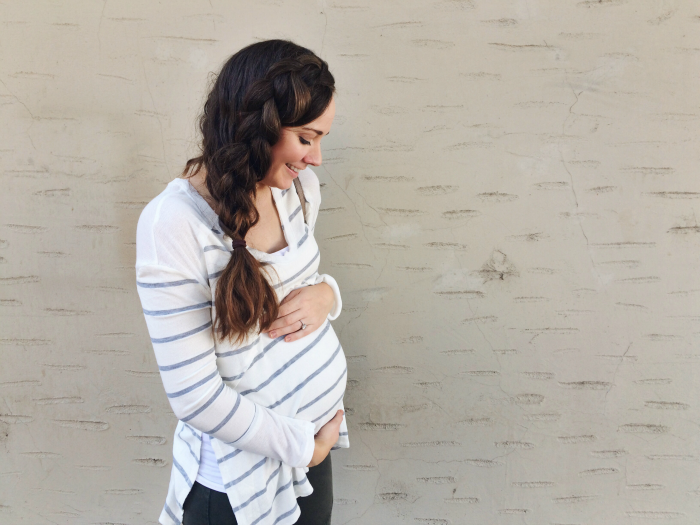 So a little update on my cold: I now have a full-fledged man cough. And it. Is. Awful. I sound like I have emphysema (I don't). Sleeping has been hard. I'm more wiped out than usual. Blah blah blah. So I have been downing tea by the buckets (not really, slight exaggeration) and pouring lots of honey in said tea, and that helps a lot actually. Also, Zack made me some home-made soup, completely as a surprise, which, I mean. I found myself a CATCH here, people. Of this I am well aware. I'm hoping I'm on the mend. I feel like I could be? But I thought that yesterday and then woke up with a worse cough, so who knows.
Besides being sick, yesterday was a good day. I had an OBGYN appointment and we also toured the hospital where I'll be delivering. The appointment went well, and my doctor is so positive about everything. I need that. Her attitude is just the best. I love her. She is so good at easing my mind. I was telling Zack afterward, that I don't feel any worry anymore. I feel totally at peace. I know that everything is going to be okay. I don't just think it, or wish it, I feel it, in my very core. This baby is in the best hands possible. And God has every single thing under control. I've been praying a lot for peace lately, and my prayers have been answered. Completely. Undeniably. It's a pretty awesome thing.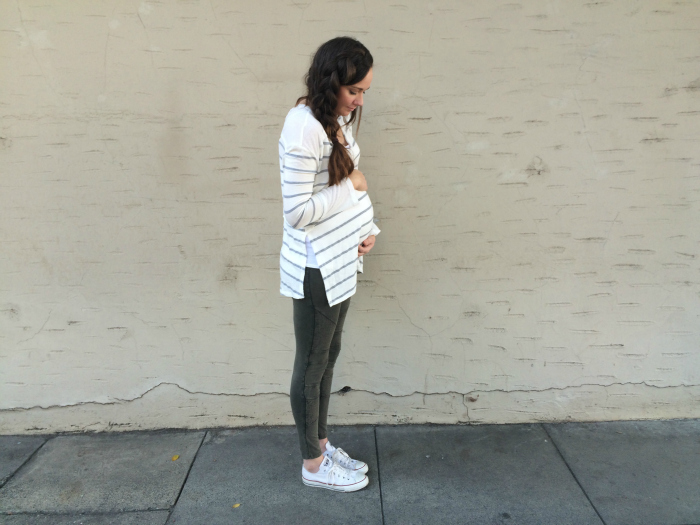 top: c/o riffraff (sold out- similar) // leggings: nordstrom // shoes: converse
We also toured the hospital, and ohhhh man. Okay, so I remember when we toured the first time. I remember it so vividly. We got home after our tour, sat on the couch, looked at each other and were just like "HO-LY CRAP. THIS IS HAPPENING." Ha! This time, there is wayyyy less of that "holy crap" feeling and more feelings of excitement and readiness. I mean, yeah, we don't know what could happen. We never do, no matter the circumstances. But I feel so prepared. I've been waiting forever to meet this baby. They have been in my life plans since before I was born. How crazy is that to think?! So really, I've been waiting forever to meet him/her. And now that we are so close to doing just that, it's hard to feel terrified or scared. I'm ready.
But, you know, that's not to say I'm rushing anything. There are still many days and weeks to grow, Little One. ;)
xo
p.s. If you're new and aren't sure what I'm talking about, I've explained more about our sweet Baby here and here.