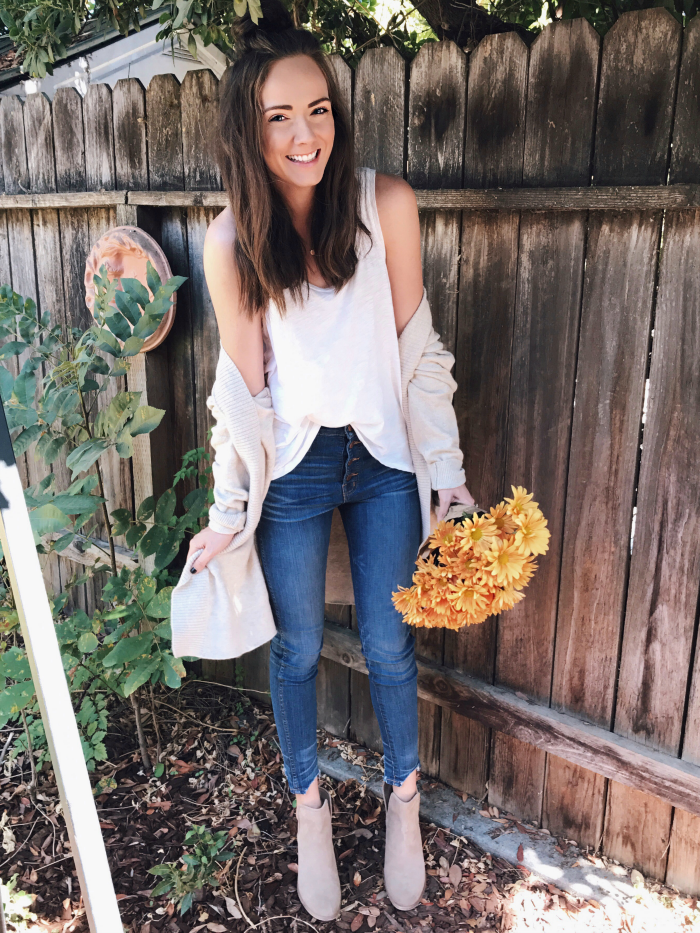 CARDIGAN | TANK | JEANS | BOOTIES
Our weekend mainly consisted of hanging out in our bathroom. LOL. I'm not even kidding though. We started potty training on Wednesday, and it's been quite the ride already. I'm seriously wondering if we can just keep him in diapers forever, or…? ;) I kid. But really, this is not for the faint of heart, my friends. It's fine. We'll get there, eventually, right???
Consistency is key, consistency is key… I just have to keep reminding myself of this. In all things in life, this is true.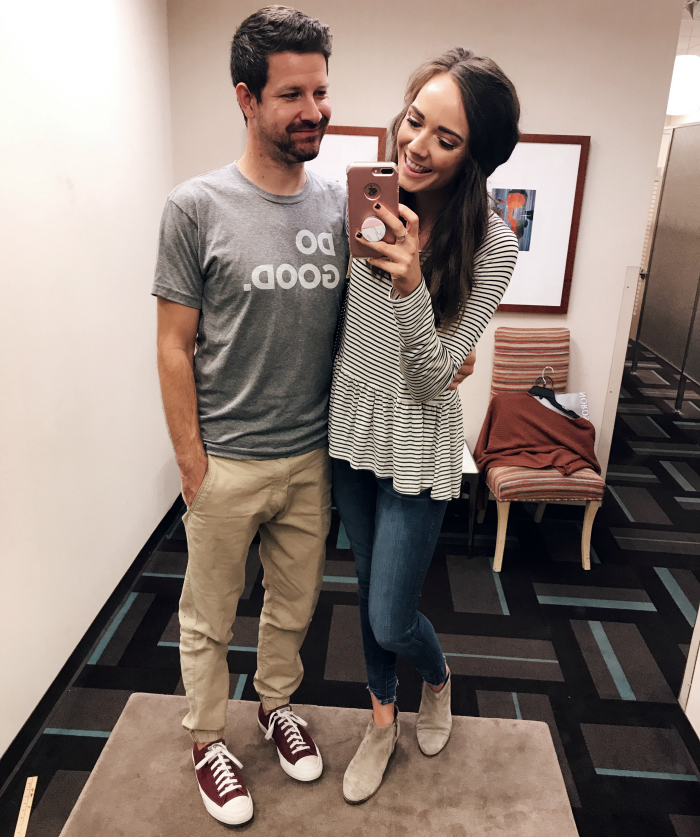 TOP | JEANS | BOOTIES | BAG
Thank God for Zack's parents, who watched the kiddos so we could have a much-needed date night! We went shopping (because, that's what bloggers do on date nights, obviously lol- God bless my hubby!) and grabbed dinner at a new (to us) spot that was all Southern food and all so not healthy, but of course I managed to get the only non-fried thing on the menu which was actually so delicious and healthy (score!)- the summer squash salad. YUM. I stole a few bites of Zack's biscuit because who can deny a biscuit when it's staring you in the face?! And speaking of, the beignets for dessert were out of this world amazing. It was all just amazing. If you're local to the Sacramento area, you have to try The Porch! SO good.
Anyway, just being with him and being able to breathe and take a break. It was SO needed!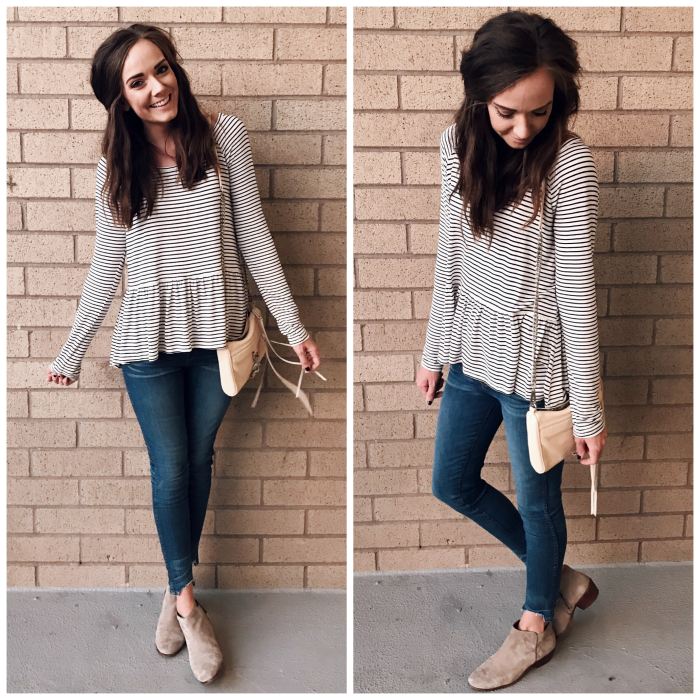 TOP | JEANS | BOOTIES | BAG
Cute date night outfit. I'm in love with this little peplum top- I'm in a medium, so if you're in between, size up!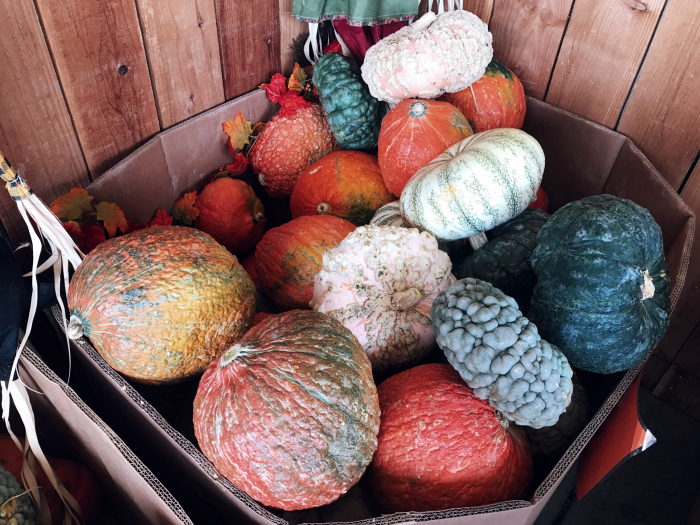 Happy OCTOBER, guys. Can you believe it?!? At this rate, Christmas will be here, like next week. I'm so not ready for that.
I've been really stressed out the past few weeks, and it has affected all areas of my life. You know when you just FEEL the weight of the world? And then you can sense and actually see the effects it's having on your life and your health and well-being? That's where I'm at. Things are finally looking up, so I'm seeing it with fresh eyes now, and am determined to start making healthier choices and being really aware of everything I'm consuming and doing for myself.
This starts from the inside- with eating and drinking. This week I'll be really focused on meal prepping each day, and I've already got my plan for the week. If you follow Tone It Up, I'm doing the 5 day slim down! Just to recharge and feel good from inside.
And then it goes to the outside, too, and working out each day, moving a lot. I do that anyway, but I do so much better when my heart is in it. I'm all in this week!
And then it goes further than that, to the spiritual side of things. Reading my bible each day, spending time in the word, blasting worship music, really allowing myself to feel it all. It's good for the soul. And spending time with my little family makes me the happiest too.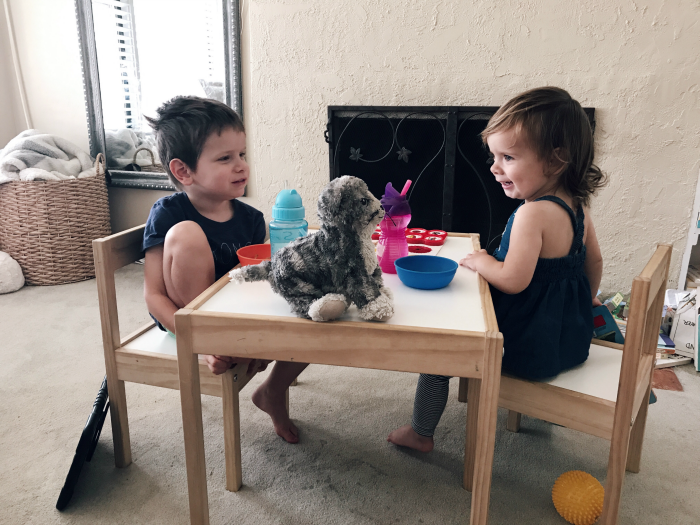 …Just hopefully more time outside and less time in the bathroom. Ha. Ha.
Yes, things are looking up and I'm excited to take on this little challenge to a better me. I hope you all have a great start to your week! You can do ANYTHING!! Don't forget that.
xo
Read More on Katie Did What