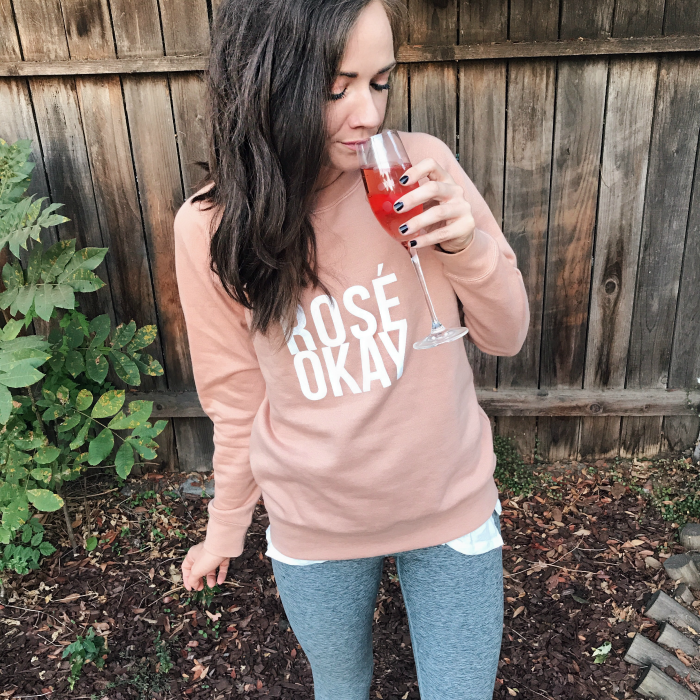 SWEATSHIRT | TANK | LEGGINGS
Well, guys. We have officially begun potty training. Today is Day 3, and we're doing an intensive 3-day method, sooooo hypothetically speaking this could be the last day? But let's be reasonable. It isn't magic. We are not close to being done. It's difficult, and messy (ohhhh so messy) and it's been a looooong couple of days, but Sam is doing so well! And there have been lots of successes and lots of potty parties (lol) and I can't stop singing "Pee-pee in the potty!!" which is hilarious and also like such a testiment to #momlife it's not even funny.
Basically. See that rosé up there? I EARNED IT. Also, this sweatshirt is my life. Obsessed.
From my short experience with it so far, here are my tips (since a lot have asked!): lots of salty snacks (chips, pretzels, nuts) and fluids (water and watered down juice!), and just get a ton of new toys that are high-preferred! For Sam that's bubbles, balls, play-doh, stickers… we just raided the Dollar Tree and cheap toys at Target and got a bunch of things to keep him ON the potty and happy! When he goes in the potty (a "success!" lol), we have a little party and make a big deal out of it, and throw balloons around the room and he gets fruit snacks and m&m's (his favorite treats!). It's been quite the ride, and we have only just begun! I'm going to be so nervous the first time we go out of the house with no diapers. EEK! Pray for us. ;)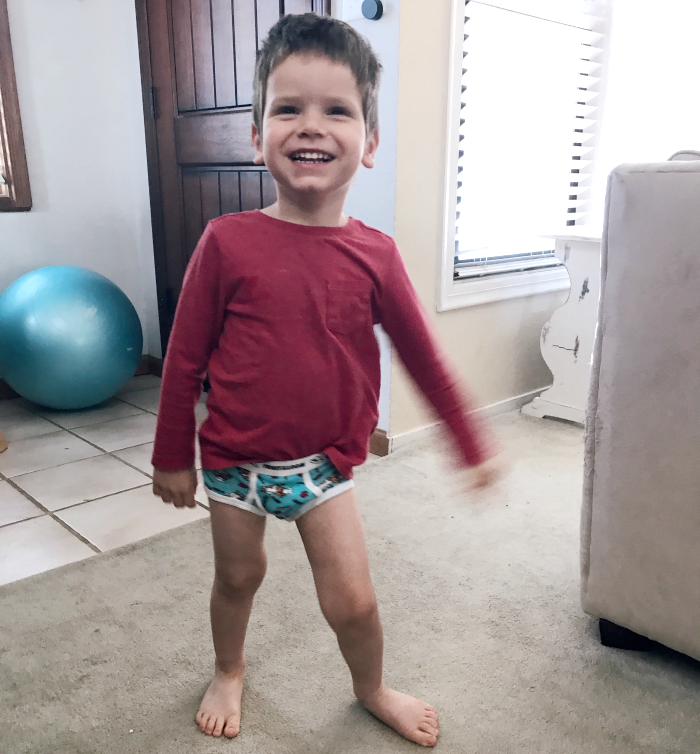 But speaking of potty training, this little guy has done SO WELL!!! We couldn't be prouder of him. :) Seriously, just look at that smile! Such a big boy!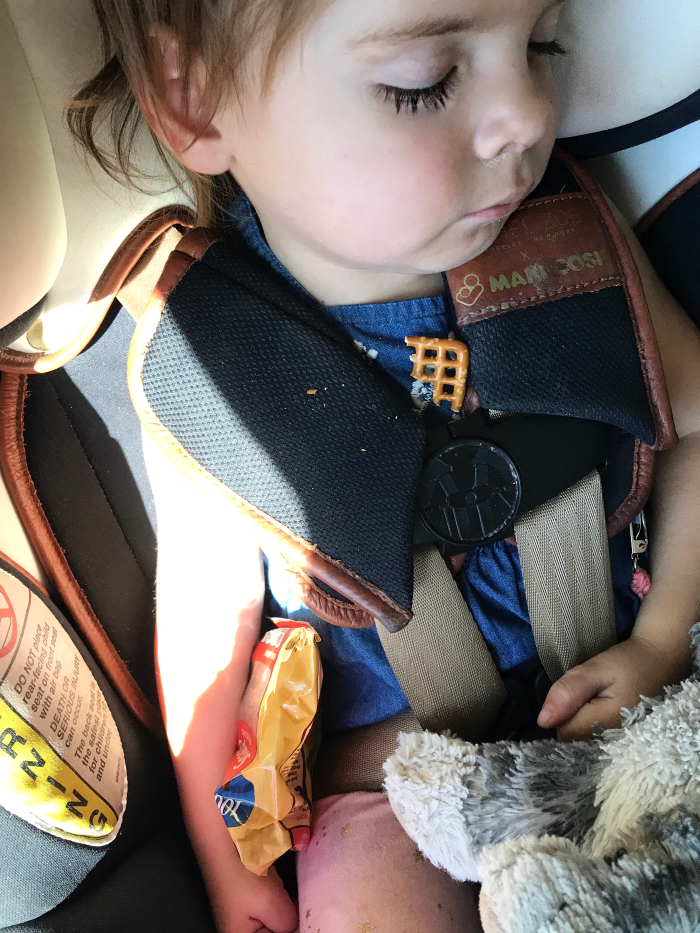 Sophie and I took a little road trip to my dad's house this past Tuesday, because my brother is in town! We had lunch and it was so so good to see them both! :) Sophie slept the whole car ride home (about 45 minutes) and I wasn't about to wake her (she does not transition well at all), soooo I spent like 20 more minutes just chillin' in the driveway in park, while she slept in her car seat. #momlife forreal. But, like, this gave me a chance to take a million pictures of her perfect sleeping self, complete with her pretzel because she fell asleep eating. Yep, she's my girl all right. ;)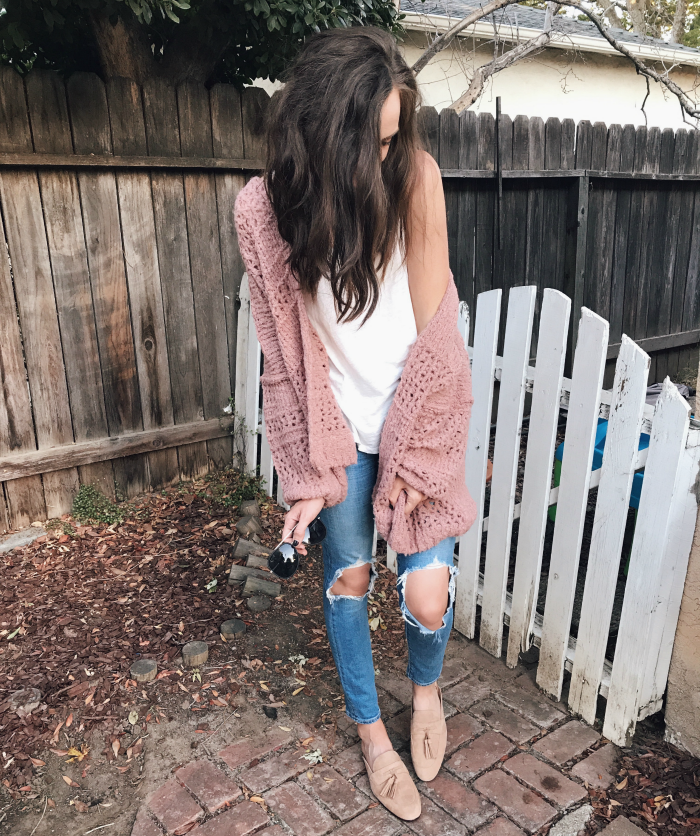 SWEATER | TANK | JEANS | SHOES | SUNNIES
In case you need some retail therapy, Shopbop is having an awesome sale and it ends tonight! Hurry and take advantage of lots of designer brands that rarely go on sale! And see my post HERE with all details and my fave picks! This whole outfit is on sale, yay!
Also, this has been on my heart and mind a LOT lately, and after some unintentionally hurtful comments (one in particular), I just want to put this into the universe:
We are all on our own journey. Everyone has a different story to tell and unique struggles and hardships that you may not know just by being on the outside looking in. Before reacting to something we might find odd or different than the norm, we need to stop and really think about our words. They can hurt, they can stab, but more importantly, they can hit on the struggle you know nothing about, and make the pain that much worse. We all have our pain, let's not make anyone else's any worse by our own thoughtless actions or words. Let's love each other, encourage each other, and lift one another up! Let's stop with any sort of judgment. Let's celebrate in each other's successes and speak LIFE and LOVE into people, not the opposite.
And with that thought, let's go into this weekend with this in mind! Let's be nice to everyone we come into contact with. Let's give little compliments and little acts of love, because it's the little things that can mean the most. You never know when you may be making someone's day. :)
Love you, friends!
xo