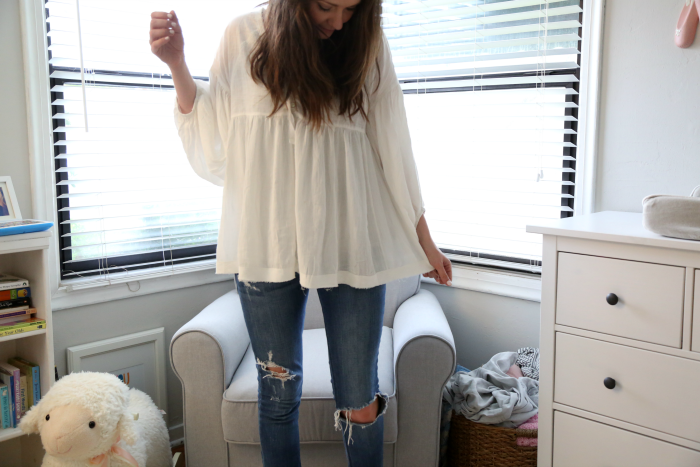 How cute is this top from chicwish?! I love that it's flowy and airy- perfect for spring and summer! Also great for nursing, just saying, for all you mamas out there!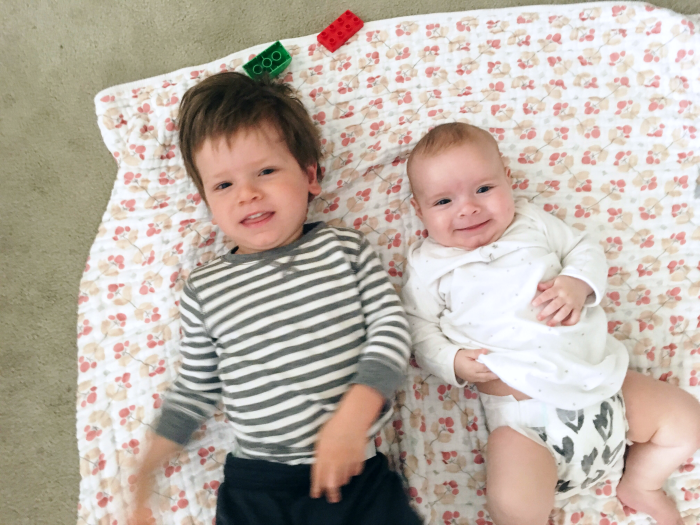 My two babies. This picture says so much about their personalities. Sam, always moving in some way, but with a sheepish little grin- he knows he can get away with anything. ;) And then there's Sophie, that smile you see there? She was like that the whole time I was snapping photos. She just loves her big brother and is always cheesing! Also, it must be noted that Sam didn't immediately try to get away this time! BABY STEPS, people! He's getting more and more warmed up to his baby sister. Which is good, because she ain't going nowhere.
Happy mail! My friend at Cammi & Co sent over some darling bows from her shop- I am obsessed with them all! Baby girl already rocked this sparkly one– how cute, right?! Go check her out and tell her I sent you! :)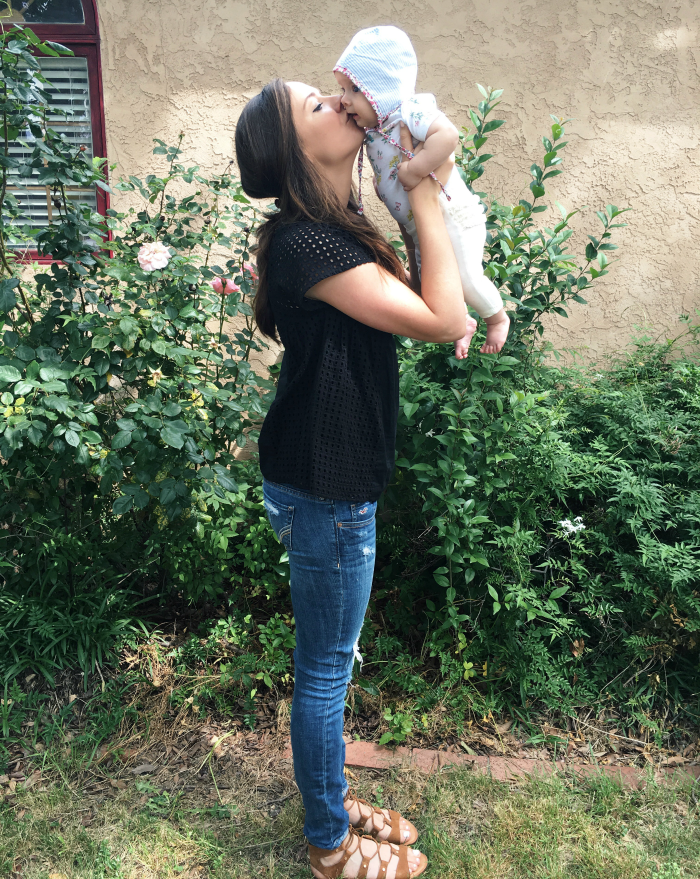 top | sandals | Sophie's bonnet | onesie | leggings
This top is NURSING friendly, hallelujah! You can't tell, but it has zippers on either side, for easy access. Um, hello, every nursing mama's dream!!! Plus, it's hella cute. Can't go wrong there. Loyal Hana is giving all Katie Did What readers 30% off, too, with code KATIEDIDWHAT30! Shop away, my friends! I also have and loooove this jumpsuit. SO comfy.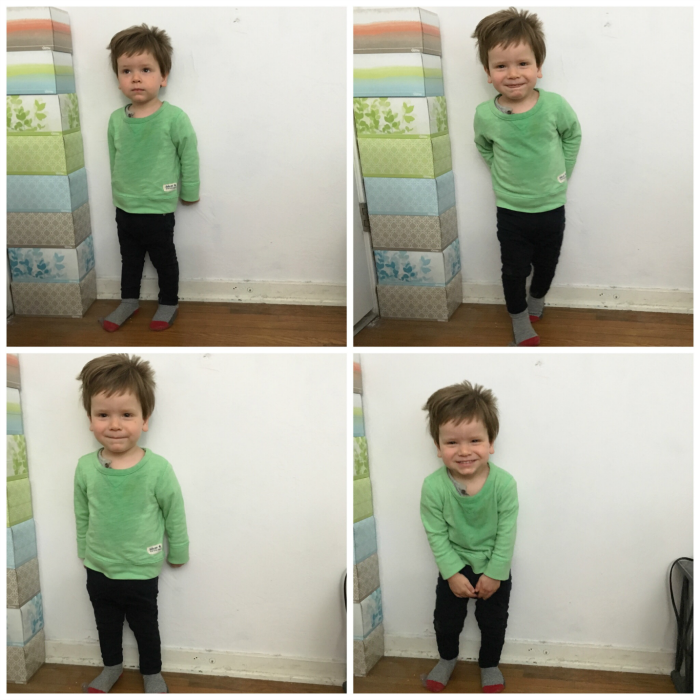 The many faces of my sweet, silly boy.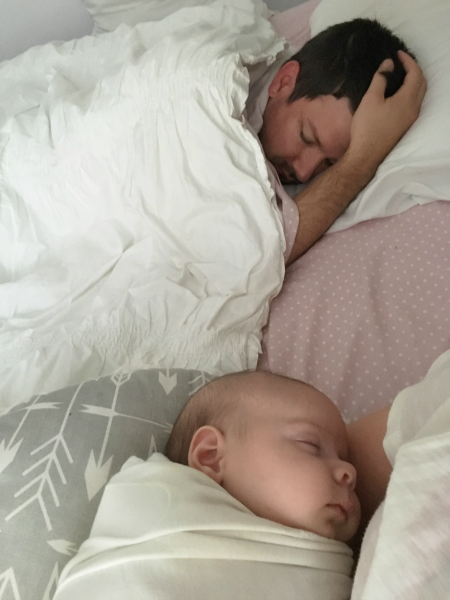 My favorite view, each morning. Gosh, I'm a lucky girl.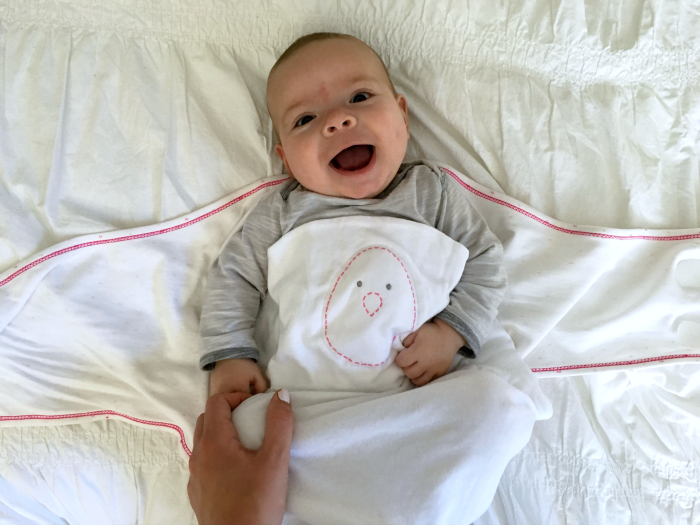 swaddle c/o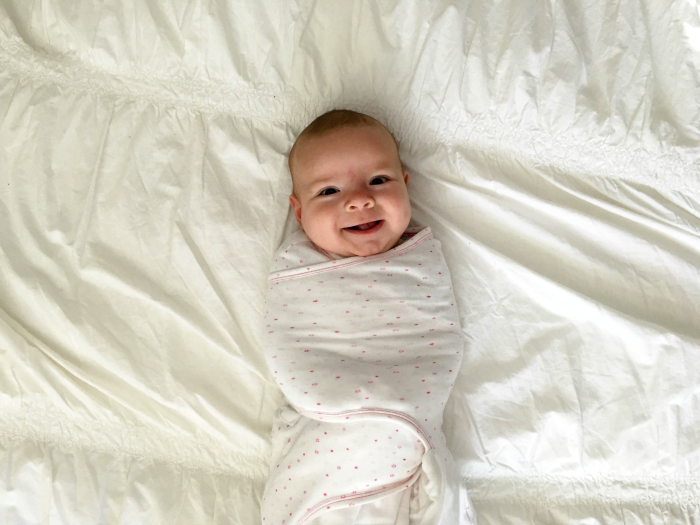 And hey, let's do another giveaway! Why not, right? I'm feeling extra giving lately. :) I am just so thankful for all of you wonderful readers of mine, and want to share the love!
SO. This swaddle you see? It's by Nested Bean, and it is SO cool you guys. Now, Sophie is an AWESOME sleeper. No, I don't have any secret tips really, I think it's just in her nature. Girl can eat and girl can sleep, amen and amen. ;)
BUT. I believe that this swaddle has helped her sleep even better and longer! It's got lightly weighted pads at each point where you would naturally rest your hand to calm a baby- on their chest and on either side of their little bodies, to mimic your touch! Genius, right?! So even when you aren't holding them or rocking them, they feel as if you are! We all know babies love feeling snuggly and being held tight (hence the reason for swaddles in the first place! And also why I highly recommend the DockATot!), and this just takes that to the next level. I am so grateful for this swaddle blanket, and would love for one of you to win one for yourself and your sweet baby!
TO ENTER:
1. Leave a comment with your favorite baby sleep trick! It can be anything- you might help out someone, you never know. ;)
2. Head to my Instagram (after 8 am PST) to complete your entries! Winner will be chosen and emailed on Tuesday 5/10!
Happy weekend, friends! We're going to my family's annual Kentucky Derby party tomorrow, which also just happens to be my grandpa and my mom's birthday (she was born on her dad's birthday!). So it'll be a tough one, that's for sure. We also plan on visiting her grave in the next few days and of course celebrating Mother's Day. This weekend is sure to be a doozy for me.
If Mother's Day is difficult for you, for whatever reason, I'm sending you my love and so many hugs. I am right there with you.
xo
p.s. Be sure to enter my huge Mother's Day giveaway, and a few other giveaways going on right now here, here and here!
Read More on Katie Did What