My mom calls me an "old married lady" now… Thanks, Mom.
But really, at the risk of sounding all mushy-ushy-gushy, it was the most incredible day of my life. Treated like a princess all day? Check. Getting all dolled up, and thus feeling like a princess all day? Check. Marrying the man of my dreams, and proclaiming our love in front of all of the people we love the most? Triple check.
The only time I almost lost it, was when my dad and I started walking down that aisle. I held on to his arm so tightly, and whispered, "Don't worry, Dad, I'll always be your little girl." Later he told me that did not help with the emotions. LOL. Oops.
I thought I would cry all through the ceremony, but once I got composed with my dad, and the ceremony began, and Zack was standing there telling me how beautiful I looked, and we were holding hands, everyone else just kind of faded away for an instant, and it was just us, and I was so indescribably happy and excited, there just wasn't any room for tears! I guess I was almost jumping up and down the whole time, I felt so excited and just ready to get that ring on his hand! We were like little kids up there.
And the reception was, of course, the best party I've ever been to. ;) It was just so incredibly FUN!
And now, the whole point of that one day: We're married, and get to spend forever together.
I don't have the pro pictures yet, but here's a few candids taken from a friend: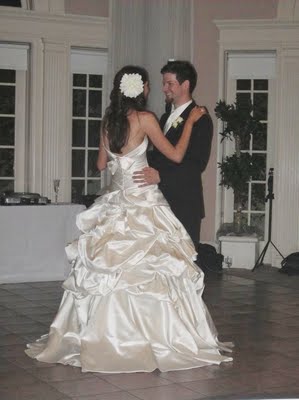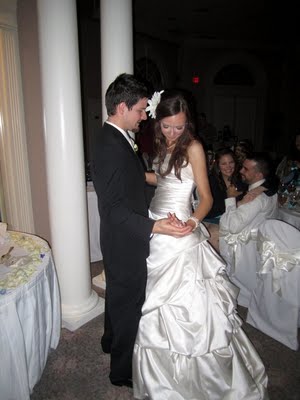 Profesh pics to come, and, of course, le honeymoon. (or "la lune de miel" en francais)