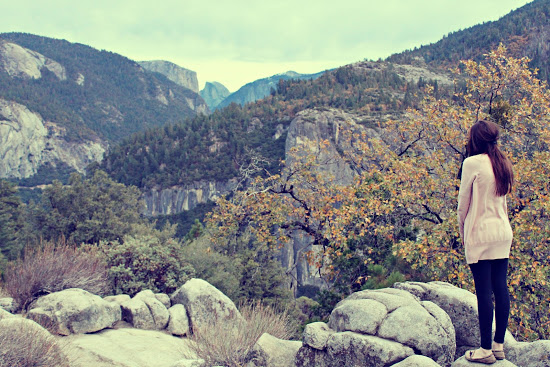 Dear Zack, You made me real proud when you were on the news last Sunday!  Do you know I actually started crying a little bit, watching you?  What is wrong with me.  But really, you were well-spoken, funny, cute, charming.  I mean, obviously this is why I married you.  Obviously.  ;)
Dear Yosemite, (pronounced: Yo-sim-might) I'm so glad we could come here with my parents and enjoy a little getaway!  We're here for the weekend, and it's just the perfect amount of time to relax a little and enjoy the beauty that is surrounding us, and let me tell you, there is a LOT of beauty here.  It's pretty breathtaking.  The ride up got hairy at times (I do NOT enjoy riding along steep mountain cliffs, let me tell you.  I don't get anxiety usually, but I was definitely feeling it then) but the views were spectacular!  I promise, lots more pretty pictures are coming, friends!
Dear Heat, I am so glad that we finally have you for real in our little house.  My teeth were literally chattering the night before my dad came over to light our pilot.  Like, that's never happened before.  I'm not even exaggerating.  It was like the 1900's over here.  Thank God for my daddio.  He's my hero.
Dear Zack (yes, again), You are a boss.  That trip to Target (HERE)?  Whoa.  Now THAT is how you shop at Target, friends.  Also, thanks for buying me a curling iron.  You really know how to get me excited.  Okay, that sounded bad, but really though.  I've been needing one for quite some time.  Now, I just need to learn how to actually use it.  Youtube to the rescue!
Dear Thanksgiving, "I can't believe it's already Thanksgiving next week!" #shitgirlssay.  (I was pretty proud of that one.)
xo
And today I'm thankful for… Free wifi in the mountains.  I told you, the mountains are unpredictable, and I may not have any service on my phone (sad face!) but at least the wifi is here and it is free, score!
twitter // facebook // pinterest // instagram @katie_did_what