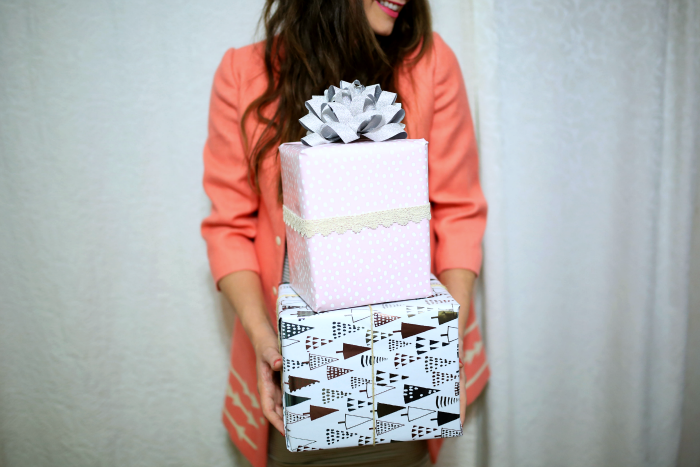 Hey guys! I hope you had a wonderful Thanksgiving, spending time with your loved ones and eating one too many pieces of pumpkin pie (with whipped cream- tell me you covered that sucker in whipped cream)! I also wanted to say thank you to those of you who signed up for my new email series in the past 2 days. The response has been overwhelming! Stay tuned for your official welcome email coming very soon.
Today is the infamous Black Friday, and so of course I had to show up here to share my very favorite Black Friday sales! I have shopped quite a few of these already, or plan on doing so, and will hopefully have my Christmas shopping DONE ASAP so I can enjoy this crazy hectic season before it gets even crazier and hectic-er (not a word) once Baby Girl arrives! :)
NORDSTROM – Up to 50% off select styles, up to 25% off sale items + free shipping [through 11/27]

1 // 2 // 3 // 4 // 5 // 6 // 7 // 8
Need some gifts for the ladies in your life, or some ideas for your own wish list? Cozy Ugg slippers are a great gift, as is a good bag (I have this Kate Spade one in beige and LOVE it!), a Michael Kors watch is always a good, classic choice, and this one is gorrrrgeous! Loving this warm Free People sweater (half off!) and classic aviators. For the guys, this sweater is super nice, as is a cashmere scarf (to up his game, and keep him warm) and a Herschel backpack is a cool and unique gift idea!
ANTHROPOLOGIE – 25% off everything with code SHOPTOIT [through 11/30]

1 // 2 // 3 // 4 // 5 // 6 // 7
I love picking up whimsical dining and kitchen goodies from Anthro, like this tea cup, pretty little side plate (so fun to collect!), cupcake holder, these adorable owl measuring cups (!!!) and a pretty little apron. They also have the prettiest notebooks and candles!
SHOPBOP – 15% off $250+, 20% off $500+, 25% off $1000+ with code GOBIG15 [through 11/30]

1 // 2 // 3 // 4 // 5 // 6
This is the time to stock up on things you've had your eye on, or to join forces with a few girlfriends or family members and combine your order to get the highest percentage you can! I already posted my top picks here, so check that out if you missed it! For myself, I picked up this rose gold watch (I am OBSESSED with it), these booties are a must-have staple, I have this tunic and love it (see it on me here), and I also bought some distressed jeans for post-baby. Also, Hunters are on sale, which is a very rare occurence! Have them, love them. And this bag is everything.
GAP – 50% off everything with code BLKFRIDAY [through 11/27]

1 // 2 // 3 // 4 // 5 // 6 // 7
Um, hi. 50% off everything at Gap?! This is a no-brainer! Time to pick up something for everyone on in the family. Their baby clothes are the cutest ever, and I always stock up on comfies like these leggings (so many cute patterns to choose from!), some cozy socks (love these too!) and a cute sleep mask. Gotta pick up some pj pants for the man, too, and a beanie he'll actually wear. And let's talk ADORABLE for a sec with this little bunny one-piece and these little boy shoes. I DIE.
OLD NAVY – 60% off hundreds of styles, 50% off even more, 40% off everything else (select styles) [through 11/27]

1 // 2 // 3 // 4 // 5 // 6 // 7
Loving these skinny jeans and these super cute leggings– both only $15! This is the perfect plaid top, and is $10! WHAT?! And this workout jacket for $13! Some slippers for him and a vest because every man needs a vest. This cozy little bear suit to keep Baby warm and a cute little wintry onesie.
And more awesome Black Friday deals and codes:
AMAZON – 30% off select clothing , shoes, accessories, jewelry, and watches with code 30BLACKFRI [through 11/27]. They matched Target's Canon T5 bundle deal where you get a Canon T5 DSLR camera, TWO lenses and a bag for $399! It's a prefect entry into the world of DLSR cameras. Also, basically ongoing, check this page for really, really good lightning deals starting every hour.
ANN TAYLOR – 50% off everything with code CELEBRATE [11/27]
BODEN – 30% off + free shipping over $49 with code 7J4Z [through 11/30]
BOOHOO – up to 60% off everything + free shipping, no code [through 11/30]
H&M – up to 60% off, exclusive deals from $4.99. [11/27] — So many amazing deals! I did some major damage here for the babes ;)
J.CREW – 50% off + free shipping $50+ with code SHIPGIFTS
KOHLS – Loads of amazing deals, 15% off with code TURKEYTIME plus $15 in Kohl's Cash for every $50 spent (it's usually $10!). We got a bunch of these plush throws– they are so great! And we plan on donating some and giving some as gifts.
LOFT – 40% off almost everything with code BF40 (only exclusion: Lou & Grey new arrivals) [through 11/27 at 11:59PM EST]
MACY'S – Black Friday Extra 25% off clearance designer handbags, 50% off select juniors clothing, 60% off select women's coats, 50% off women's sweaters. 20% off most items with code THANKS. $20 off $50 orders with code THANKS50. [through 11/28]
MADEWELL – 25% off your entire purchase with code Calmdown [through 11/29]
MINTED – 15% off no minimum, 20% off $150+ holiday cards and gifts with code BF2015
NIKE – extra 25% off clearance with code GETOUTHERE [through 12/1]
SEPHORA – Lots of great makeup sets for $10 (some orginally $30)! Plus, get 3 free samples, and if you order $25+ you get a choice of either a clutch with 8 samples with code PARTYPICKS or a makeup bag with 12 samples with code MIXITUP! I stocked up on gifts for all my girlfriends!
THREDUP – 40% off for first time customers (plus free $20 with this link), plus free shipping [through 11/26]
ULTA – Beauty Busters. $3.50 off $10 with code 306487 or $5 off $15 with code 205730. [through 11/26]
URBAN OUTFITTERS – Black Friday 30% off sale, 40% off sale for Urban On Members, select sweaters $39, all flannel $29, 20% off men's full price graphic tees, select tees $19. [through 11/28]
VICTORIA'S SECRET – Free Secret Reward card worth $10-$500 off a purchase from 12/1-12/17 with any $10 purchase!
Free slippers with every most-loved pj's with code LOVESLIPPERS [through 11/28]
BOGO 50% off bras with code DOUBLEUP [through 12/2]
Let me be your personal shopper! Are you looking for anything specific? Leave a comment and I'll try and reply with the best deal I can find!
xo