Well, I guess it's technically considered fall now, so what better time to break out my brand new, shiny, 2013 fall to do, right? You may remember I started this tradition last year, and so here I am bringing it back. Because it gives me a reason to look forward to the new season, if nothing else. And I like fall, I really do. Last fall was so good to us. We went on a beautiful trip to Yosemite with my mom and dad and went to Tahoe with Zack's mom and dad and celebrated Halloween and Thanksgiving (twice!) and visited Apple Hill. And so. This year, needless to say, there will be a lot of differences, and you know a thing about grieving that I've found to be very true, is that there are seasons of grieving. It seems with each new season comes a new wave of experiencing the most difficult and painful parts of grief all over again. Oh, what joy! But really, I need to focus on the happy parts of the season that is now upon us. And so! My list!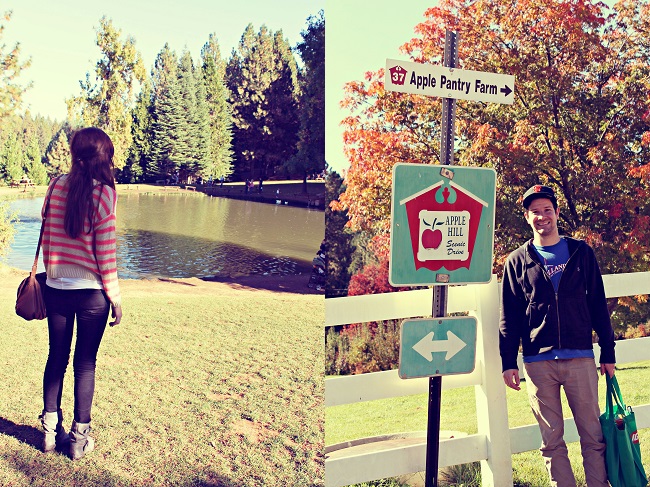 Apple Hill. It's always on my list, every year, and that is because it is the quintessential fall thing to do if you live in Northern California. Heading up towards the mountains to go to apple farms and pumpkin patches- it's just what we do. And it gets me excited for the new brisker days ahead. And also, apple everything. Pies, turnovers, donuts (THE BEST), cider. Yum.
Watch scary movies with dad. Because it's a tradition, and every October it must be done. Whether I like it or not. Which I secretly love it and hate it all at the same time. We'll be watching all of the classics, no doubt.
Fill the house with pumpkins. This has already begun. I was in the garage yesterday and found the Halloween/fall decor, and realized now's as good a time as ever to at least break out the pumpkins. Not ready for the skeletons and fake cobwebs yet, but the pumpkins can make an appearance. The best part about these pumpkins? They are glitter. Oh yes.
Make some sort of seasonal treat. Probably including pumpkins, but maybe including apples instead since I like apples a lot more than I do pumpkins. Just keepin' it real over here. Apple pies are wayyyy too much work for me, but maybe I'll figure out something yummy and easy. I'll keep you posted.
Eat chili. And crock pot meals. A lot. They warm you from the inside out. And plus, it's Halloween tradition to have a big pot of chili every year, and so. That won't be stopping. We found out last year Zack makes the best chili ever, so. Something to look forward to! Oh, and cornbread. With honey. Because you must have that, too.
Start another fall fashion series like I did last year. Only problem is, I'm not sure if I have enough new clothes to do that? Ha. Which means I would have to get creative. What do you think? Would you all be interested in another round of fall fashion? I'm thinking it'll be a good challenge for me. Plus, it's super fun. I need fun!
What's on your fall to do?
xo
Read More on Katie Did What