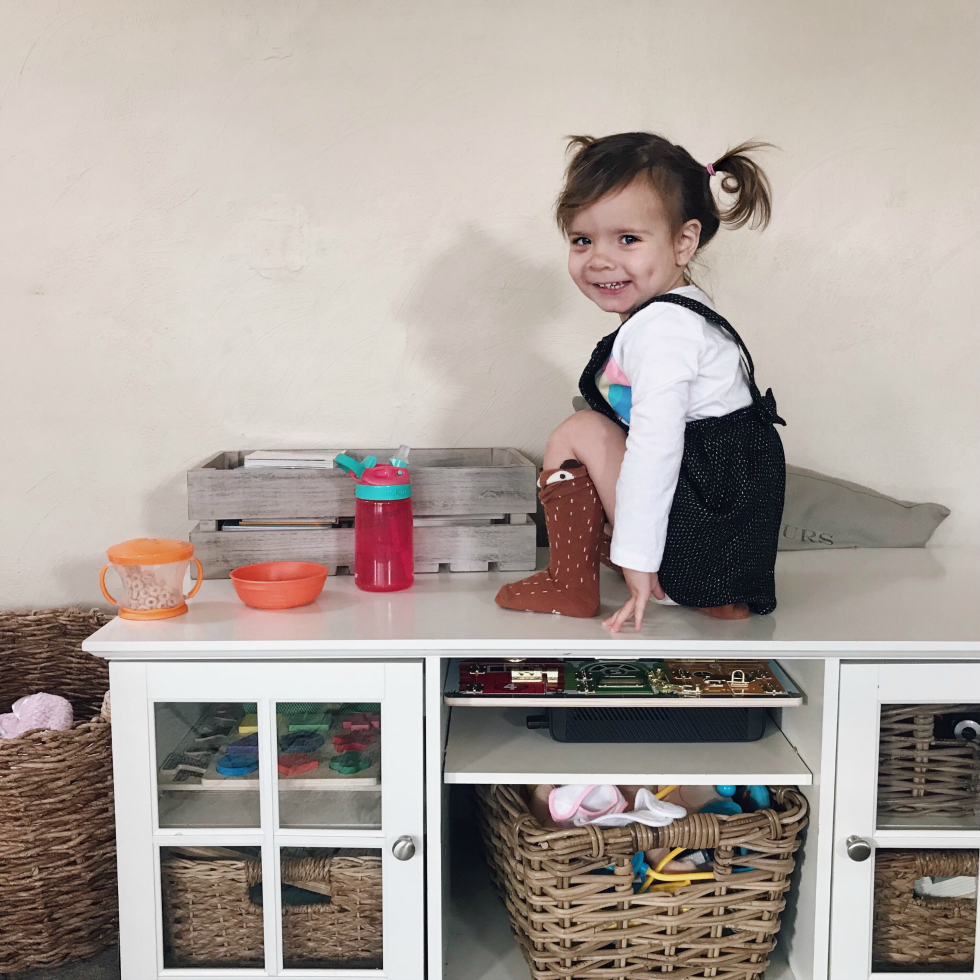 Just like that, my baby girl is TWO.
(Well, okay, her birthday is this Sunday, so technically I still have a couple days, but we're close enough…)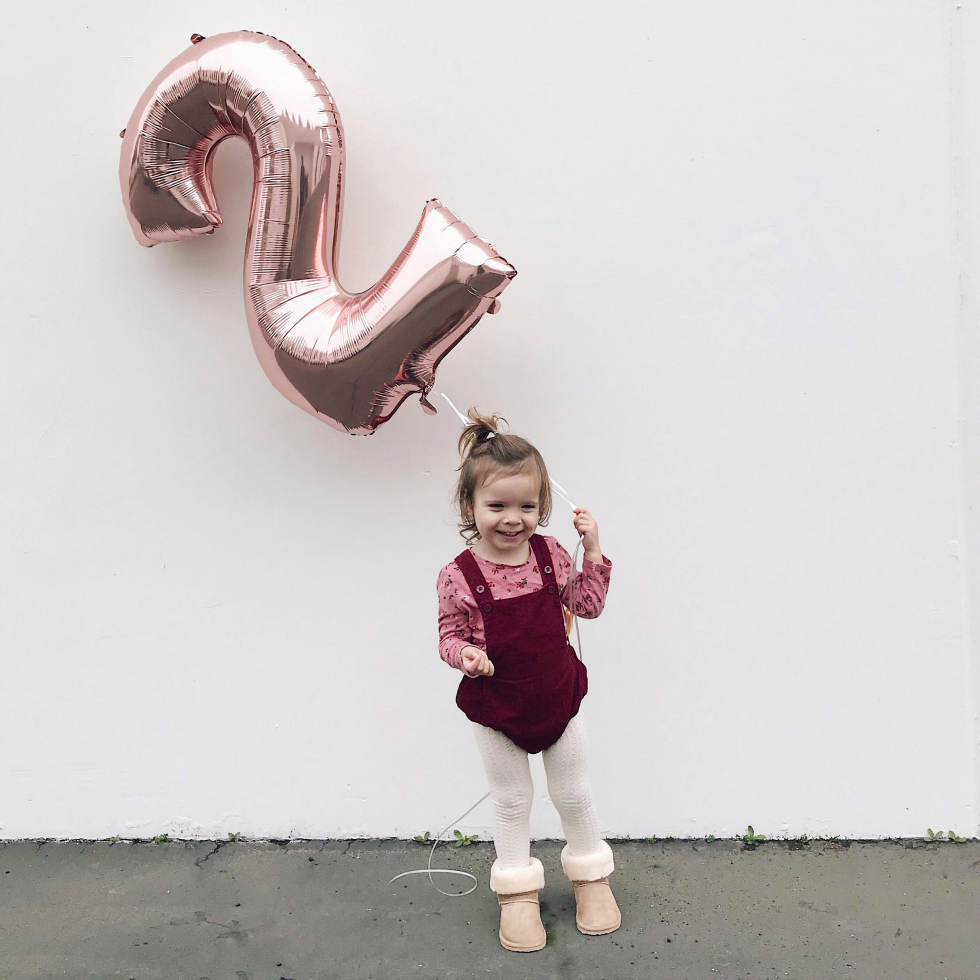 As I sit here writing this little letter for my girl, I can't help but be emotional. It's funny how dates will do that to you, milestones, anything that reminds you that time is moving forward and you can't stop it, kind of hits you hard sometimes. Like right now.
Sophie Michelle, our little angel baby. Our miracle.
My pregnancy with her was HARD. It was so full of unknowns and nights spent standing in the shower with tears streaming down my face. It was full of countless doctor's offices and ultrasounds and specialists telling me we had to "wait and see" if all would be well. But this was such a blessing (as most hard things end up being, right?) because it strengthened my faith and forced me to cast all worries onto the Almighty. So that's what I did. I breathed- a lot- and I said, God she is YOURS. And I had faith that everything would be okay.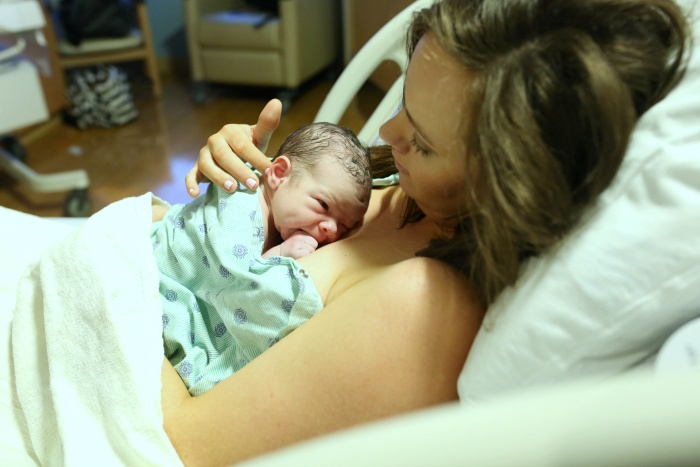 And then in the wee hours of January 14th 2016, those contractions started coming and we went to the hospital and then here she was. In my arms. This perfect, beautiful, incredible, cheeky little baby girl. And they took her from me and did every test imaginable, and then just like that I got her back and guess what: everything was okay! Praise God, my baby was HEALTHY!
And then we brought her home and the real fun began. ;) Life with two under 2 was challenging. But we survived. And even had some fun. ;)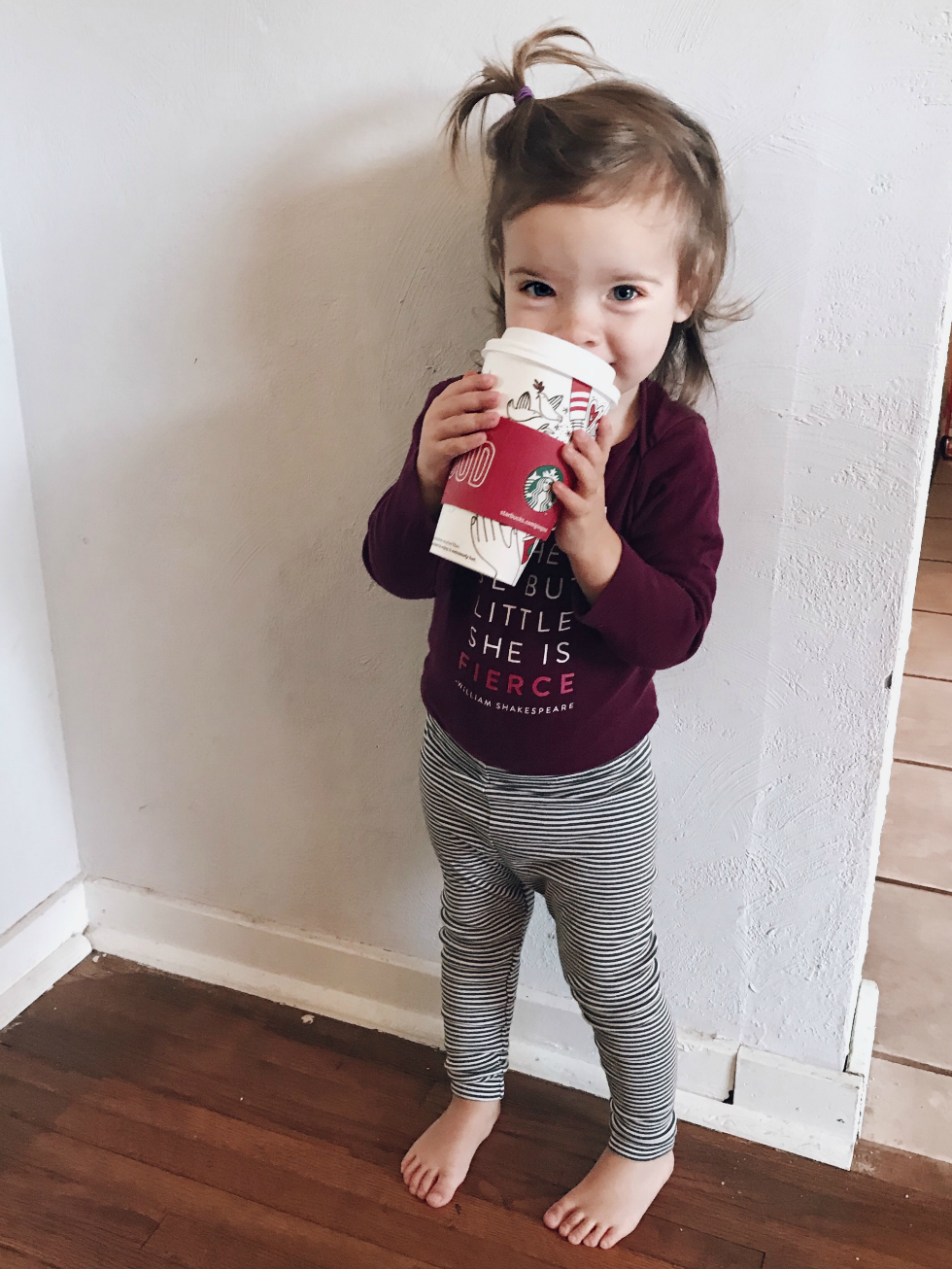 And now, just like that, she's two. She's spunky and sassy and full of personality. She loves animals (her favorite being her cat Buddy, and every morning she looks for him to give him hugs- "Hi Buddy!"), she loves drinking "dah-pee" (coffee) with mama (hers is not real, of course), and says, "Cheers!" with whatever object may be in her hand- not always an actual cup. She accompanies me to my Stroller Strides workouts and does her own workouts at home- she's got those squats and lunges down! She loves pushing her shopping cart and doll stroller and will load them up with everything she can fit inside. She is a total daddy's girl now (oh how far we've come from her MAMA ONLY days!), and is always talking our ears off, 24/7. More recently, she will hold full conversations (most of which we cannot understand), and I am always having to translate for her. She has SO many words, less and less are needing to be translated from her own language (which I am very sad about, make no mistake). As long as she says, "Vutty, vutty, vuttttty" forever (translation: "What is that?"), I will be happy.
She randomly will start counting, and knows the numbers 1-10, but never in the right order. Usually it's something like "two, free, oneeee, eight, nine, TENNNN!" And ten is always said with the utmost gusto!
She sings songs, twinkle twinkle and Alice the camel being some favorites. Her current favorite songs that she always requests (more like demands in a very bossy manner), are "Funder!!!" ("thunder") by imagine dragons, "Reindeer" (Rudolph- we just can't get away from Christmas around here) and "Melcome" has been going strong for over a month now (you're welcome, from Moana). Her dance moves are killer. She looooves to eat (atta girl) and is quite the independent little nugget. She always wants to go to the "body!" (Potty) when Bubba goes, But has yet to actually go. She just sits down and automatically demands m&m's ("mums"). Smart girl. ;)
Her alphabet goes A, B, B, B" very matter-of-factly. She is smart as a whip and repeats everything we say. Coincidentally, we are watching what we say very carefully now.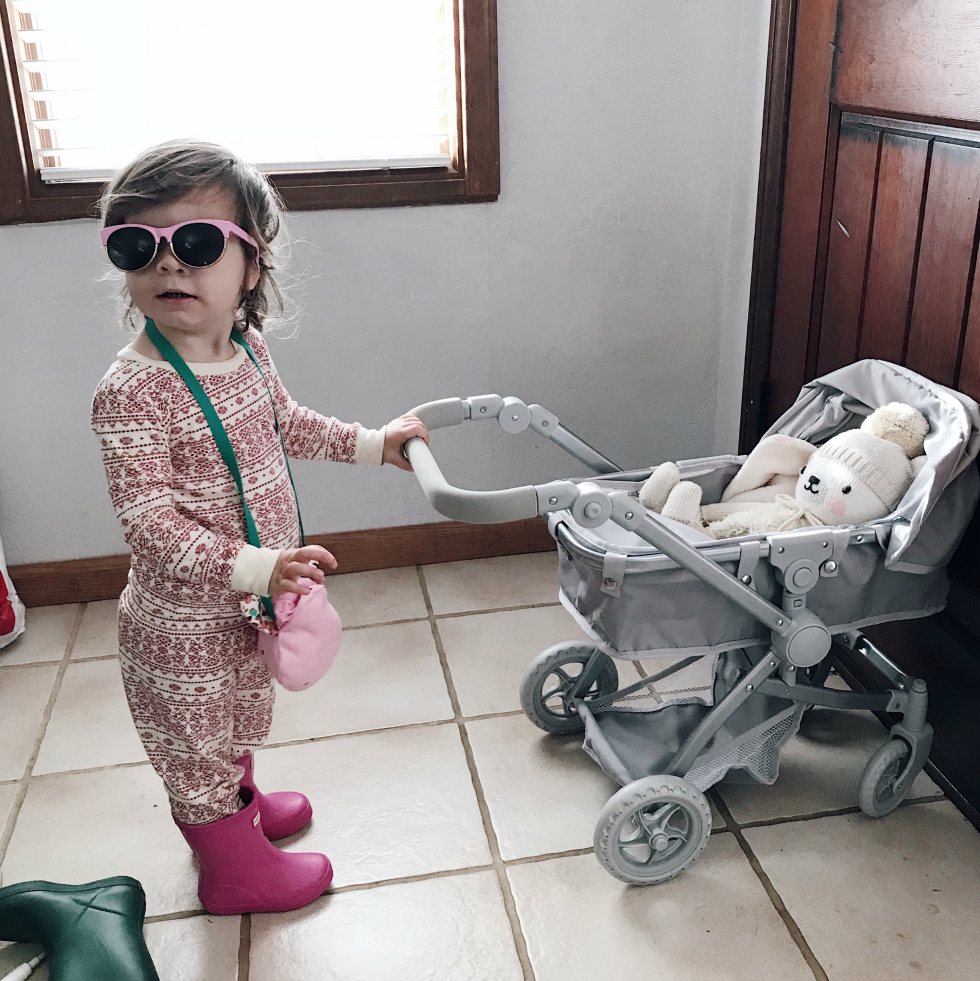 PAJAMAS | BOOTS | STROLLER
I'm mostly sitting here absolutely stunned that two full years have gone by with her in our lives. We are so blessed by her daily. She is our ray of sunshine, my joy, the one who makes everyone laugh, she is so sweet, gives hugs and kisses to everybody, and has a way of making the most shy and introverted person come out of their shell- at least if only for her.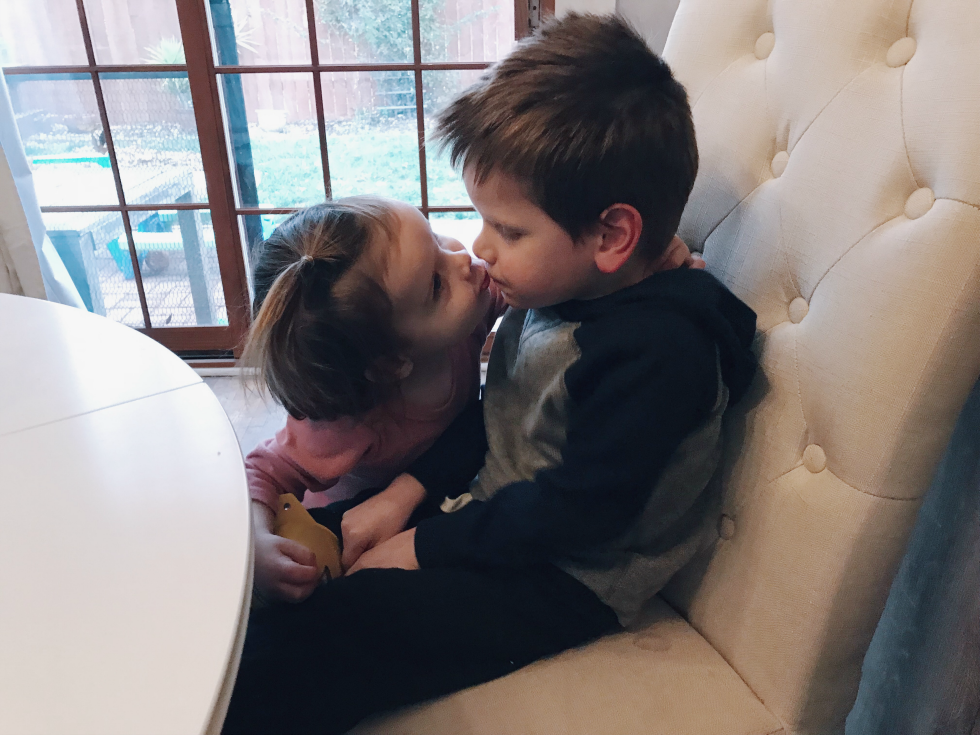 And a note on her relationship with Sam: their sibling relationship is not what I had in my mind when I had dreamt of my babies. Autism changes expectations, it just has to. Sam ignored her the first few months of her life, to be honest. And yes, that was so hard for me. But like I said before, she has a way of bringing people out of their shell, she has a way of connecting with everyone, regardless. And she and her big brother surely have something special and unique. It's beautiful. It's something only they share and understand, and I am so excited to see how it transforms and grows. And she is the only person Sam will always, always give a kiss to. Be still my heart.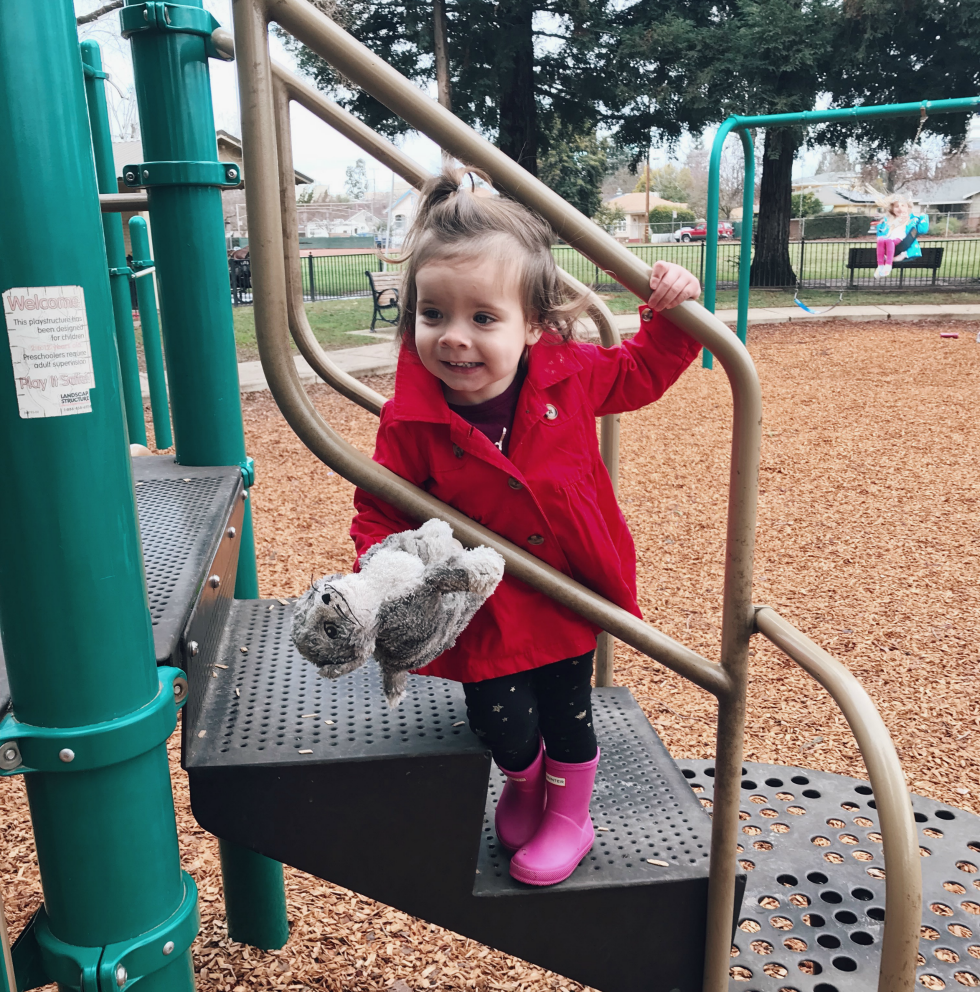 My Sophie girl. You are brave. You are strong. You are sweet. You are kind. You are perfect. You are HIS. And I couldn't love you any more. Happy birthday, my darling girl.
Annnnd I'm crying again.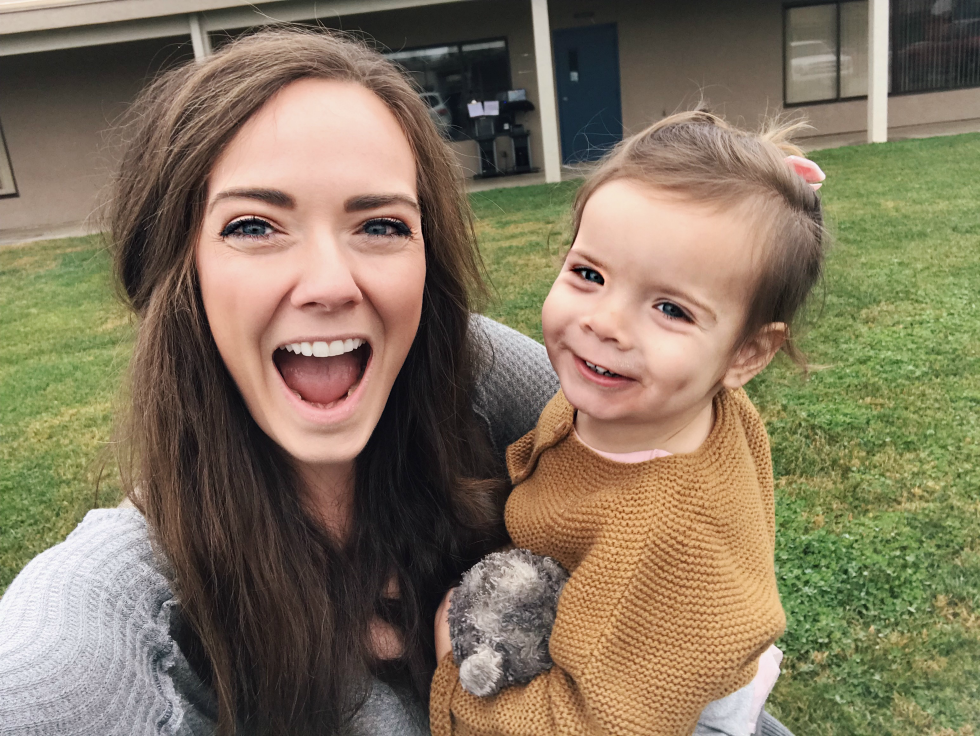 Now I need to go finish up party prep to keep my mind off of being an emotional wreck all day. ;)
xo
SOPHIE LINKS:
Sophie's Birth Story
Sophie at one year old
Sophie's 1st birthday party