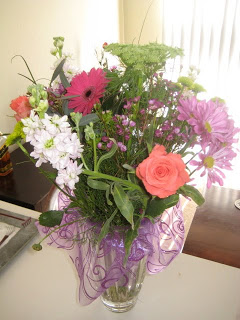 I absolutely am head over heels over lots of other things for my boyfriend. Seriously. He is just incredible.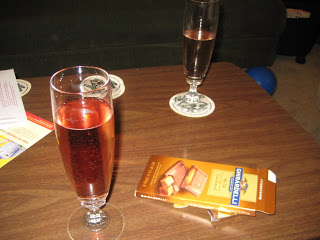 We had to work allll weekend, but he surprised me with a beautiful bouquet of flowers on saturday afternoon, and then that night after work, when we got home (at approximately midnight) we exchanged gifts.
It's what we did last year too (our first Valentine's) so it's kind of our tradition.
It's nice.
He did so well, too. He bought some champagne, and made yummy drinks of champagne and Chambord, and he gave me my wonderful presents- Juicy Couture heart earrings and a pretty necklace of little teeny keys and a heart lock. Even the little boxes the jewelry came in are gorgeous!
He did so well– I'm really lucky my boyfriend has such exquisite taste!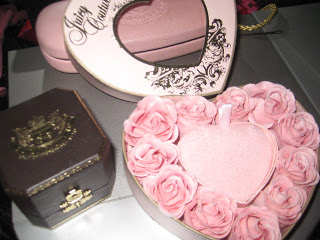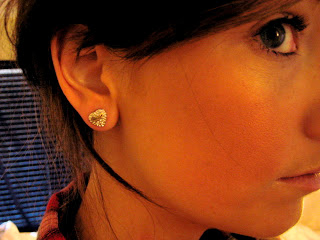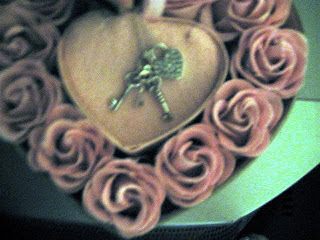 I totally surprised him, too, with a piece of wall décor of New York City. It's really big and framed and is a black and white picture of New York City with yellow taxi cabs.
Every time we go to Ikea (I like how I say that like we go there all the time– not true. We've probably been there twice.) Anyway, like I was saying, every time we go to Ikea, he stands and "oohs" and "ahhs" at the awesomeness of the picture, and so I set out on a little personal mission (all by myself!) to Ikea in West Sacramento to obtain said picture.
Now, I say it's big, and I am in no way exaggerating– it. is. big.
((that's what she said.))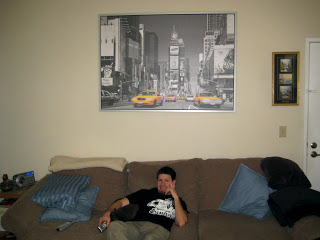 Nayways. It's a great story, how I obtained the picture. I found it in Ikea (which is really a bit too big for it's own good, I think), and was upset to find it actually comes already in it's right proportions– not like rolled up neatly in an easy-to-carry box or anything- no. It comes already framed and like 55″x40″ or whatever it is. So here I am, little tiny Katie, carrying this huge framed artwork through Ikea, to the checkout, as quickly as possible. At first I was carrying it vertically, and I could just picture myself from someone else's p.o.v.: A walking rectangle, with little boots. But they were really cute boots!
So. I get to the checkout (I chose the self checkout, mainly because there was no line) and am trying to scan it with the stupid little hand-held thing, and it will NOT scan. So I finally call over an attendant for help, and of course she gets it to "Beep!" on the very first try, in like .02 seconds. Of course. Makes me feel reeeeeal smart.
So that part is over. Now on to the car. I'm driving Zack's little Honda Accord. It's great to drive, and it doesn't ever really seem terribly small, but of COURSE, I get the picture in the backseat, and go to close the door, and
IT. WILL. NOT. CLOSE.
Seriously. There is about 1/2 an inch I need, that this stupid hunk of metal (the car door) WILL NOT GIVE TO ME. So I walk to the other side of the car, and open that back door as well, and push and shove for a while, moving it in all sorts of directions. I even open the trunk at one point, realizing very quickly that will simply never do. And FINALLY, after praying a lot and almost bursting into tears and giving up and calling Zack (which is what I would have done instantly had it not been a surprise for him), the door shuts! I hear the beautiful click of the latch, and thank God and drive home, happily (if not a taaaad biiiiit frustrated.)
Anyways. Back to Saturday night. I put a cute little red bow on the picture, and he LOVED it!! We put it up today, above the couch, and it looks so great. He smiles every time he sees it, which makes my day. /End cheesiness.
(Or maybe not.)
Today after work, he surprised me yet AGAIN with chocolate covered strawberries! Are you serious?! This boy is too good to me.
I love himmm.
Okay, okay. Happy Valentine's Day everyone! I love this holiday. :)