I am so excited for this post, guys. I've hunted down the best jeans and am sharing my detailed reviews! You'll see pictures of me wearing them to show you what they look like on a real person, my personal notes on fit/style AND which ones are my TOP picks! Because jeans are my most-worn article of clothing (besides leggings, of course) and comfort is important!
FOR REFERENCE: I am 5'9″ with long legs and wear a size 27.
TOP PICKS:
Best Under $100 – Topshop
Best Under $150 – Madewell
Jump to my Good American jeans review here.
On to the looks! Here's how this post will work:
You'll see 2 of me in each pair followed by the name of the jeans and my thoughts on the fit/look/comfort of each pair. If the specific style I'm wearing is no longer available, there won't be a link for it. Also, the list is alphabetized by brand.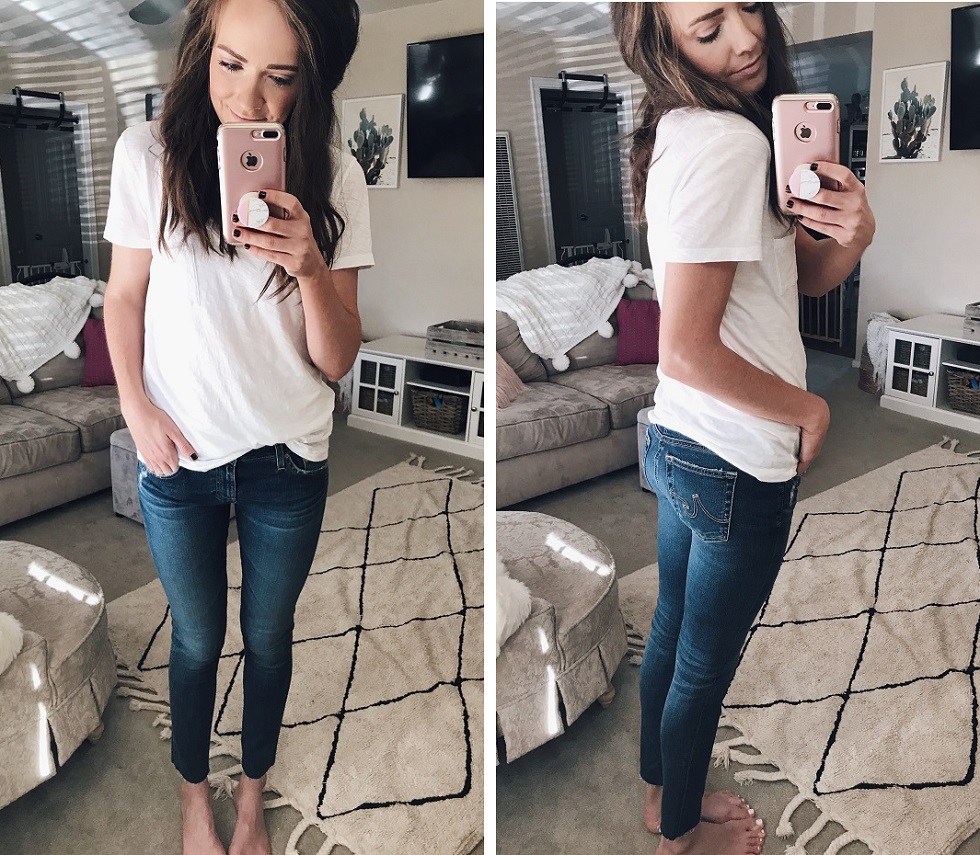 (style pictured- The Legging Raw Hem Ankle Skinny Jeans in 12 Years Blue Dust wash)
Comfortable is the first word that comes to mind with these. Stretchy waist. Lower rise than the others, but not low-rise. Fit is TTS.
I recently tried the AG Farrah style and LOVE them! They're even more stretchy than The Legging style and fit so well! I recommend them over the others!
American Eagle Jeans Review
(style pictured – Tom Girl)
Boyfriend fit – super comfortable and relaxed. Not soft and not stretchy, but still comfortable. For the fit- I'm usually a 27 and wear a 2 in these.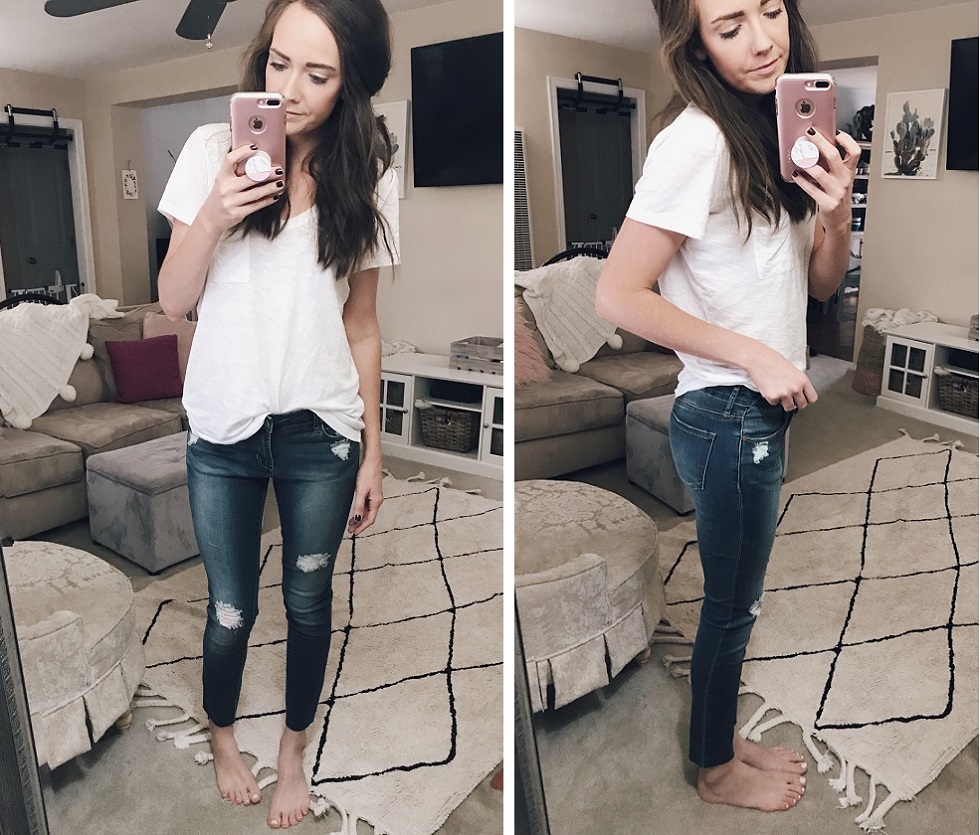 (style pictured)
Comfortable and fit true to size. They do lack the softness and stretchy-ness of the higher-end pairs, but that's to be expected. They are worth every penny if you're looking for a great pair of jeans under $65 shipped.
I have tried several of their jeans and they all fit about the same. They really are one of the best pairs of denim priced under $65 that you're gonna find.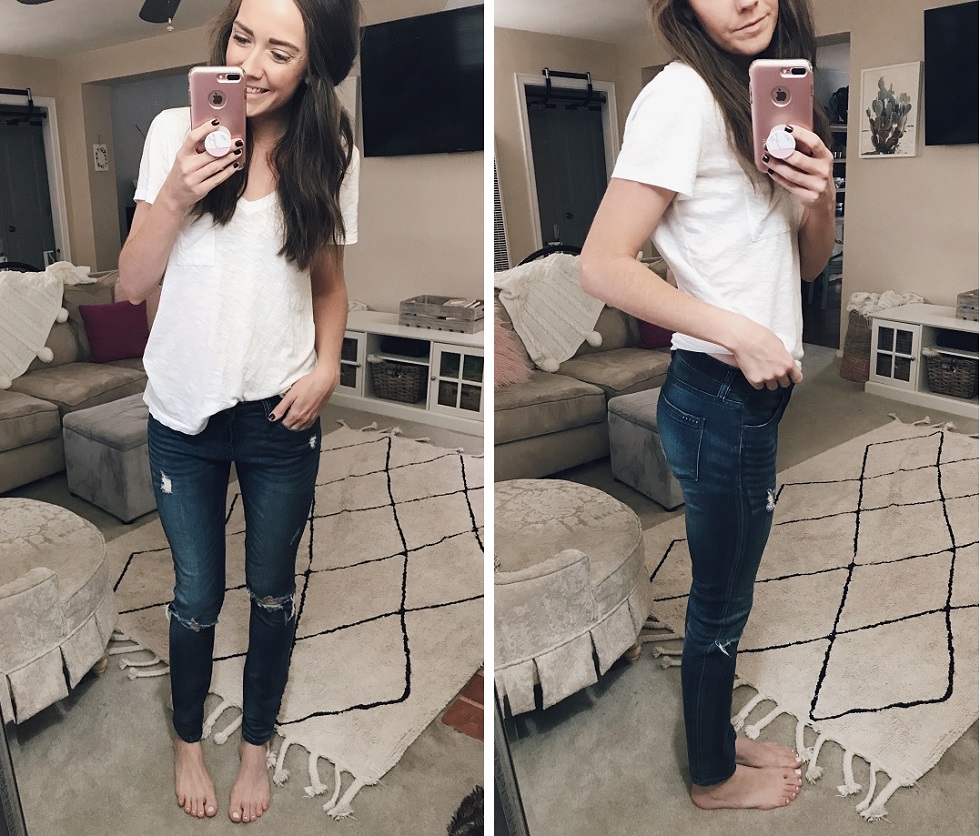 Super soft. They have a nice lived-in feeling. In general, they fit true to size/ a little big. I didn't size down and they don't feel big though.
(style pictured – Good Legs High Rise Skinny)
Extremely stretchy. The most stretchy out of all of them. Higher waist. Really great in the back- they feel very secure at the top in the back, so you don't have to worry about flashing booty if you're bending over. Super soft and comfortable. Run large, size down one size. I went with 26- they were tight at first but stretched out perfectly! These won my Best of the Best!
Shop all washes of the Good Legs skinny style here.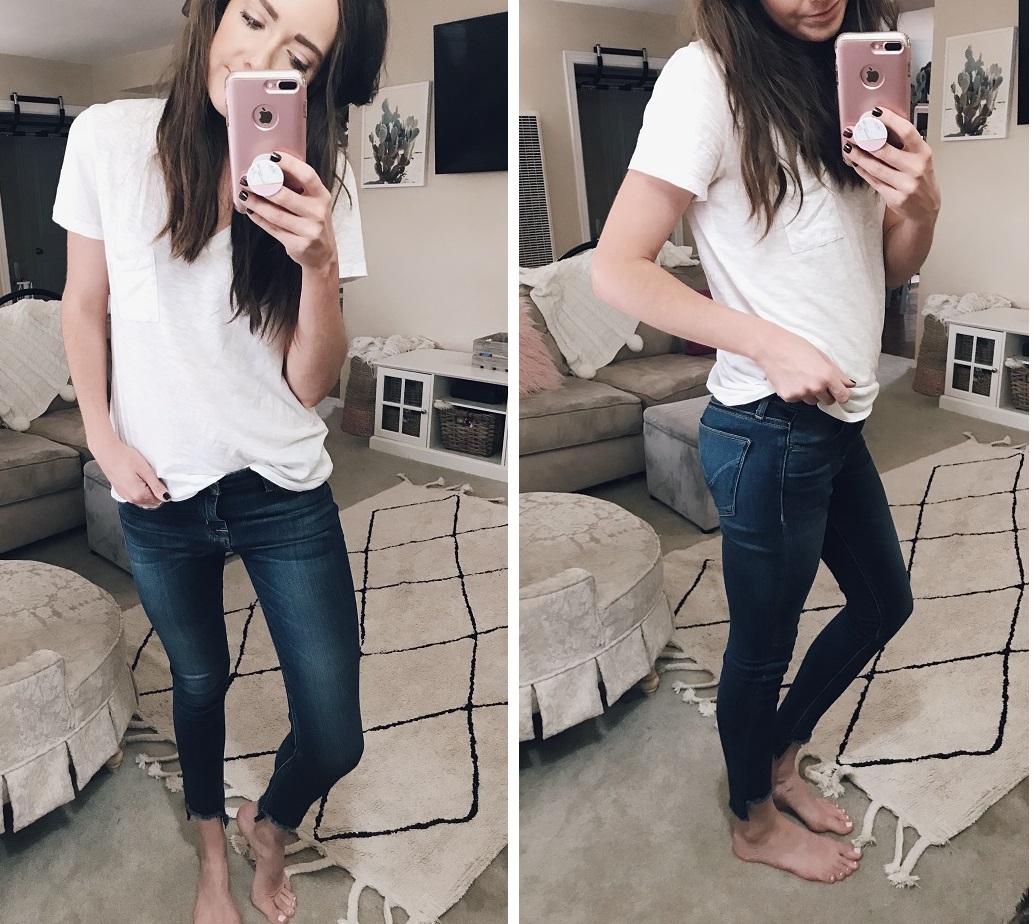 True to size. Ridiculously soft and stretchy. Feels like I'm wearing denim yoga pants.
If you're looking for a more sturdy, classic denim feel, these might not be for you. They're extremely comfortable but again, they almost feel less like jeans and more like yoga pants.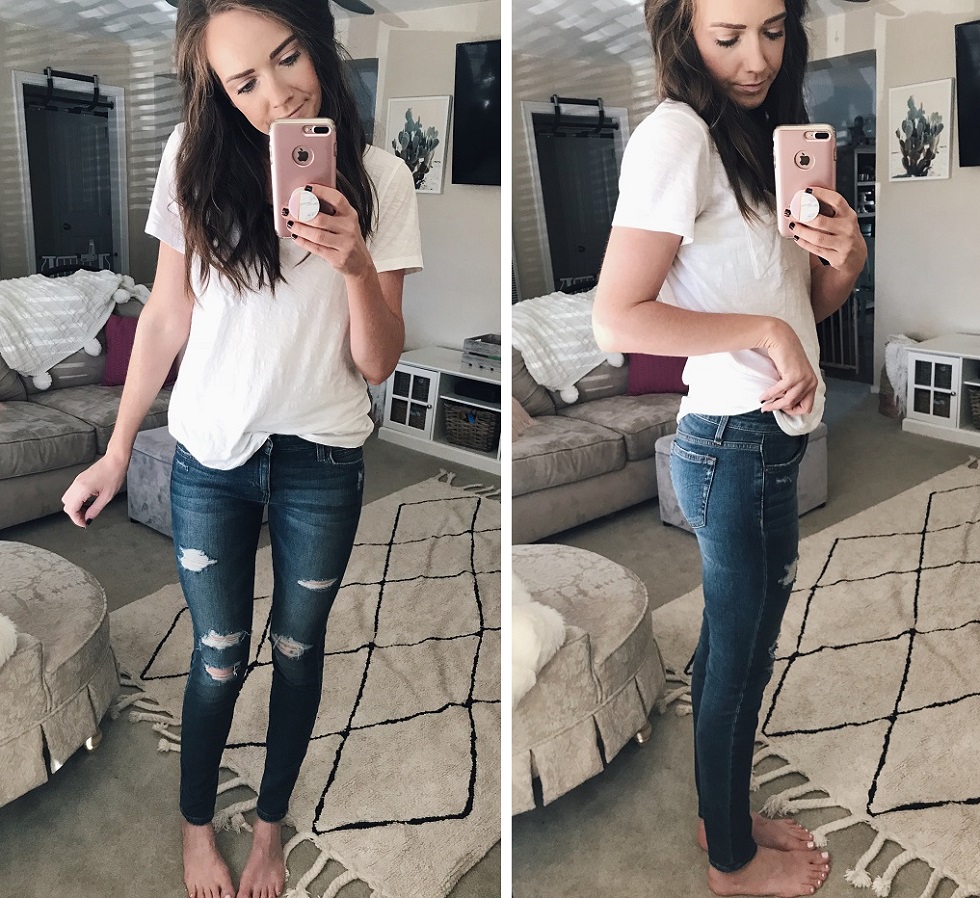 (style pictured- The Icon)
Super soft, stretchy and really comfortable. Long, make your butt look great. They feel lived-in but not stretched out. Basically the perfect denim. Fit is True To Size.
This pair got very close to winning my best of the best. You will not be unhappy with these, or anything from Joe's- as they really have the denim game down.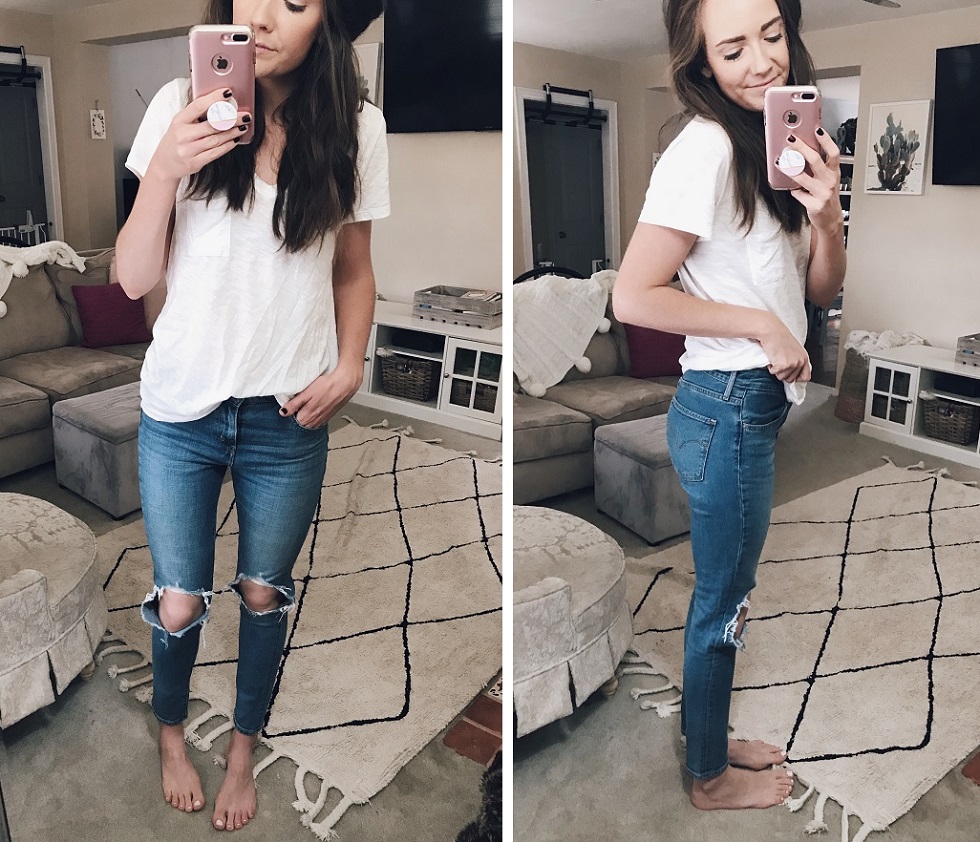 (style pictured)
A nice rise- hits at the belly button. Super flattering. Pretty soft, but not a lot of give like some of the other pairs above. A bit more sturdy feeling, but still comfortable. Looser fit- not skinny.
These (and all Levi's) are going to be a lot different for you if you're used to brands like Hudson and AG. The denim is much more sturdy and therefore less stretchy. I find it a nice change, and there are certainly occasions where I prefer both types.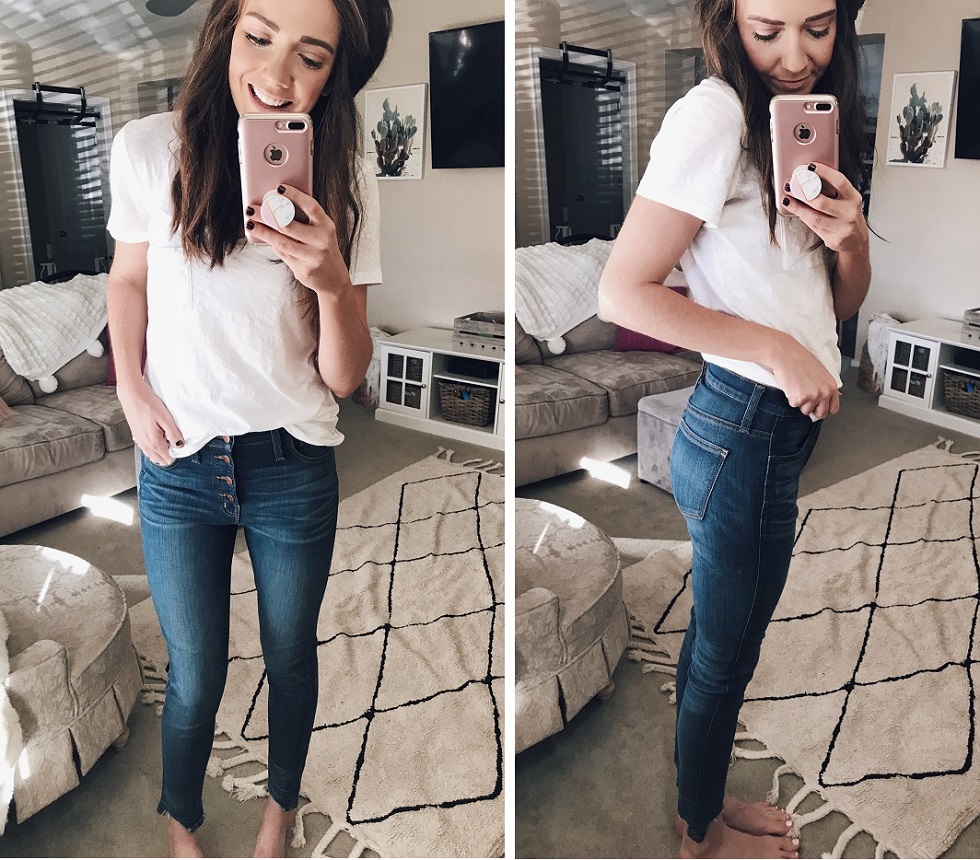 (style pictured- 10-inch Chewed Hem Skinny)
Super stretchy, very comfortable. They feel more sturdy than the others. The denim feels like very high quality. VERY flattering, if you know what I mean! Go up to the belly button (heyyy perfect Mom Jeans!). Fit is TTS.
I don't know if anyone makes jeans as flattering as Madewell. There's just something about the way they fit that makes you feel good!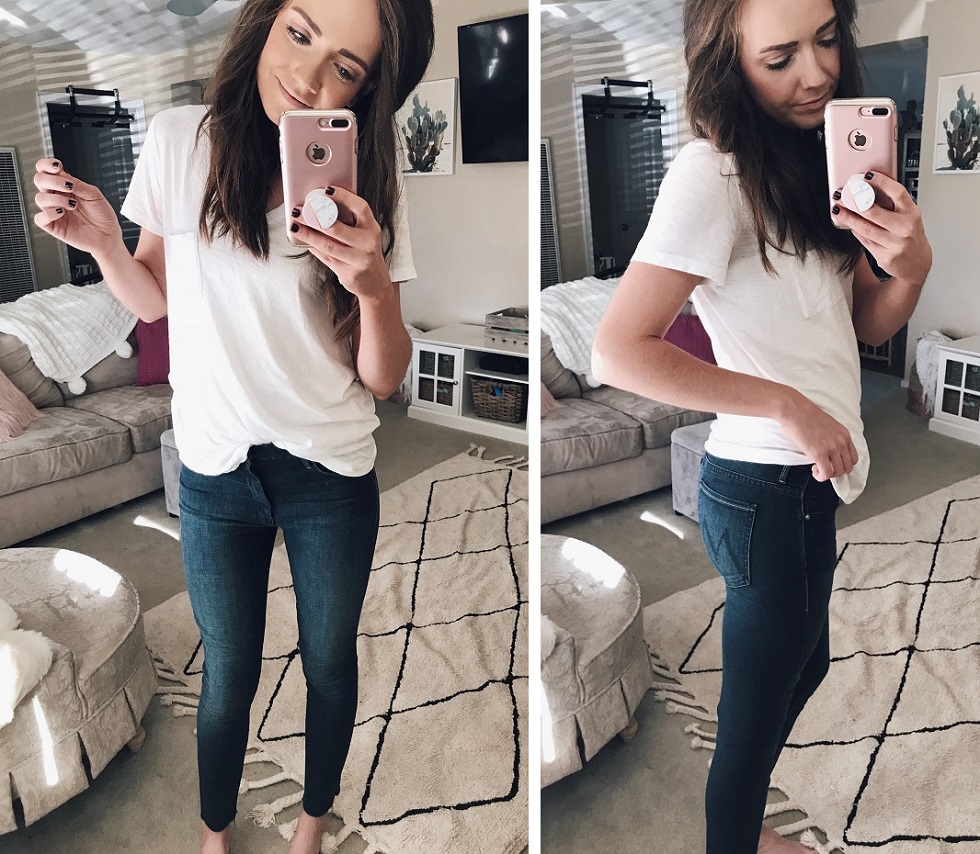 (style pictured – The Looker High Waist Ankle Skinny)
Very stretchy. Hugs your curves, but doesn't feel tight. Soft, flattering. A higher waist. Hit right under the belly button. Fit is TTS.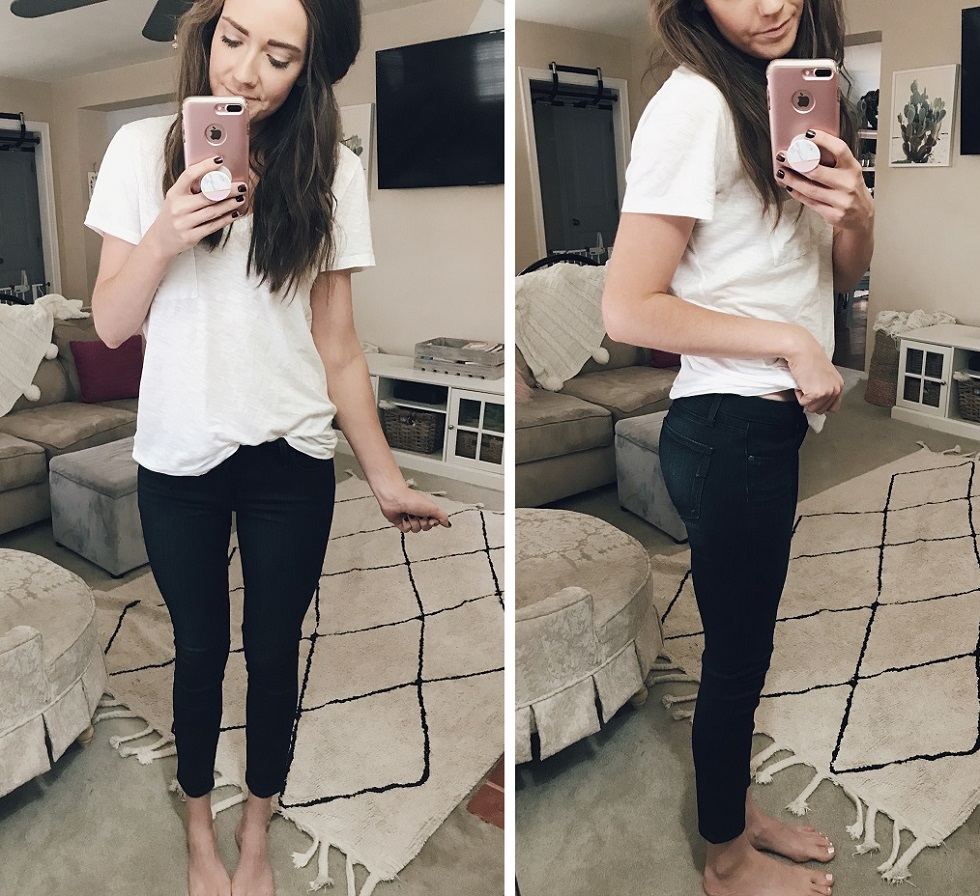 Very soft and stretchy. Consistent with other jeans in this price-point. Very comfortable and fit VERY well. True to size fit.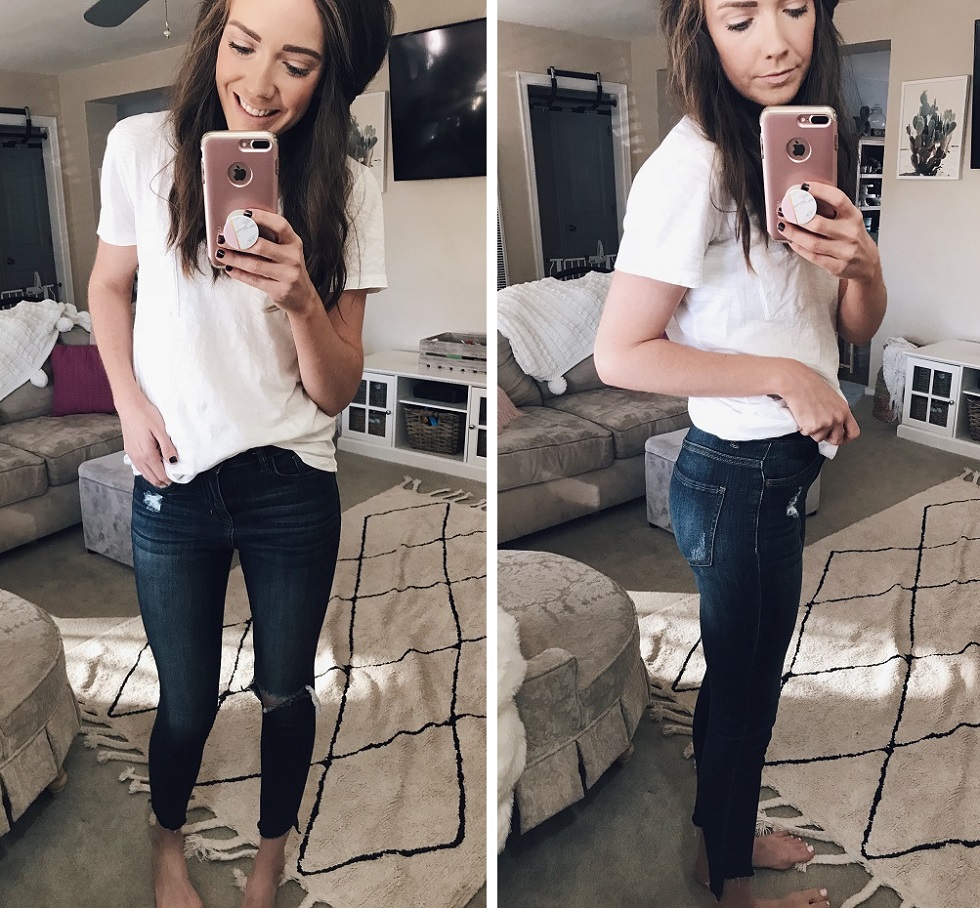 High waist. There is some stretch, but not a ton. Not as comfortable in general as the higher-priced options. Not very soft. They are super cute and do fit really well.
A very appropriate quality and feel for the price-point. A good pair of jeans for under $65.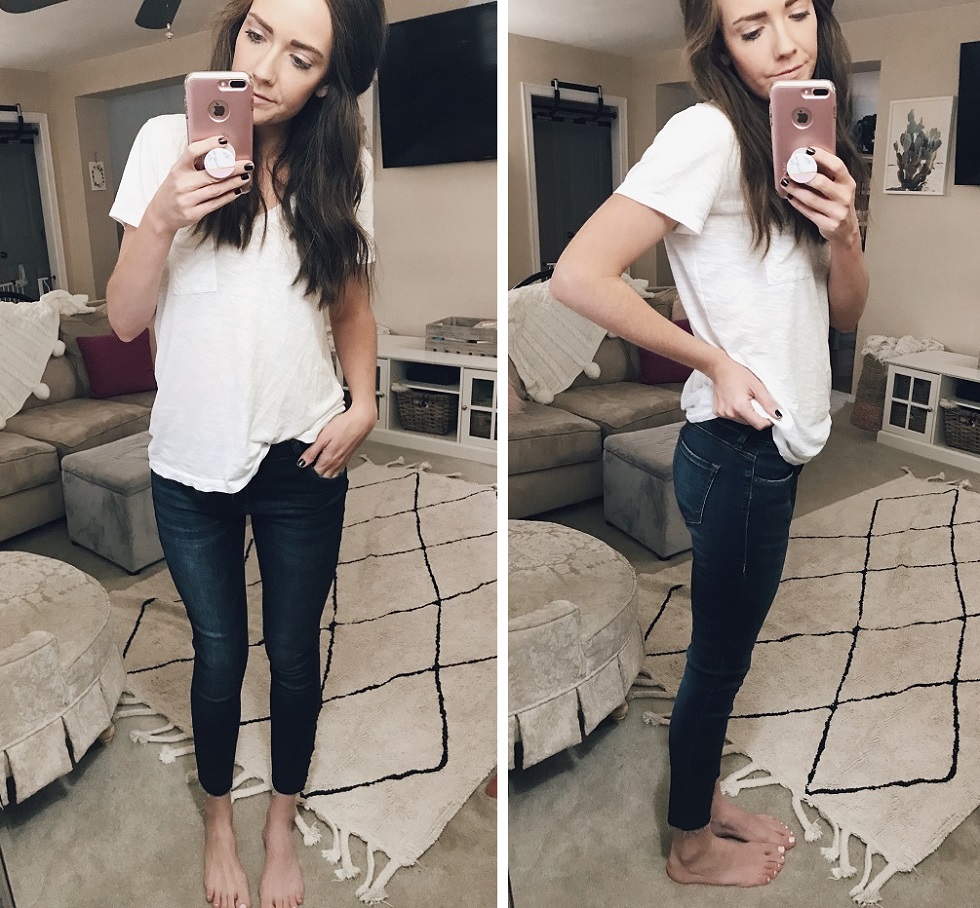 Look more expensive than they are. Not as soft or stretchy as some, but more than AOS and Levi's. Comfortable and fit true to size.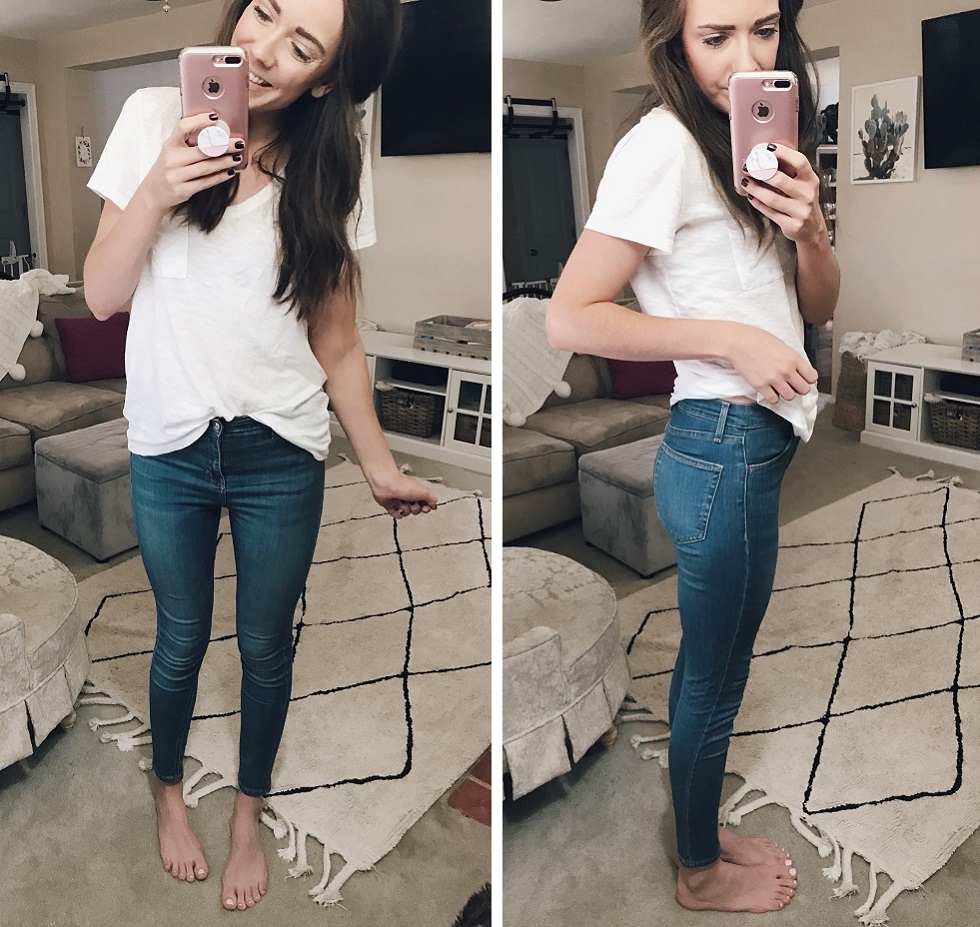 (style pictured)
One of my most worn pair of jeans. Medium softness, but quite stretchy. Super comfortable. My regular size is 27, which they don't have, so I wear a 28 and they fit perfectly.
These were a strong contender for Best of the Best due to their fit and feel combined with such a low price-point.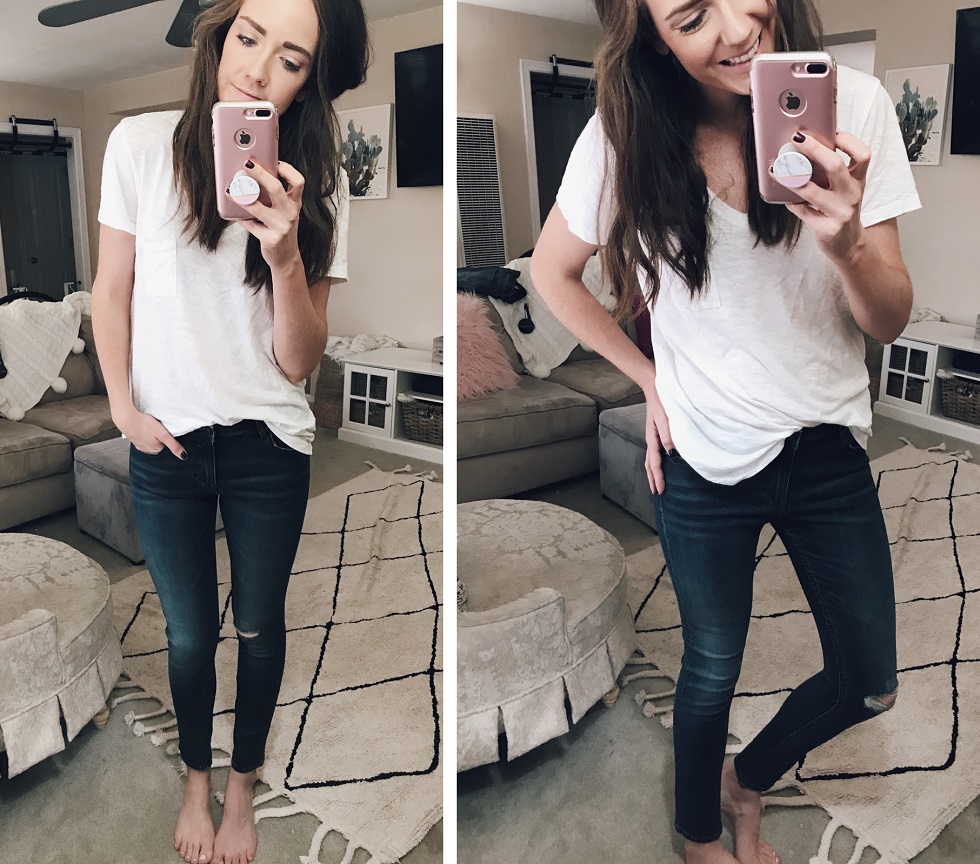 Not as soft as most of the other pairs- more of a stiff feel, yet still a bit stretchy. High-waisted and look super cute. True to size.
I ope you found these denim reviews helpful I included pictures so you have a better idea of the fit compared to the models on the store website. If you found this post helpful, please share it with your denim-loving friends!
There you have it! I wanna know: what is YOUR favorite denim brand??
xo