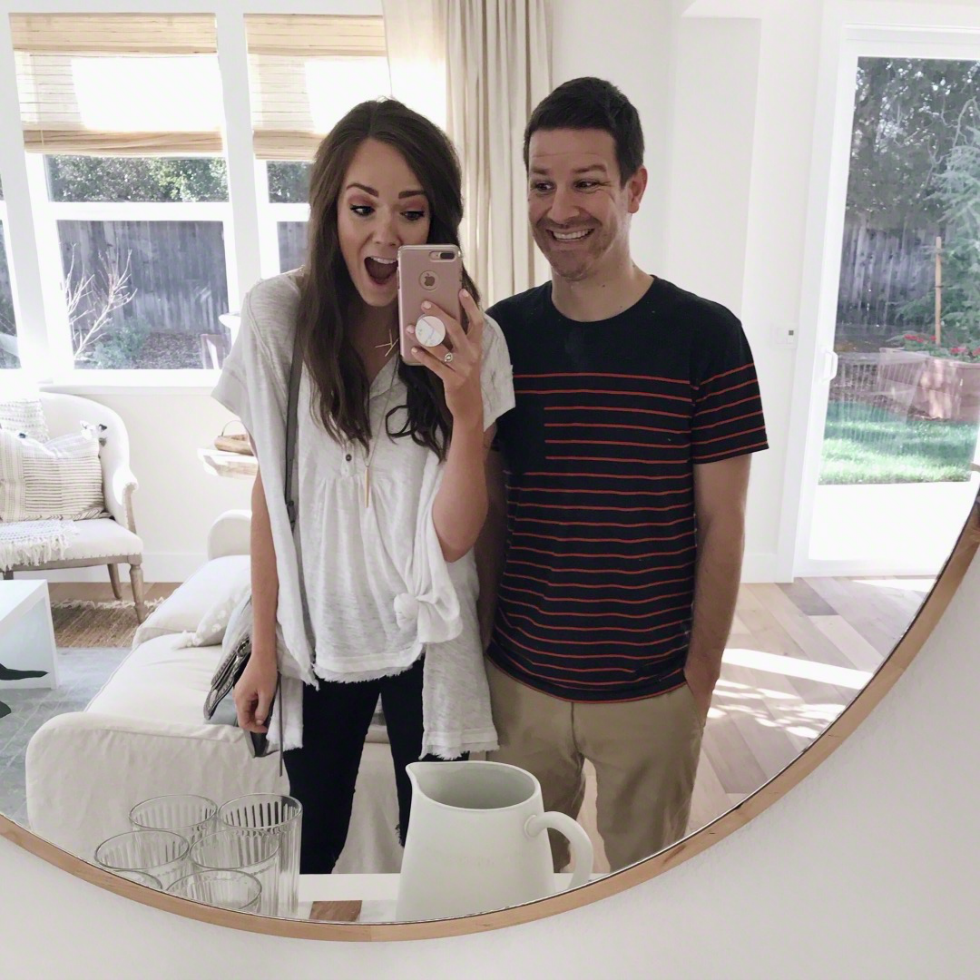 TOP | NECKLACE | JEANS | BAG | SHOES
GUYYYYYS. I can't believe I'm actually writing this, but WE SIGNED THE CONTRACT FOR OUR HOUSE!!! Like, THE house! The one we've been praying about and dreaming of and describing without actually realizing it EXISTS.
God is GOOD, my friends. And moves in incredible ways.
So, we've been searching for a long time- years. Since we quit our jobs and started working for ourselves, 5 years ago, it's been tricky to qualify for a loan for a house (or one that we would want, anyway). Being self-employed is definitely a challenge. Especially here in California- the housing market is rouuuuuugh. Like, it's kind of annoying when we look at real estate in other states and are like WAIT we could live in a MANSION there for the same amount we we would have to pay for like a shanty here. ;) Kind of kidding, but you get the idea. California ain't cheap. But moving out of the state is not an option for us- especially with all of Sam's services- this is the best place for us. SO. That meant waiting, and lots of patience. So our dream of buying a home fell through last year, and we decided we'd try again this year.
So we've had our sights set on this new home development that is not in our ideal location- about 30 minutes away from "central" Sacramento (where we love living). But the houses were huge and gorgeous and we were thiiiiis close to moving out there. But still we both felt it just wasn't right, in our hearts. I always had this feeling like we needed to wait a bit longer, keep looking, see what else is out there… But the entire time we kept going back. Just to walk through the models, really get a feel for life "out there."
…But I kept saying, if only we could find a bigger house with more space (we're in about a 1000 square foot house right now, and more space has been a dream for years now!) that is RIGHT HERE, where we live now, since we love our neighborhood and love how central it is to everything we could want and need (Zack's work, Sam's school, my workout group, our favorite playgrounds and parks, downtown, etc).
AND THEN. Zack found this new development in his nightly house searches- right here in our own neighborhood (literally a 3 minute drive from our house). New homes. Spacious. Beautiful. In the right location. Something we didn't even think was possible!
And here we are. We toured the homes last Sunday, and put down a deposit the following day, Monday. These houses are going so fast, and are so popular, and yet there was ONE house that no one had chosen yet- one available house from the ones already nearly built. ONE house that was the right model, and the right square footage, and on the end of a court (another of our wants!) and it's just unbelievable to me!!!
But then, it's not. Because that's GOD. We prayed so hard for God to give us a sign. If this wasn't "the one"- to not let it happen. To close doors if they needed to be closed, but to open doors if this is the right fit for us.
And goodness, the doors just keep on opening.
PRAISE GOD, we've got ourselves a HOME. A home with an office so we can actually work from home with less distractions. A home with rooms for each of our babies. A home with more than one bathroom (a dreeeeeam for me, ha!). A home with a big backyard so the kids can play their hearts out. A home in a nice quiet neighborhood. A home for US. A home to grow in, to laugh in, to cry in, to love in.
I can't explain how excited we are for this new adventure. So so happy. So so grateful. So unbelievably humbled.
And you know I will be sharing every step of our move-in journey, and DECORATING a new house, yesssss! Eek I can't wait. And we don't have to! It should be ready around the beginning of April! EEEEEK someone pinch me.
xo