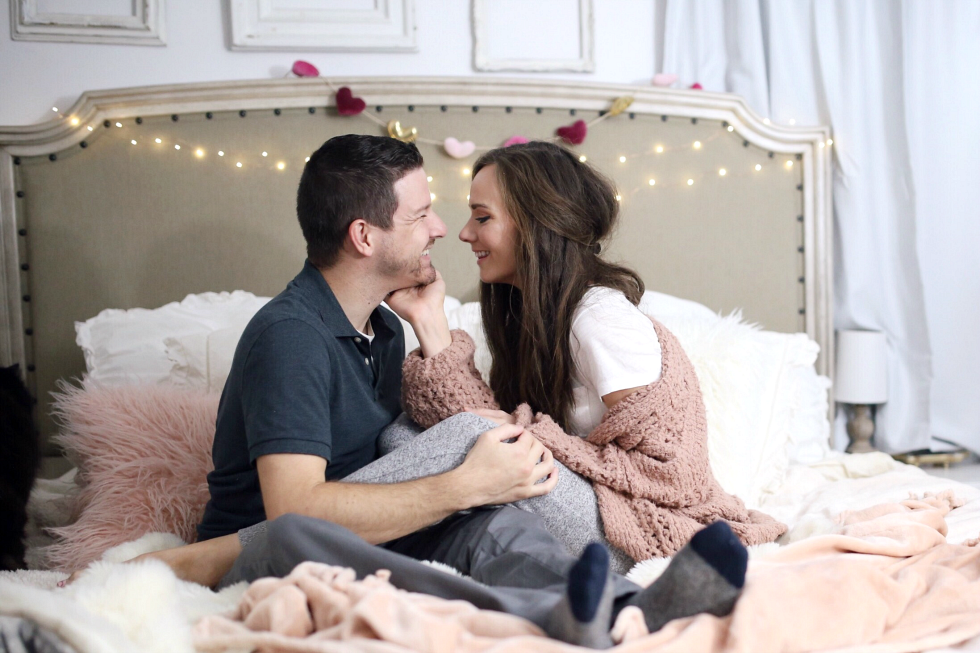 SWEATER + SIMILAR HERE | TEE (my fave tee ever- size up for slouchy fit) | BRA | JOGGERS c/o | BLANKET | FAUX FUR PILLOWS
Happy Valentine's Day, friends!
Zack and I are planning on staying in and ordering take-out once the kids go to bed, sipping on some bubbly and relaxing at home. And this is the exact outfit I'll be wearing. All about that cozy life.
In case you need some outfit inspiration for today/tonight (or any day/date night!), I put together a few cute outfits in THIS POST!
And it wouldn't be V Day without some sap, right? So here we go…
For my love:
Thank you for loving me.
Thank you for always putting our relationship first.
Thank you for cooking- literally, all of the best meals, always. I would not be eating near as well if I didn't have you. ;) Neither would our kids!
Thank you for making me laugh when I need to. And even when I don't. :)
Thank you for always making me feel beautiful. Even when I don't feel like it. And even when I'm not acting like it. ;)
Thank you for always telling me I'm pretty when I'm feeling anything but- with food on my shirt and messy hair and no makeup.
Thank you for your kindness- toward everyone, always.
Thank you for your patience- mostly toward me, but also toward our babies. You are so patient, so loving, so gentle, with all of us. We need that.
Thank you for playing with our kids. It's the best. Even when you have appendicitis without knowing, and still let Sophie jump on your stomach. Whoops.
Thank you for surprising me- you are constantly surprising me, and I love it more than I can say.
When I think of ways to describe what love is to our children, my first instinct will be to tell them to look at you, look at how you treat us.
Love, to me, is you.
xo