This post sponsored by Trunk Club. All opinions are my own.
I'm so excited to share this awesome styling service, Trunk Club, which features products from everyone's favorite department store… Nordstrom! I got my first Trunk from Trunk Club and it was so fun! As we know, I love online shopping, but sometimes I feel like I maybe order a lot of the same styles. It's always fun discovering new brands and items that I otherwise wouldn't have even known existed or tried for myself! And getting the items delivered right to your door is kiiiind of my favorite part of living in 2019. ;) But seriously. I personally love the ability to try on clothes from home, and send back what doesn't work (or exchange for a different size, as was the case for a few items in my trunk). With three little ones and working from home, this is literally a game changer!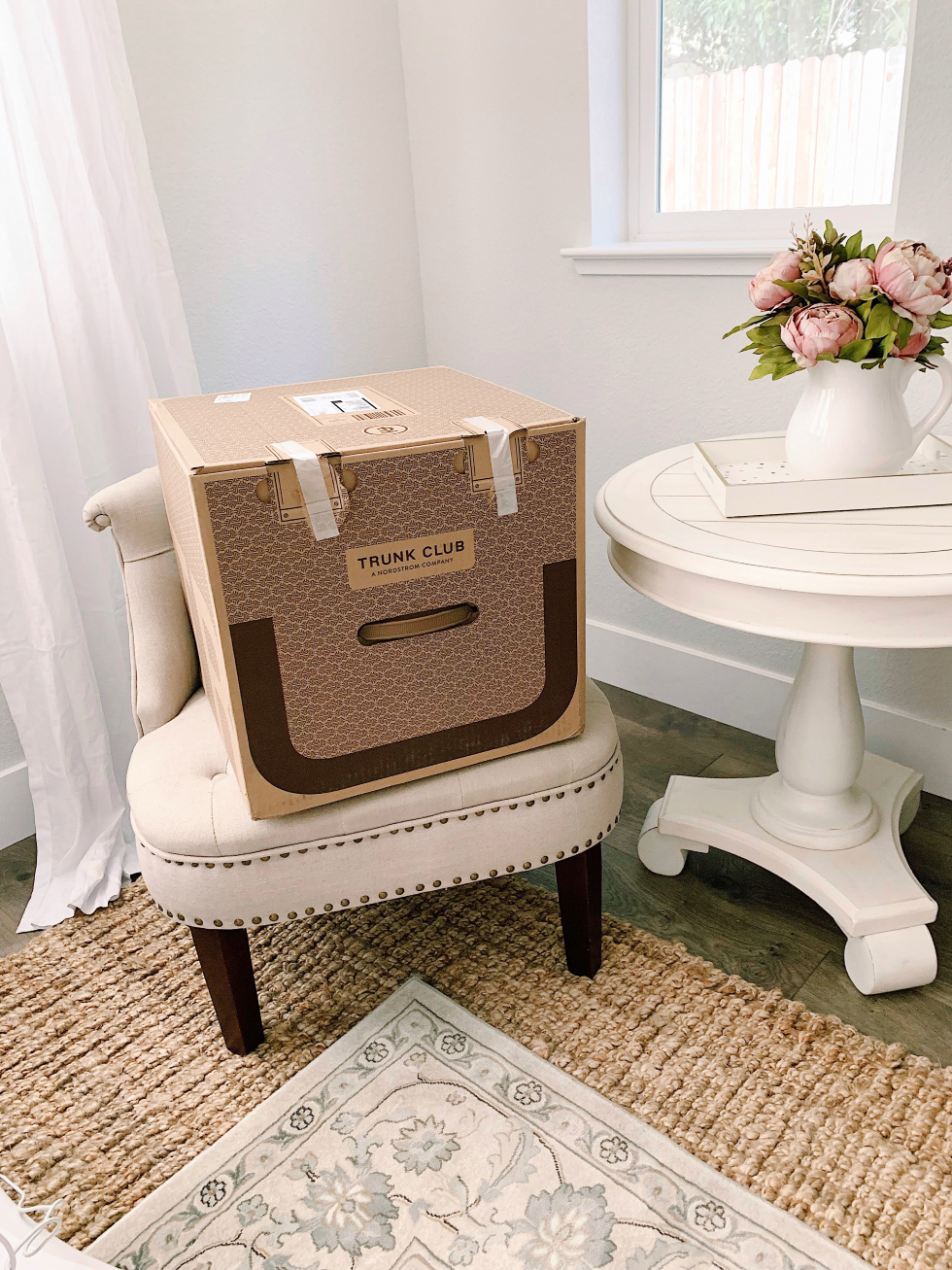 So a little about Trunk Club before sharing what I got. It's a styling service with all items from Nordstrom's inventory (so you know it's ALL good). You have a stylist who hand picks items specifically for you, based on a style profile you fill out, and any specifications you make (TIP: be as specific as you can/want!) You can literally say certain items you want to be included (or excluded), or you can just say a certain look/vibe you're going for, or if you're looking for something for a specific event, etc. And they email you the list of everything they're planning on sending BEFORE they send it, so you can opt out of anything, too! Pretty awesome. Once you let them know what you liked/didn't like, they'll replace what you didn't like and send your Trunk! If you have a Nordstrom card, the $25 styling fee is waived, or if you purchase anything from your Trunk, the stylist fee goes toward your purchase!
You can try it out for yourself here! You get so many items and with the ability to exclude certain things, you're pretty much guaranteed to like something!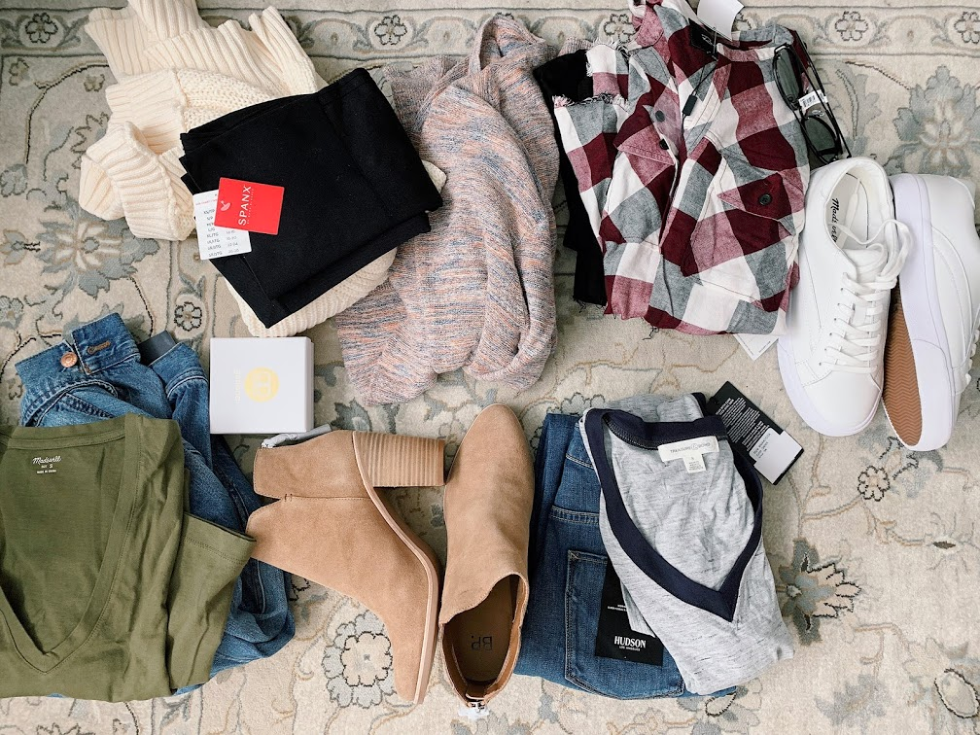 Now for the try on…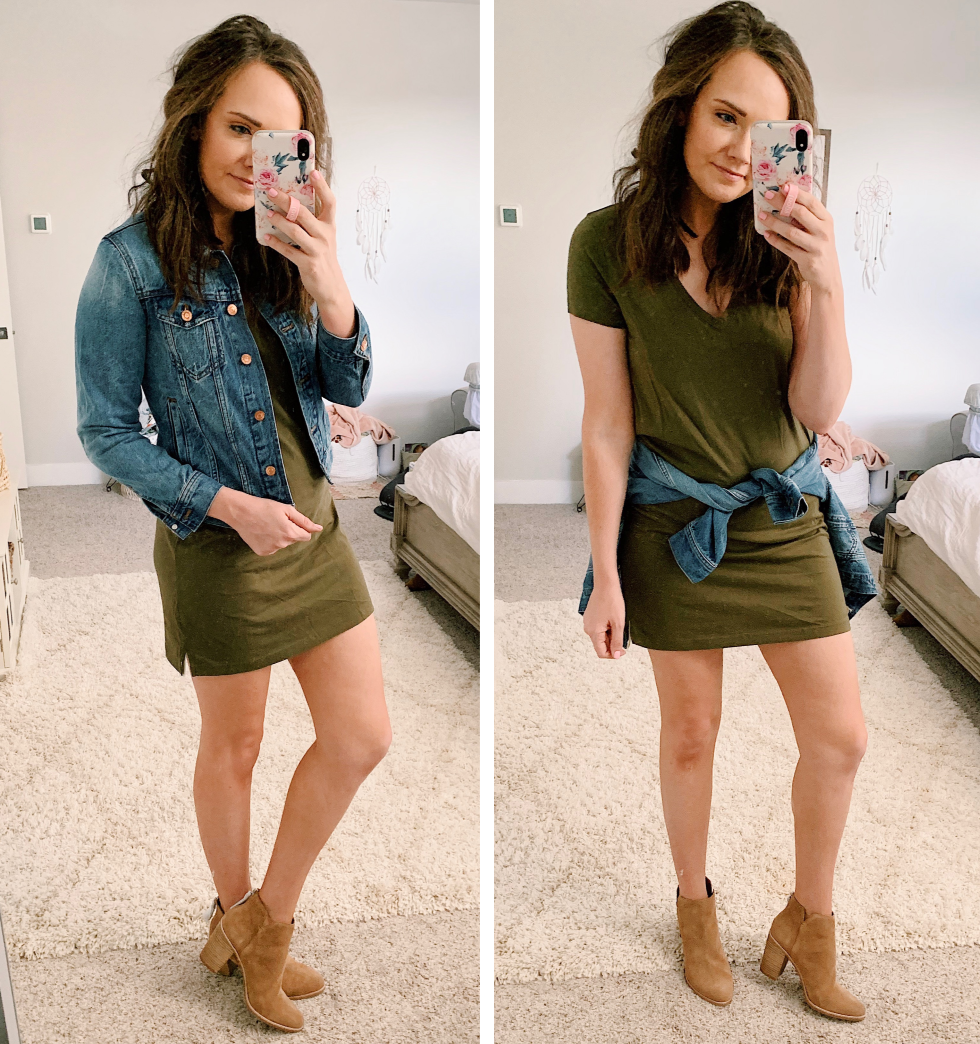 Looove this dress- it is right up my alley! It's well made and such a great color for fall! Love it paired with this super soft, lived-in denim jacket and these boots! The boots are probably my favorite from the whole Trunk- they are GOOD. Super comfortable and the perfect brown for fall!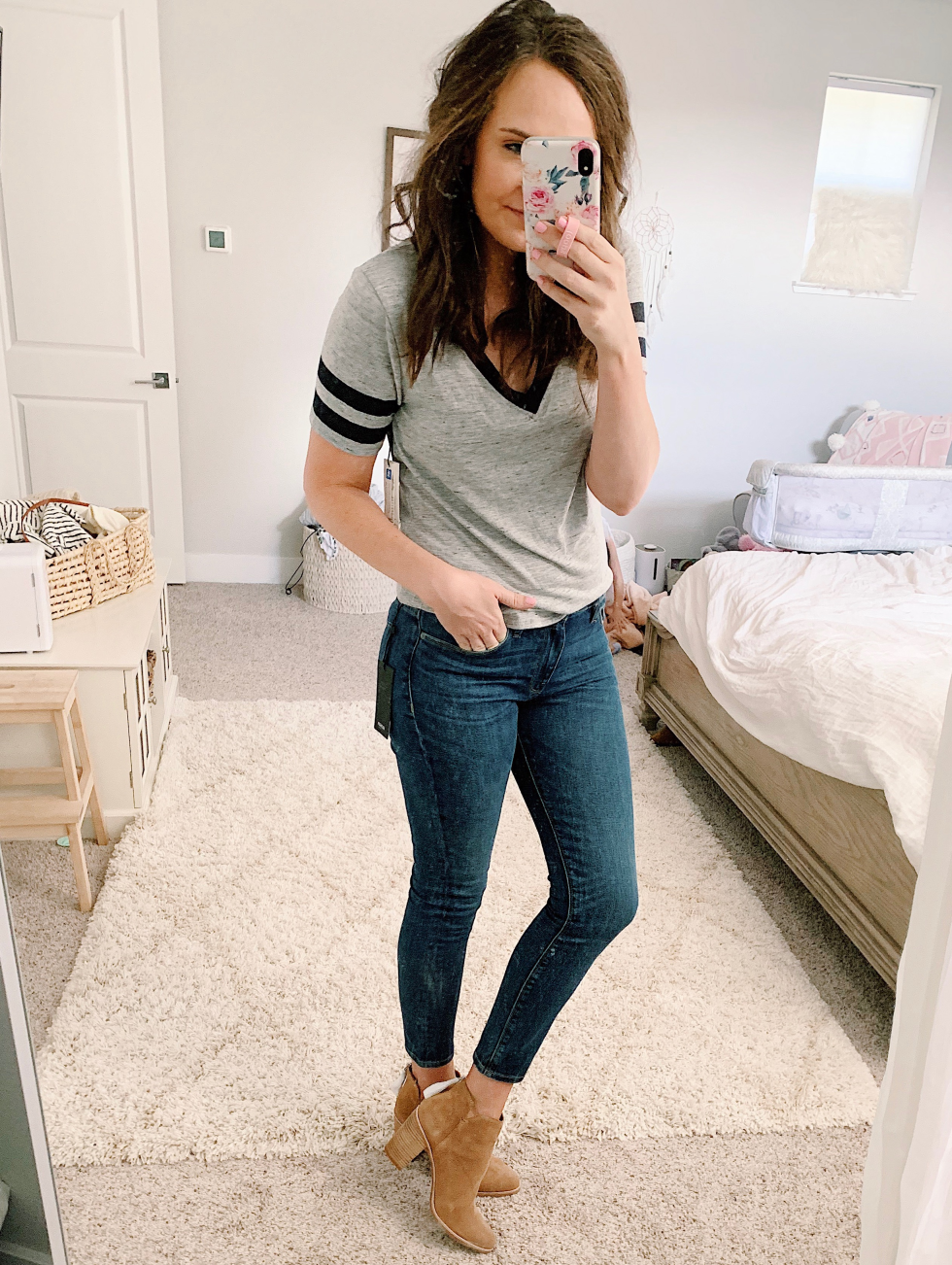 I'm calling this the ideal "Game Day Look"- how cuuuute, right? The varsity tee is perfect for running errands, heading to a game, and just general #momlife. Nailed it. These Hudson jeans are SO GOOD, and a reason I love this service- I had never tried this brand before and maybe wouldn't have, but now I know they are amazing and I will be trying more from them now! This is a great way to discover new brands you haven't tried before!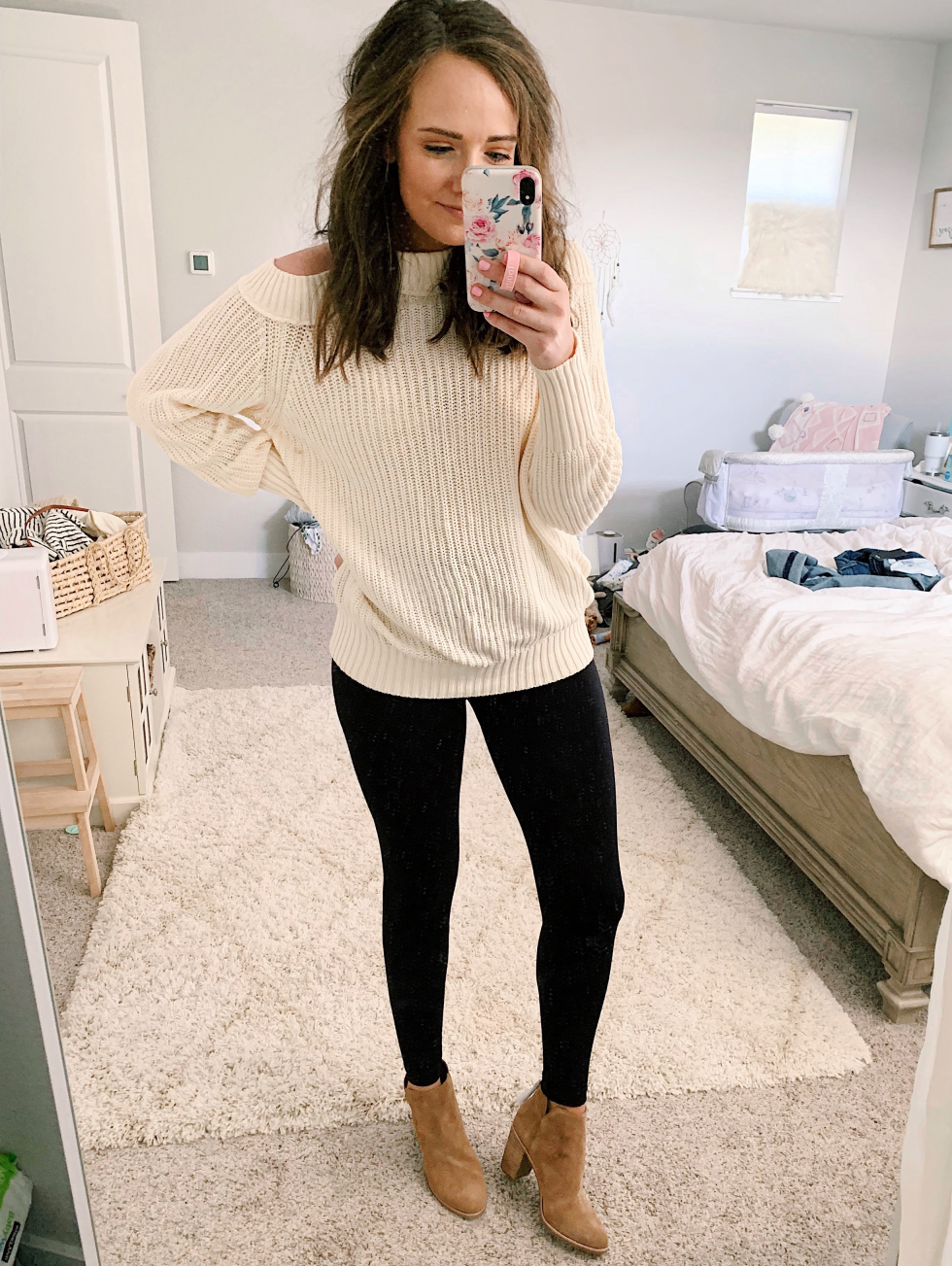 And this is an example of a sweater I NEVER would have chosen on my own. It's fun to try something outside of your "fashion comfort zone." I'm never drawn toward sweaters with shoulder cut-outs, but I actually thought this was cute once I tried it on! Still going to be a pass for me, since it just isn't my style, but I'm glad I tried it on. :) The leggings though, they are goooood! Comfy, hold you in (they're Spanx!) and will be so perfect for colder weather!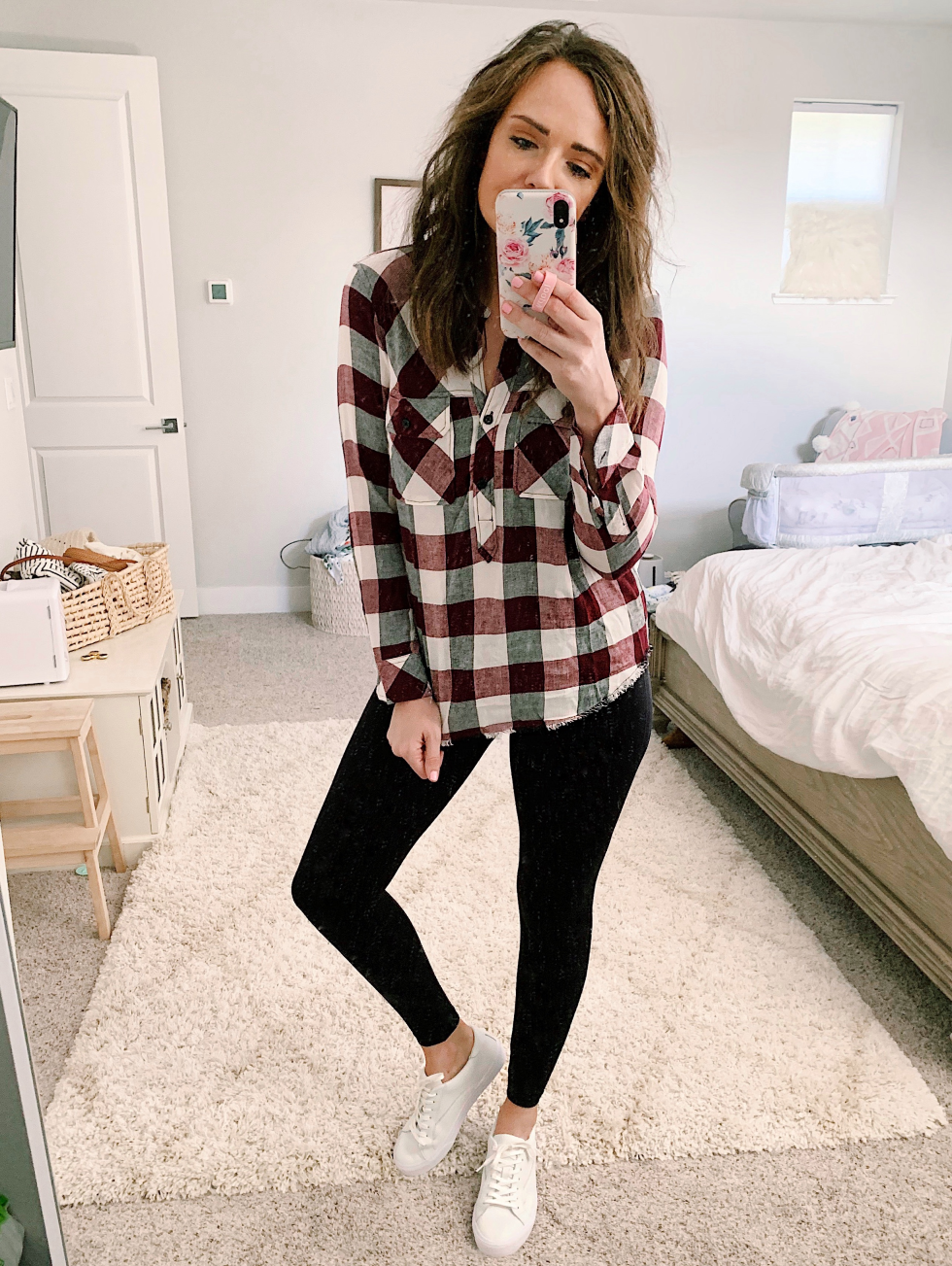 Okay, this maroon is THEE perfect color for fall! Unfortunately the style of the paid top isn't my cup of tea, so I will be returning, but I'm on the hunt for a maroon plaid shirt now. I'll just put that in my notes for my stylist for my next Trunk! ;) See how easy that is?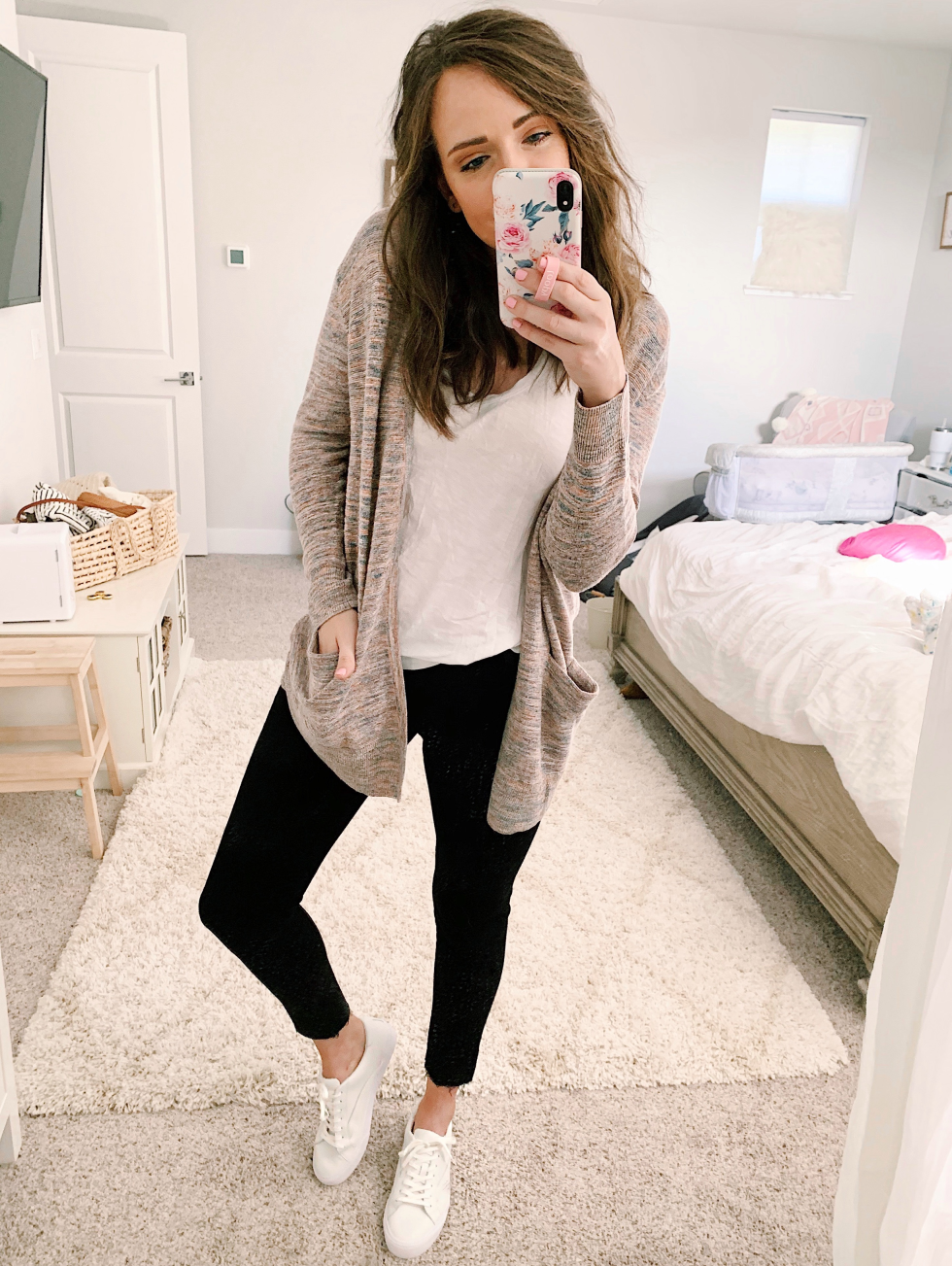 This sweater is like the perfect cardigan- soooo good! The colorway isn't my favorite though, but I'm going to ask to exchange for a different color! And the white sneakers are amazing- I already have a pair so I don't need another, but these are good! And the black denim is AG, which are some of my favorites!
I also got the prettiest dainty rose gold Gorjana earrings that I'm obsessed with and will be keeping! Another thing I probably wouldn't have found on my own!
So there you go! A glimpse into my very first Trunk. Safe to say, I'm hooked and already planning on my next one! From this one, I'm keeping the dress, booties and the earrings! And trying to convince Zack to let me keep the denim, too. ;)
xo
Read More on Katie Did What