KID'S NIKES | SOPHIE'S BEANIE
What a week! Zack is finally feeling more like himself after having his appendectomy last week, but of course right as things are looking up, we all got hit with the cold bug. The kids first, and then me and now Zack. Poor guy can't catch a break. Thankfully, this bug hasn't been a terrible one, it's just made us all a little less energetic and we've been going through Kleenex boxes like CRAZY, but nothing to stop any of us in our tracks too much! Hopefully this weekend will bring healthy noses and some fun! ;)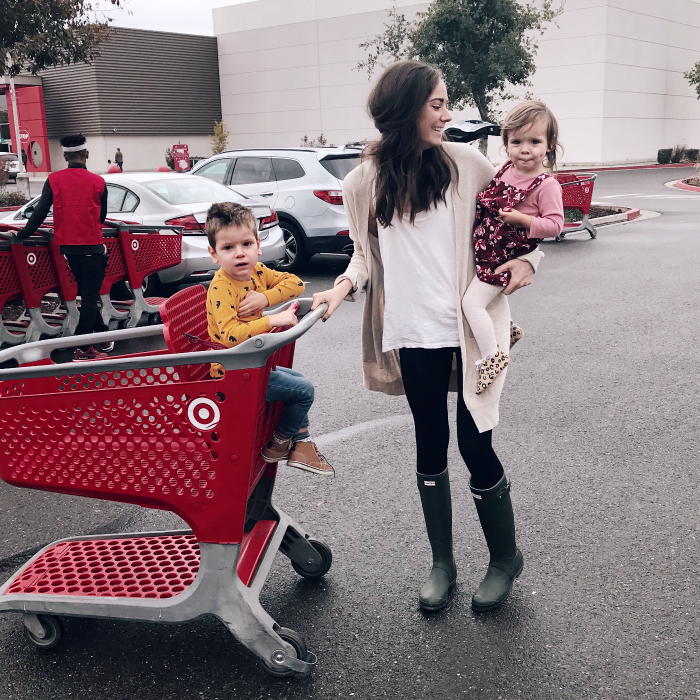 CARDIGAN | TANK | LEGGINGS | BOOTS | SOPHIE'S DRESS | SAM'S SHIRT
Target trip on a rainy day! Always a good idea.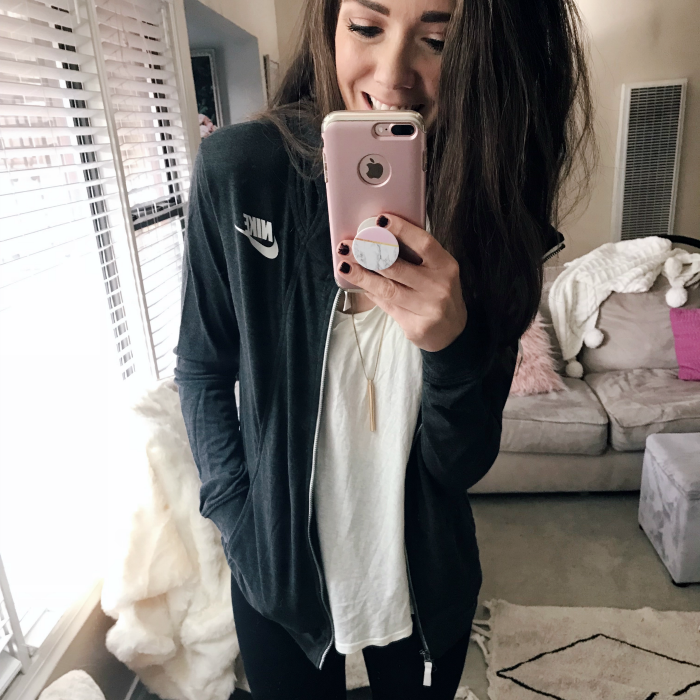 Got this super cute hoodie this week- on sale!! I've been needing some warmer clothes for working out (since my workout group meets outside and it has been cold!), and this sweatshirt is great quality and sure to be a perfect layering piece with a long sleeve top! Still need to get myself a down coat, I've got my eye on THIS ONE.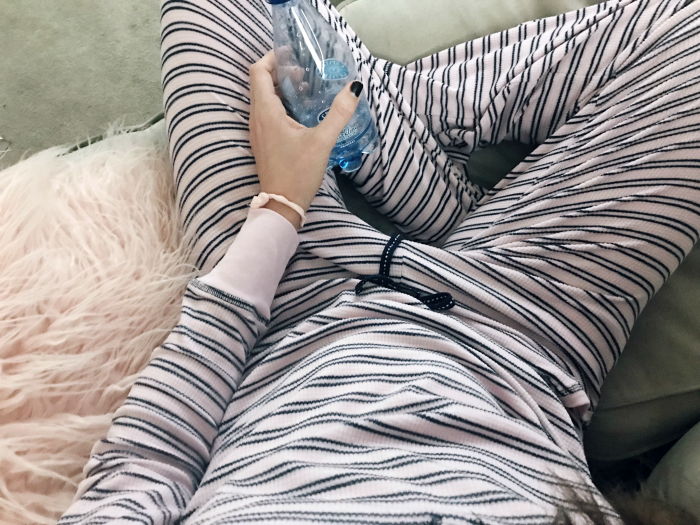 PSA: Costco has so many amazing cozy things right now. Literally, ALL of the cozy things. I got the best socks (these!) for just $10, and the jammies pictured (they're Nautica, can you believe it?!) are soooo soft and warm and just $12.99! I also got a super soft sherpa throw/blanket for $15! Seriously, guys. Costco is my love language right now. COZY EVERYTHING.
I have been getting a ton of requests for an eyebrow tutorial, so I filmed this super quick video to show how I fill in my brows! Because brows are life. Hope you love!
And now for something different, I'm going to start sharing my weekly Amazon purchases here, because I'm nosy and LOVE to see what others find on Amazon, so I'm hoping you're the same way. ;) Plus, I literally don't know what I would do without Amazon Prime- it is the greatest thing ever. Can I get an amen?!
WEEKLY AMAZON PURCHASES:
This Bar Saves Lives– Sam is a super picky eater, but this is one bar that he DEVOURS! Plus, for every box sold, they send food to kids in need! Win win! :)
Kid Trampoline– All kids love jumping, right? But we were noticing with Sam, it's a really great way to regulate and calm himself if he gets a little too over-stimulated. He was seeking that input and wasn't getting enough of it, so we decided to just get ourselves a trampoline! OMG, the kids both LOVE it! Sophie brings all of her friends (aka baby dolls and stuffed animals) over to the trampoline to jump with her, too. It's the cutest. Now, to figure out where to keep it, since our house is so tiny as it is…
Nespresso– A lot of the time, for one day shipping you have to reach a certain price limit, so we always use Nespresso pods as filler items. If you don't have a Nespresso already, girl (boy?) WHAT are you waiting for?! Get on that! Ours is HERE and it's the top 5 used item in our house haha.
Watermelon Perrier– We've been on a sparkling water kick lately, mostly to moderate our booze intake (post-wedding detox lol) and also to ensure we are drinking plenty of water! This watermelon flavor, guys, is SOOO GOOD.
Mini muffin pan– Zack actually surprised me with this. :) It's the perfect size to meal prep my muffins for the week in!
And with that, I hope you have a fantastic weekend! Spend time with those you love, doing things you love, and remember to count your blessings.
xo