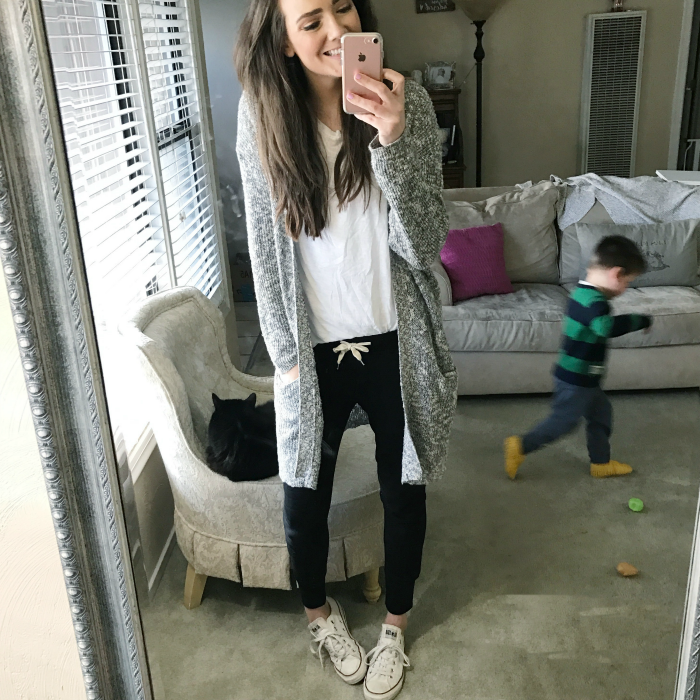 joggers | tee | similar sweater | shoes
Hey friends! I hope you had a great weekend! We sure did- it helped that we actually got OUT and did things! Weather be damned! ;) We had a crazy storm (really heavey rain and hardcore wind!) on Saturday night, but other than that, it was just generally gloomy all weekend. Nothing we couldn't handle though. Seriously, thought, this rain has got to stop. I mean, it's amazing because we are no longer in a draught (yay!), but I'm over it. Time for some sunshine again! More park days are necessary for our sanity! :)
But anyway. This weekend.
We have a play group with just Sam once a week, which is always so much fun and he gets so much out of it! And I love that it's a thing that's just for Sam. I've found it's so important to focus on each kid and make sure they each have one-on-one time with us and also something special just for them! For Sophie, it's our Stroller Strides workouts/ play groups with the mamas and babies there. For Sam, it's this play group. It makes everyone happy!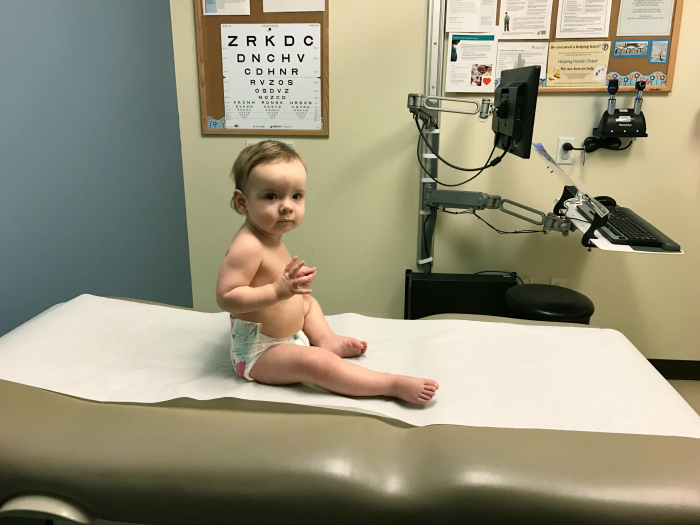 Sophie had her one year check up on Friday, which went beautifully and of course she is absolutely perfect. Nothing new there. ;) She is such a brave little girl and I'm so proud of how well she did!!!
Friday night we got bold and decided to go out to dinner, as a family! We literally NEVER do this. All fellow mamas know the struggle of getting everyone out the door and to a restaurant lol. It just doesn't happen. But this weekend, Zack got the idea that we should go out, and so we packed up the kiddos and did just that! We went to our old stomping grounds, Spaghetti Factory (where Zack and I met and grew our "spaghetti love" haha), so it holds a special place in our hearts. And the kids were PERFECT LITTLE ANGELS! Like, I'm not even kidding. Swear. They couldn't have done any better! They ate all their food (Sam ate the whole plate of pasta, and for a super picky kid? This was HUGE!!!) and were polite and well-behaved and had the best time! Oh my gosh. We pinched ourselves over and over. So, yay for being brave and taking chances! And for our kids wildly surpassing our expectations!
Which, by the way, are always super low, because I think that's the key to sanity as a parent: keep those expectations reeeeeally low. Then they are almost always going to be surpassed haha. ;) But really. It was the best little family date night!
Saturday I went to brunch with a girlfriend, who is in the same season of life as me right now (seriously, we have eerily parallel lives!), and man it is such a blessing when you meet those friends who just "get it," you know? We had some great conversation and drank champagne and had the best time. We stayed 3 hours, and I swear could have stayed much longer! Love that girl.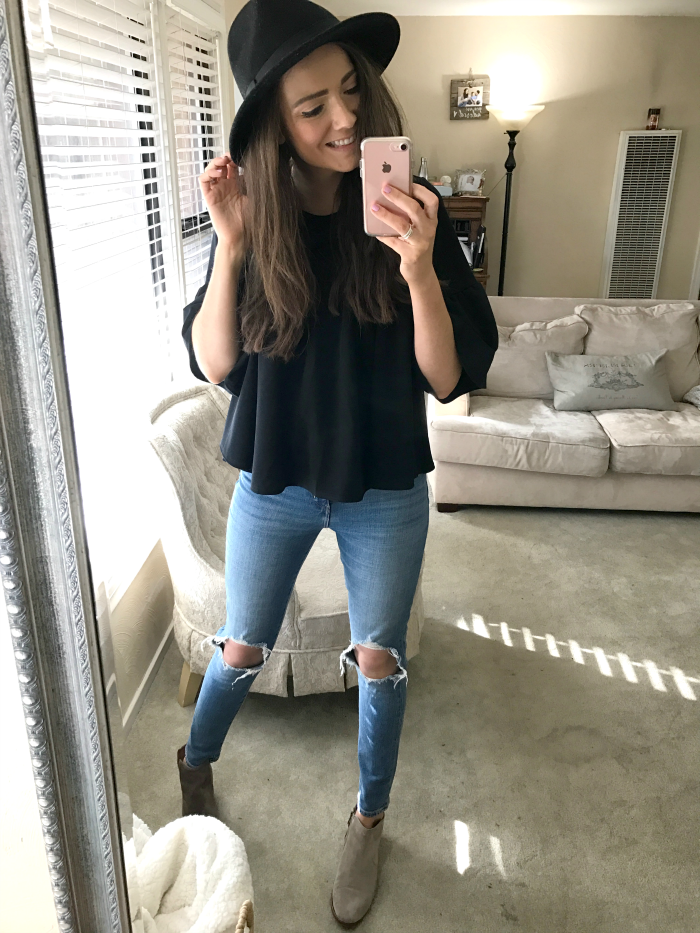 top | jeans | boots
Saturday night, Zack and I finally finished the new Gilmore Girls and OMG I CANNOT BELIEVE IT. Like, literally, I have so much to say on the matter. The ending! Rory!!! REALLY??! (I have an entire theory on this: She is repeating Lorelai's story, with Logan being Christopher and Rory being Lorelai and Jess being her Luke… What do you think??) And the dancing scenes were… strange? But I cried like 20 times (Luke and Lorelai!!!!) and love Emily even more, and miss Richard so much, and SOOKIE!!! YES!!!! And oh gosh. I'm a mess, can you tell? All over the place. Basically, just feeling all of the feels and really banking on another season. So, get on that, Amy Sherman-Palladino. We'll be waiting. ;)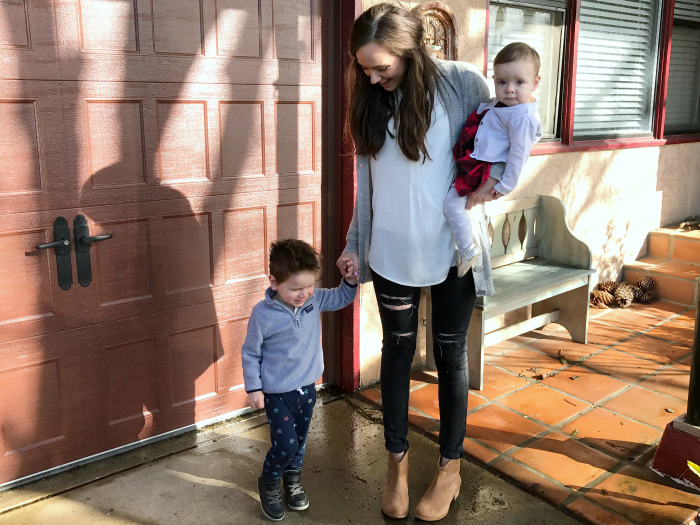 jeans | boots
Sunday morning, we went to a new church and LOVED it and I'm so excited to say we have found our home church!! Seriously, we've been going to the same one forever and were just over it, and this new one? It's vibrant and awesome and we know so many people there already and they have such an amazing kids program! Ahhh just feeling really blessed and really excited about this new chapter. :)
And now it's Monday!! Time to kick this week's butt! I hope you had a great weekend, and are having an even better Monday.
xo