Sharing 7 cute Spring looks today! All outfits that are totally cute but comfy and perfect for living that "mom life" as the weather gets warmer! YAY for sunny days ahead, gardening (we started our very first garden with veggies and herbs, and I'm SO excited!!) and all of the good vibes!
7 Spring Looks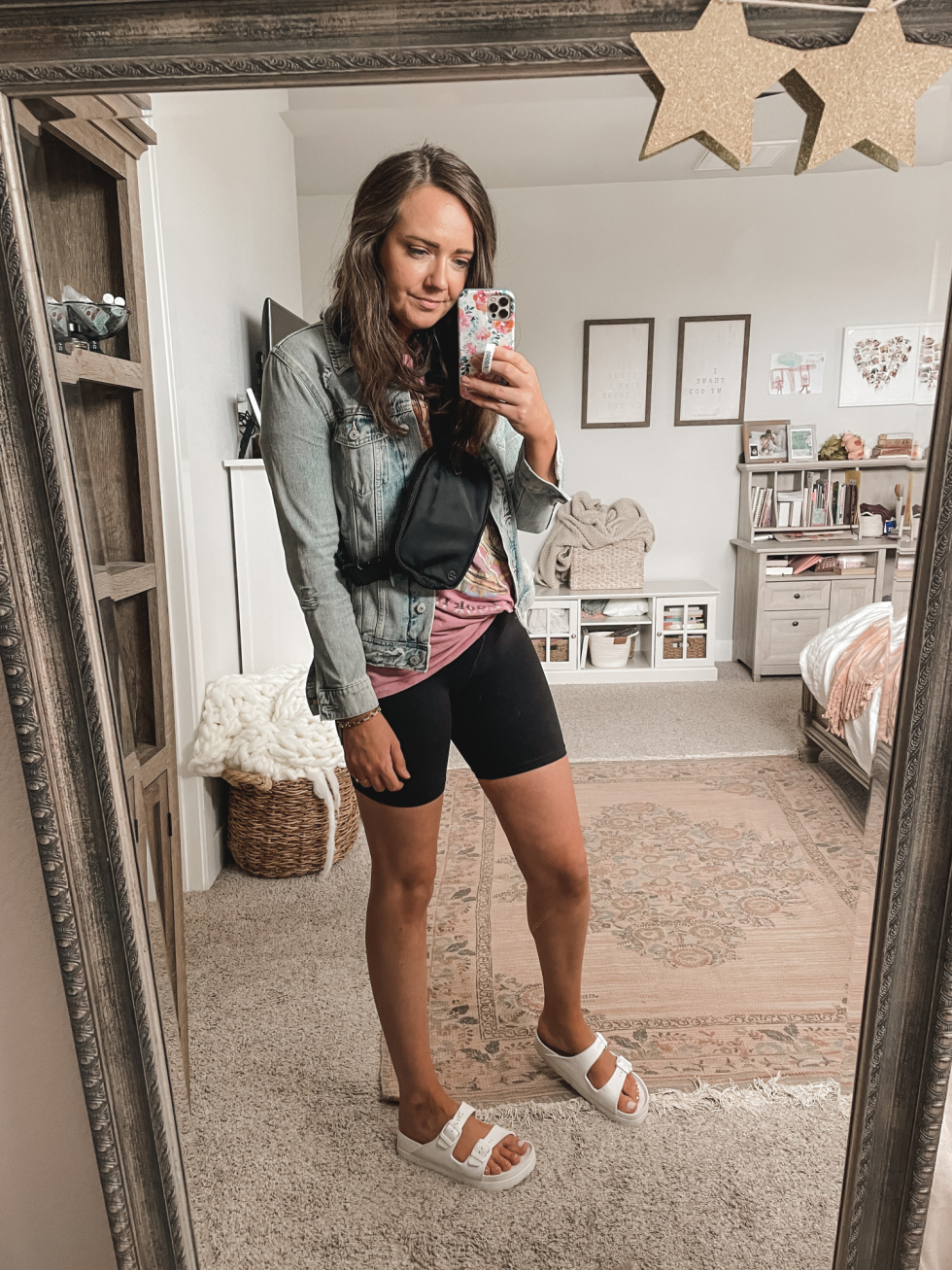 TARGET $15 TEE || OLD NAVY DENIM JACKET || ATHLETA BIKE SHORTS || LULULEMON FANNY PACK || WHITE BIRKS || SIMILAR BRACELET
My go-to everyday mom uniform when it's hot outside. These are my favorite bike shorts (and I've tried a lot!!) they are smooth, don't cut into your thighs or waist, and just buttery soft!! Paired with our favorite $15 graphic tee, denim jacket and of course THEE fanny pack! My sandals are platform and sold out, but here's the Birkenstock version, same but not platform!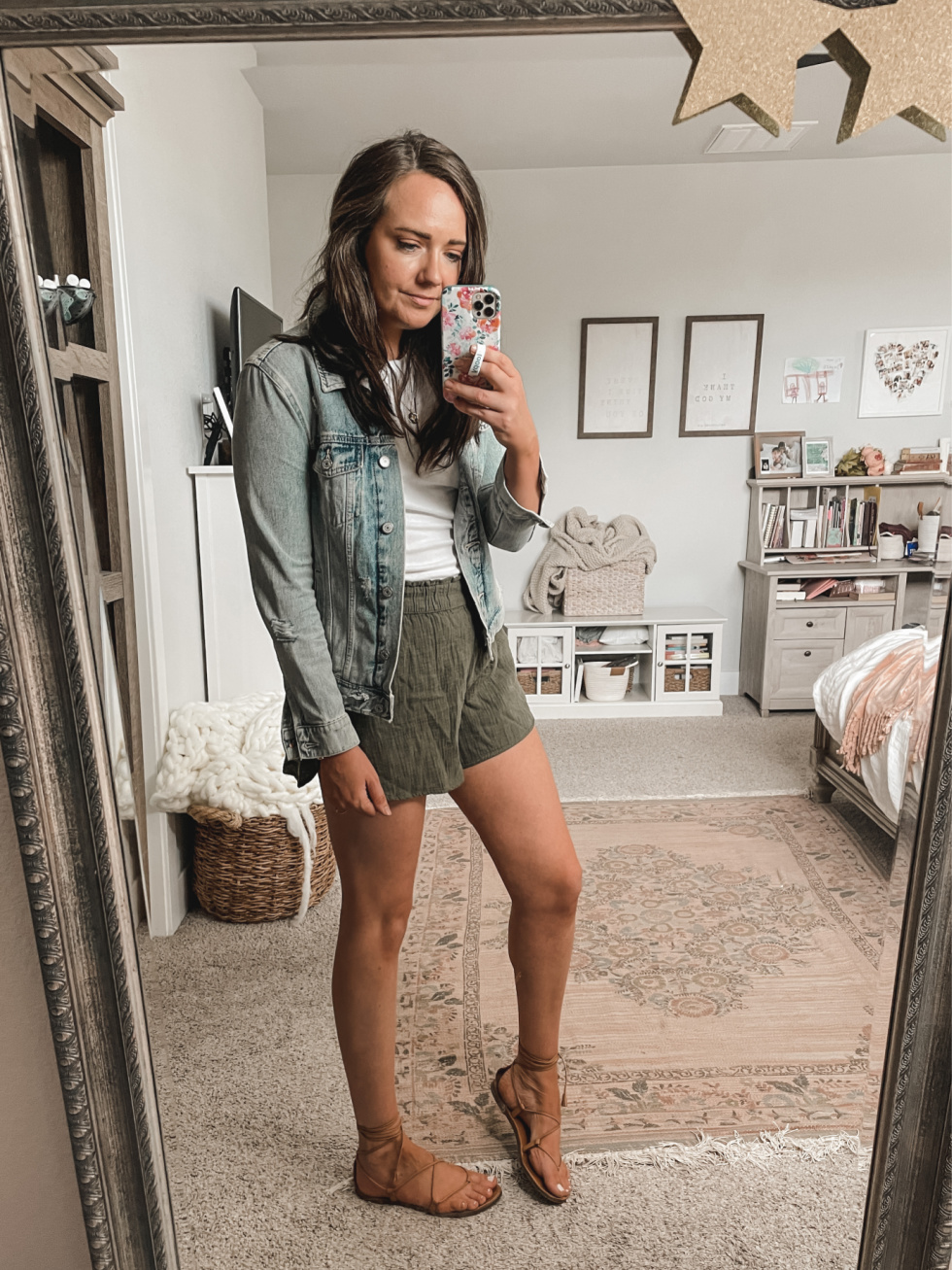 RIBBED $8 TANK || DENIM JACKET || LINEN PULL-ON SHORTS || SIMILAR LACE-UP SANDALS || SIMILAR NECKLACE
These linen pull-on shorts are SO comfy! I ended up sizing up for more comfort (I always size up in shorts!). This tank top is SO GOOD and only $8! Stock up price, for sure. I love love the high neck, and I've seen identical tanks for wayyyy higher prices at other places! These lace-up sandals are Madewell, and they neeed to bring them back. I get so many compliments every time I wear them. Found a similar look here!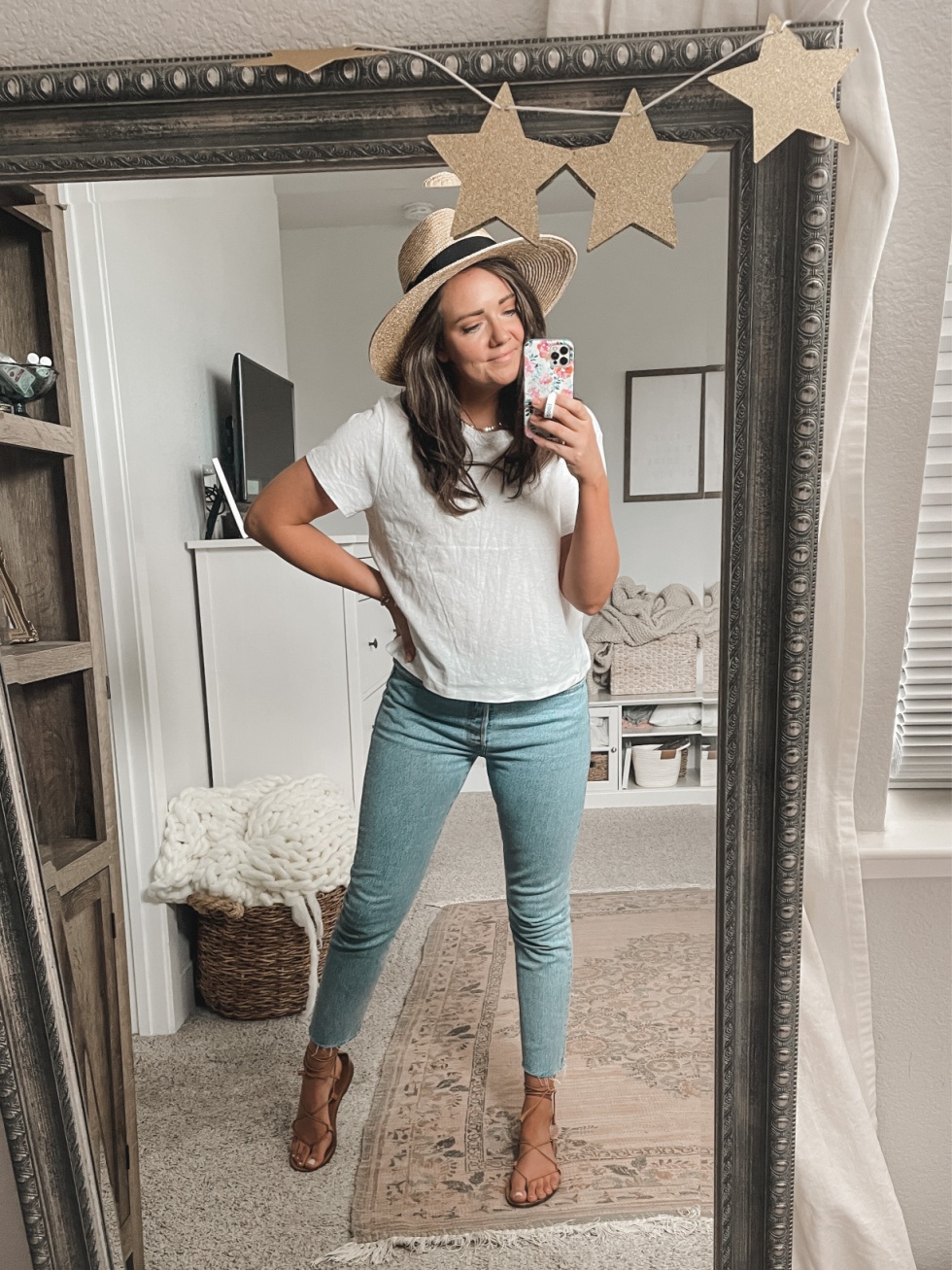 $8 BOXY TEE || BEST JEANS EVER || FAVORITE SUMMER STRAW HAT || SIMILAR SANDALS
Love this classic, go-to look. The best denim you will ever wear (seriously!!!), size up one as there's not much stretch. Trust me on these: you're gonna love. This crop-ish boxy tee is SO cute, and just $8! I did have to size up to xl (and I'm normally a medium) so keep that in mind. Mostly did it for the length, so you might not have to size up so much if you're not tall (I"m 5'9″). This is my favorite summer hat everrrr, and so glad to see it come back every year!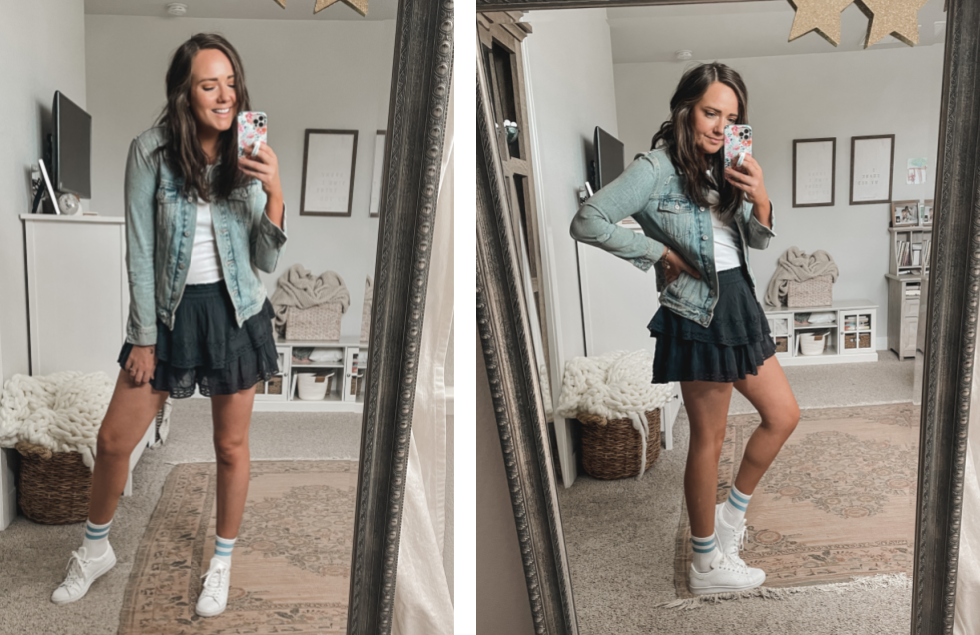 $8 TANK TOP || DENIM JACKET || LACE SKORT || STRIPED SOCKS | WHITE SNEAKERS
Okay, I absolutely adore this fun and flirty outfit!! Like, the lace SKORT (yes, it's a skort, just looks like a skirt, yessss!) is SO comfy and cute! The black is sold out, but the white version is on sale, and looks JUST like loveshackfancy! So cute. Fit is true to size (I'm in medium). The striped socks are such a fun sporty addition! And my fave basic white sneakers are on sale! Woo!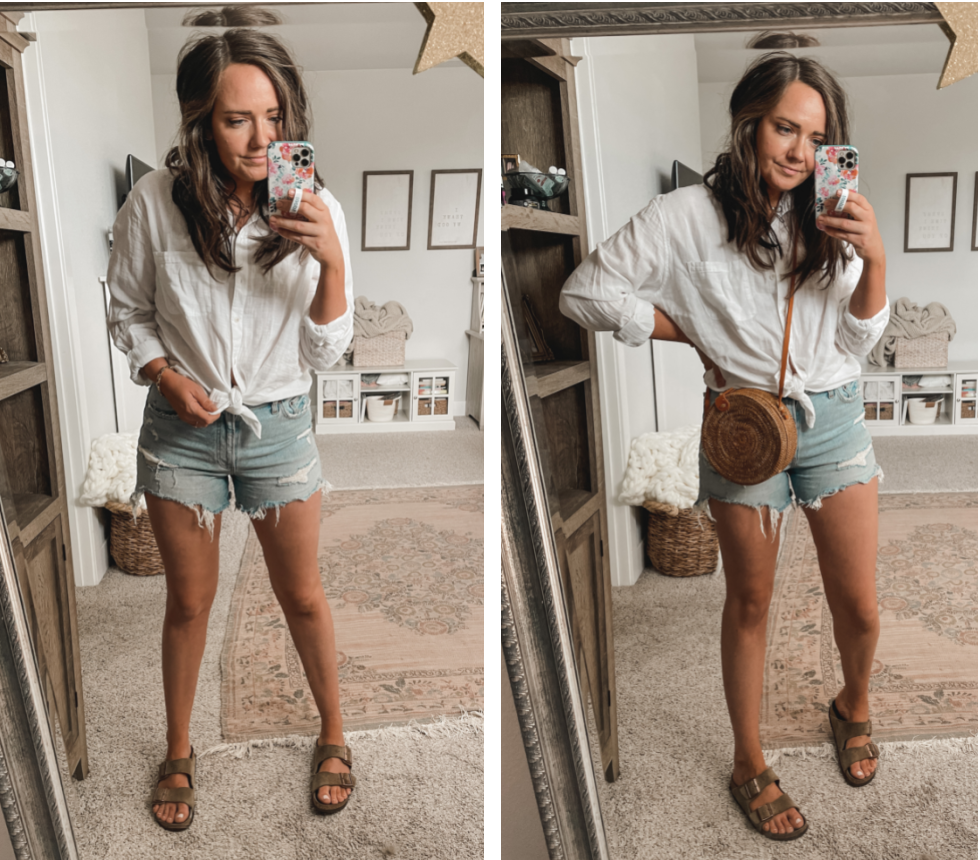 WHITE LINEN TOP || SIMILAR SHORTS || CIRCLE BAG || BIRKS
My hunt for the perfect linen top is OVER! This one is IT. AND it's only $20, yessss! 🎉Super soft and perfect as a coverup, tied like I have here, over a dress, with a skirt, shorts, jeans… Endless possibilities with this one! For a coverup, size up a size or two… Otherwise it fits true to size! I'm wearing the xl here (since I wanted the length for a coverup), and it's easily tied up for an effortless casual look!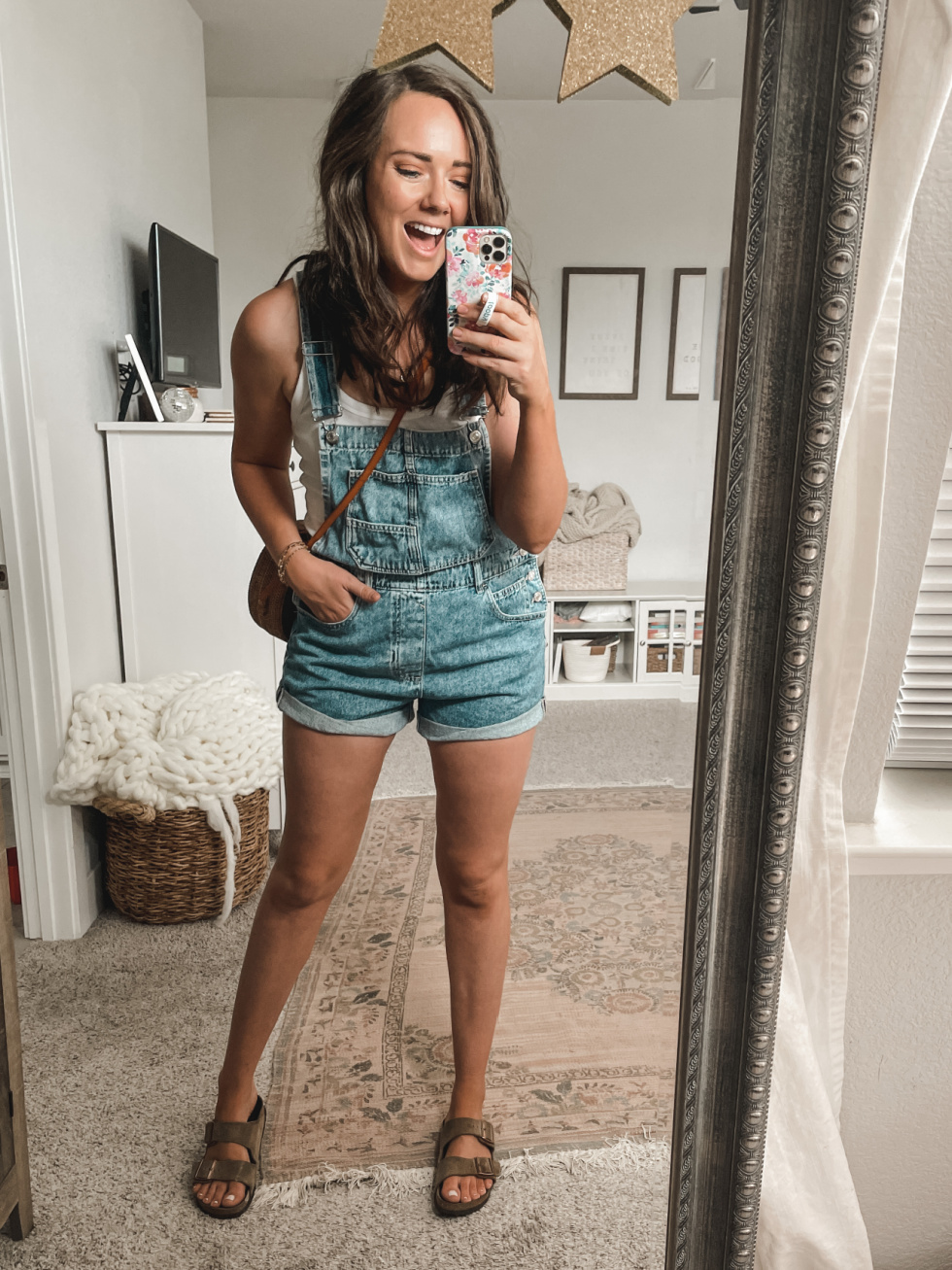 THE PERFECT OVERALLS || SKINNY STRAP $5 TANK || SIMILAR NECKLACE || SIMILAR BRACELETS || CIRCLE BAG || BIRKS
The search is over, my friends: I have found the perfect pair of short overalls!! They are so soft and comfy, feel lived-in right out of the bag. So good! The colors and stock seem to go in and out randomly, so keep looking back to get the ones you want! I have the color "Sapphire Blue" and love them! True to size- I'm in medium. This skinny strap tank is perfect underneath, too: and only $5! Size up! Paired with my go-to spring/summer shoes: my beloved Birks. The brown suede is my favorite color, and goes with everything!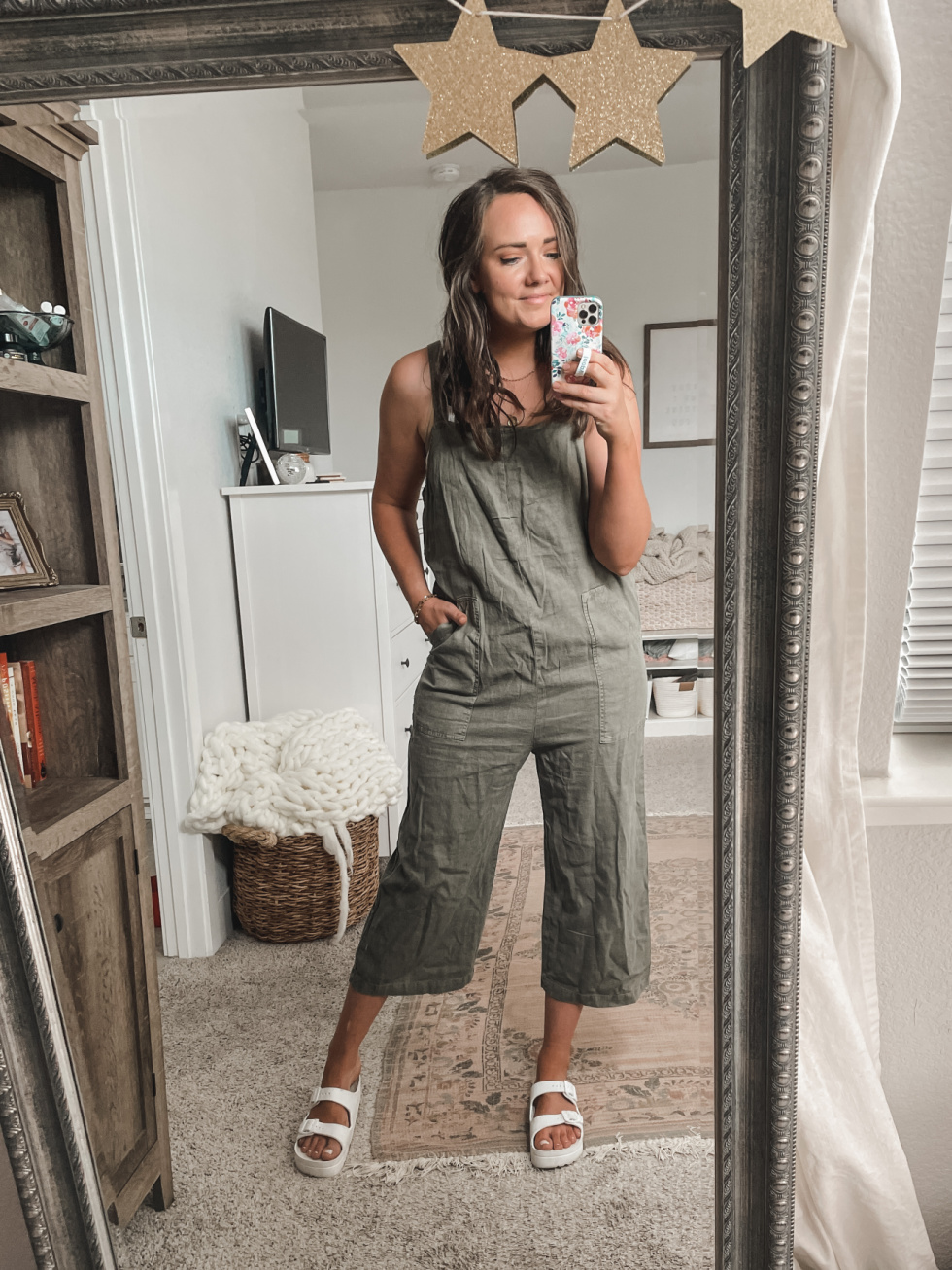 TARGET JUMPSUIT || SKINNY STRAP $5 TANK || WHITE BIRKS || SIMILAR NECKLACE || SIMILAR BRACELETS
Obsessed with this Target jumpsuit, it is sooooo darling!!! Comfy and the best cool material, and makes me feel like an artiste which I am here for. Seriously, this little $30 number is worth the hype. True to size- I'm in a medium.
Happy SPRING!!!
Which look is your favorite??
xo