Happy March!! It's starting to feel like spring around these parts, and I am LOVING it. Gimme alllll dat sunshine and free Vitamin D! I am here for it. Today, I put together my favorites from the month of February! :) All of the things!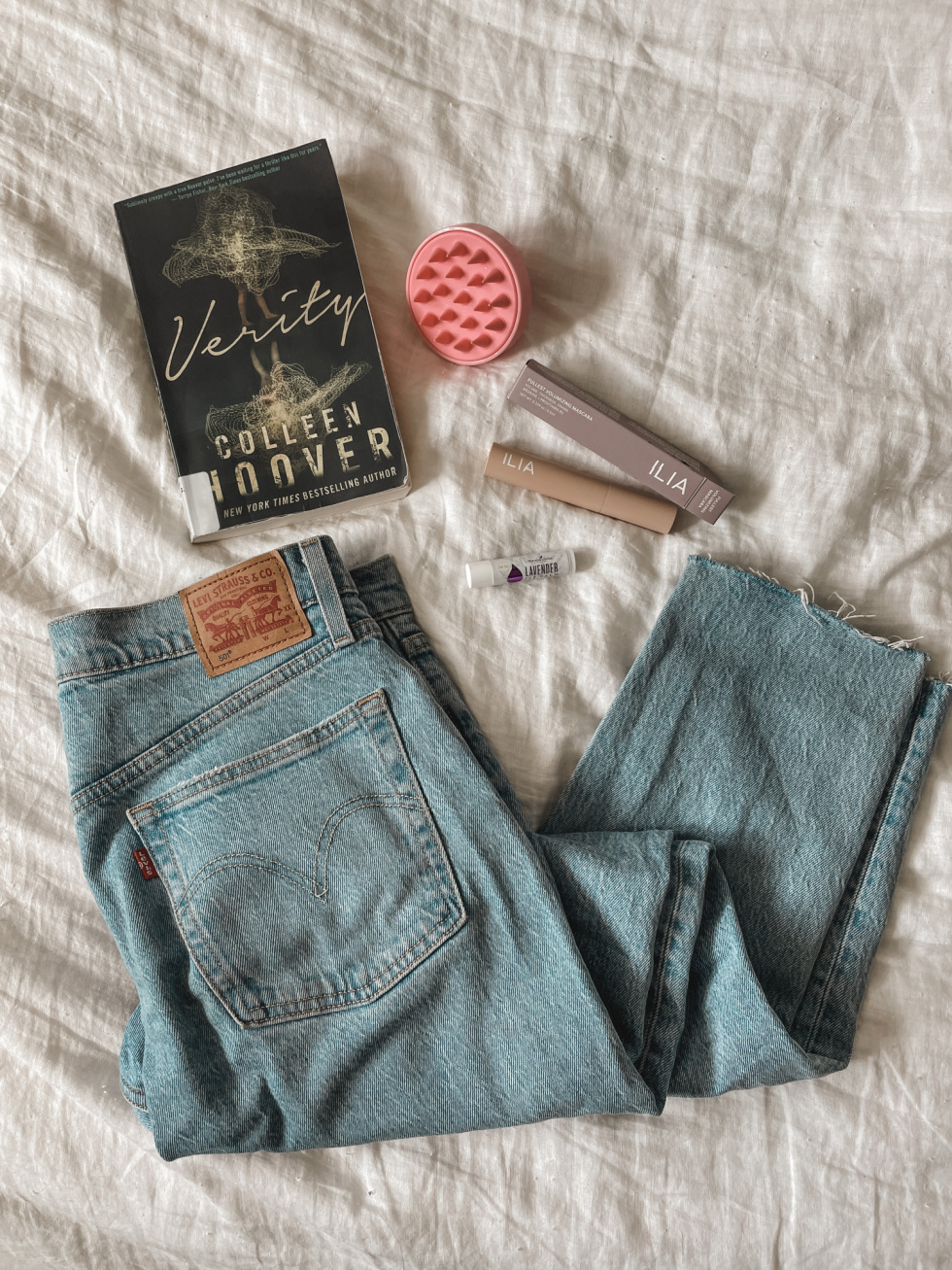 "Verity" Book || Scalp Massager || Ilia Mascara || Lavender Lip Balm || Levi's Jeans
Scalp massager – this little game changer feels SO good as a little massager for your scalp, plus it helps with scalp health, so yay for that!
Verity– ummmm mind blown. This book is a WILD RIDE. It was such a page turner, I kept guessing and I still didn't get it right in the end. Suspenseful, twisted and oh so good.
Levi's Jeans – I have been literally switching between this pair and this pair of Levi's. The second pair is my favorite wash, the perfect light denim wash for spring/summer. As is the usual with Levi's, I always size up because they don't have much stretch. They are SO comfy and SO flattering and cuuuuute! Love pairing them with bodysuits or a cute tank top.
Song: We Don't Talk About Bruno… lol it's on repeat over here. As I'm pretty sure it is in my houses with kids, right? Yeah I may or mat now know every word and it's impossible to not dance! Love the movie too- such a great message. We've started up a weekly movie night (usually friday) to watch something with the kids, and Encanto has been the choice a couple times haha! It's a good one, can't complain!
Speaking of music… Zack and I rediscovered our love for Taking Back Sunday and have been listening to our old school emo songs and I highly recommend doing that for a mood booster. Which is funny, because "emo…" it's supposed to be sad, right? But there's something about listening to the songs I was obsessed with in high school/college that just brings me back and makes me so happy!!! Bright Eyes, Something Corporate, Death Cab for Cutie, Good Charlotte, Dashboard Confessional, Jack's Mannequin… ahhhh TRY IT. I promise, it's the best.
Ilia mascara– I looooove this so much! Clean ingredients but also works so well to thicken my lashes and make them pop! I have been slowly trying out different products, next up is their foundation! I have yet to find a "clean" foundation/ tinted moisturizer that I love! Will keep you posted, as so far everything I've tried from this brand, I have loved!
Lavender Lip Balm – I am never without it, I literally CANNOT live without chapstick at all times lol. This cute little lavender one is my current go-to. Love that it's all natural and nontoxic! Plus, it smells/ tastes (lol) SO GOOD. I actually love using this one before bed, because lavender is calming and sends me right to sleep! Grab it here.
Yay for March and SPRING just around the corner!!!
xo
Read More on Katie Did What