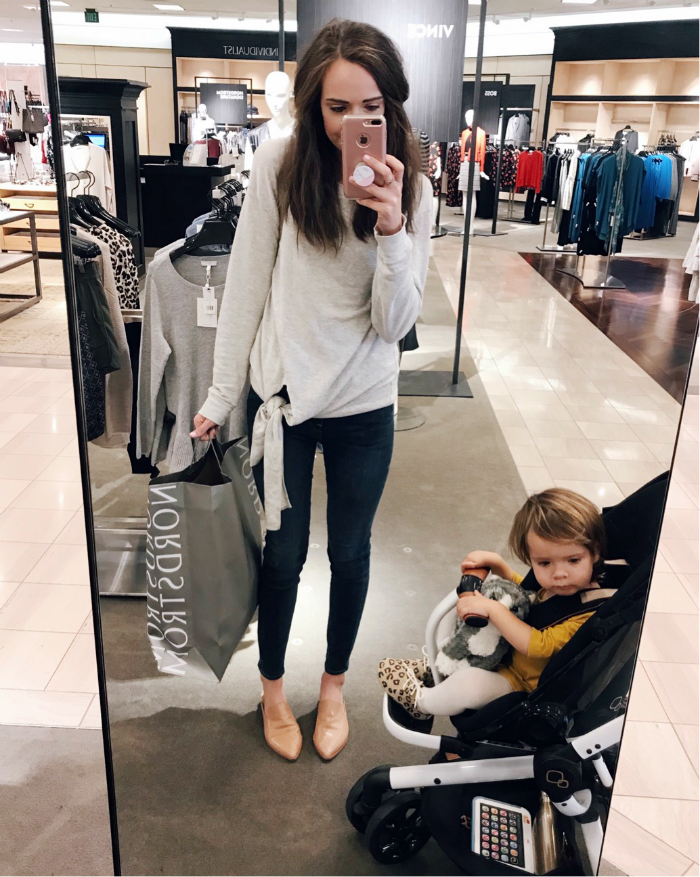 SIMILAR SWEATER | JEANS | SHOES | PHONE CASE | POPSOCKET | STROLLER | SOPHIE'S DRESS + SHOES
So, I did a little shopping yesterday with my favorite sidekick, miss Sophie Michelle. She's so good, I think she's taking after her mama in her shopping capabilites/obsession. ;) It was SO MUCH fun! Like mother like daughter…
Anyway! I wanted to share my recent purchases here, and how I styled them. I'm so excited for cooler weather and to dress the part! Here's some fall inspiration for you all!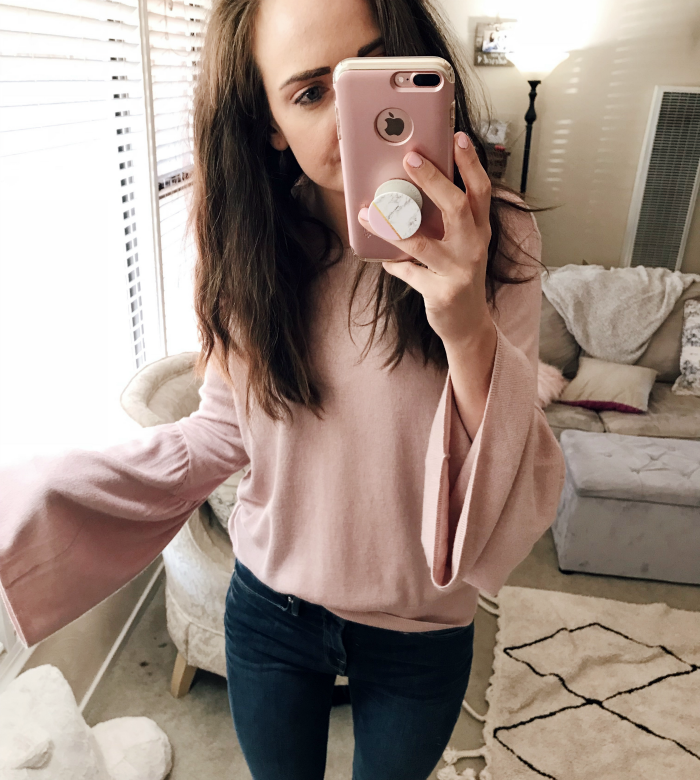 SWEATER | JEANS
THIS SWEATER!
The sleeves, guys. They get me every time. I tried on the small and decided to size up to a medium for a bit more length, and I LOVE it! So soft, too. And the prettiest color.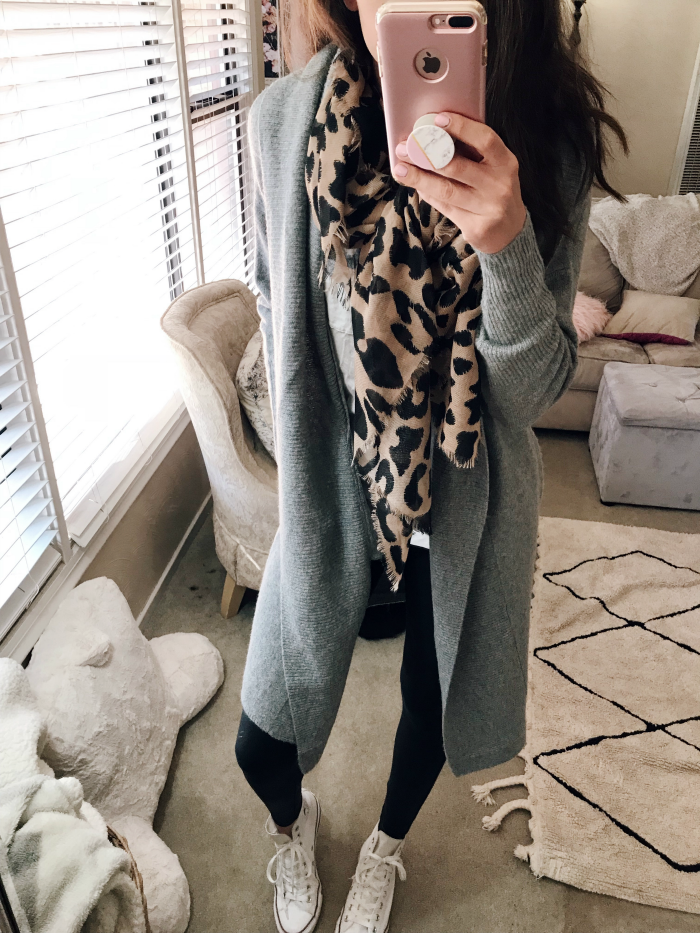 SCARF | CARDIGAN | TEE | LEGGINGS | SHOES
This cardigan is SO GOOD. I got a small and it's the perfect fit. And I've been wanting a leopard scarf for years now, FINALLY snagged one- and such a bargain!
SIDE NOTE: I was digging through my closet and found my high tops that I totally forgot I owned! Isn't that always the best, when you shop your own closet? ;) Needless to say, you will be seeing them a lotttt, because I'm kind of obsessed with the look right now. #hightopswitheverything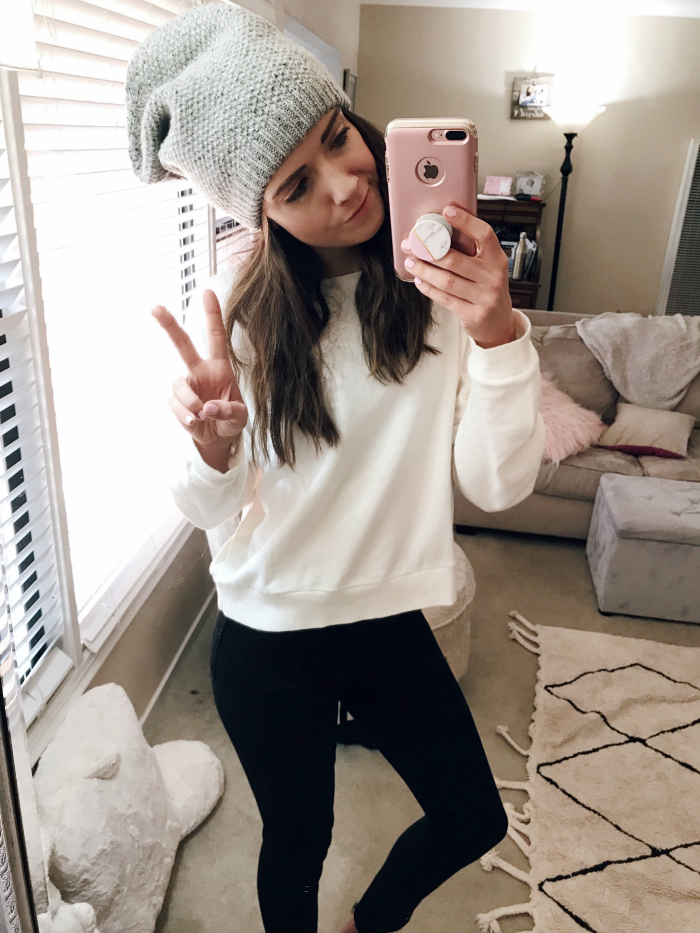 SWEATSHIRT | BEANIE | JEANS
How cute is this slouchy beanie? I love myself a good beanie. And this simple white cropped sweatshirt is kind of amazing. You can't tell here, but the sleeves have this cool ruffle detail- love. I went with a medium, for a bit of a slouchier fit. Pairs so well with high-waisted skinny jeans! I'm wearing these and love them- they're tts for me!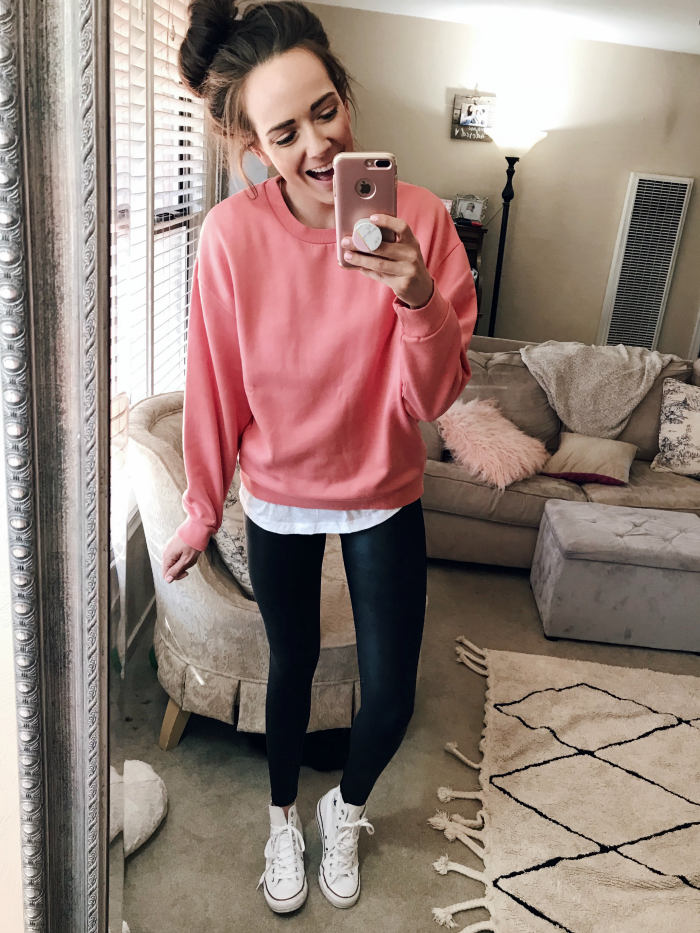 SWEATSHIRT | TEE | LEGGINGS | SHOES
Okay, how could I pass up this adorable pink pullover?! I couldn't. It just wouldn't be right. I got the 4, and it's generous! Definitely size down!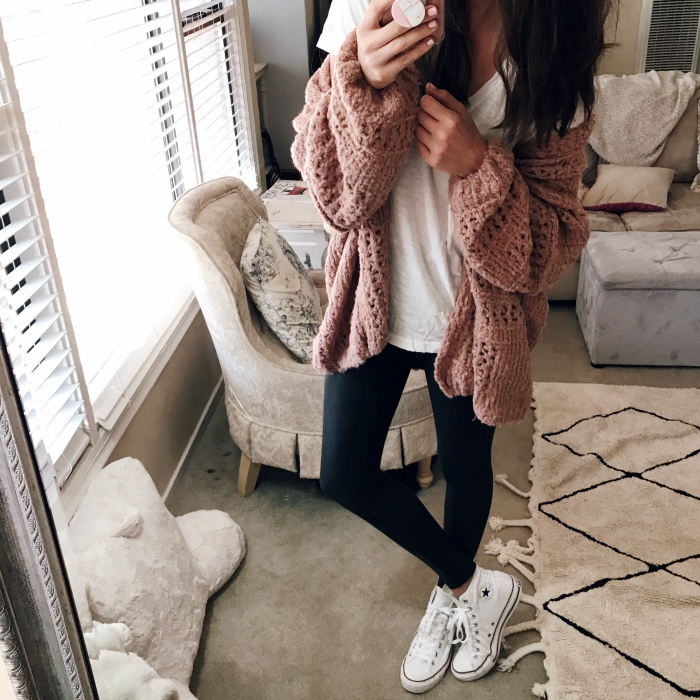 SWEATER | TEE | LEGGINGS | SHOES
And ending it with a cozy look. This sweater is one of my very favorites. It's just so slouchy and cozy and perfect. Size down- I'm in the xs/s. And these are some of the best leggings I've ever worn- seriously SO flattering and comfortable! And they add some edge. ;)
Hope you loved these looks! And hooray, it's Thursday! Almost to the weekend…!
xo