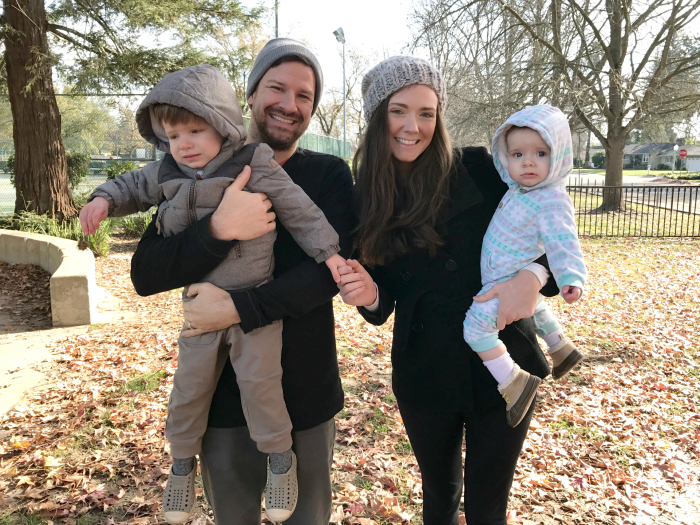 The babies were feeling better yesterday, so we got out and went to the park. It was SO GOOD for all of us to get some fresh air!!! Can I get an amen?! A nice lady even asked us if we wanted a family photo taken. I MEAN. YES, OF COURSE. The answer is always yes to that question. Even if Sam was over it and giving us the "I don't want to leave" face. ;) We had a really good time- too good, obviously.
Also, mental note, whenever I see a family together being hella cute, I'm going to ask if they want a picture. Pass it on. :)
It's not that I'm a procrastinator (okay, I am actually). I mean, I started my Christmas shopping in the summer, okay? But some gifts just don't come easily… Some ideas just take longer to come to you… But that's the thing about gift-giving- about good gift-giving- is that it must not be rushed. And guess what? Stores understand this. They get that you might need to do some last minute shopping. And that's okay. They've got you covered. ;) Thank God, right?? So that is precisely what I'm sharing today: the best last minute shopping deals and codes to get you the gifts you need on time before Christmas!
ANTHROPOLOGIE – Order by 12/21 with standard delivery to get it by 12/24! Plus, 30% off their most popular gift items!
BEST BUY – Free 2 day shipping through today!
MACY'S – Order by 5pm EST on 12/21 with standard shipping to get it by 12/24! Free shipping at $49. A ton of sales at their pop up sale through today.
NORDSTROM – Free delivery by Christmas Eve on select items through 12/22!
POTTERY BARN – Order by 11:59pm on 12/21 with standard delivery and get by 12/24 with code MERRY! Lots of stuff on sale including 40% off frames today only!
TARGET – Order by 4pm EST on 12/21 to get free standard delivery by 12/23! Plus, 30% off coffee and coffee makers (including Keurig) today only!
VICTORIA'S SECRET – Through Tuesday at 5pm EST, free shipping on $125+ with code SHIP2DAY
AMAZON – Thousands of items with Prime 2-day shipping available and very affordable one-day shipping on select items!
So happy shopping, my friends!
Do you have all of your shopping done?
xo
Read More on Katie Did What