Ahh, this weekend. It was going to be the busiest weekend of our lives, and then ended up… not at all the busiest. Not even close.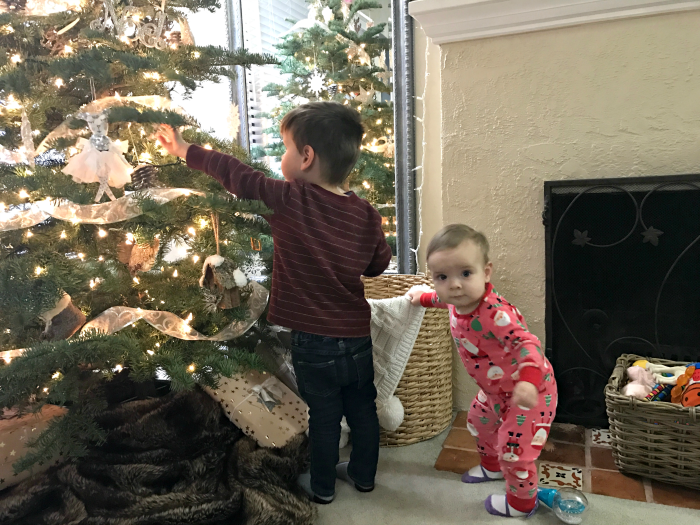 (up to no good)
You see, the thing about me? I struggle with expectations, in that I always place them way too high and then have a hard time when things don't go as planned. I'm telling you, it's something I'm working on, but man is it ever hard for me. I let it ruin my mood sometimes, too, which is no fun for anyone. :/ This weekend was one such weekend. My expectations of it were soaring high! It was going to be SO MUCH FUN. We were going to have ALL OF THE CHRISTMAS CHEER, dammit!
I'm telling you. The struggle is real.
Anyway, I bet you can guess what's coming next… None of that happened. It started on Friday, when Sam came home from the park and threw up. Quite unexpectantly and seemingly randomly, and then seemed perfectly fine and super happy, except that he had just thrown up.
Oh, did I mention he threw up on our stockings? Yep. All of the stockings. Our beautiful, knit stockings. And you know something fun about stockings? They are- ALL OF THEM- spot clean only. So yeah. I still managed to salvage all but one of them, so I'd say that's a success! Considering.
Ahh, motherhood. ;)
So he took a nap, and we were all hoping he would wake up all better, but then when he threw up upon waking, we knew Santa was out of the question. (We had plans to see Santa that afternoon, by the way).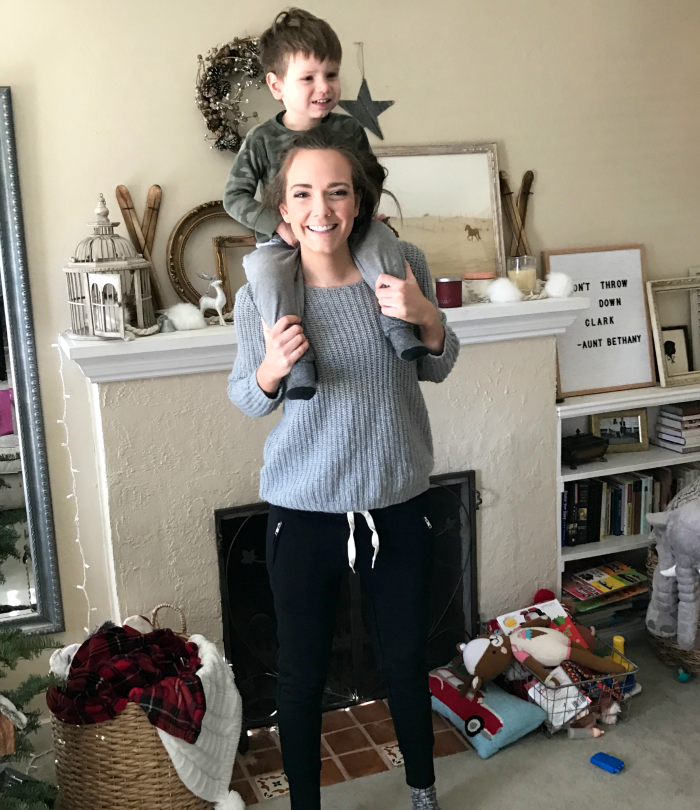 I was super bummed. Sad that my sweet boy wasn't feeling well, sad that my big fun plans to see Santa (plans that were just for Sam and something we knew he would LOVE!) were ruined, sad that we were homebound the rest of the day. Lots of sad.
Saturday was an upper, since I got some "me" time and a MUCH needed/overdue haircut! Something about a fresh haircut that just makes you feel better, you know?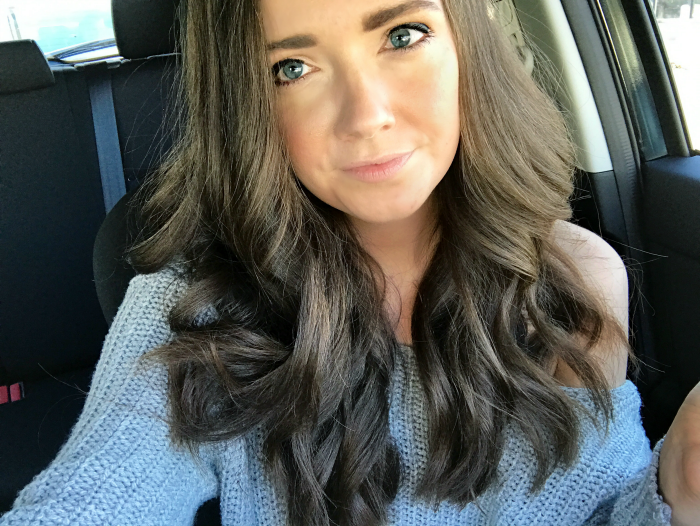 I am absolutely obsessed with it and feel like a new woman, so yay for that!
Then Sunday we had plans to go to church, where the Christmas concert was happening, but of course we bowed out of that too, since this time Sophie woke up with a bad cold. We almoooost went, but realized it'd be no fun since she was pretty miserable, poor thing. This is a service that I always look forward to, and was excited to bring the littles to, since it's the kids choirs singing Christmas carols! How perfect! But alas. Didn't happen.
Ahh, parenting. Making the tough decisions all the time.
So anyway. My mood was just kind of down all weekend. Those damn expectations of mine! I really let it get to me, more than I'd like to admit. It's definitely a work in progress. I just had all of these fun festive plans, and when they didn't happen, I felt like a failure. I felt like this weekend was pretty much one big waste.
FOMO, it's real, guys.
But I am reminding myself that it is OKAY to relax and get some rest. It is OKAY to not do ALL OF THE THINGS. It is okay to let my babies get better, instead of toting them all over the place, miserable. Because that's no fun for anybody.
Plus, better this weekend than next, right? ;)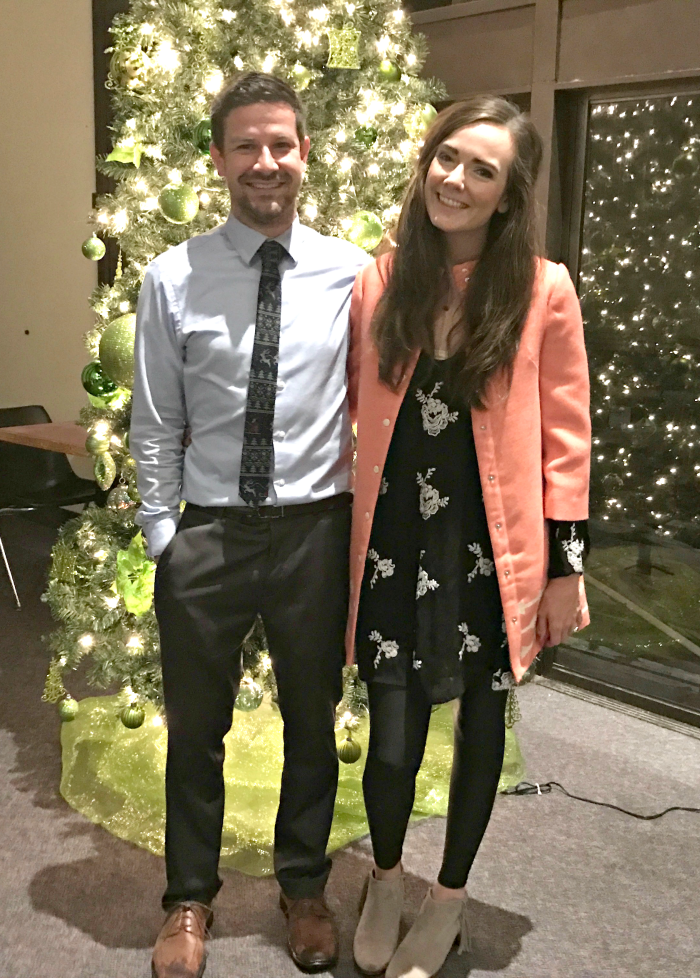 And I mean, we DID do some festive things. Thursday night, Zack and I went to the Christmas concert at the school where he teaches (sans kiddos, because it was during bedtime), and then drove around our fave neighborhood looking at lights. So that was really really fun. We also watched Elf and The Santa Clause and drank Hot Toddies and wrapped presents. We danced to Christmas music all weekend long and wore our Christmas jammies, soooooo REALLY. It was pretty great, regardless.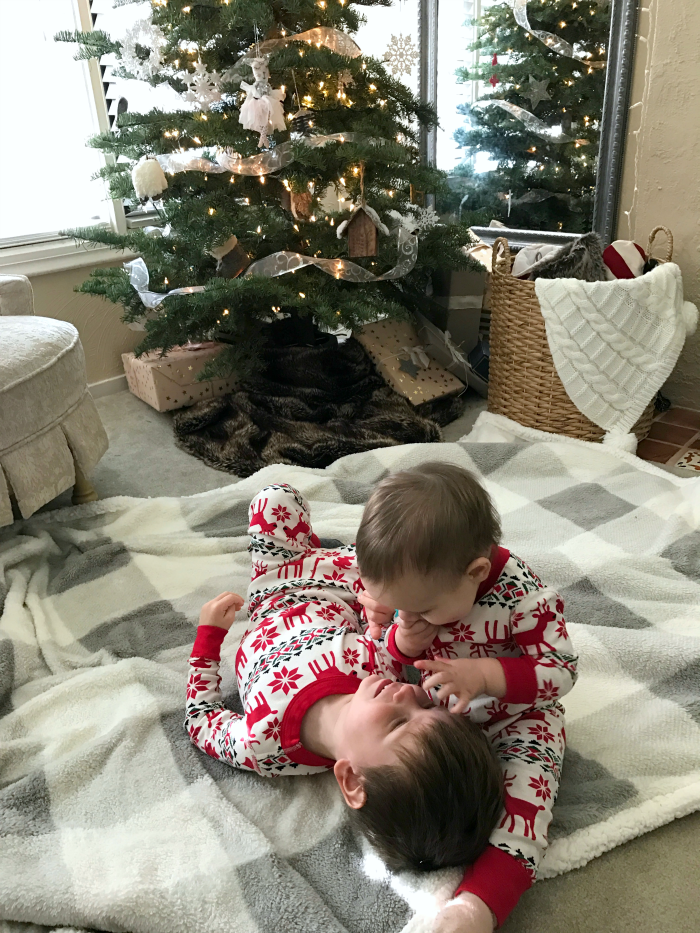 I hope your weekend was maybe more exciting than mine! But if not, THAT'S OKAY. Okay?
xo