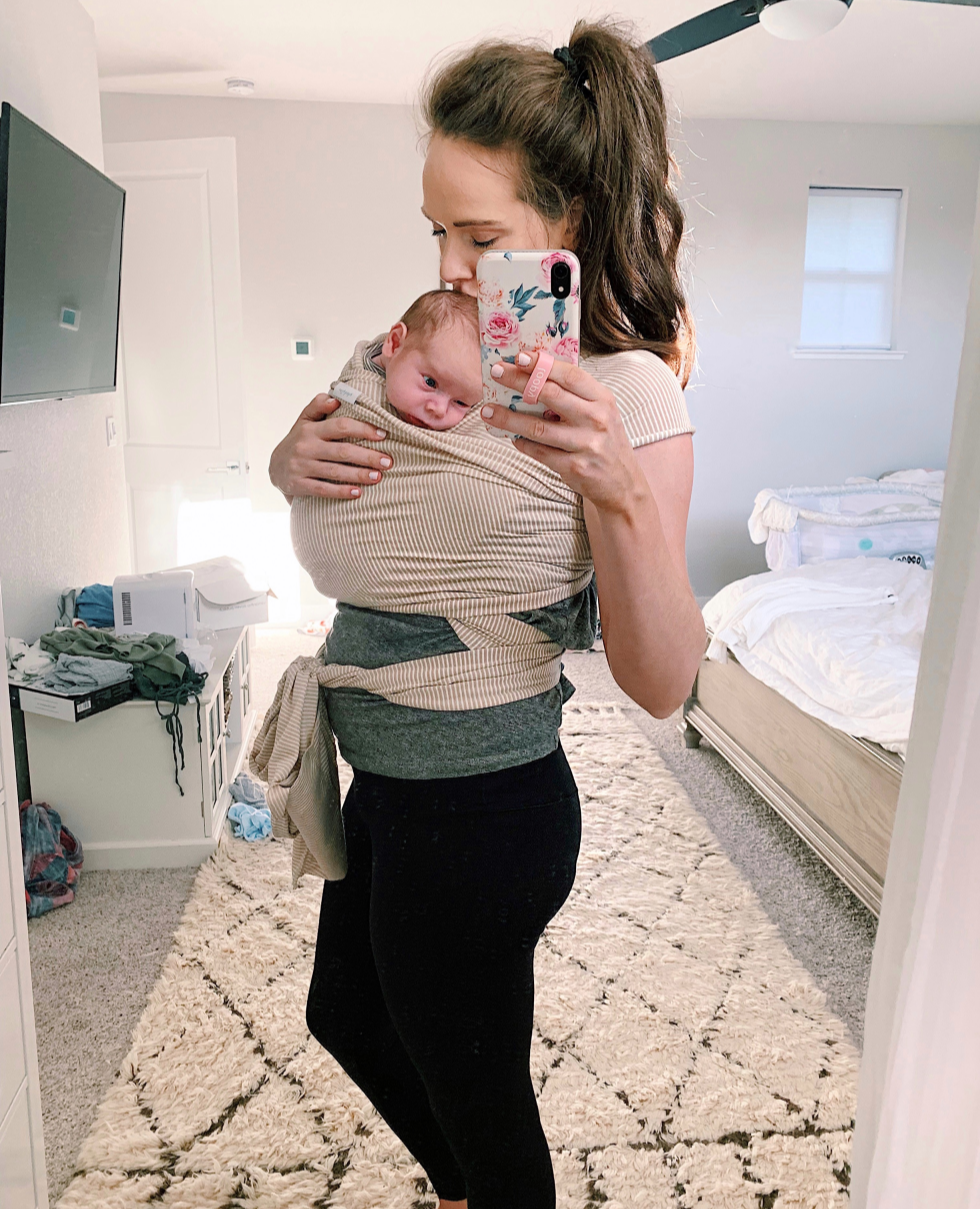 Ahh, postpartum. It's messy, it's crazy and wild and emotional and beautiful, all rolled into one. It's sleepless nights and forgetting to shower. It's napping when you can and navigating this whole new world with this new little person, who has suddenly become your world. If you haven't yet, be sure to read THIS POST of mine that I wrote on the postpartum journey, and taking care of yourself and being KIND to your body. And then come back here. I'll wait. ;)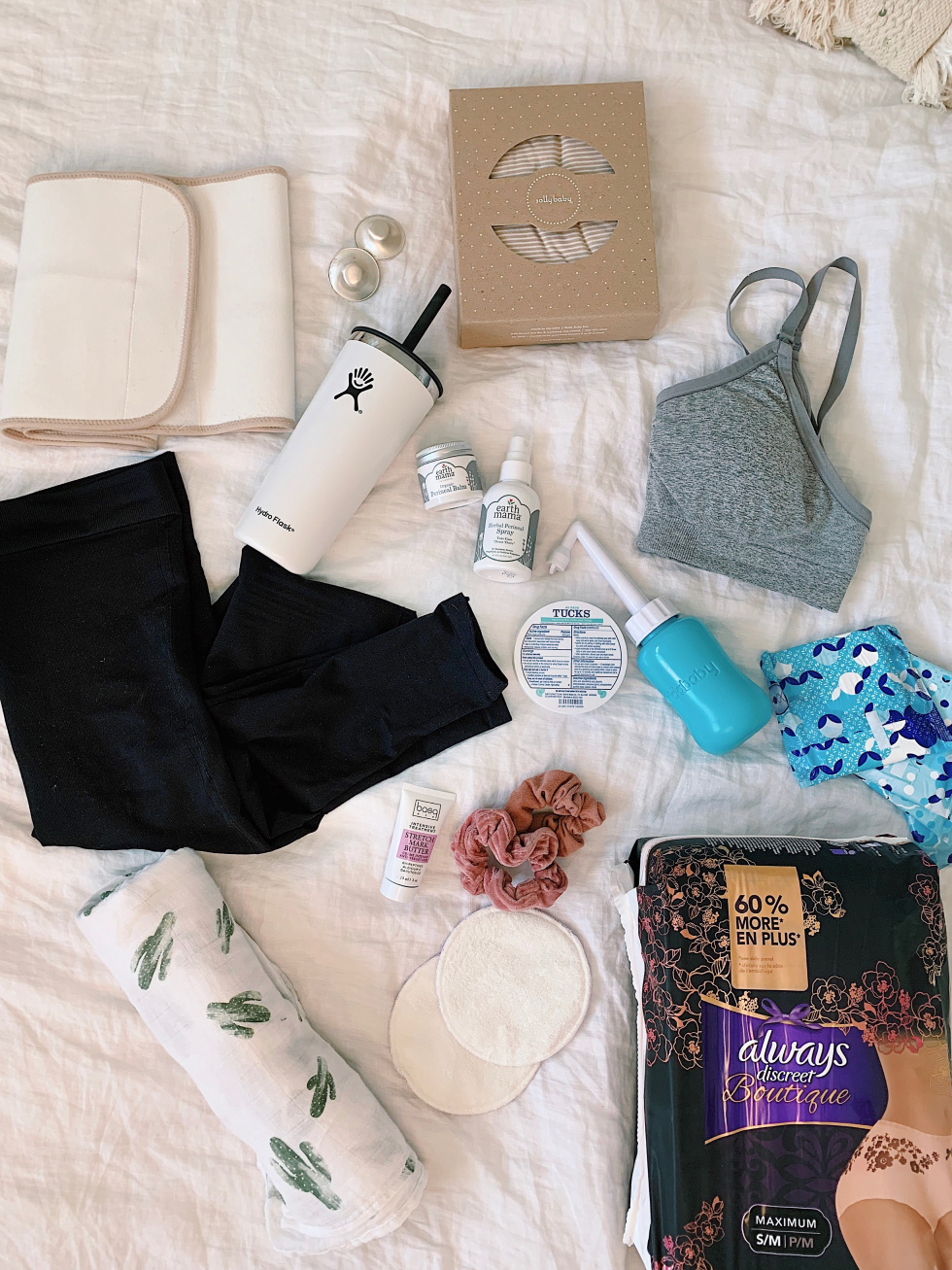 Today is all about postpartum MUST HAVES! After having gone through this postpartum period three times now, and really soaked in the 4th trimester, I have some tried and true's that I consider absolute must haves for postpartum mamas! And clearly, I have to share them with you!
TAKE CARE "DOWN THERE"
Always Depends (the hospital mesh undies are fantasic for the first few days, but after that I got sick of feeling like I was wearing a mega diaper, so I purchased some Depends. They fit like undies and are actually so comfortable! And for the first few weeks they were fantastic!)
Maxi pads (again, my hospital supplied me with mega maxi pads which were great the first week or so, but then I wanted something not quite so "diaper-ish" but still get the job done!)
Dermoplast spray (my hospital gave me this)
Tucks pads (my hospital also provided this- amazing relief!)
Perineal spray bottle (my hospital gave me one, but I preferred this one as it sprays upside down!)
Perineal balm + perineal spray (so cooling and lovely!)
Nipple cream
Silverette cups (yes, pricey, but I honestly think I have these to thank for having no bleeding or cracking this time around! You can also of course use nipple cream instead)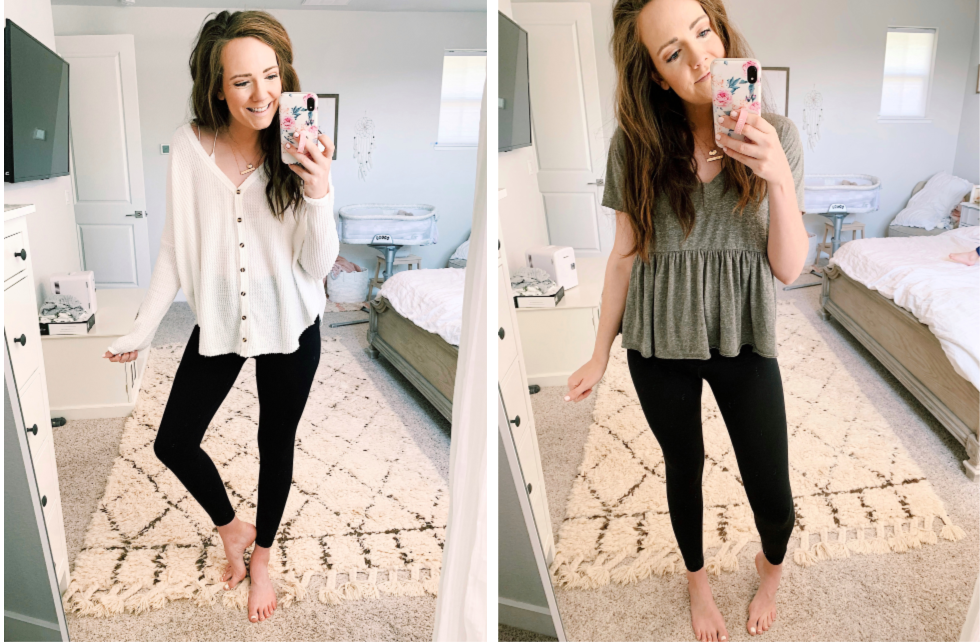 NURSING FRIENDLY CLOTHES
Some of my favorites that I keep reaching for:
Button down sweater (I have in white and grey!)
Peplum top (I have both white and grey and just pull up for easy access)
Nursing tanks (love this one, these ones, and this one!)
High-waisted postpartum leggings (love these so much- they go all the way up over your belly for maximum support and coverage while nursing! I love these leggings too for a fraction of the price!)
Comfy pj's (I have these and this dress– soooo soft and perfect for nursing, I wore it in the hospital! I sized up to a large for extra room and it's super comfy!)
Elastic Waist shorts (these, these and these)
Nursing bras (see my post on all of my favorites HERE!)
Comfy oversized sweatshirt (this one's great with the slits for easy access!)
LEGGINGS
Yes, they get their own category because they're all you're going to want to wear for a while. ;)
These Blanqi leggings are great for pregnancy AND postpartum. They go all the way up over your belly for maximum support and coverage while nursing!
These Lululemon Aligns are my all-time favorites- super high waisted which is great for nursing/containing the belly/being comfortable.
These Aerie leggings are the best dupe for the Lulu's. I LOVE THESE SO MUCH. I own two pair- if you don't have them, GET THEM. Can't beat $24!
MISC
Huge water bottle (literally the instant you start nursing you will be raging thirsty! Drink ALL of the water! It's good for supply, too)
Snacks (allll of the food!)
Haakaa (this thing is an absolute MUST HAVE! You put it on the boob you aren't nursing on and it catches the letdown, so no more soaking your shirts/bra or wasting milk! It's actually genius and is all I used for the first few weeks and I built up quite the stash! Highly recommend!)
Breast Pump (helps to build your supply, and allows you to have a little break from the nonstop nursing sessions! Plus, I love when Zack or the kids get to give the baby a bottle and bond in that way, too. I was sent the Motif Luna and LOVE it- lightweight, quiet, and efficient! I only have to pump for 10 min at a time!)
Nursing pillow (I love both THIS ONE and THIS ONE, and you can find super cute covers on Etsy!)
Baby Tracker app (helps to keep track of diapers, feedings and sleep-
Nursing pads (I like the washable ones for around the house, and the disposable ones for on the go, since they stick to your bra)
Belly Bandit (I haven't been terribly good at wearing this, but I do when I remember! It just kind of sucks everything in, and holds your core in place)
Support Belly Band– I wear this underneath tees so when I nurse in public, my stomach isn't exposed, it also helps hold my core in place, but isn't as restricting as the belly bandit
Swaddle Blanket (a million uses! I love using these as a nursing cover, since I'm not comfortable just whipping the boob out in public- to each their own, though! Do whatever is comfortable to you!)
Baby Wrap/Carrier (because babywearing is LIFE! This is my favorite wrap! And this is my favorite structured carrier!)
Lotion (I continue using my stretch mark cream on any new stretch marks, to reduce them and help keep my skin soft!)
Diaper Bag (I've been using this one a ton and LOVE it! Holds so much and is a backpack, which is the best!)
Prenatal vitamins (I also continue to take these! All of the essential vitamins you still need postpartum)
Ibuprofen
Stool softener (do not skip these! Even if you think you're in the clear, keep taking them!)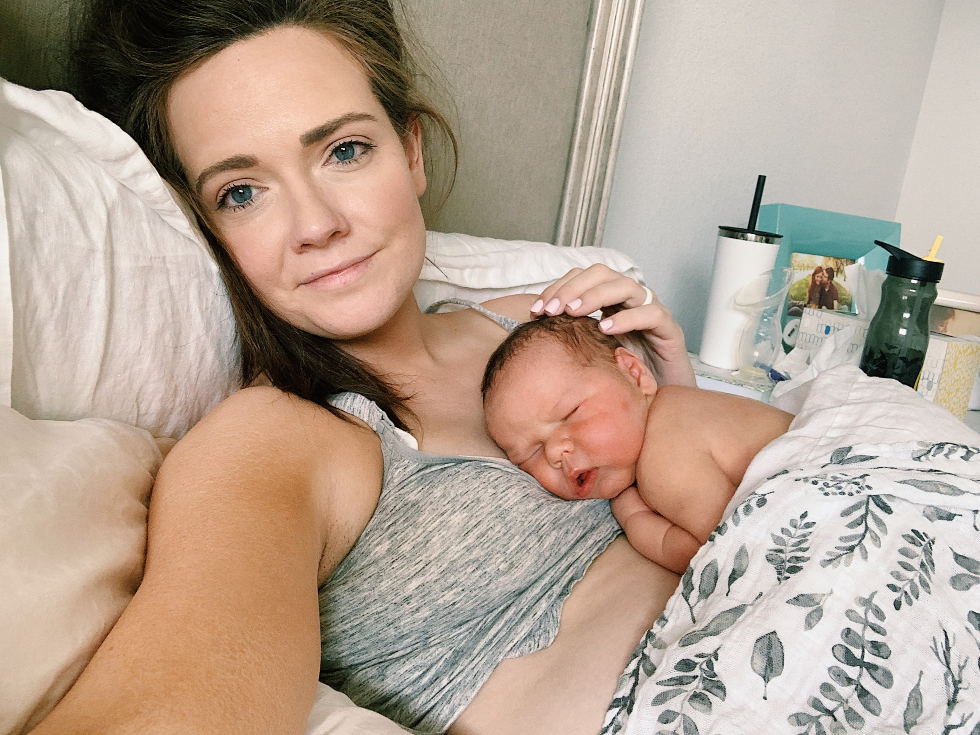 SHOP SOME FAVORITES HERE:

Phew! Did you stick with me through all of that? I hope you found this helpful- please share with your expecting mama friends or postpartum mamas! And let me know what YOUR postpartum must haves are in the comments! Let's all share the love!
xo