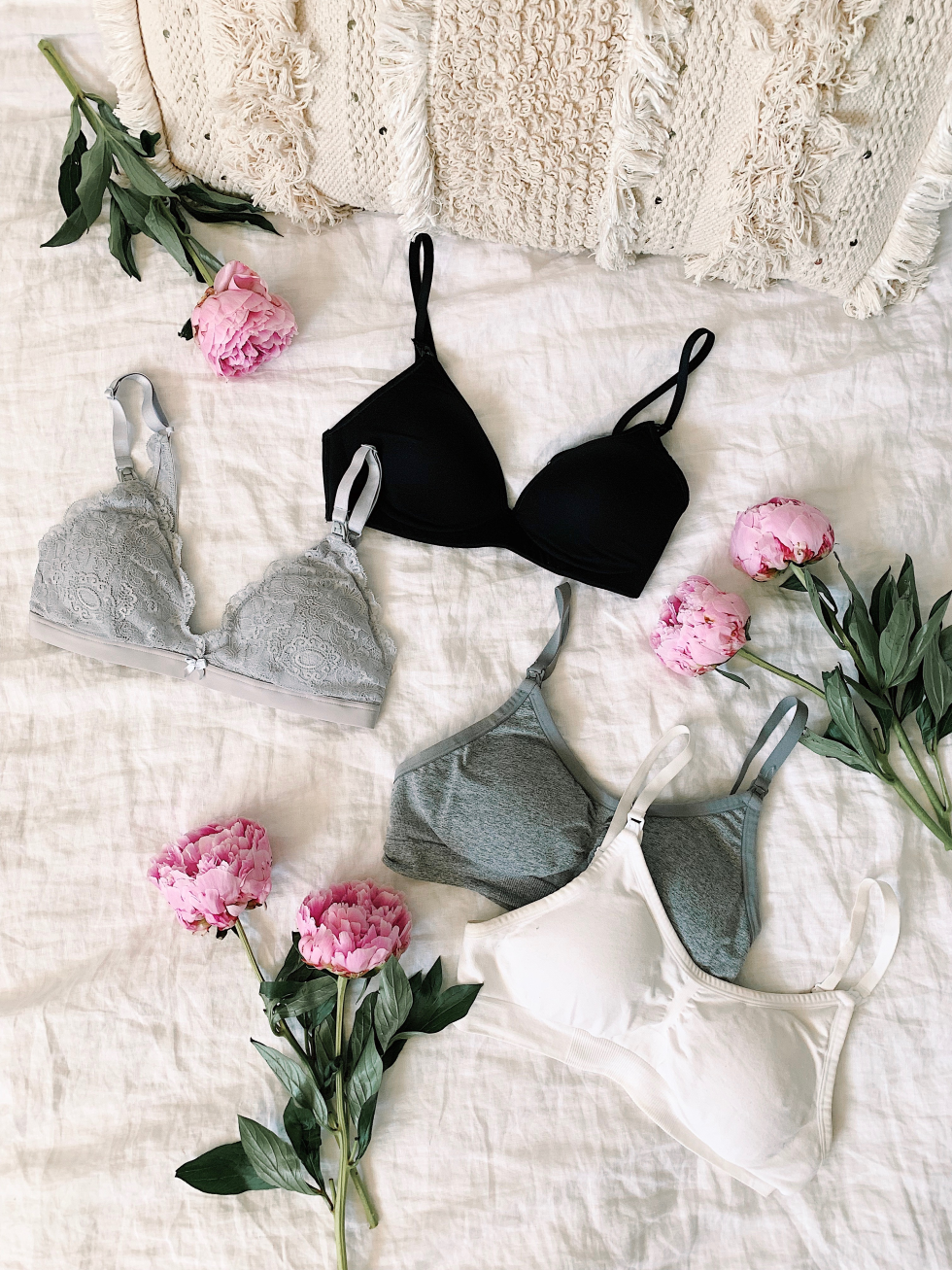 LACE | BLACK | GREY/WHITE
One thing that can be a real struggle in this blissful new life as a mama of a newborn is finding the right nursing bra!!! I swear, it took lots of trial and error when I had my first (and honestly I didn't really find any that I absolutely loved that go 'round for a while!). With my second, I found a few that were my go-to's, but still none that I absolutely LOVED. Now that I'm on my third round of nursing a babe, I have FINALLY found some real gold standards, guys. These are all GOOD. They hold you in, they are cute and NOT frumpy (can't stand that, personally), the straps aren't insanely wide (why does that have to be a thing in most nursing bras?!) and they fit well underneath normal clothes, to help you feel like a normal person, and not some matronly milk machine. Because that's the last thing I want to feel in my postpartum-ness, ya feel me?!
So, I bring to you today, the BEST nursing bras!
1. EVERYDAY BRA.
This is my everyday bra, that I grab for time and time again. This is the perfect "tee shirt bra" and fits seamlessly underneath your go-to tee's. I have it in nude and black, and can't recommend enough! THIS ONE is also amazing and look at the reviews!
2. LOUNGING BRA.
These are SO COMFORTABLE, guys. I always wear these kinds of bras around the house, and was so excited to find a nursing equivalent! Plus, a 2-pack for $15?! You can't beat that! I have it in grey, white, nude and black! SO GOOD, can't recommend enough!
3. FOR FEELING SEXY.
This one is a favorite of mine, for when you want to feel sexy and cute but still have to get the job done. I love that the lace peeks out underneath a cute cami and adds to your outfit without screaming I'M WEARING A NURSING BRA! It's super soft and comfortable, too (no itch here!) and comes in a few gorgeous colors. The straps are adjustable, too, which helps!
4. SLEEP BRA.
I have two! THIS ONE and THIS ONE are both super comfortable, and perfect for a sleep bra while nursing! Love how soft they are, and all you have to do is pull over for easy nursing access. Also, no padding or wires or anything like that, so they are really perfect for sleeping!
5. SPORTS BRA.
I got both the grey and black in this one, and it is by far my favorite sports bra, and I've tried a few! There is no padding, fyi, but it's so comfortable. Love that there's no stupid pads to fiddle with, too.
There you go! My favorite nursing bras!
And some bras that you can nurse in, that are not "nursing exclusive:" HERE, HERE, and HERE!
xo