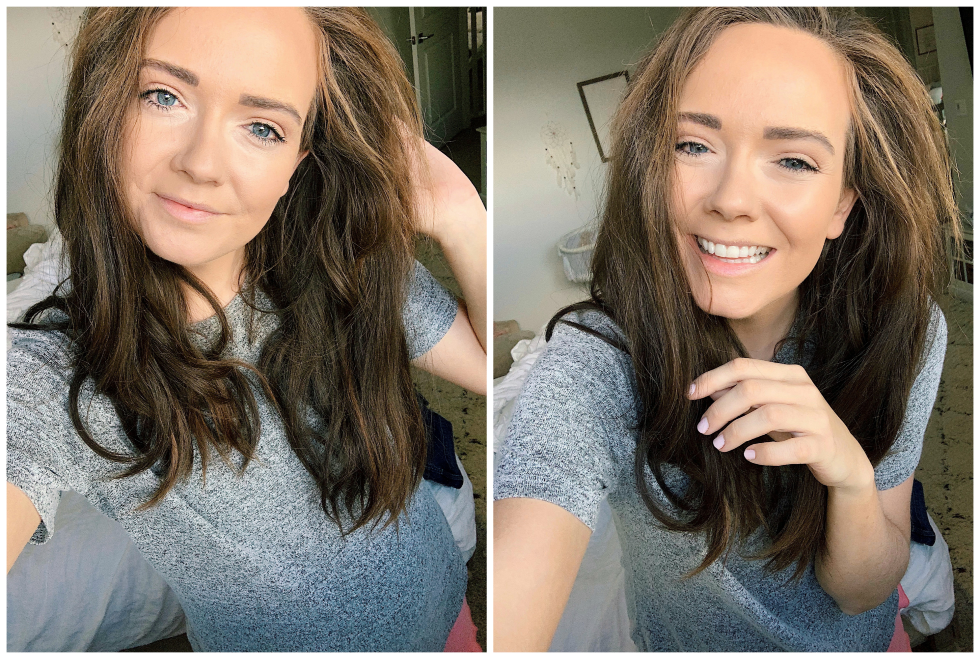 Okay, this one is a long time coming! I shared my everyday 10 minute makeup a while ago, but it is time for a refresh, since I've really simplified it and perfected it, and switched up a few things! One of my MOST ASKED questions on Instagram is how I get my under eyes so bright- and I'm going to share my "secret" (lol, it's not a secret at all) in this post! YAY! Also, my skincare routine (it's very simple but effective!) and my everyday natural makeup look, all done in 5-10 minutes because #MOMLIFE ;) And especially right now in my life, with a newborn, I really don't have much more time than that each day to spend getting ready!
NIGHTTIME SKINCARE ROUTINE
I use Pond's cold cream to remove all makeup at the end of the day! It is effective, safe for sensitive skin, affordable and doesn't dry out my skin!
Cleanse with my Tula Face Cleanser (use code KATIE20 for 20% off!)
A few nights a week I'll use my FOREO LUNA– loooove this! Super easy to use and really deep cleans. I just put a little cleanser on the brush and massage all over my face.
I'll use argan oil and this moisturizer, and this eye cream.
SKINCARE
I wash my face with water in the morning, to hydrate it. While still damp, I'll add the following (to lock in that hydration!):
Vitamin C serum (You can't go wrong! Currently using this one)
Face Sunscreen (always use that SPF!) and Moisturizer.
Eye cream (use code KATIE20 for 20% off!)
I've been loving this lip mask– super hydrating and I'll just use throughout the day whenever my lips feel dry.
FACE
CC Cream (in "light") applied with a damp beauty blender sponge (these sponges are a great option too, and only $9 for a set of 5!)
Concealer (in "light"- just dab lightly under the eyes with ring finger, and use any excess on eyelids as primer)- this is my "magic trick" and how I get my under eyes so bright and illuminated! I do NOT set with powder, I feel this also helps keep it more natural looking, dewy and bright!
Bronzer (I also take a little bit of bronzer on a fluffy brush and use as my eyeshadow! This not only saves time, but gives a nice, natural all-over bronzed look)
And for a budget-friendly option bronzer, I LOVE this one too, in St. Lucia! This is another affordable option that I love!
EYES
Brows (in "medium brown." This is my favorite one! The angled shape is soooo easy and foolproof to make the perfect brows each time!)
Mascara (my holy grail! I do about 3 coats)
Finish with a couple spritzes of my favorite rose water spray and voila! I'm feeling a bit more alive and ready for the day!

I hope you loved this! And remember: if you order anything by clicking through my links, I get a small commission. It is greatly appreciated and how we keep this blog going! :) Please let me know if you tried any of these on my recommendation! I'd love to hear your favorite everyday products, too!
xo